Pepperoni sounds like it is an Italian creation; it's not. It's American - well, Italian-American anyway. It is a delicious, spicy cured meat sausage.
But just because it's cured doesn't mean that it will last forever. As with all foodstuffs, it will eventually go off, and if it's not stored correctly, it will go off faster than you may think. Did you know that you can freeze pepperoni?
This type of meat sausage is typically made using a mixture of cured pork and beef, seasoned with paprika or chili pepper hence the name.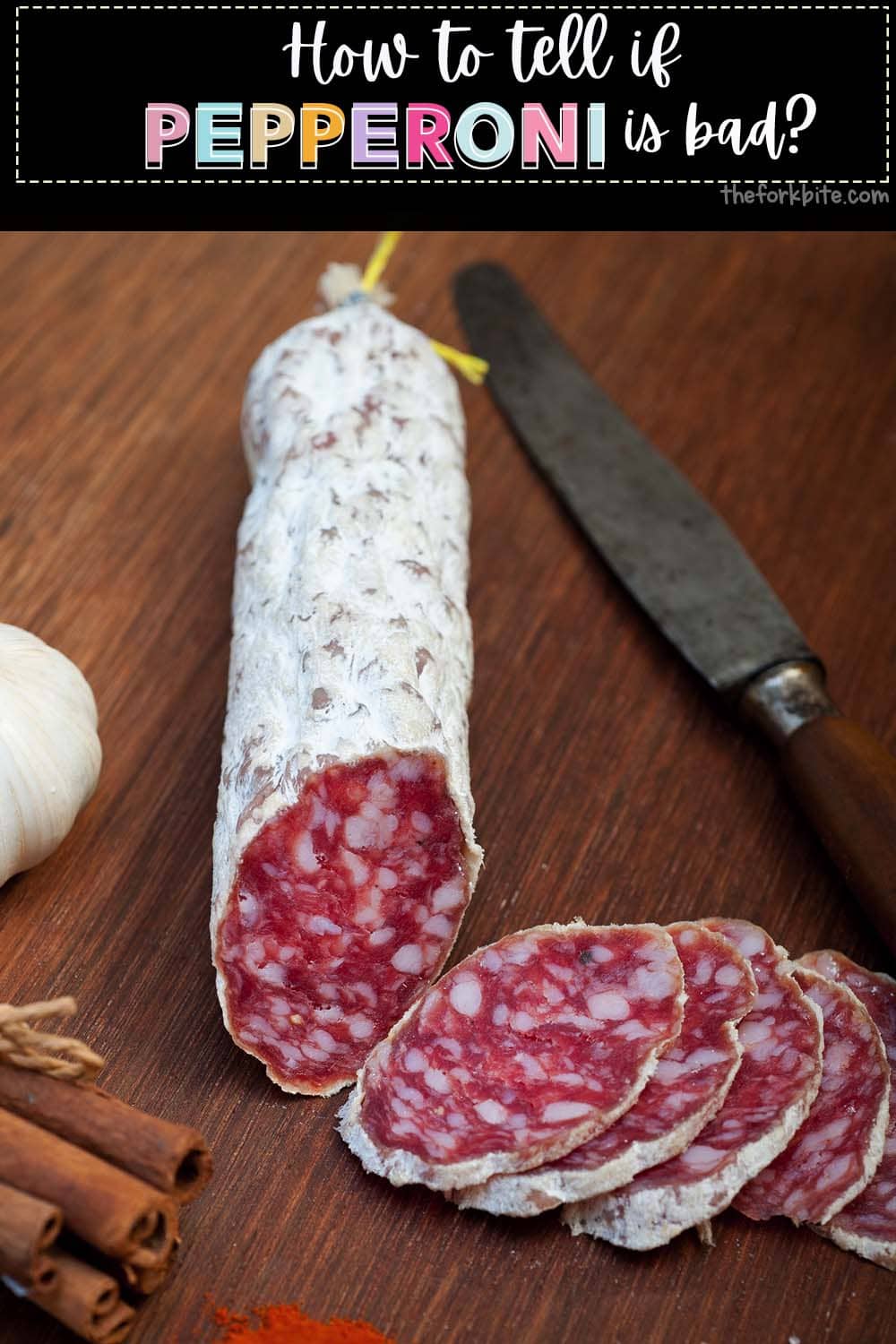 ---
Jump to:
How long does pepperoni last in the fridge?
Most types of hard, dry sausages like pepperoni or Genoa salami, while they remain completely whole and un-skinned, will last as long as six months in your pantry, at room temperature, or indefinitely according to the US Department of Agriculture.
However, once this type of sausage has been cut, it can be contaminated by bacteria.
For this reason, the USDA's recommendation is to keep cut pepperoni for no longer than three weeks in your fridge or two months in your freezer.
When you buy it, there should be a "use by date" on the outer wrapping, which you should observe.
| | | | |
| --- | --- | --- | --- |
| Type of Sausage | Refrigerator - Unopened | Refrigerator - After Opening | Freezer |
| Fresh Sausage, uncooked | 1 to 2 days unopened or opened | 1 to 2 days unopened or opened | 1 to 2 months |
| Fresh Sausage, after cooking by consumer | (not applicable) | 3 to 4 days | 2 to 3 months |
| Hard/Dry Sausage | Whole, 6 weeks in pantry; indefinitely in refrigerator. | 3 weeks | 1 to 2 months |
| Hot Dogs and other Cooked Sausage | 2 weeks | 7 days | 1 to 2 months |
| Luncheon Meats | 2 weeks | 3 to 5 days | 1 to 2 months |
| Summer Sausage (Semi-dry) | 3 months | 3 weeks | 1 to 2 months |
reference from: fsis.usda.gov
---
Ensuring pepperoni is safe for freezing
Like all cured meats, pepperoni is made in a way that preserves the shelf life of the meat it contains. If it wasn't cured, it would go off much more quickly.
It will nonetheless eventually go bad, which is why you should keep to the "use by date" shown on the outer wrapper.
So, if you intend to freeze your pepperoni, ensure you freeze it before this date.
Pepperoni has an extended shelf life when it remains uncut, and the majority of producers recommend using it within three days of opening.
If, after cutting, you think you would like to keep the leftovers for longer than three days, you need to freeze them before that time is up in order to minimize the risk of any food contamination.
---
How to tell if pepperoni is bad
There are several warning signs to indicate that pepperoni is going off.
1

Visual signs of deterioration

The first visual sign that your pepperoni is deteriorating is when it begins to turn brown.

While pepperoni is still in good condition, it is anywhere between pink and dark red. Typically, you will notice tiny pieces of white mold, but you shouldn't be worried.

It is caused by good bacteria, which is there to prevent bad bacteria from forming.

Of course, if you leave pepperoni out at room temperature for too long, bad bacteria will eventually contaminate it.

Any spots that look a fuzzy brown color or are black, green, or grey are tell-tale signs. If you spot them, you should dispose of the product.
Note:
When any of this type of sausage is opened, cut, and not then wrapped properly, its exposed surface will become dry and change color.
The rest of the sausage beyond the exposed surface will be safe to eat.
---
2

If a bad aroma develops

Pepperoni has its own typical smell, which you can describe as somewhat acidic and slightly cheesy.

If this smell changes (a few people remark it begins to smell a little like bleach), it doesn't necessarily mean that the pepperoni has gone bad.

Cured meat sausage contains natural mold so that a pungent smell can be quite normal.

However, if it begins to smell somewhat like sewage or rotten eggs, that's a different matter. The same goes for if it develops a rancid odor, It means it's time to dispose of it.
---
3

A change in texture

When pepperoni goes bad, its texture can do one of several things. It can become extra dry and solid, or it can become wet and slimy. If you notice any of these, it's time to bin it.
Tip:
If you pick up your salami and feel sticky or slimy, you should dispose of it immediately. It's gone bad, and eating it could make you ill.
---
Getting pepperoni ready for the freezer
Before you prepare your pepperoni for freezing, it's a good idea to think about how you might be using it when the time comes.
Will you want a few slices at a time to top a pizza with, or will you want some larger pieces to add as an ingredient to pasta sauce?
If you will be freezing a large piece of pepperoni, it's best to slice it first. You could also cut a portion into pieces for adding to pasta sauce.
Preparing your pepperoni in this way before you freeze it will enable you to take out the amount you need more easily, and it will also be quicker to defrost.
If you bought a job lot because it was on offer at your local deli or supermarket, you might want to consider freezing some of it.
If that is the case, the best thing to do is to leave it unopened. Its natural airtight casing provides a protective atmosphere that helps to prevent freezer burn.
However, this may depend on whether or not you will be using the entire sausage when you come to defrost it. If not, it could prove wasteful.
Note:
You must not refreeze pepperoni. Preparing it in smaller batches of slices or pieces is probably your best bet.
That way, you can just take out what you need and leave the remainder in the freezer for another day.
---
Recommended containers for freezing pepperoni
You can use any appropriately-sized freezer bag to put your pepperoni in.
I do, however, strongly recommend wrapping any slices in baking paper or parchment before you drop them into the bag.
You will find that it makes it nice and easy to separate the slices and means that you can store many of them in one container and still take out only what you want to use.
Another advantage is that it adds an extra protection layer.
Try to squeeze as much air out of the bag as you can before you seal it, as this will help negate freezer burn.
It's always a good idea to label things when you freeze them with the contents and the date you froze them.
If you also want to add the original "sell-by date," please feel free.
Read: How to Keep Pizza Warm
---
How long can you keep pepperoni in the freezer?
Providing you prepare it properly, you should be able to keep pepperoni in your freezer for anything up to approximately three months without damaging its flavor or texture.
---
Defrosting pepperoni
It is pretty simple when it comes to defrosting pepperoni.
All you have to do is take out as much as you need and transfer it into your refrigerator overnight to allow it to defrost.
However, once it has been defrosted, you then ought to use it within 24 hours.
Also, you should bear in mind that you must not refreeze pepperoni once it's been defrosted unless it was frozen in a recipe whereby the dish was thoroughly cooked before freezing.
---
Dishes to cook with pepperoni
Pepperoni is great stuff. It's so versatile. It's a brilliant thing to keep in your freezer for enhancing the flavor of many dishes.
Here are some of the suggestions:
A flatbread pizza. This is a real crowd-pleaser, and adding a few slices of pepperoni takes it to the next level.
Cheese toasties with slices or pieces of pepperoni.
Pasta bake topped with grilled cheese and pepperoni
In a salad wrap with some grated Parmesan
Unadulterated pepperoni with a chunk of crusty bread
Now, if you find yourself with some pepperoni leftovers approaching their sell-by date, you know how best to freeze them to use at a later date without any going to waste.
---
Is pepperoni cooked?
No, it hasn't, not unless it's an ingredient in a pre-cooked dish. Pepperoni sausage on its own as you buy it from a deli is uncooked, but it has been cured, fermented, and dried.
The process goes something like this:
First, the beef and pork meat are minced. Flavorings and spices are then added.
Next comes salt and sodium nitrate. These are the curing agents that ward off the growth of any unwanted microorganisms. It is the nitrate that gives pepperoni its typical pink color.
The next thing that happens is the minced meat is then injected with lactic acid bacteria in the same way as it is used in cheese or yogurt manufacture.
The meat mixture is then forced into casings traditionally made from the intestines of pigs or sheep but is now usually made from cellulose.
The mixture is then left to ferment inside the casings for around 2 to 3 days.
During this time, the lactic acid bacteria go to work, making lactic acid and causing the pH of the meat to drop - a vital part of the preservation process.
Next, the pepperoni is kept in a drying room for between 12 and 20 days to lower its moisture level - this being another important part of the preservation process.
It is then packaged and dispatched to delicatessens, restaurants, and supermarkets, ready for the public to buy.
---
For how long can you keep cured meat?
Curing meat does extend its shelf life considerably, but of course, nothing lasts forever. It all depends on the processing technique employed.
But whatever the technique, once you remove the packaging of cured meat, you allow it to be exposed to oxygen, reducing its shelf life drastically - maybe even to only a few days.
---
Let's take a look at the shelf lives of some of the more popular cured meats and sausages.
Cured and smoked poultry
After it has been cured and smoked, poultry can last for as long as a couple of weeks in your fridge. But if you freeze it, it can last for more than 12 months.
By contrast, raw chicken with only keeps for a few days in a refrigerator.
---
Salami
Salami is cured pork, and when vacuum sealed, it will last for several months - more than twice as long if you were to refrigerate it.
---
Pepperoni
If pepperoni is left completely intact, you can keep it at room temperature for as long as six weeks. If you then cut it, it will last for a further three weeks inside your fridge.
---
Pancetta
If you leave it in its store-bought packaging, pancetta will keep it for as long as 12 months. However, after opening the packaging, its shelf life is reduced to 2 to 3 weeks when kept in your fridge or several months if you freeze it.
---
Prosciutto
You can store prosciutto for the same times as pancetta.
---
Spanish chorizo
If you wrap cured chorizo in a tea towel, it will keep for up to 6 months.
---
Bacon
A cured piece of bacon can be kept unrefrigerated for over one week. If you pop it into the fridge, you will extend its shelf life to 6 weeks.
---
Cured fish
When it is lightly cured, fish can last for up to 2 weeks in your refrigerator and several months in your freezer.
When heavily cured, fish like salt cod, for example, can be kept in your fridge for an indefinite amount of time.
---
Frequently Asked Questions
Can pepperoni get mold?
Although meat with mold in it doesn't sound very appetizing, some kinds of meat wouldn't be the same without it.
You will find that hard pepperonis, common salamis, and dry-cured hams are processed to have white surface mold on their skins.
According to rd.com, eating them will do you no harm, if you handle them correctly.
This benign type of mold is put on the outside of cured meats on purpose. It helps the meat or sausage cure while also providing a protective coating to insulate it from harmful bacteria.
In other words, don't be put off by this type of meat or sausage.
If, however, you have a compromised immune system or you are particularly sensitive to mold, it is suggested to scrubbing or cutting away the mold before consuming the meat or sausage.
Click here to find out what happens if you do accidentally eat mold.
---
Is the white stuff on the skin of cured meat dangerous?
The white, dusty substance that is often found on the skin of cured meats and sausages is a natural and edible mold similar to those found on aged cheeses.
The technical name for it is Penicillium, and it is injected into salami to facilitate the aging process.
Penicillium creates a natural barrier that protects the salami from other molds and bacterial growth while the salami is drying and aging.
Not only is this mold natural, but it is also delicious.
However, if you don't like the idea, you can always remove it by peeling away the salami casing.
---
Is it safe to eat the casing of pepperoni?
It really all depends on the type of pepperoni you buy. It is sold in many varieties, and some come in casings that are thin and designed to be eaten, while others are much thicker and are almost inedible.
However, these are very easy to remove, and you should do so to avoid compromising your enjoyment of the pepperoni itself.
---
What are casings made of?
Sausage casings are made from a variety of materials, some of which are natural and some of which aren't.
1

Natural

The Natural casings used here in the United States are made from sub-mucosa - cow, sheep, or pig intestines.

It might not sound particularly appetizing, but it is a natural method that has been used for centuries.

After drying, sub-mucosa becomes considerably more resilient, and this is why these types of casings are dried when stored in delicatessens and supermarkets.

In Europe, the casings most commonly used are made from pig intestines.

Other sources, such as beef, goat, sheep, and sometimes horses, are used in different places worldwide.
---
2

Collagen Casing

Collagen casings, although being made from natural products, are far more processed.

The collagen comes from various animals and is extruded into the various casings and fresh, processed, rounds, and middles.
Fresh casings are clear and edible. They are mostly used on breakfast foods such as sausages.
Process casings are also edible and often used on hotdogs and various types of smoked and cured sausages.
Rounds are inedible and are used as casings for bologna and summer sausage.
Middles are also inedible and are used as casings for bologna and salami.
---
3

Cellulose Casing

Cellulose casings are made from the cell walls of plants. They are ideal for vegans.

The manufacturers of skinless sausages also use them for their products.
---
Peeling pepperoni
Position your pepperoni on a cutting board
Hold it firmly with your non-cutting hand, but not so tight as to crush it.
With a paring knife in your cutting hand, begin to slice the casing carefully, starting at one end and gradually working your way towards the other.
Pepperoni casing is usually quite thin, so it's hardly a difficult chore.
Holding the pepperoni with the cut side down on your cutting board, gently spread the casing apart, and peel off lengthwise.
If you are not consuming all of the pepperonis in one go, store it in a sealed container.
Tip:
As any competent cook will tell you, always wash your hands before handling food.
---
How long does pepperoni last after it's been opened?
Information on the label of the pepperoni should tell you how long you can keep it for once it's been opened.
Generally speaking, you'll find the time is anywhere from one to three weeks.
The reason for this variance is dependent upon the ingredients and the process used by the food producer. If in doubt, use within a week, and if necessary, freeze any leftovers.
The same goes for sliced pepperoni.
It always pays to be aware of pepperoni's sell by or use by date.