Are you sick and tired of buying what looks like a great piece of steak, getting it back home, and cooking it properly only to discover that it is as tough and chewy as a pair of old boots? It really sucks, doesn't it? Would you like to learn a few tricks on how to tenderize beef, steak, and other meats so that you can buy meat safely in the knowledge that it will be tender when you come to eat it? Excellent! Read on.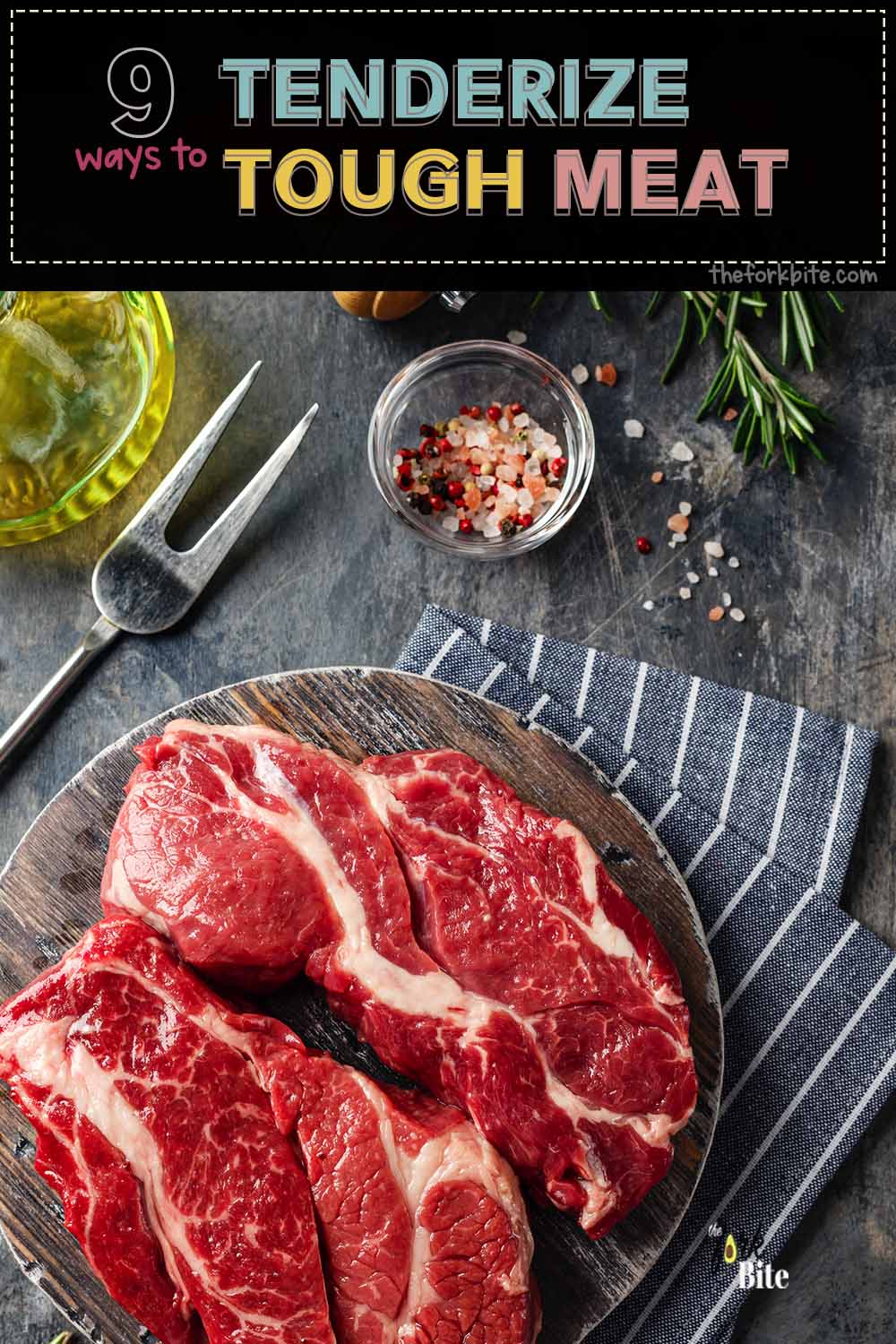 Jump to:

These tips will show you that you don't have to buy the best, most expensive beef fillet steak to ensure it will eat well. You can tenderize almost any cut of any type of meat when you know what to do.
We will tell you how, with step by step instructions, and some you won't even have to marinate - beef, buffalo, goat, pork, venison - whatever. We will reveal all.
---
Distinguish tough from chewy
Before we get to the main meat of the problem (pun fully intended), we ought to get our terminologies right. People sometimes say tough when they mean chewy and vice versa. So let's sort this misunderstanding out first.
Tough meat can be chewy, but the two terms are not interchangeable.
When people talk about meat being chewy, it relates to the meat's connective tissue and how long the muscle fibers are. Connective tissue is made from two different materials - collagen and elastin.
Collagen is a protein, and it forms the fibers and the sheaths that encase the fibers. We see them as the grain of the meat.
Cuts of beef like brisket contain more fibers in the sheaths than other cuts, making it chewier. But with careful cooking, you can dissolve collagen, making the meat more tender.
Elastin, on the other hand, is the stuff that makes up silverskin and ligaments - what we see as gristle. Cook this as you may, you can never get rid of it.
When we discuss how to tenderize beef and steak, you will note that many of the methods we review will also be suitable for poultry; chicken and turkey for example.
In this article, however, we will be focusing mostly on meat.
---
9 easy ways to tenderize tough meats

#1.) Beat it
Let's now take a look at the various methods you can use to make the tougher cuts of meat more tender, starting with beating the hell out of it.
Pounding meat with a tenderizing tool
One type of meat tenderizing tool is like a mallet. One side of the head of the mallet is spiked, while the other is sometimes smooth. The other type of tool is known as a Jaccard meat tenderizer. Pounding the meat with either of these tools is very effective.
The Jaccard tenderizer is probably best. With the mallet type, you have to pound the meat, and if you hit it too heavily and too often, you can turn the meat into mush. You should wrap the meat in plastic (saran) film to prevent any splatters when using the mallet tenderizer.
The Jaccard has between 45 and 48 double-sided stainless steel blades that cut into the meat. There is less risk of splatter, and if you are then going to use a marinade, the many holes the Jaccard punches will allow the marinade to seep deeper into the meat.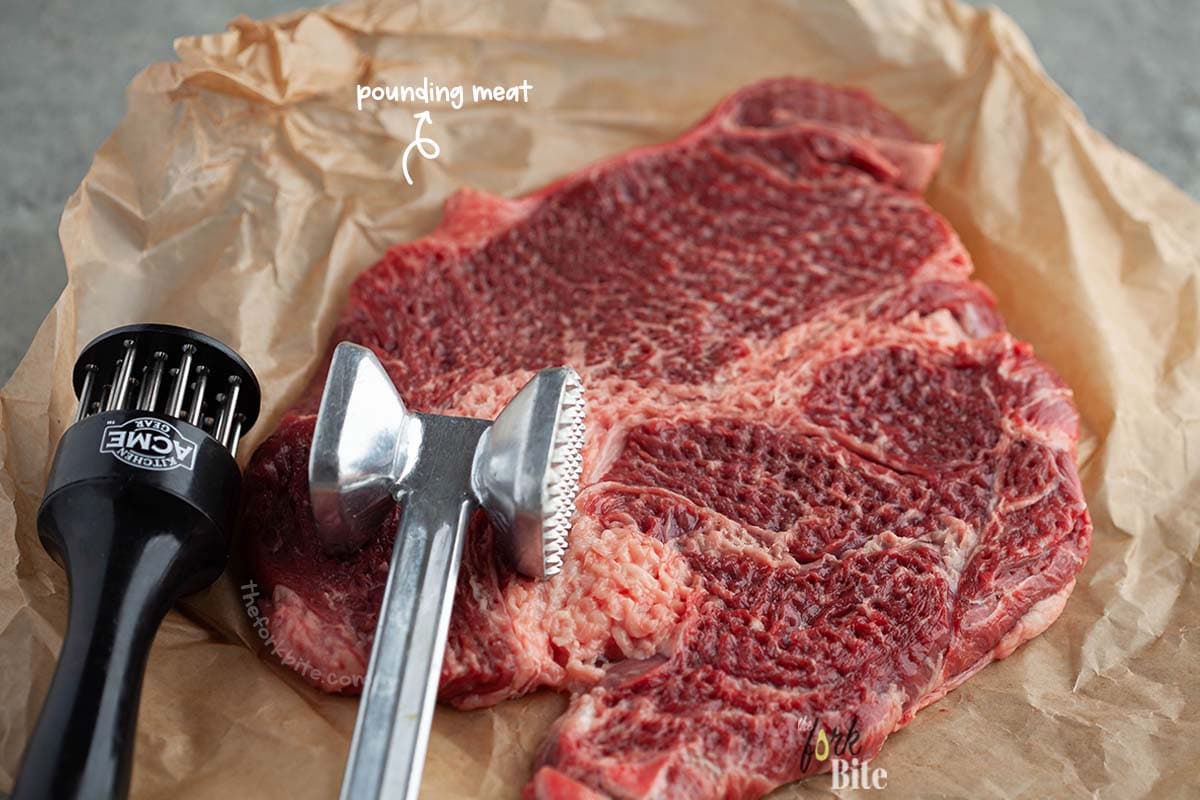 When is it best to use a mallet type tenderizer?
Using a mallet type tenderizer is best when you want to quickly sautee or flash fry the meat. But it's best not to use this method on the meat you want to grill.
The reason is that pounding breaks the meat's fibers. It will lose some of its integrity, making it more tricky to flip over without damage.
The best cut for mallet tenderizing
Don't pound the meat with bones in it. You'll shatter the bones and make the meat inedible. Flatter cuts like chops and steaks are best. Pounding a whole roasting joint would be foolish. You would simply destroy the flesh. If you do want to tenderize whole joints or birds, marinating is the way to go.
---

#2.) Marinate with acid
Acidic marinades are another option when it comes to how to tenderize beef and steak (and other meats). The acids most commonly used are lemon and lime juice, buttermilk, vinegar, and yogurt.
Acid marinades require a long time to work and penetrate the meat. Other marinade ingredients like oil and sugar might slow the process down even further.
Marinating a thicker piece of meat is likely to be a waste of time unless, of course, you use a Jaccard tenderizing tool on it first.
It's important, however, not to leave the meat in a marinade for extended periods because the acids will attack the protein, breaking it down and making it too squidgy.
The best time to leave the meat in an acid marinade is somewhere between 30 and 120 minutes. Keep an eye on it, though, to check if the edges are cooking. If they are, you're over-marinating.
People like to experiment with different marinades, but many are discovering that while they can add great flavor, they don't necessarily tenderize very much.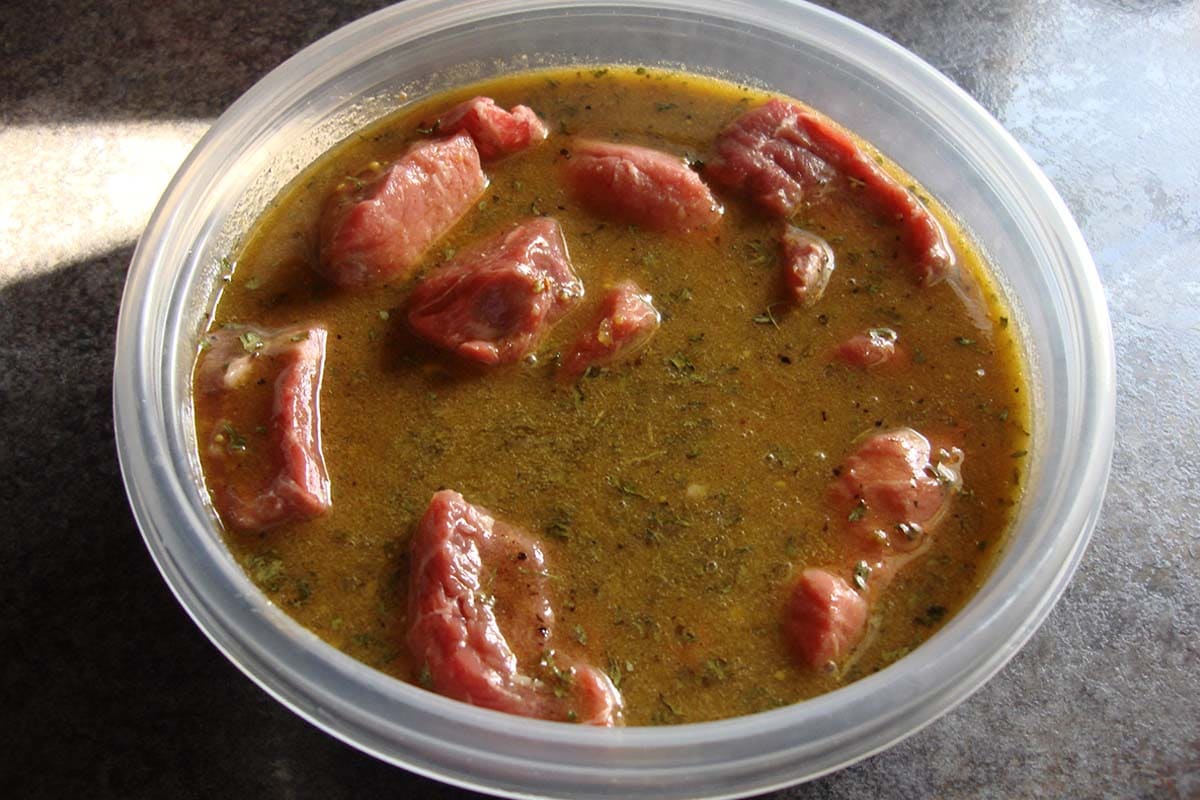 ---
How long should I marinate for the best results?
The length of time for a marinade to achieve the best results depends on the marinade's ingredients. If you need a quick marinade, choose a mixture with acid in it.
If speed is not of the essence, you can use a marinade containing oil. But, remember. Don't marinate for too long or the meat will get too squidgy.
---
What's the best method for marination?
The marinating process is simple. Put the meat into a bowl, dish, or plastic ziptop bag, pour over the marinade and cover, so it is not left in the open air. Refrigerate for 2 to 24 hours, depending on the type of marinade.
---
Which cuts should be marinated?
For best results in terms of how to tenderize beef and steak, thinner pieces of tougher cuts are preferred.
Flank, hanger, round, sirloin, and skirt steaks are best. Don't marinate the more expensive cuts as they shouldn't need it, and you may end up ruining them.
---
Which acids work best in a tenderizing marinade?
There are several different acids that people tend to use in their marinades. They include:
Various kinds of vinegar
Sauces such as soy, tomato, teriyaki, and Worcestershire
Ale or wine
Citrus juice (most commonly lemon or lime)
Dairy products such as buttermilk, milk, and yogurt
Combining such acids with enzymes like proteases creates a natural chemical reaction that breaks down protein.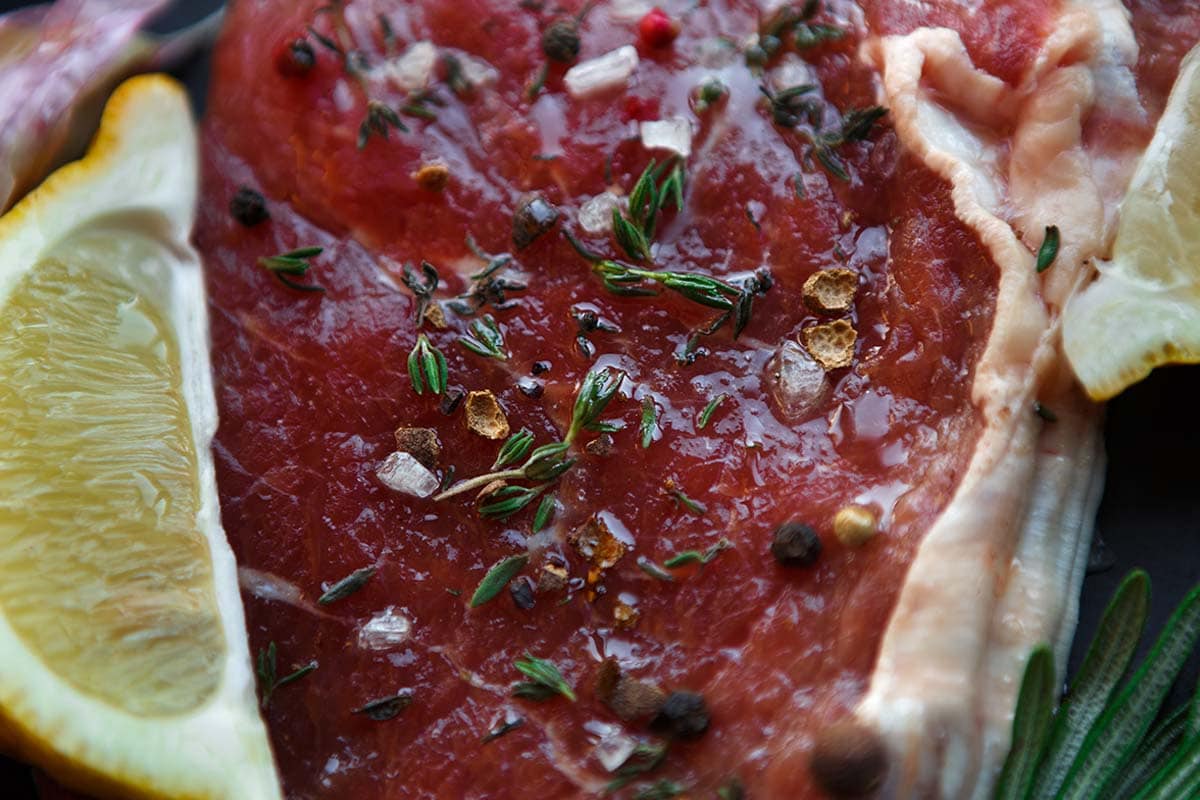 ---

#3.) Marinate with fruit enzymes
Fruits such as Asian pear, kiwi, and papaya, contain enzymes called proteases. They break down protein, and so help to tenderize meat. If you purify fruits containing proteases and use them with your favorite seasonings, you can create a marinade that will leave your meat succulent and tender.
One word of warning.
If you're using pineapple in your marinade, don't leave your meat in it for too long. Pineapple contains a particularly strong enzyme called bromelain. Prolonged exposure to this enzyme can result in your meat becoming too mushy.
Here is a list of some of the fruits that contain proteases.
Kiwi- This could sound a little far out; however, it works. Kiwi, (plus Asian pears, papaya, and pineapple), contain enzymes that can be used to tenderize tough meat.
Kiwi is an excellent choice to put in a marinade because it has a reasonably neutral flavor. But you don't need an awful lot. 2 tablespoons per cup of the marinade is plenty.

But be careful not to marinate it for a long time, or the meat will turn mushy. As with other similar marinades, this one works better with thinner cuts of meat, such as hanger steaks and poultry cuts like thinly sliced chicken thighs.
---
Pineapple - Pineapple in marinades works well with all sorts of meats, including poultry and fish. It gives a great flavor to the meat and helps to tenderize it at the same time.
One of the enzymes that pineapples contain, Bromelain, is particularly good at breaking down protein and softening it. Pineapple's distinctive tart taste also adds a flavoring to the meat that many people enjoy.
The best way of tenderizing with pineapple is to buy fresh fruit and extract the juice by pulverizing it with the kitchen appliance of your choice. Buying pre-made fruit juice won't work because most manufacturers pasteurize the juice, which destroys the enzymes.
---
Papaya - Papaya contains one of Mother Nature's most effective tenderizers, which makes it an excellent ingredient for a marinade.
It's best to use ripe fruit on tough pieces of red meat as the enzymes in papaya will act to break down the collagen, giving you a beautifully tender steak. Fear not; the taste of the fruit will not overpower either the marinade or the meat.
---
Asian pear - Many Korean meat marinades contain Asian pear. Its juice imparts sweetness to the marinade while working to tenderize the meat.
Korean cooks also use apple juice, pineapple juice, and soda in their marinades, but Asian pear is a crowd-pleaser.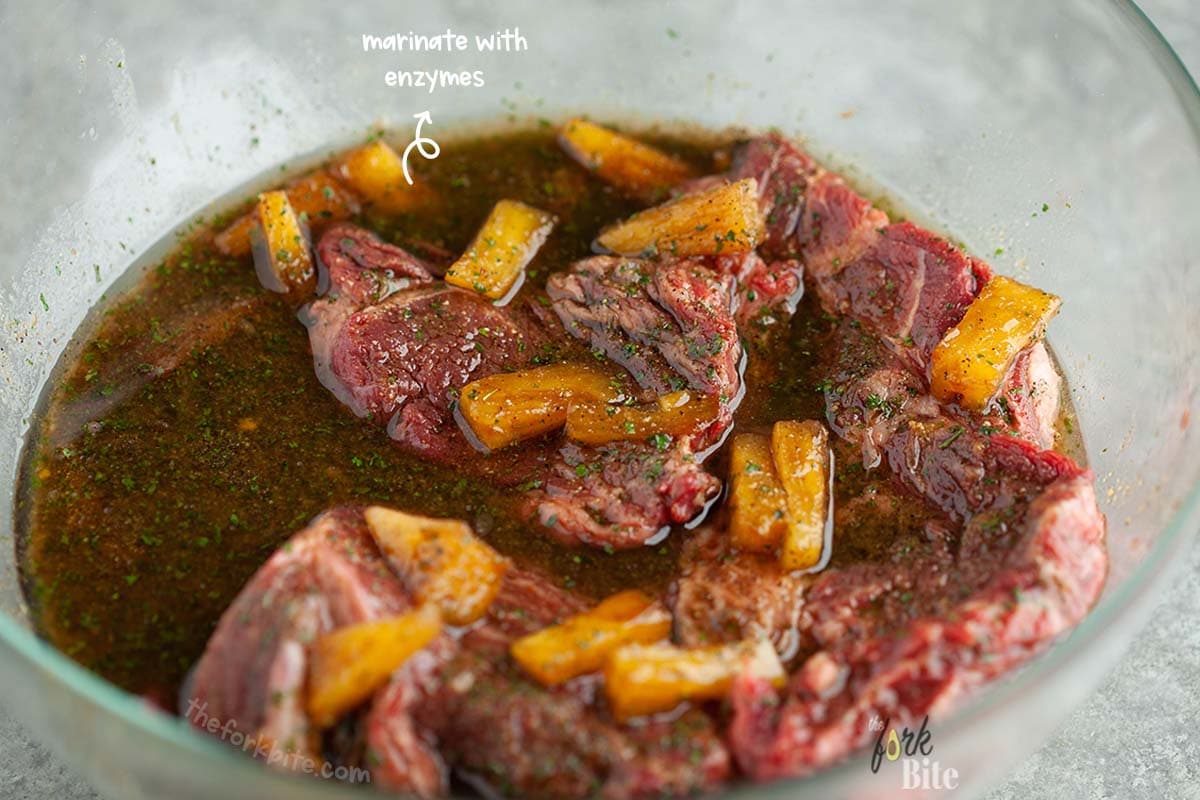 ---
How much fruit to use?
Whatever fruit you are putting in your marinade, allow two tablespoons of the pureed fruit per cup of marinade. But don't forget not to over marinate the meat as it will become too mushy. Mango juice is a great alternative.
---
What temperature works best?
The optimum temperature range at which enzymes work best is between 50°C and 70°C, (120°F to 160°F).
---
Which cuts work best with fruit enzymes?
As with some of the marinades mentioned earlier, fruit enzymes work more effectively with thinner cuts of meat.
---
What about a commercial tenderizer?
You can buy ready-made, prepackaged tenderizing powders that are made from dried fruit enzymes. Many people use them for convenience, but there is little comparison with using fresh, whole fruit.
---
How about ginger?
A lot of people also use ginger in their marinades. It contains a proteolytic enzyme that can break down protein and tenderize meat. Ginger is an ingredient that many Asian chefs like to use when marinating meat.
---

4.) Salt it
One straightforward answer to the question of how to tenderize beef and steak is to cover it in salt and leave it for about an hour or two before cooking.
The salt works by breaking down any tough muscle fibers without the need for creating a more elaborate marinade.
There is an ongoing debate about salt. Some food scientists say that salting meat can make it tougher. However, many chefs and foodies alike, disagree. The fact of the matter is that if you leave salt time to do its work, it can break down strands of protein and muscle fibers in tough meat.
Many top cookbooks, including Cook's Illustrated and America's Test Kitchen, insist that salt is the secret ingredient needed to produce the best, most succulent roasts.
The process of brining is best used with extremely lean cuts of meat. When cooking roasts, most chefs recommend rubbing salt into the flesh and putting the salted joint into the refrigerator for 24 hours before cooking.
In terms of smaller cuts of meat, like steaks, for example, the recommended standing time is 40 minutes. If you'd like to know more about this subject, the publication, "Turning Cheap Choice Steak into Gucci Prime," does good reading.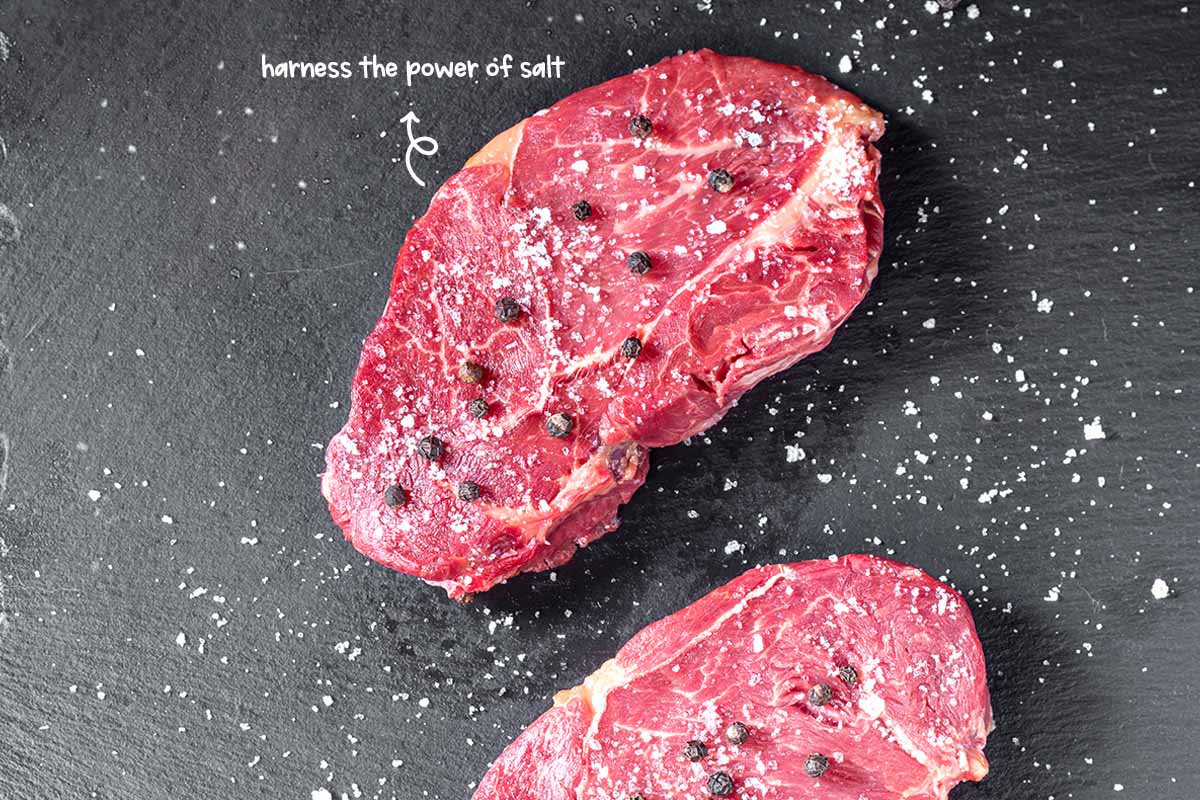 ---
How to apply salt?
If you are going to salt meat, follow these steps:
Set the meat down on a board, plate, or tray, and sprinkle on a generous amount of salt.
Then, flip it over, and salt the other side, again, generously.
If you want to massage the salt into the meat, please feel free to do so.
After salting, allow the meat to sit there at room temperature. The duration will depend on the thickness of the flesh. As a rough guideline, allow an hour per inch of thickness.
So, for example, if you're salting a 1½ inch thick piece of steak, let it sit for one and a half hours.
When the time is up, brush the salt off and wash the meat thoroughly with water. If you were to leave the salt on, it would taste incredibly salty when cooked.
---
How long should I salt the meat?
After salting all over, let the meat sit for one hour per inch of thickness.
What kind of meat should I salt?
Any type or cut of meat can be salted, all though the more expensive cuts may not need it.
---
What kind of salt works best?
The majority of chefs recommend using a coarse grain salt, like marine or coarse grade kosher salt. They maintain that fine grain salt tends to dissolve and become absorbed quickly, thus affecting the taste of the meat.
Despite this, some people still use table salt and just make sure to wash it off before cooking. The choice is yours.
---

#5.) Slice it right
There are one or two useful knife tricks you can use to tenderize meat.
The first is something called scoring. To score a piece of meat, make shallow cuts across the surface of the flesh.

Be careful not to cut all the way through. Scoring is useful for potentially chewy pieces of steak like skirt or flank.

It helps break up any tough proteins and encourages the meat to absorb any tenderizing marinades that you might wish to add.

The second trick for tenderizing works with meat that has already been cooked. You should slice the meat thinly across the grain.
The theory is that this will break up any long, tough meat fibers. The shorter the fibers, the more easily the meat should eat.
Slicing through the connective tissue will make the meat more tender. Thinly slice the meat against the grain after cooking.
This means cutting across the muscle fibers, not following them. This trick is especially recommended for both flank and skirt steaks.
Another way you can use a knife to tenderize meat is to perforate the flesh with the tip of the blade prior to salting or marinating. It will give you the same effect as using the Jaccard tenderizing tool we discussed earlier.
If you own a meat grinder, use it to turn tough cuts of meat into more tender ground meat.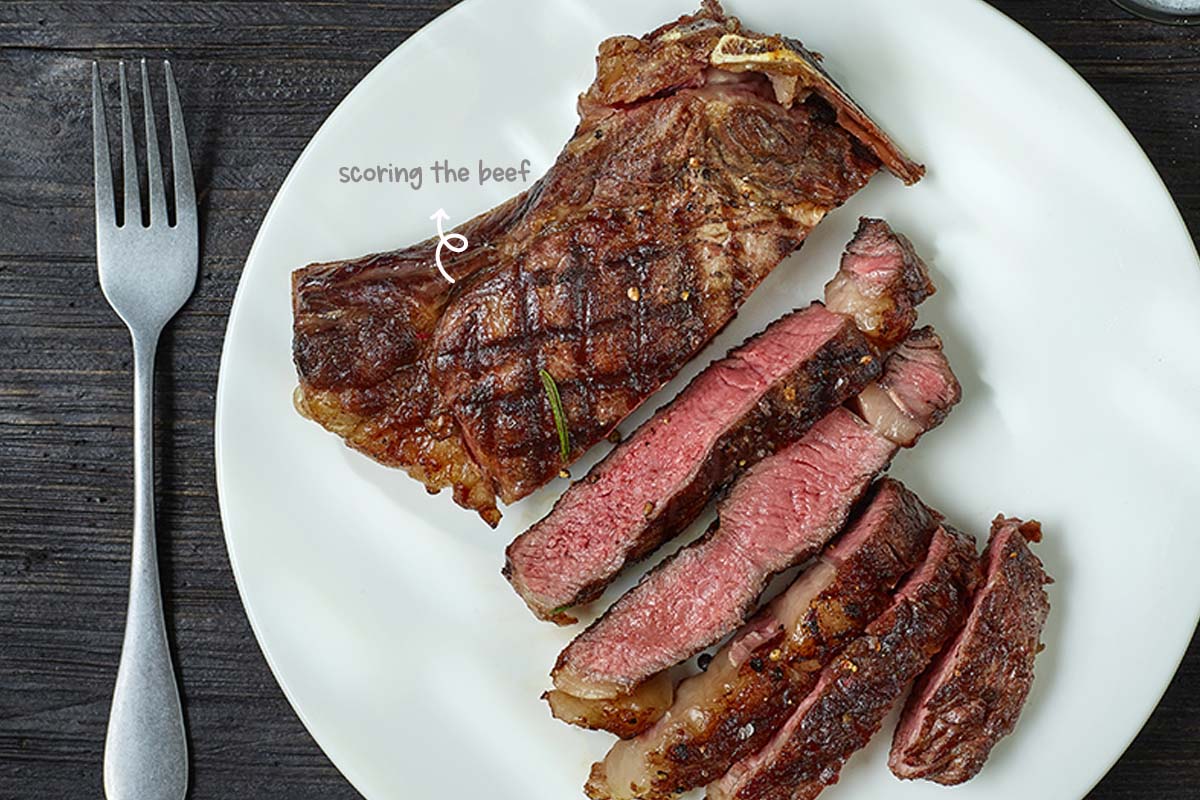 ---

#6.) Slow-cook it
Slow cooking a tough cut of meat in a low-temperature setting is an excellent way of tenderizing it. Any tough fibers, collagen, and connective tissue will be broken down to produce a tender piece of meat.
Another option is to use a slow cooker. They are best used to braise or casserole meat in a gravy or sauce. They are standalone machines that imitate the process of brazing in an oven by allowing the meat to cook for a long time in a gentle heat setting, the collagen in even the toughest cuts of meat will eventually break down, and you will be left with a tender, succulent piece of meat.
How long does it take to make the meat tender?
Meat is formed using long fibers. These fibers are made from a protein known as collagen. These fibers are bunched together and wrapped in a sleeve or sheathe, also made from naturally formed collagen.
When cooked at a high temperature, this connective tissue shrinks and loses moisture. It is the reason that well-done meat becomes tough.
If, however, you maintain a lower heat, between 160°F and 205°F, the collagen gelatinizes, which makes the meat more tender.
---
How low should I go?
The ideal low cooking temperature for meat is 190°F, but it will work anywhere from 160°F to 200°F.
How long is long enough to cook meat?
If you consult the old brigade of chefs, they would recommend 2 ½ hours as being a sufficient time to cook meat. If you'd like a more in-depth insight, take a look at J. Kenji Lopez-Alt's article entitled "Why You Shouldn't Cook Your Beef All Day."
---
What method of long, slow cooking works best?
There are several ways of slow-cooking meat. In terms of "dry" cooking, you can grill or smoke. In terms of "wet" cooking, you can braise or stew. People often use slow cookers or Dutch ovens.
---
Which cuts have the most collagen?
When it comes to understanding which cuts of meat contained the most collagen, these include beef chuck, brisket, butt, rib, shank, short loin, and shoulder. All of these cuts tenderize nicely when slow-cooked. Chops and filets, however, do not.
Note:
Remember that overcooking or cooking meat too rapidly will result in tough meat becoming even chewier. Rather than being too impatient, take your time and use a meat thermometer.
---

#7.) Dry-Age Meat for Tenderness
Another way of tenderizing meat is to dry-age it. This method uses the meat's enzymes to break down muscle fiber. The result is a tastier and more tender piece of meat.
---
How long does it take to dry-age meat?
The jury is still out on this one.
One school of thought (including Cook's Illustrated) maintains that if you are storing the meat in a non-commercial cooling unit, you shouldn't keep it there for more than four days. In Cook's Illustrated, the majority of recipes regarding roasting meat recommend aging for between one and four days. They also recommend rubbing it in butter and salt.
However, others, including "The Food Lab's Complete Guide to Dry Ageing Beef at Home," maintain that between 14 and 21 days is preferable.
Many people concur that two weeks' worth of aging is enough for any big, sub-primal cut of meat. The longer you leave it, the "stronger-tasting" it will become. However, some people like their meat to taste strong. The best thing to do is to experiment with aging in your refrigerator to find the best length of aging for your palate.
---
Which part of the refrigerator works best for dry aging?
As far as America's Test Kitchen website is concerned, you should be targeting a humidity level of between 80% to 85% in a temperature of between 33°F and 40°F.
The show's team says that it is best to place the meat to the rear of the bottom part of your refrigerator, as this is coldest.
The majority of non-commercial refrigerators do not have humidity controls like their commercial counterparts. Because of this, America's Test Kitchen team recommends that you should wrap the meat in multiple layers of cheesecloth before placing it in the refrigerator.
Most chefs say that you should position the meat as close to the refrigerator's fan as possible. They also recommend that you should turn the meat occasionally to ensure it ages evenly.
---
What happens to the dry-aged meat?
When you dry-age meat, it becomes considerably more tender.
The outer layer of the meat will become dry.
You will have to cut away up to 30% of the meat because it has lost moisture.
Dry-aged meat develops a satisfying, nutty, umami taste, and smell.
---
Which meats are best for dry-aging?
Beef is the meat most commonly dry-aged. However, the dry-aging process works well on pork too. Because you will lose up to 30% of the flesh, you need to begin with as large a piece as possible.
With the beef, for example, the whole subprimal cut, (the top round or whole tenderloin) with the bone still in, and its outer fat layer intact, is best.
If you have a good relationship with your butcher, you can ask him or her to give it to you before it gets cut into smaller steaks. It is pointless to dry-age smaller pieces of meat.
Not only will you not get the benefits in terms of the flavor and tenderness you would expect to get from a large chunk of meat, but after you have cut away the dry outer layer, there will be very little edible meat left.
---
Quick tip: Before you put your meat into the refrigerator for dry aging, don't forget to wrap it in layers of cheesecloth.
---

#8.) Use Baking Soda
There is an article on the Cook's Illustrated website explaining how baking soda, will alkalize and neutralize any acid in meat, and increase the pH level of the meat's outer surface.
While many people use this method of dry-aging, a proportion of them says that the meat ends up tasting slightly alkaline, even after the baking soda has been thoroughly washed off.
---
Which meat or cuts work best?
You can use baking soda to dry-age any type and cut of meat, but it makes sense to only use it on the cheaper, tougher meats. As this process doesn't penetrate the flesh, but only works on the surface, it is best to use it on smaller, thinner, bite-size pieces of meat.
---
How should I use baking soda?
The best way of applying baking soda to the meat is to sprinkle it evenly over the meat's surface and gently rub it in.
Alternatively, you can dissolve baking soda in water and then immerse the meat in the liquid.
Once you have coated meat in baking soda, leave it to rest for between 15 and 20 minutes. Leaving the coating on any longer will not damage the meat in any way, but it won't tenderize it anymore.
After 15 to 20 minutes, thoroughly rinse the baking soda off and pat the meat dry. This will help the meat to brown more satisfactorily during cooking. Leaving the baking soda on the meat any longer could be detrimental to the meat's taste and texture.
Remove any excess salt from the outer skin of the meat before cooking.
---

#9.) Let the Meat Rest Before Cutting It
Letting cooked meat rest before you carve it is an essential last step which should not be omitted or rushed. The Chief Culinary Consultant of Serious Eats, Kenji López-Alt, knows that allowing the meat to rest before carving or cutting makes all the world differently.
By cutting meat immediately after cooking, you will lose around 40% of the meat's natural juices. They will simply leak out onto your cutting board. However, if you allow the meat to rest, it will reabsorb all the natural juices improving both texture and flavor.
If you take a look at the picture on the left, you can see how much juice will be lost if you cut the meat without resting.
---
Meat can't brown if it isn't dry.

The meat will not brown if it isn't dried off before cooking, so don't forget that after rinsing any coating off, pat the meat dry with a towel.
---
Which cuts of meat are the toughest?
The cuts of beef that tend to be toughest are brisket, chuck, flank, loin, rib, round, shank, and short plate. These are known as the eight primal cuts.
These primal cuts are then divided into sub-primal cuts that get shipped to local markets to be finally cut and prepared for sale to the consumer.
This last cut - called a "portion cut" - is the one consumers buy as ribs, roasting joints, and steaks.
The most expensive cuts of beef come from flesh towards the center of the cow as a point of interest. The reason for this is that beef becomes more tender; the further away it is from the horns and hooves.
The more that you, as a consumer, understand the various cuts of beef, the more informed decisions you can make when out meat shopping.
This one is essentially the same but the layout is better and has a price range. Imgur.
---
Chuck
Chuck steak comes from the shoulder of the cow. This part of the animal produces flavorsome meat that can be butchered and prepared in several ways. It also produces firmer flesh. Because of its versatility and low price, chuck steak is one of the public's favorites. It can be used in any type of cooking.
You will typically come across chuck steak in the form of chuck pot roast, chuck short ribs, flat-iron steak, ground chuck (hamburger meat), shoulder tender medallions, and stewing beef, etc.
---
Rib
Unsurprisingly, the primal rib cut comes from the cow's backbone and ribs. A cow has 13 pairs of ribs, but only the last six falls into the category classed as "rib."
The other seven pairs get grouped with chuck and short plate. Rib-steak is noted for its fatty marbling, its tenderness, and its excellent flavor.
Rib tends to be a little more expensive than other cuts and eats well when it is slow-cooked rather than grilled.
The various cuts of rib include back ribs, cowboy steak, ribeye filet, ribeye steak, and short ribs.
---
Loin
The loin area of the cow is where you will come across the more expensive cuts of beef. The loin area lies just behind the ribs, and because of this, it is not heavily muscled.
It means the loin cuts are very tender when compared to other more muscular cuts. It is split into two main parts: short loin and sirloin.
Sirloin comes from the loin's rearmost region, and although it is the less tender of the two, many people would argue that it has more flavor.
Sirloin is mostly used for grilling rather than slow cooking. Standard cuts include bottom sirloin, sirloin steak, top sirloin, tri-tip roast, and tri-tip steak.
Short loin, on the other hand, is like sirloin cuts, although being closer to the cow's center, it is more tender than sirloin.
In a similar way that sirloin dries quickly, so too does short loin, it is best when grilled or fried. The usual short loin cuts include filet mignon, NY strip, porterhouse, strip loin, T-bone, and tenderloin filet.
---
Round
The primal region of the cow known as "round," produces a cheap, lean cut. The area it comes from is close to the hind legs of the animal. As there is more muscle in this region, it is a tougher cut of beef.
Because this cut is quite lean, you would do well to research how best to prepare and cook this type of beef. It cooks well under a high heat setting in a similar way to top, bottom, and round eye, or when slow-cooked like eye roast and rump.
The cuts of round beef that you would typically find in supermarkets include bottom round roasts, eye round, tip roast, tip steak, and top round.
---
Flank
The primal cut known as flank comes from an area just below the loin. Although this area has no bones, the meat tends to be tough but full of flavor.
Once upon a time, this was one of the least expensive cuts you would expect to find in any store. But as the demand for lean meat has become more fashionable, the demand for flank has grown, pushing its price up.
Ordinarily, you would expect to find only two cuts of flank. These are flank steak and skirt steak, both of which are best grilled at high temperatures.
---
Short Plate
Usually classified with the brisket region, short plate cuts come from the area adjacent to the cow's stomach. This location tends to offer cheaper, fattier, tougher cuts of meat. Marbled short ribs are also taken from this area.
The short plate primal cut yields beef bacon, ground beef, hanger steak, pastrami, short ribs, and skirt steak.
---
Brisket
Brisket comes from the chest of the cow and is a favorite for barbecuing. It does have a reputation for being fat and tough; however, when prepared and cooked correctly, it can be one of the most delicious and tender cuts of beef.
A lot of people prefer to slow cook brisket, but you must be careful. There is a delicate balance between it ending up juicy or dry. Because of this, it is always recommended that you tenderize and marinate brisket before slow cooking it. You will then end up with a delicious and easy to eat a piece of meat.
Brisket usually is available in one of two cuts - brisket flat and brisket point. Both cuts require slow cooking. The flat cut is leaner than the point.
---
Shank
Shank is probably the toughest cut of beet. This is reflected by the fact that it is also the cheapest. It comes from the cow's forearm as it were, just in front of the brisket. It is renowned for being sinewy and dry.
As it is not very popular, you won't find it in many stores. Having said that, if you can track it down, it is a cheap option for making beef stock or lean, ground beef. As it is quite dry, the shank is best when it is cooked slowly in moist heat.
Shank is most often used in stews and soups, and an Italian dish is known as Osso Buco.
---
Interesting recipes