Ladyfingers have magic of their own, don't they? They're not just an ingredient but a key that unlocks a world of mouthwatering desserts, from the much-loved Tiramisu to surprising puddings and trifles.
In today's blog post, we'll explore an array of fantastic recipes that bring ladyfingers front and center. Prepare to uncover the sweet secrets of these delicate sponge cakes and explore their transformative potential.
Takeaways:
Versatility in Desserts: Ladyfingers add charm to various desserts like Tiramisu and trifles, soaking up different flavors beautifully.
The Art of Preparation: Using ladyfingers right, from soaking to layering, can elevate your dessert's taste and presentation.
Store-bought vs Homemade: While store-bought ladyfingers can be convenient, homemade ladyfingers have a freshness and lightness that's hard to match. You can control the size and shape to suit your particular recipe.
Jump to:
15 Recipes with Ladyfingers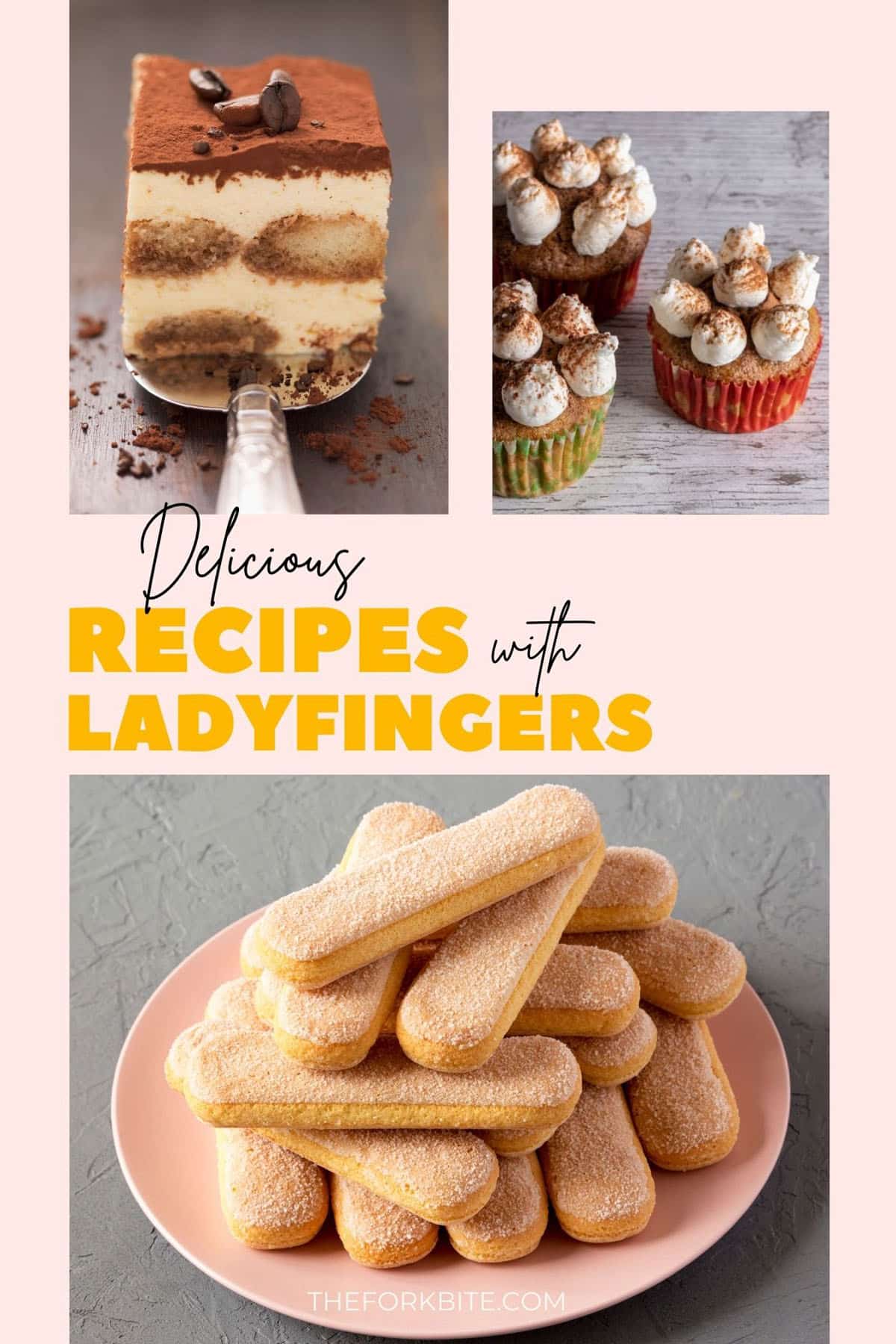 1

Classic Tiramisu:
Indulge in the decadent layers of espresso-drenched ladyfingers and creamy mascarpone cheese. The sweet and bitter flavors blend perfectly in this classic Italian dessert, topped with a dusting of cocoa powder. Check the recipe here.
2

Mixed Berry Trifle:
Indulge in this Mixed Berry Trifle, loaded with fresh berries, sweet pound cake with a hint of strawberry jam, and velvety vanilla custard. Perfect for all occasions and crowd-friendly!
3

Strawberry Shortcake with Ladyfingers:
Experience the joy of summer with this Strawberry Shortcake Icebox Cake. Bursting with fresh strawberries, creamy berry filling, and delicately soft ladyfingers, it's a light, simple, yet deliciously layered dessert perfect for any occasion!
4

Limoncello Tiramisu:
Savor this Limoncello Tiramisu, where every bite is a symphony of tangy lemon and rich mascarpone—ladyfingers, drenched in limoncello syrup, nestled between layers of fluffy lemon whipped cream. Patience is the only challenge, as it chills overnight to reach peak deliciousness!
5

Banana Pudding with Ladyfingers:
Discover this Banana Pudding Tiramisu, where ladyfingers cozy up to a plush mousse layer, followed by fresh banana slices - then we do it all again! A crown of whipped cream and a sprinkle of Nilla wafers make this the ultimate banana pudding experience.
6

Ladyfinger Cheesecake:
Whip up this quick cheesecake in just 15 minutes and astound your guests. Display it on a cake pedestal for the 'wow' factor! You can also swap in blueberry pie filling for a delightful twist.
7

Ladyfingers and Chocolate Mousse Layer:
Revel in the effortless indulgence of this Chocolate Mousse Cake, a no-bake sensation perfect for celebrations. Thanks to ready-made ladyfingers, you'll craft this dessert delight with ease.
8

Mango and Ladyfinger Trifle:
Celebrate summer with our refreshing Mango Trifle. This delightful dessert features angel food cake adorned with sweet mango, white chocolate whipped cream, and a sprinkle of macadamia nuts.
9

Cappuccino Torte with Ladyfingers:
Experience the delight of this Tiramisu Torte. Composed of ladyfingers and lush mascarpone, this cake stands out as a top-notch choice among our dessert selection.
10

Tiramisu Cake Balls:
Savor the authentic taste of Tiramisu, now reimagined as delightful Cake Balls. Each bite encapsulates the classic tiramisu flavors we all love. Enjoy!
11

Raspberry Amaretto Tiramisu:
Relish this Raspberry Amaretto Tiramisu! It features amaretto-drenched ladyfingers, lush vanilla mascarpone filling, a raspberry amaretto infusion, and is topped with fresh raspberries.
12

Mocha Tiramisu:
Delight in this unique Mocha Tiramisu! Ideal for fans of chilled, creamy desserts, it's low-sugar using Truvia. Plus, it's egg-free, making it swift to prepare and a safer choice for everyone.
13

Ladyfingers Charlotte with Strawberries:
This Strawberry Shortcake Charlotte Russe combines Chiffon cake, strawberry cream cheese Bavarian, vanilla Bavarian, and ladyfingers with a bounty of fresh strawberries for a delightful treat.
14

Individual Tiramisu Cups:
Enjoy this quick Individual Tiramisu Cups - they feature layers of smooth mascarpone mousse, espresso-drenched ladyfingers, and rich cocoa powder. A perfect treat for any day!
15

Italian Peach Melba Trifle:
Relish the heavenly fusion of peach and raspberry in this divine dessert. Savour the fluffy, raspberry-infused whipped cream layered over succulent ladyfingers and peaches. Easy to make, yet seems like hours in the making.
---
Understanding the role of ladyfingers in baking
It's hard to imagine a baking world without ladyfingers' soft and spongy elegance. A delight on their own, their real magic lies in their versatility.
Ladyfingers bring out the best in creamy desserts, soaking up rich flavors while maintaining their unique texture. Whether layered in a trifle, nestled in a fruity Charlotte, or being the foundation of the iconic Tiramisu, ladyfingers never fail to impress.
Significance of ladyfingers in Tiramisu
If there's one dessert that really lets ladyfingers shine, it's Tiramisu. In Italian, Tiramisu means 'pick me up,' and boy, does it live up to its name.
The blend of coffee-soaked ladyfingers, layered with a heavenly mix of eggs, sugar, and mascarpone cheese, all dusted with cocoa—it's a dessert that never fails to lift the spirits. As for ladyfingers, or 'Savoiardi,' as the Italians call them, their journey began in the Duchy of Savoy. Today, their legacy continues, weaving magic in every Tiramisu that comes to life in our kitchens.
---
Ladyfingers: A closer look
Let's take a moment to appreciate ladyfingers. You see, these small, delicate sponge cakes are special. They have a soft and airy interior, while the outside has just the right firmness.
Dunk them in a liquid, and they absorb it right up without falling apart. The subtle sweetness makes them the perfect partner for rich, creamy desserts. And their shape? Elegant and elongated, just like a lady's finger—hence the name.
Homemade vs. Store-bought Ladyfingers
We all face the dilemma of making ladyfingers from scratch or simply grabbing a pack from the store. I love the smell of freshly baked ladyfingers filling up my kitchen. And the taste of homemade ones? It's unbeatable. Plus, you control the ingredients.
But let's be honest, we don't always have the luxury of time. Store-bought ladyfingers can save the day, and some brands offer pretty decent quality. But remember, fresh beats packaged any day. If you've got the time, try homemade ladyfingers. Trust me, you'll taste the difference!
---
Basic preparation techniques
Prepping Ladyfingers for Action
Ladyfingers might come in a packet, but that doesn't mean they're ready to dive into your dessert just yet. A little cleaning and trimming can go a long way.
First, check for any crumbs or loose pieces—we don't want those messing up our dessert.
Next, it's trimming time. Ladyfingers come in a standard size, but depending on your recipe, you might need to trim them to fit your dish. Use a sharp knife for a clean cut, and remember, it's always better to measure twice and cut once!
---
Keeping Ladyfingers Firm and Spongy
Now, the biggest fear when using ladyfingers in desserts like Tiramisu? The dreaded sliminess! We're looking for a moist, flavorful sponge—not a wet, gooey mess.
The trick is in the dipping. Don't let the ladyfingers linger too long, whether it's coffee, liquor, or syrup. A quick dip, just enough to moisten them, is all you need. Let them soak up too much liquid, and they lose their texture. Remember, firm and spongy—that's our ladyfingers mantra!
---
The many ways to cook Ladyfingers.
Ladyfingers aren't just for no-bake desserts. They're quite the chameleon in the kitchen. Steaming, boiling, sautéing, baking—you name it, ladyfingers can handle it.
Steaming them softens their texture, making them perfect for delicate desserts.
Boiling isn't a common method, but it can be used if you aim for a super soft texture.
Sautéing ladyfingers? Yes, you heard that right. A quick sauté can give them a crispy edge—great for adding some crunch to your dessert.
And baking, of course, is our traditional route. Baking ladyfingers in the oven give them a beautiful golden hue and a warm, toasty flavor.
Each method brings out a different side of ladyfingers, so don't hesitate to experiment and find your favorite!
---
Other desserts with Ladyfingers
Trifles and Charlottes with Ladyfingers
Trifles and charlottes are two classic desserts where our ladyfingers truly shine.
In trifles, ladyfingers get layered with custard, fruit, and whipped cream, delivering a blend of textures and flavors that's nothing short of a party in your mouth.
And charlottes? They're like a beautiful gift box, with ladyfingers forming the box and a creamy, fruity filling being the surprise inside. These desserts might not be as famous as Tiramisu, but they're worth your time and effort.
Puddings and Cheesecakes with Ladyfingers
Want to try something different? How about a Ladyfingers pudding or a
Ladyfingers cheesecake?
Ladyfingers play the sponge role in the pudding, soaking up a delectable mixture of cream, sugar, and vanilla, resulting in a rich, creamy, and oh-so-comforting dessert.
And in the cheesecake? Ladyfingers form the base, providing a crunchy contrast to the smooth, creamy cheesecake layer. It's a novel way to use ladyfingers; the results are gratifying.
Ladyfingers as Decorative Dessert Elements
Ladyfingers are not just great for adding structure and flavor to desserts.
They also make lovely decorative elements. Whether lining the outside of a cake, forming a fence around a dessert, or even standing tall as a tower, ladyfingers add a touch of elegance and sophistication to any presentation. Remember, we eat with our eyes first, and ladyfingers can make your desserts feast-worthy.
---
Storing Ladyfingers and Tiramisu
Storing desserts is an art, and it becomes all the more important when ladyfingers and delicate desserts like Tiramisu are involved.
For ladyfingers, the key is to keep them in airtight containers. This way, they stay crisp and fresh for longer.
As for Tiramisu, well, it loves the refrigerator. Cover it tightly with cling wrap to prevent it from absorbing the other fridge odors. And remember, Tiramisu tastes better after it has rested for a day in the fridge, so a bit of patience goes a long way!
Serving Suggestions
Now comes the best part—serving your creations. With Tiramisu, dusting cocoa powder just before serving adds to its appeal. And it's always a good idea to cut a small slice first to create a guide for the rest of the slices.
Individual serving bowls can add a touch of elegance to trifles and puddings. And remember, a small sprig of mint or a few fresh berries can add a pop of color and make your desserts even more inviting. After all, presentation is just as important as taste!
---
Frequently asked questions
What are ladyfingers in baking?
Ladyfingers, also known as Savoiardi, are small, elongated sponge cakes often used as an ingredient in desserts. They have a light, airy texture and a delicate sweetness, making them versatile in various recipes, such as Tiramisu, trifles, and charlottes.
How do you make ladyfingers from scratch?
Making ladyfingers from scratch involves beating egg yolks and sugar until thick, then folding in beaten egg whites and flour. The mixture is then piped onto a baking sheet and dusted with powdered sugar before baking. The result is a light, airy sponge cake perfect for layering in desserts.
Can I substitute anything for ladyfingers in a recipe?
If you don't have ladyfingers, you can substitute them with sponge cake, pound cake, or even biscotti. Just remember that the texture and sweetness may vary, so choose a substitute that will complement the other ingredients in your recipe.
What is the role of ladyfingers in Tiramisu?
In Tiramisu, ladyfingers are soaked in coffee (and sometimes liquor) and layered with rich, creamy mascarpone cheese and eggs. They provide structure to the dessert, and their light texture absorbs the coffee and liquor well, contributing to the overall taste and texture of the Tiramisu.
How do I store ladyfingers?
Ladyfingers should be stored in an airtight container at room temperature. They can last up to a month when stored properly, but using them within two weeks for the best texture and flavor is best.
Can I use ladyfingers in recipes other than Tiramisu?
Absolutely! Ladyfingers are versatile and can be used in other desserts such as trifles, charlottes, and puddings. You can even enjoy them on their own with a cup of tea or coffee.
Can I make Tiramisu without ladyfingers?
While ladyfingers are a traditional ingredient in Tiramisu, you can substitute other types of sponge cake or even cookies. However, the texture and taste of the dessert will vary slightly.
Can you eat ladyfingers raw?
Ladyfingers are actually baked sponge cakes, so they are not raw. They can be eaten straight from the packet or used in recipes. However, they are typically used as an ingredient in desserts and are not usually eaten on their own.
Are ladyfingers vegan?
Traditional ladyfingers are not vegan, as they contain eggs. However, there are vegan versions available on the market, or you can make your own using egg substitutes.
How do you keep ladyfingers from getting soggy in Tiramisu?
To prevent ladyfingers from getting too soggy in Tiramisu, you can briefly dip them in the coffee (and liquor if using) rather than soaking them. Also, chilling the Tiramisu thoroughly before serving helps to firm up the dessert and keeps the ladyfingers from becoming too soft.