Every meal you serve to guests deserves a conversation piece. Since dessert is the most creative course -think Tiramisu – the ubiquitous Italian dessert, which means, "lift me up". Slowly savor its succulence and Tiramisu lifts your spirits up. But, overindulge and you'll likely moan, "Help! Lift me up out of this chair."
Legends have it that Tiramisu was the go-to "lift me up" of Italian courtesans when they took a coffee break. It was thought to contain aphrodisiac properties.
As complicated as Tiramisu might seem, it's an easy dish to prepare. However, its specialness is best reserved for those times you desire to impress your guests. Like when the boss comes to dinner…
Tiramisu Tips and Techniques
To prettify your presentation, put Tiramisu in chilled champagne glasses and serve on a silver tray. Be aware, that serving it to your circle of friends may ignite a friendly feud among them, with each creative cook trying to outshine the other's culinary abilities!
Assembling Tiramisu is easy-peasy and a marvelous choice for summer months, as no baking, is required. However, it's not a spur of the moment throw together. For the height of awesomeness, the ingredients must meld in the refrigerator covered, overnight if possible, or a minimum of 12 hours, the longer the better.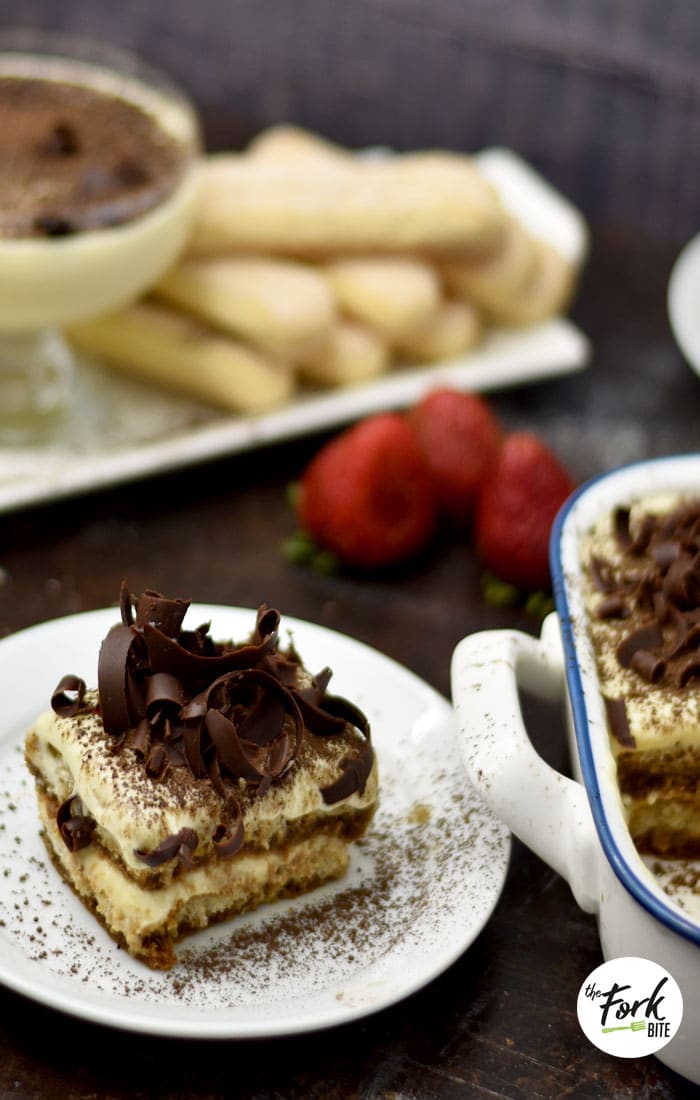 About eggs. If you have a concern about incorporating raw eggs into a dish, substitute whipped cream. Either way, the final result is fantabulous.
Marsala wine is traditionally used in Tiramisu. If you want to express your creative side, substitute Kahlua, Sambuca, brandy or port wine. You may omit liqueur if serving this cake to kids or non-drinkers.
Texture, as they say, makes or breaks your Tiramisu. It should not be too hard or too soft, but just right. For a perfect consistency, don't dip the Savoiardi, instead, lightly roll the ladyfingers in espresso mixture.
Authentic Italian chefs would cringe in horror, but if you really dislike coffee, you can substitute chocolate. A lotta chocolate.
Final Words:
Now you can have your Tiramisu and drink it too! Iced Tiramisu Lattes are refreshing on a hot day. When you fancy an alcoholic beverage, try Tiramisu martinis.
Of course, nothing beats the real thing – creamy, delicious and decadent – Tiramisu is truly one-size-fits-all for special occasions.
Watch How to Make The Tiramisu Recipe:
Credit: theforkbite
3 eggs, yolks and whites separated
½ cup confectioner sugar
½ tsp vanilla extract
8 oz mascarpone
1¼ cups strong espresso coffee
2 tbsp of coffee liquor ( I used Kahlua here)
24 - 30 lady fingers (Savoiardi)
For Dusting:

Dark Cocoa, shaved chocolate
Instructions
Beat yolks and sugar in stand mixer on medium high for 12 minutes (until white and thick).
Add vanilla and mascarpone, beat until just combined. Transfer mixture to a bowl, set aside.
Beat egg whites until stiff peaks and gradually fold the mascarpone/egg yolk mixture into egg whites and set aside. Put in the fridge for approx. 2 hours (this is optional but this makes the cream's consistency a bit thicker).
Mix the espresso with the coffee liquor together and dip the lady fingers into the mixture just long enough to get them wet, do not soak them!
Arrange the lady fingers in the bottom of a square baking dish.
Spoon half the mascarpone cream filling over the lady fingers.
Repeat process with another layer of lady fingers and add another layer of tiramisu cream.
Cover and refrigerate for at least 12 hours, the longer the better.
Dust with cocoa powder just before serving.
Nutrition Facts
Easy Tiramisu Recipe
Serves
Amount Per Serving
Calories

243.73 kcal

% Daily Value*
Total Fat

13.66 g

21%
Saturated Fat

6.94 g

34.7%
Trans Fat

0.01 g

Cholesterol

142.07 mg

47.4%
Sodium

164.08 mg

6.8%
Total Carbohydrate

23.68 g

7.9%
Dietary Fiber

0.23 g

0.9%
Sugars

8.34 g

Protein

6.22 g
| | |
| --- | --- |
| Vitamin A | Vitamin C |
| Calcium | Iron |
* Percent Daily Values are based on a 2,000 calorie diet. Your daily values may be higher or lower depending on your calorie needs.
https://www.theforkbite.com/easy-tiramisu-recipe/