Ever stood in your kitchen, staring at a Tiramisu that didn't quite turn out how you pictured? Trust me; we've all been there. With its layered complexity, Tiramisu can be a tricky dessert to master. But hey, every great chef learns from mistakes - and I'm here to share mine with you. In this post, we'll dig into the most common Tiramisu-making blunders, and I'll guide you through the fixes.
Takeaways:
Don't drench the ladyfingers: An overly soaked ladyfinger can lead to a soggy Tiramisu. Master the art of the quick dip to ensure they retain some bite and structure.
Whip it right: Achieving the perfect whipped cream and mascarpone texture is key. Too much or too little whipping can ruin your Tiramisu's consistency.
Patience pays off: Give it ample resting time in the fridge to let the flavors meld and the texture to set properly.
Jump to:
Tiramisu: A dessert like no other
Who can resist the layered allure of Tiramisu? This heavenly Italian dessert has stolen hearts across the globe with its rich and creamy layers. From Milan to Melbourne, everyone's talking about this treat, with coffee-soaked ladyfingers playing footsie with sweet mascarpone cream. It's a delightful dream of a dessert that can make any day a bit more special.
Aiming for perfection: The art of Tiramisu
Making Tiramisu isn't rocket science, but it requires some finesse. To make it just right, every ingredient and every step counts. Whether you're a baking novice or a seasoned pro, aiming for the perfect Tiramisu means understanding its essence. And that's where we come in - to help you navigate through the subtleties of this iconic dessert.
Common Tiramisu traps: Mistakes to avoid
We all stumble and fall, especially in the kitchen. With Tiramisu, some common slip-ups can transform a potential masterpiece into a kitchen mishap. Don't worry; we've all been there and have your back! We're about to reveal these typical errors and, most importantly, how to steer clear of them.
---
Common mistakes and how to fix them:
Mistake

1

Using instant espresso or coffee
A common mistake folks must avoid is reaching for instant coffee instead of strong, high-quality espresso when making Tiramisu. Here's a fun fact for you: "Does Tiramisu have caffeine?" Well, yes, it does! In a Tiramisu, coffee isn't just a background note; it's one of the lead roles! And that espresso's caffeine content gives a nice little buzz to this dessert. So, always opt for good-quality espresso. It offers your dessert a depth of flavor that instant coffee simply can't match.
Tips for choosing the right coffee.
Explore local coffee roasters for fresh beans.
Espresso blends often bring a richer, deeper flavor.
Don't have an espresso machine? A Moka pot or a strong French press coffee can also do the trick.
---
Mistake

2

Over-soaking the Ladyfingers
Oversoaking the ladyfingers can turn your dessert into a soggy mess. The trick is to give them just a quick dip into your espresso. They need to be coffee-kissed, not coffee-drenched!
The ideal soaking technique and time.
Dip, don't soak: A quick one-second dip per side is all you need.
Work quickly to prevent the ladyfingers from becoming too saturated.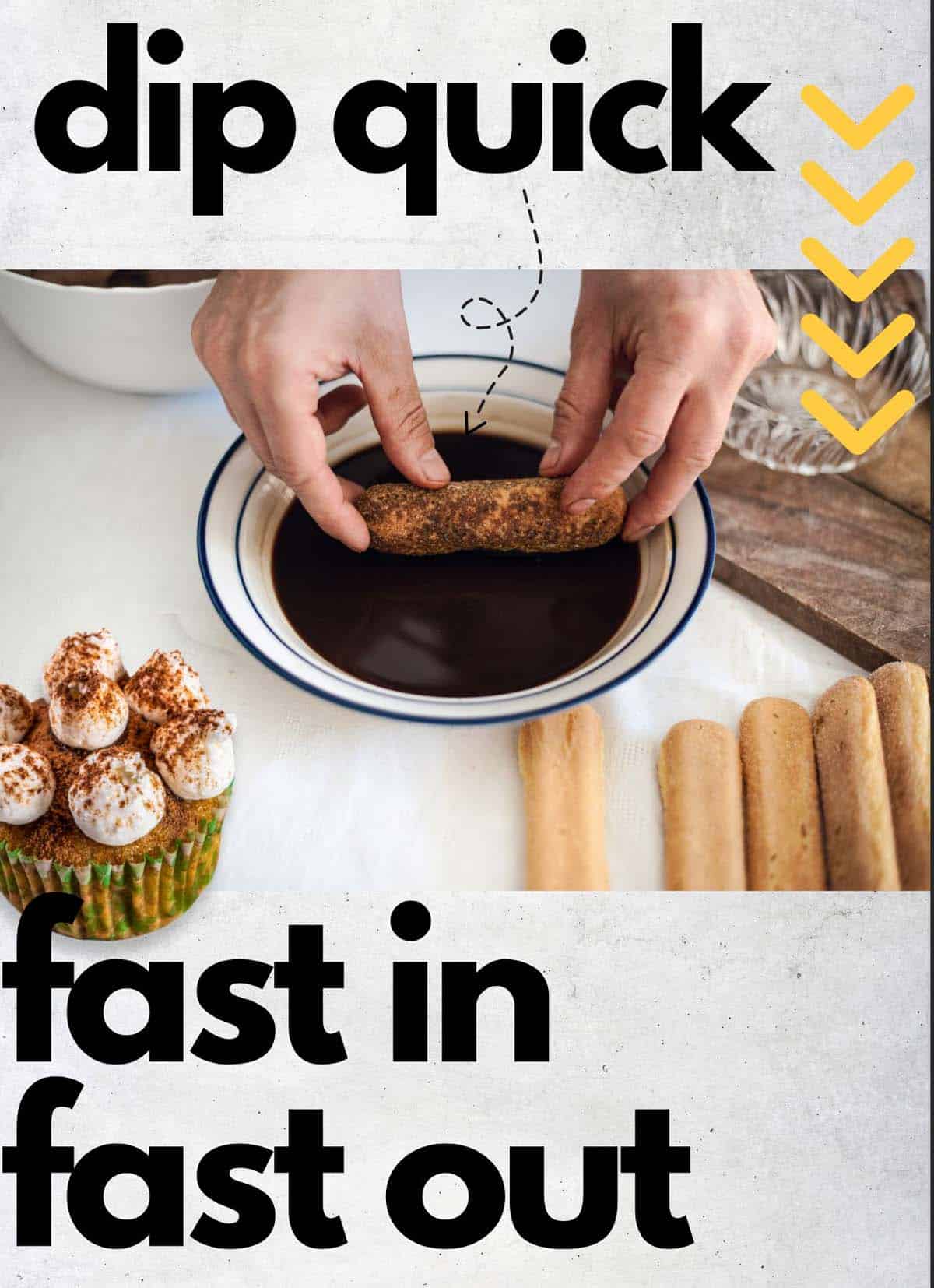 ---
Mistake

3

Over- or Under-whipping the mascarpone and cream
Over- or under-whipping the mascarpone and cream can throw off the balance of your Tiramisu. The key is to look for soft peaks - the cream should hold its shape without being too stiff.
How to achieve the perfect consistency.
Use cold cream for better results.
Take your time; don't rush the whipping process.
Keep a close eye to prevent over-whipping.
---
Mistake

4

Skipping the alcohol
In a traditional Tiramisu, a touch of alcohol brings a delightful depth to the overall flavor profile. You might be wondering, what alcohol is in Tiramisu? Generally, Marsala wine, rum, or brandy is added to give it that unique kick. But hey, if you're not into adding alcohol, no sweat! There are plenty of delicious, non-alcoholic substitutes you can experiment with to make this classic dessert fit your preferences.
Suitable non-alcoholic substitutes
If you're not using alcohol, try adding a bit of vanilla extract or almond essence for extra flavor.
For a kid-friendly version, simply skip the alcohol.
---
Mistake

5

Insufficient resting time
If your Tiramisu tastes a bit off, it could be because it didn't rest enough. The resting period allows the flavors to blend together fully.
Recommended resting time
Tiramisu tastes best after at least 6-8 hours in the fridge.
If you can, make it a day ahead. The flavors meld together even better overnight!
---
Mistake

6

Not using fresh ingredients
Using fresh ingredients is non-negotiable when it comes to Tiramisu. Stale ingredients can lead to a lackluster dessert.
Tips for selecting fresh ingredients.
Always use fresh eggs and mascarpone.
Buy ladyfingers (Savoiardi) from a trusted source.
When it comes to coffee, fresh is always best.
---
Mistake

7

Substituting key ingredients
We've all been there, midway through a recipe and realize you're missing an ingredient. With Tiramisu, resist the urge to substitute the mascarpone. Yes, it's tempting to swap it out with cream cheese or some other kind of cheese, but mascarpone has a unique flavor and texture that gives Tiramisu its distinctive taste. So, stick with it!
Mistake

8

Going overboard with cocoa
We all love that extra dusting of cocoa on top of our Tiramisu, but going overboard can make your dessert bitter. A light dusting of good quality, unsweetened cocoa powder just before serving is all you need for that perfect finish.
Mistake

9

Replacing Ladyfingers with other biscuits
Ladyfingers, also known as Savoiardi biscuits, are truly unique. They have a special texture that absorbs the coffee and alcohol perfectly, keeping your Tiramisu from becoming too mushy. Yet, if you're in a pinch, there are substitutes for lady fingers. You could consider sponge cake or Madeira cake, although remember, these alternatives may affect the dessert's texture. It's crucial to avoid using a biscuit or cake that might lead to a soggy or dry Tiramisu. So choose your substitute for lady fingers wisely!
Mistake

10

Neglecting the right equipment
Without using a heat-proof bowl over simmering water (also known as a bain-marie), you can accidentally cook your eggs while preparing the zabaglione. That's a no-no for Tiramisu. We want a creamy mixture, not scrambled eggs!
Mistake

11

Forgetting the cocoa powder
Cocoa powder isn't just for decoration; it adds a lovely bitter counterpoint to the sweet mascarpone cream. Without it, the dessert can be overly sweet and lose that signature Tiramisu flavor profile.
Mistake

12

Skipping the quality check
Using stale coffee, old ladyfingers, or low-quality mascarpone will affect your Tiramisu's taste. Fresh and high-quality ingredients make all the difference in achieving that restaurant-quality Tiramisu at home.
---
Why does my Tiramisu not set?
Oh, the unset Tiramisu! It can be a real letdown, especially when craving that creamy, coffee-flavored delight. So why didn't it set? Well, there are a couple of likely culprits.
1

When the cream is too thin
The first thing to check is the mascarpone and cream mixture. Did it look smooth and hold its shape in soft peaks when you whipped it? If it was too runny, the dessert might not be set properly. Next time, whip that cream until it's just right - not too stiff or soft.
2

Soggy Ladyfingers
Now, let's focus on the ladyfingers. They love soaking up coffee, but too much can turn them to mush. They need to be dipped quickly into the coffee - a fast in-and-out. Otherwise, they'll absorb too much liquid and won't be able to support the weight of the mascarpone cream.
3

The importance of resting time
Lastly, how long did you let the Tiramisu rest in the fridge? This dessert needs time in the fridge to let the flavors meld together and texture to firm up. Six to eight hours is the minimum, but the magic really happens when you leave it overnight. This rest time lets the dessert set and the flavors meld together.
---
Why does my tiramisu cream look curdled?
When you're making Tiramisu, one thing that can really throw you for a loop is when the cream starts to look curdled. Let's dive into why that happens and how we can fix it!
1

Too much of a good thing
If the cream for your Tiramisu is looking a bit curdled, it might be because it's been over-beaten. When we whip cream, we add air, giving it volume and structure. But if we go too far, it can look grainy and separated - not what we want!
With its high-fat makeup, mascarpone can curdle more quickly than its dairy counterparts, like double whipping cream or cream cheese. Spotting the signs of splitting early - like tiny grains in your mixture - can save your dessert!
2

Keep your cool
Another thing to keep in mind is the temperature. Mascarpone and cream like to be cool, so always start with cold ingredients. If they get too warm, they can start to break down and look curdled.
3

Fix it up
Spotting the signs of splitting early - like tiny grains in your mixture - can save your dessert! If you notice this, gently fold a spoonful or two of fresh cream with a whisk. This manual method can sometimes bring your mascarpone back to its creamy glory.
---
Grainy cream? Here's what to do
We've all been there, right? You're making the cream for your tiramisu, and when you taste it... it's gritty. Not exactly the smooth, dreamy texture we want.
But don't worry, here's a solution for you. Usually, this gritty texture comes up when the sugar doesn't break down all the way. To tackle this, let's switch to superfine sugar. Why? Because it dissolves faster! Whip it really well into your egg yolks, and don't forget to whip again and again while heating your sabayon. Follow this trick and no more gritty cream in your Tiramisu!
---
My Sabayon (or zabaglione) has curdled.
If you've ever asked yourself, "Why has my sabayon (zabaione) curdled?" you're not alone. It's a common issue when the egg yolks heat up too fast. It's like trying to bake cookies in a super-hot oven – things just get messy!
Now, I want to let you in on a little secret. There's a kitchen tool that can help you avoid curdling - the double boiler (or bain marie). It lets you heat up things slowly and gently, just what our sabayon needs.
When you use a double boiler, you have a pot of simmering water with another bowl sitting on top. You'll mix your sabayon in that top bowl. Just be sure that the water in the pot isn't touching the bottom of the bowl on top. That's like going to a sauna and sitting right next to the steam source. Too hot!
Okay, so what if your sabayon has already curdled? Don't stress. We can usually fix it.
First, take your sabayon (zabaglione) off the heat. Next, find a balloon whisk - you know, the one with round wires that look like a balloon. Whisk your sabayon hard with it. The idea is to try to break up the curdles and get the mix smooth again.
If whisking doesn't get things smooth, don't worry! There's still hope. Try using an immersion blender. It's like a little hand-held mixer. But be careful – we want to mix it, not turn it into a milkshake!
After you've blitzed it, check the consistency. If it's not thick enough, you can put it back on the heat for a bit to thicken it up again. Remember, slow and steady wins the race here.
---
Pro tips for a perfect Tiramisu
Perfect chill: Serving your Tiramisu
The magic of Tiramisu isn't just in the making. It's also in the serving. Believe it or not, temperature matters! Tiramisu is best served chilled. A cold Tiramisu lets you enjoy the mascarpone's creaminess and the ladyfingers' gentle crunch without making the dessert a mushy mix.
Layer it on: Mastering the art of Tiramisu layers
Here's a trick we've learned: the layering technique can make or break your Tiramisu. You want a good balance of coffee-soaked ladyfingers and luscious mascarpone cream. Aim for at least two layers of each, starting and ending with the cream. This gives you the perfect bite every time!
Extra tip:
Layer like a pro. When you put your tiramisu together, lay your cookies in a criss-cross pattern. That way, it'll be easier to cut, and it'll look really neat.
Easy Unmolding
Line your pan with plastic wrap before you start making your Tiramisu. That way, when it's done, you can flip it onto a plate easily without falling apart.
Harmony of flavors: Getting the proportions right
Creating a delightful Tiramisu isn't about chucking in ingredients. It's about balance. Too much coffee and your dessert might be too bitter. Too much mascarpone, and it can become overly rich. Aim for the right proportion of each ingredient, ensuring every bite is a harmonious blend of flavors.
Keeping it Fresh
When you've got your homemade tiramisu in the fridge, you're probably wondering, how long does tiramisu last? Well, folks, it can keep for about 2 to 3 days if stored correctly. Just make sure it's covered well, because the last thing you want is your sweet, creamy dessert picking up odors from other items in your fridge. A well-sealed tiramisu not only lasts longer, but it also keeps that delightful taste intact!
The final touch: Cocoa and chocolate in Tiramisu
Cocoa powder isn't just for looks; it's the final flavor in your Tiramisu symphony. Dust your Tiramisu generously with cocoa before serving. Some folks also add shaved chocolate for a little extra indulgence. It's not traditional, but who can resist a bit of chocolate? But remember, a little goes a long way!
---
Troubleshooting your Tiramisu
Even the best of us can have a bad Tiramisu day. Maybe your mascarpone cream split or your ladyfingers ended up as soggy as a sponge. Don't worry; we're here to help you fix these common issues:
Split mascarpone cream:
This can happen when the cream is over-mixed or too warm. Try to mix just until the ingredients are combined, and always start with cold cream.
Soggy ladyfingers:
Remember, the coffee dip should be quick in and out. If you've already assembled your Tiramisu, sadly, you cannot do much. But you'll know for next time!
Tiramisu is too runny:
This can occur if the mascarpone mixture is too thin (possibly from under-whipping) or the ladyfingers are over-soaked. To avoid a runny Tiramisu, ensure you whip the mascarpone mixture to soft peaks and only briefly dip the ladyfingers.
---
Not Perfect? Salvaging Your Tiramisu
Let's say your Tiramisu didn't turn out as dreamy as you expected. It happens to the best of us. But before you chuck it, consider these saving strategies:
For an overly sweet or rich Tiramisu:
Offset the sweetness by adding a bit more cocoa on top or even some dark chocolate shavings.
For an overly bitter Tiramisu:
A light dusting of powdered sugar on top could balance the bitterness.
For a runny Tiramisu:
Turn it into a trifle! Layer your runny Tiramisu with whipped cream in a glass for a deconstructed Tiramisu trifle. No one will know it wasn't supposed to turn out that way!
---
FAQs
Why does my Tiramisu get soggy?
Your Tiramisu can become soggy if the ladyfingers are over-soaked. To avoid this, dip the ladyfingers quickly on each side in the coffee mixture; they should be moist but not drenched.
Why does my Tiramisu cream split?
The cream can split if it's over-mixed or too warm. Make sure you mix just until the ingredients are combined, and always start with cold cream.
How can I fix a runny Tiramisu?
A runny Tiramisu can result from an under-whipped mascarpone mixture or over-soaked ladyfingers. Ensure you whip the mascarpone mixture to soft peaks and only briefly dip the ladyfingers.
My Tiramisu is too bitter. What can I do?
If your Tiramisu tastes bitter, it might be due to strong coffee or too much cocoa. Next time, try using a milder coffee. If it's already made, a light dusting of powdered sugar on top could balance out the bitterness.
How long should I soak ladyfingers for Tiramisu?
Ladyfingers should only be quickly dipped in the coffee mixture for Tiramisu. They should be moist but not drenched.
How do I know if I've over-whipped my mascarpone cream?
Over-whipped mascarpone cream may look curdled and start to separate. The texture should be smooth and hold its shape without being too stiff.
Is alcohol necessary in Tiramisu?
Traditional Tiramisu recipes do call for a bit of alcohol, but it can be skipped or replaced with a non-alcoholic substitute like vanilla extract or almond essence if preferred.
Why is my Tiramisu not setting?
Tiramisu might not set if the mascarpone and cream are under-whipped or if the ladyfingers are over-soaked. Also, it requires a sufficient resting time (at least 6-8 hours, preferably overnight) in the fridge to set correctly.
What coffee is best for Tiramisu?
A high-quality espresso is best for Tiramisu. If you can't make espresso, a strongly brewed coffee can work too.
How can I salvage an overly sweet Tiramisu?
If your Tiramisu is overly sweet, add a bit more cocoa to balance the sweetness. Dark chocolate shavings could also work.