This traditional Tom Kha Gai soup features a coconut milk-based broth that is infused with flavorful roots, herbs, and spicy chilies.
Fragrant and creamy yet salty and tangy, that is filling but light and full of flavor. This Thai Coconut Chicken Soup can be made in an Instant Pot as well.
I love Thai food and Tom Kha Gai soup is one of my favorites of all time hence this is the soup that we always order every time we eat out at any Thai restaurant.
I was so interested in learning to make this soup at home although the ingredients are much more exotic than what I was accustomed to, it's fairly a simple soup to make.
Also, it takes a lot of tasting to get the perfect balance of flavors that suit one's own tastes and it is very worth it.
This soup can be made with a wide variety of add-ins, it all depends on what is available. I normally use the chicken thighs, which is what the 'kai' means in Thai but you can use beef or shrimp.
Where to find the Ingredients?
You can find the "galangal" in any Asian grocery and they are all inexpensive. However, I ordered the kaffir leaves through Amazon since I cannot find these lime leaves at the Asian market. Most of them can be frozen as well, and are used in tons of other authentic Thai and Laos cuisine.
Here's a photo (below) of the ingredients so if you've never used them in your own cooking, you'll be able to find them with ease.
Galangal and kaffir lime leaves are sometimes hard to find so I wrapped them in a wax paper and place in a ziplock then store in a freezer for up to 3 months. The palm sugar keeps for a very long time in your pantry, and I also freeze the lemongrass for future use.
Palm sugar comes in large discs, or jars of smaller, tablespoon size pucks. I went for the puck variety since it was easier to gauge the amount used.
Galangal is an aromatic root that looks similar and is often associated with ginger. It has a rich, earthy flavor which is a bit similar to ginger, yet there is a very noticeable difference, and Tom Kha Gai recipe doesn't taste authentic without it.
So it is pretty essential to use galangal rather than the ginger.
The Kaffir Lime leaves, lemongrass and galangal are used to flavor the broth, which is the base of the soup and gives it its characteristic background of flavors.
I used the straw mushrooms as they have a mild mushroom flavor, which is another important factor. You don't want any ingredient's presence to outweigh another's in this recipe, so it's important to use a subtly flavored mushroom. Cremini or shitake are definitely out.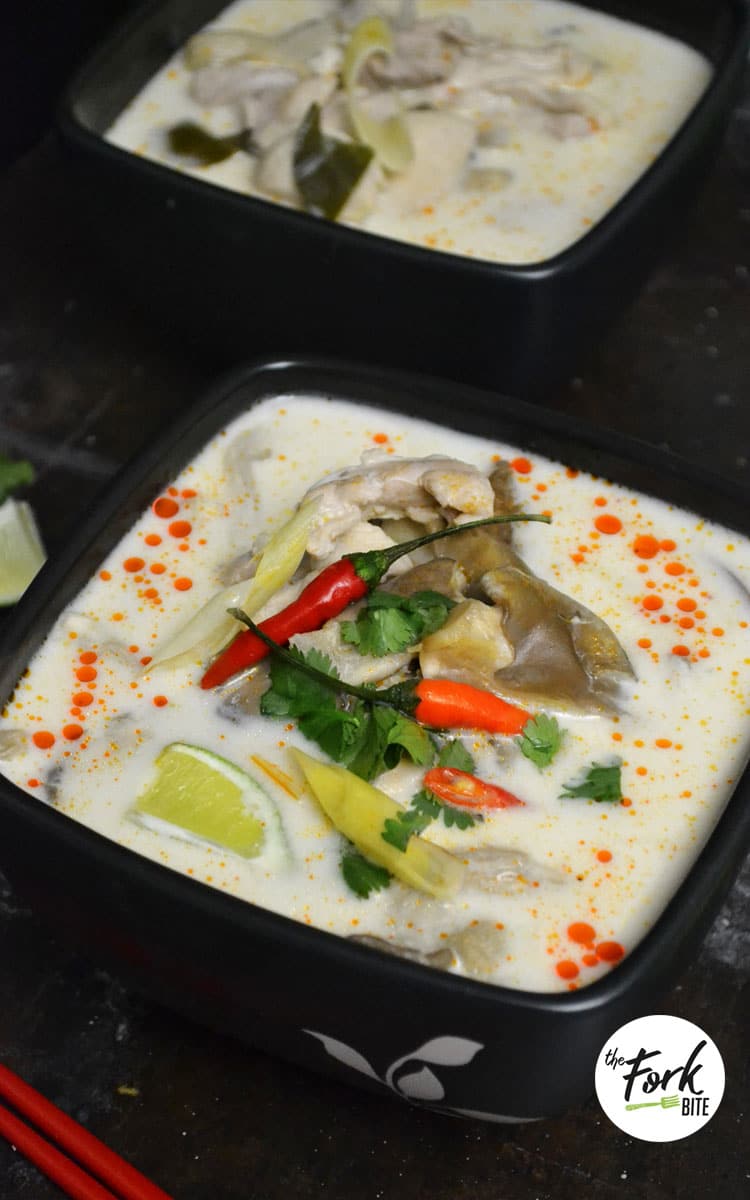 Traditionally, bird's eye chilies (or Thai chilies) are used to add the heat, but you can go easy with these if you don't want too much spice in it. A couple of chicken thighs, lots of coconut milk, cilantro and good chicken stock, and you're good to go.
Secret Ingredient
It turns out that if you add some green curry paste in the soup, the flavor makes a lot of difference. Big flavor with well-balanced sweetness and acidity that will satisfy your cravings.
Other Favorite Asian Recipes:
3 Cup Chicken
Thai Basil Chicken
Thai Beef Salad
Sesame Chicken Recipe
Thai Green Curry Recipe
How to Make Tom Kha Gai Soup – Watch Video 👇👇
Tom Kha Gai Soup
Category: Entree

Cuisine: Thai

Tom Kha Gai Soup is my favorite indulgent, creamy coconut soup and just simply delicious.
2 cups low sodium chicken broth
0.5 lb of chicken thighs
1.5 cup coconut milk
1 tsp salt
10-15 rounds of galangal (sliced)
1 stalk of lemongrass (pounded fiercely with the back of a knife & cut crosswise into 1-inch pieces)
4-5 kaffir leaves (depending on the size)
3-5 Thai chilies
2 tbsp fish sauce
2.5 tbsp lime juice
1 tsp palm sugar (you may like this soup a bit sweeter than myself)
150 g of oyster or straw mushrooms
2 tbsp green curry paste (optional)
Instructions
Place the chicken broth in a pot and bring the stock to a boil. Add the chicken and season with salt then boil it over low-medium heat for 15-20 minutes.
Add the coconut milk and drop all the spices (lemongrass, chilies, galangal, kaffir leaves). Also, don't forget to tear up the kaffir leaves to infuse the flavor. I added the green curry paste to make the flavor more strong (this is optional) but the result was really good.
Add the crushed palm sugar, and fish sauce to taste. I like a lot of fish sauce although it is incredibly pungent, it helps develop the unique taste of this soup.
Bring to a simmer to infuse for about 5 minutes, stirring occasionally. Your kitchen should smell very fragrant, and the broth should taste quite strong.
Once you have a nice balance going in your soup, dial up the heat to medium and add the oyster or straw mushrooms. Cook for 2 minutes and turn off the stove.
Once the heat is off, you can now add the lime juice. Start with the minimal amount and go with a few thorough stirs before tasting so that the additions are well incorporated.
Add a handful of cilantro and and chili oil to taste. Serve over a bowl of jasmine rice. Any leftover soup can be frozen for up to 3 months.
Nutrition Facts
Tom Kha Gai Soup
Serves
Amount Per Serving
Calories
346.31 kcal
% Daily Value*
Total Fat 28.6 g
44%
Saturated Fat 18.87 g
94.4%
Trans Fat 0.05 g
Cholesterol 55.57 mg
18.5%
Sodium 946.07 mg
39.4%
Total Carbohydrate 10.93 g
3.6%
Dietary Fiber 1.39 g
5.6%
Sugars 1.77 g
Protein 15.78 g
| | |
| --- | --- |
| Vitamin A | Vitamin C |
| Calcium | Iron |
* Percent Daily Values are based on a 2,000 calorie diet. Your daily values may be higher or lower depending on your calorie needs.

https://www.theforkbite.com/tom-kha-gai-soup/