What goes good with sushi? If you want to elevate sushi to the next level, here's a brief guide on the best side dishes to accompany your handmade sushi.
Sushi is a great snack or lunch dish, but you can turn it into a truly unforgettable feast. All you have to do is add your choice of one or more of the 14 Japanese-inspired side dishes that I am about to bring to your attention.
It will elevate your sushi feast to the next level, from delightful crispy tempura and miso soup to gorgeous gyoza and matcha ice cream.
Jump to:

If you aim to serve a great Japanese gastronomic extravaganza, using some of the great side dishes I am about to reveal to you is an absolute must.
To make sure I don't confuse you by giving you too much variety to pick from, I've put together a brief guide on what goes good with sushi with the best side dishes to accompany your handmade sushi.
---
What goes good with sushi
To complement your favorite seafood goodies, you will be delighted with the scrumptious little extras I'm about to suggest - things like edamame beans and crispy veggie tempura - items to delight your palate.
You might be wondering on what to serve with sushi or what you could possibly do to improve on sushi.
After all, it is one of the great taste treats ever.
But by choosing carefully to make sure that your chosen side doesn't overpower your sushi, you can actually create an even more enjoyable meal.
1

Young soya beans - Edamame

Edamame beans are young soya beans still in their pods.

Sushi is gorgeously squidgy, and the crunch contrast that edamame beans bring to the party is just too good to miss. They are so easy to prepare as well.

All you have to do is to blanch them in 4% salted water, after which you boil or steam them, whichever you prefer until they are cooked through.

There's nothing quite like fresh steamed vegetables, and the saltiness of the edamame with their gorgeous little crunchy skins and succulent inners are the perfect partner for sushi.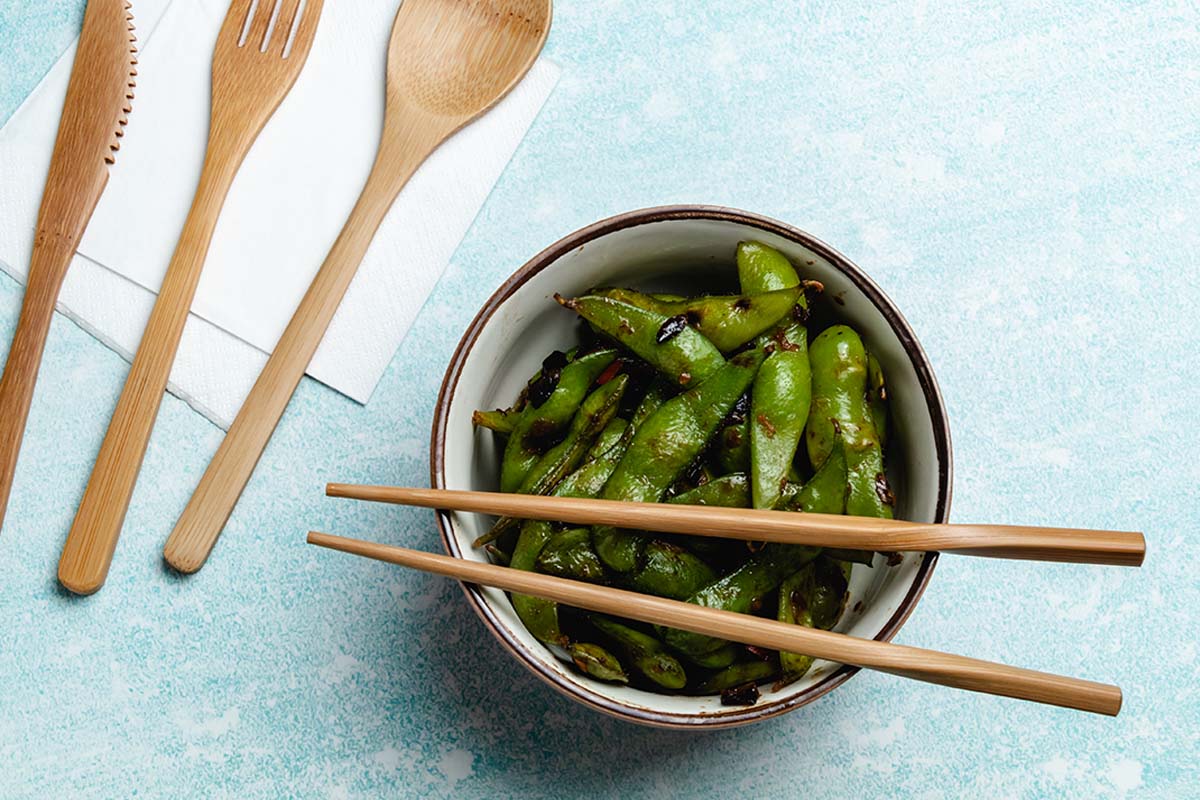 They are also great fun to eat as they are served still in their pods for guests to pop and squeeze the delightful little beads out before popping them straight into their mouths.
They are also ideal for serving as a bit of an appetizer. It's something I always do when I go to my local Japanese restaurant.
I order a bowlful and tuck into them while I'm waiting for the sushi chef to strut his stuff. Whether you eat them as a starter or a side dish, they are indispensable as far as I am concerned.
Try them with a nice cold glass of Japanese beer.
---
2

Light crispy tempura

Tempura is unmissable as a side dish for sushi.

A batter made with flour, ice-cold water, or sparkling water, coating strips of veggies such as aubergine bell peppers, carrot, courgette, cauliflower, sweet potato, and the like, deep-fried and accompanied with a sweet chili or soy sauce dipping sauce is absolute heaven.

Tempura prawns are pretty amazing too.

The art of making tempura is in the batter, and there is not a panko breadcrumb insight. It's just flour, and ice-cold water mixed tighter with a pair of chopsticks.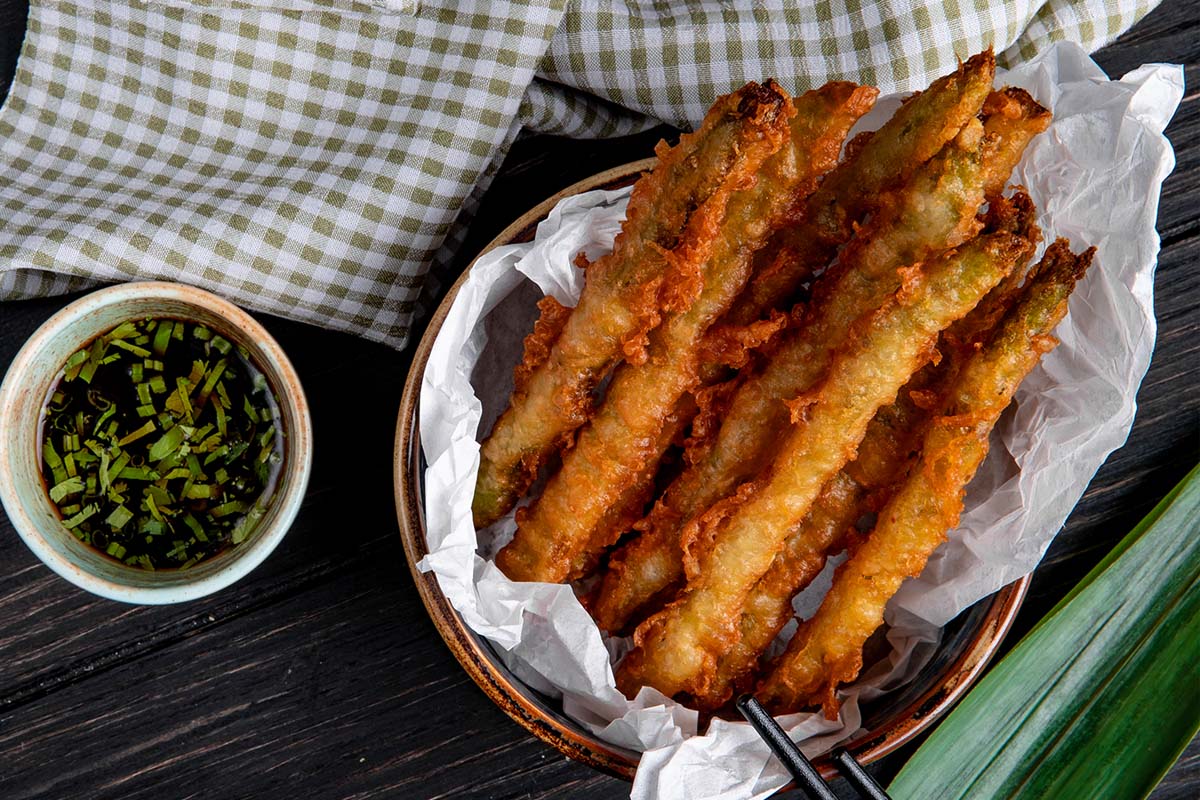 I guess you could use a fork instead, but hey - if you're going Japanese, why hold back?
Instead of using shop-bought sweet chili sauce dip, why not make your own dipping sauce with dashi, mirin, soy sauce, and a little hot water? Give it a try - it's yummy.
---
3

Classic miso soup

Miso soup is one of the traditional accompaniments to any Japanese meal. It only takes ten minutes to make and uses just five ingredients - dashi, miso paste, Negi (spring onions), tofu, and wakame (seaweed).

Dashi crops up time and time again in Japanese cuisine, so if you get into it in more depth, you ought to know how to make your own. It's surprisingly easy.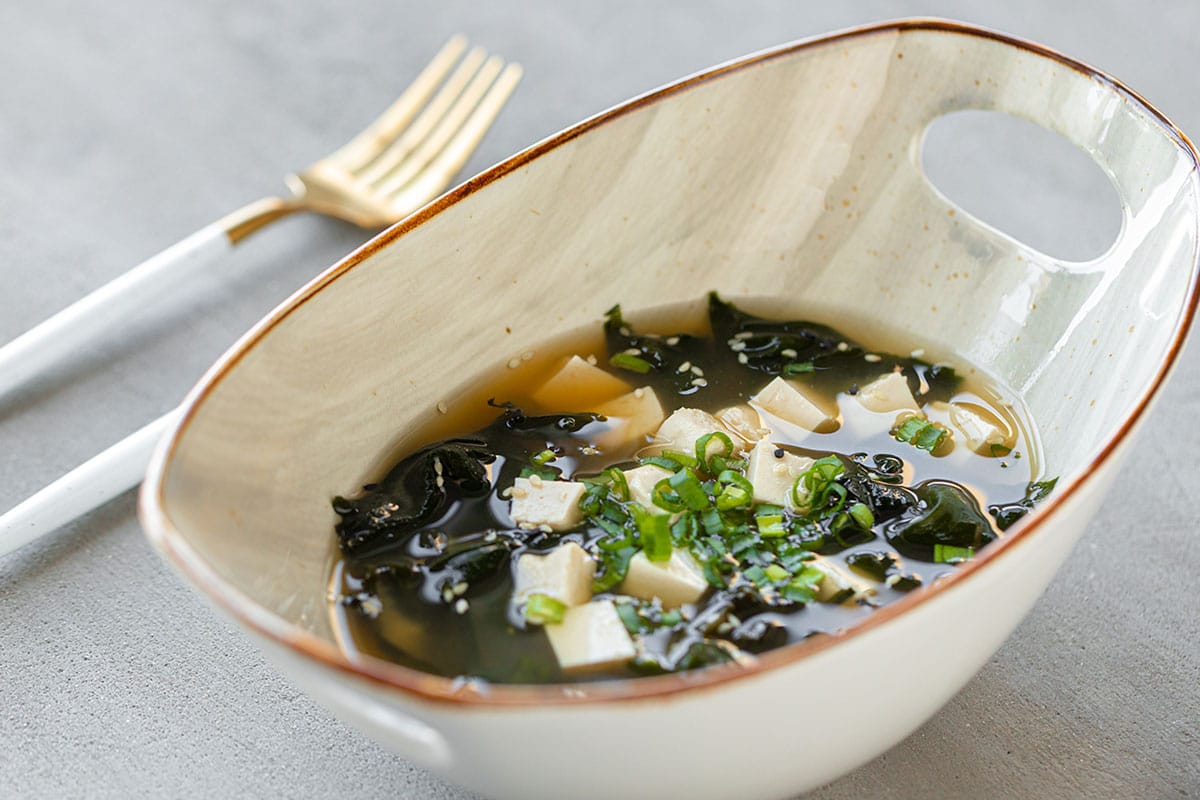 ---
4

Japanese seaweed salad

Japanese seaweed salad is a must as a side dish for sushi. You'll often find it on sale, ready-made, in supermarkets, next to the sushi. But it is quite easy to make your own, and so much tastier.

Sushi can be a touch "heavy" because of all that rice, and a few mouthfuls of seaweed salad breaks up any heaviness and gives you're a fresh and flavorsome contrast.

If you would like to add a slight spiciness, you can add a few chili flakes.

It's all about the dressing. It's a gorgeous combination of a touch of cayenne pepper, ginger root, mirin, rice wine vinegar, and sesame oil.

I also like to add some sesame seeds for presentation, and a little extra flavor hit.

You should buy most of these Japanese ingredients in the supermarket, but if you can't, look for a local Asian store. They are bound to stock them.
---
5

Gyoza - Japanese dumplings

If you are afraid that you will still be hungry after eating your sushi, why not add some Gyoza as a side dish?

These gorgeous little garlicky dumplings, whether they are stuffed with chicken, pork, or shrimp, are a real treat, are delicious.

You can dip them into the sweet chili or soy or teriyaki sauce that you serve with the sushi.

They will certainly help to fill you up if you can get to them before they disappear, that is.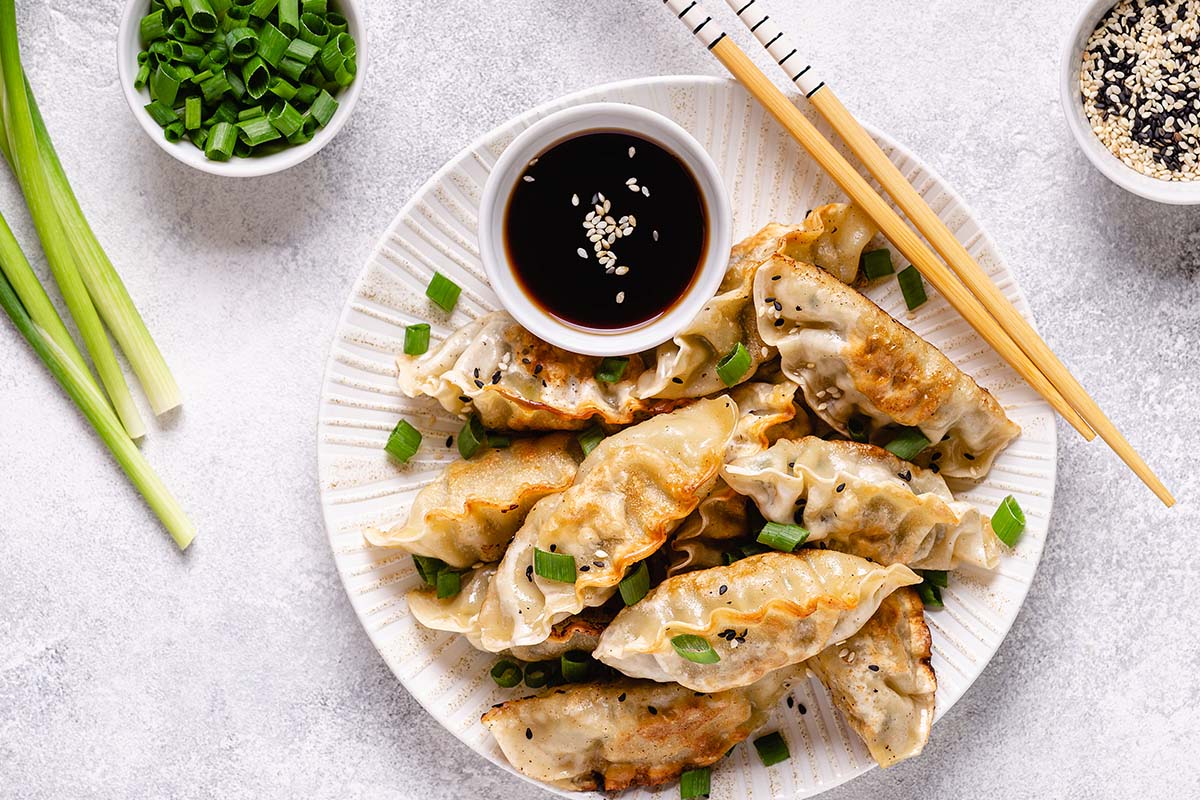 ---
6

Kushiyaki (skewers)

Kushiyaki is a Japanese word used to describe all types of skewered foods, coated with teriyaki sauce and grilled or barbecued.

Skewers can be made up of beef, chicken, offal, pork, seafood, and various veggies.

In Japan, Kushiyaki-Ya is a type of restaurant that specializes in this type of skewered food.

As well as being a potential side dish for sushi, kushiyaki can be served with edamame or tasty red pickles.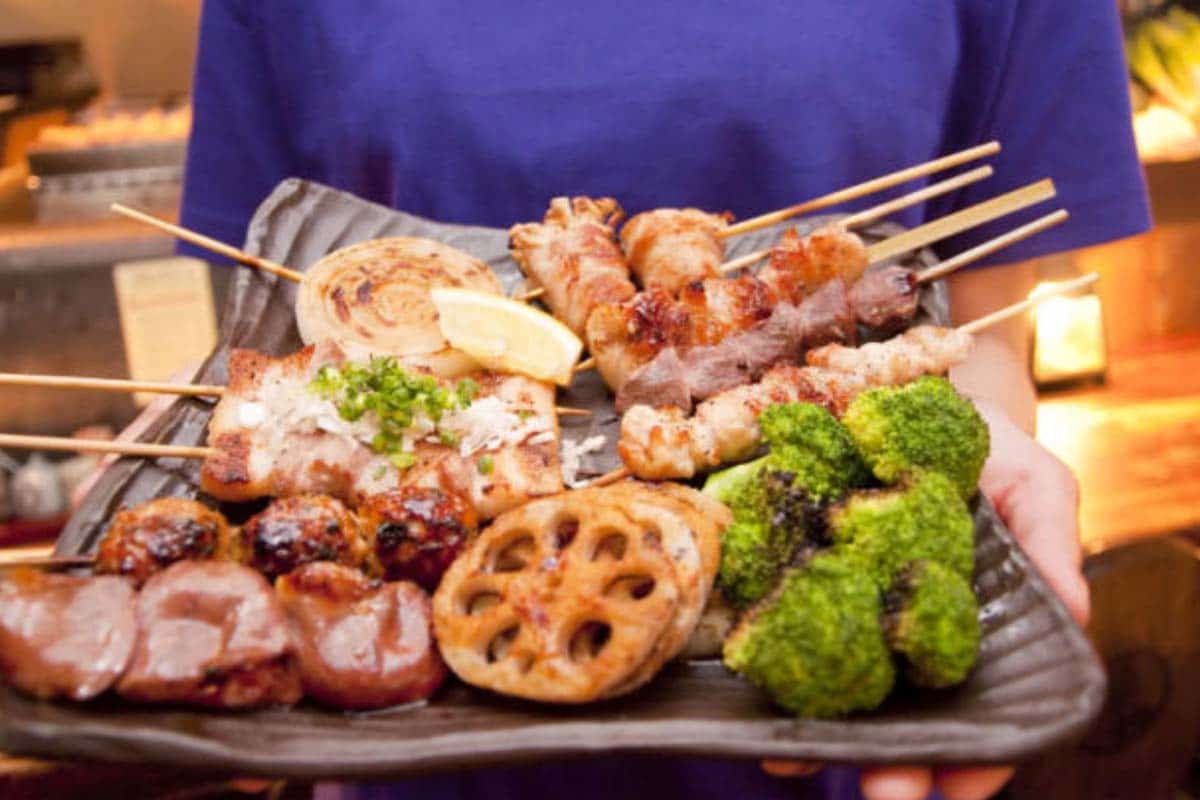 ---
7

Teriyaki coated tofu

Not all people are fond of tofu. They find it a little bit bland and rather squidgy. However, when it is cut into cubes, coated in teriyaki sauce, and pan-fried, it's a whole new ballgame.

They become nice and crispy outside but still retain that squidgy inner and have that fantastic teriyaki taste. This dish will convert even the most hardened dislikers of tofu.

Not only is tofu nutritious and generally good for your health it is also suitable for both vegans and anyone who is gluten intolerant. Recipe here.
---
8

Pickled ginger or gari

Pickled ginger, also known as Gari (ガリ) or Shin-shoga no Amazu-zuke (新生姜の甘酢漬け) in Japanese, can be used as a great accompaniment to sushi.

The Japanese serve it to clean their pallets when trying different dishes.

The best gari is bright pink in color. It gets its pinkness from the fact that it is made with young ginger, which has pink tips.

When older ginger is used, the color is a light beige. It doesn't matter whether to use the young or older ginger; it is pickled in sweet vinegar brine and is absolutely delicious.

Because baby ginger can be difficult to locate, many Japanese restaurants tend to use more mature ginger, adding food coloring to the pickling liquid. Check the recipe here.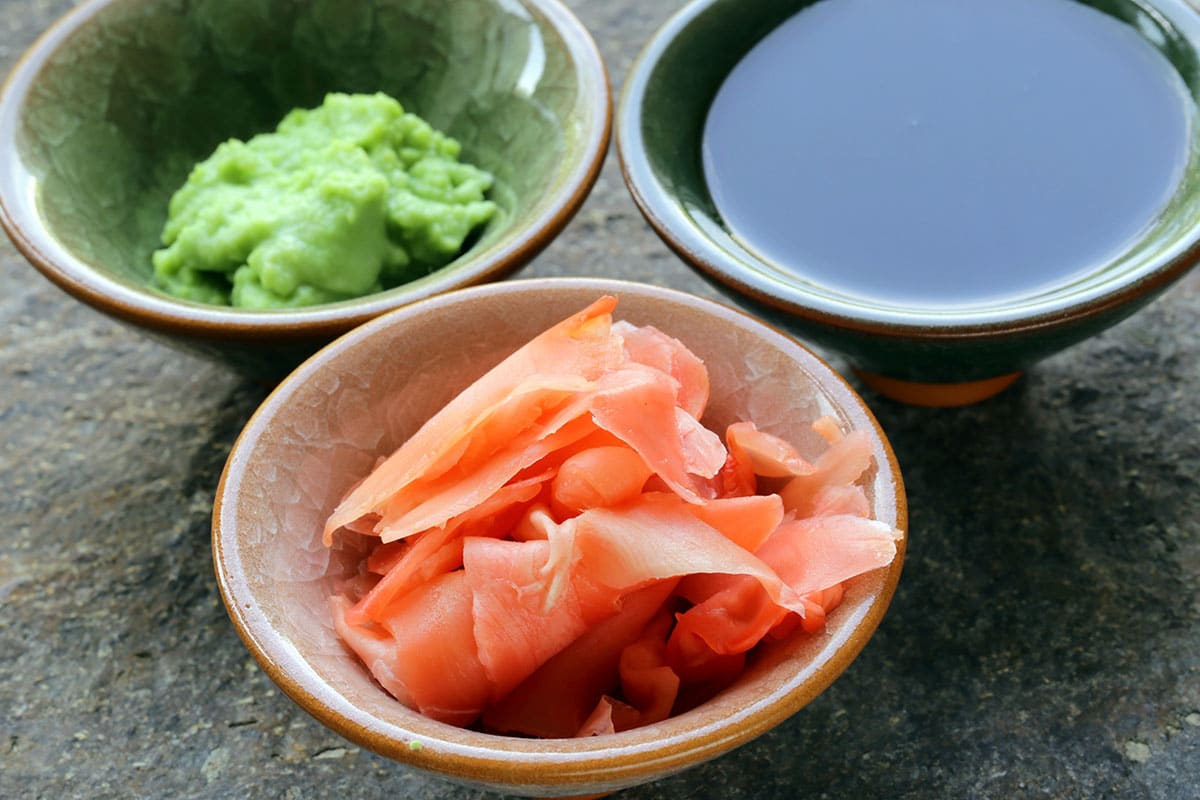 ---
9

Eggplant

Admittedly, eggplant on its own does not have many flavors - not unless it is torched over a naked flame which gives the flesh an incredible smoky charcoal-like taste.

When serving it as an accompaniment to sushi, I suggest cutting it into slices and marinating them in teriyaki sauce for a few minutes before frying them in olive oil.

It takes this eggplant recipe to another level.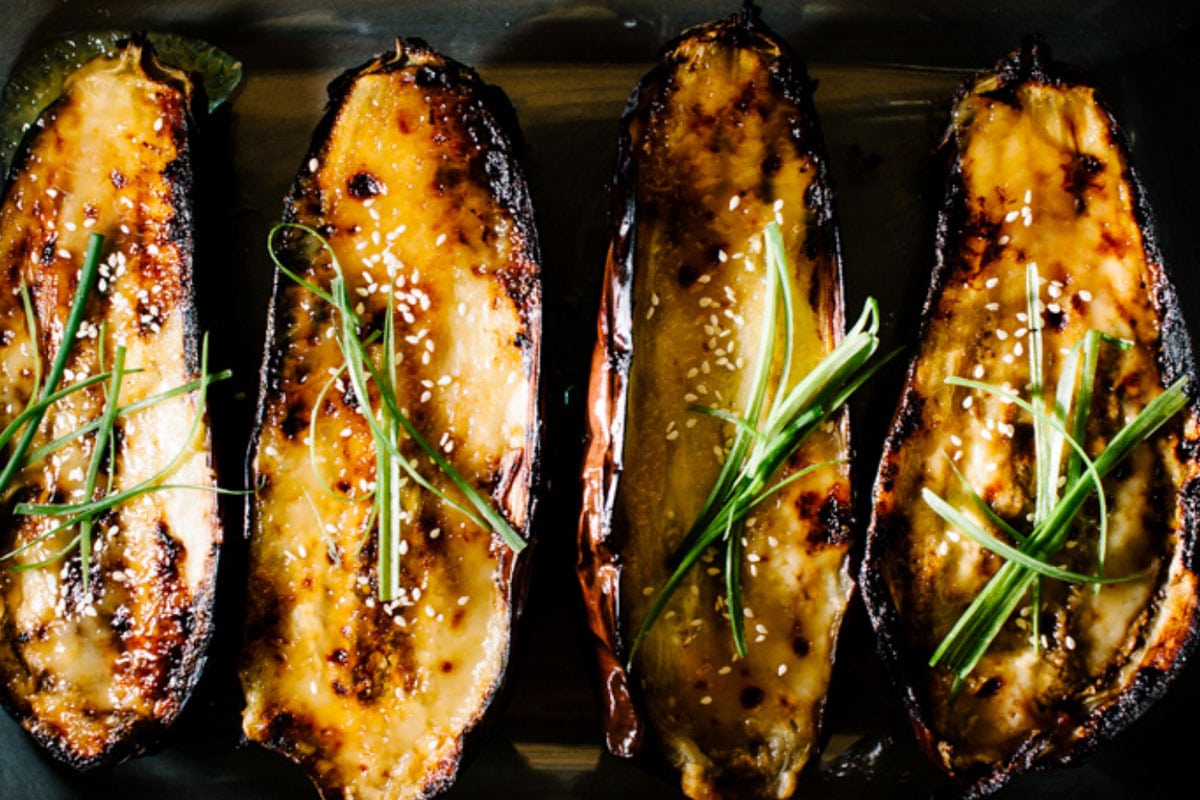 ---
10

Kani salad

Although a lot of people think that Kani salad is of Japanese origin, it is not.

However, because it uses Japanese ingredients, it has become regarded as Japanese - and why not?

It is quick and easy to make, and its main ingredients are crab sticks, cucumber, and a Japanese-style Mayo. People also sometimes add carrots and lettuce.

The dressing is Kewpie mayonnaise mixed with a bit of mirin. You can buy Kewpie mayo from places like Amazon, or you can make your own.

It has a unique umami flavor and is indispensable when making Kani salad.

If you like your Kani salad a little spicy, add little sriracha to the dressing.

For a slightly sweeter salad, try adding some finely sliced mango. Another alternative is to add some avocado. Check the recipe here.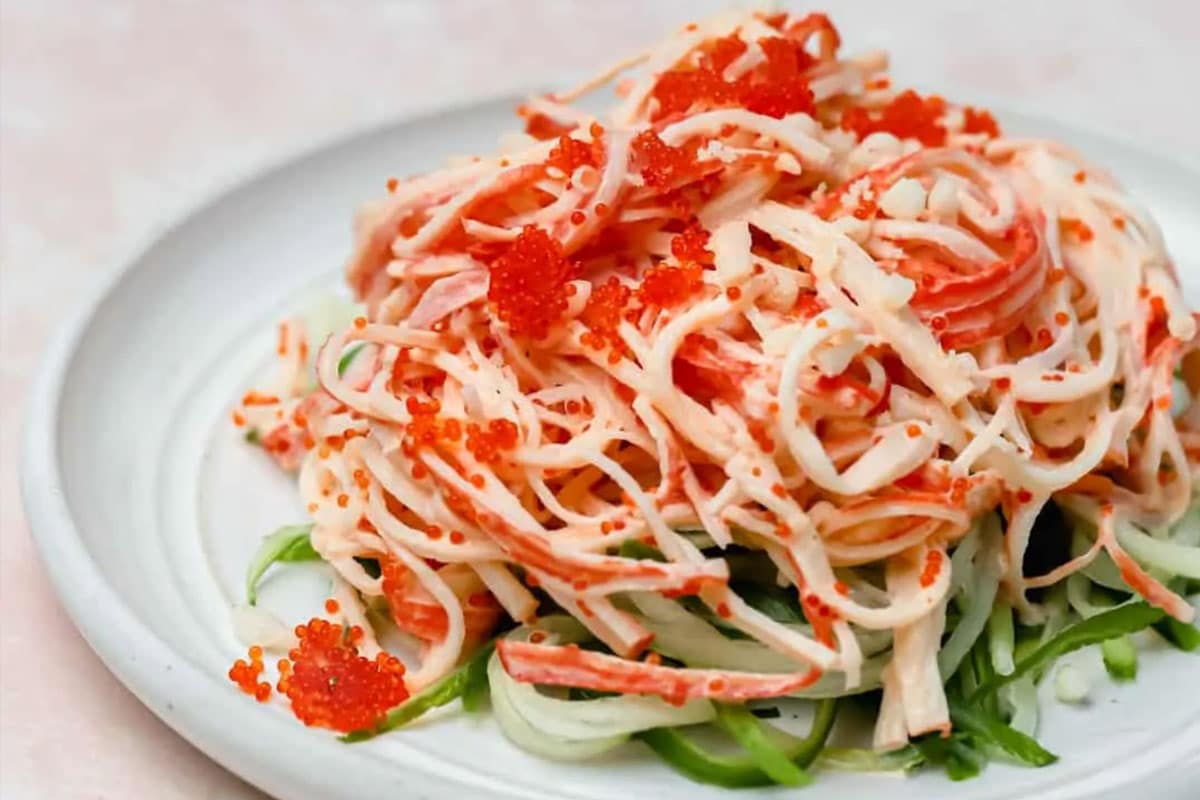 ---
11

Tamagoyaki - Japanese omelet roll

This is one of the best sushi accompaniments ever. Tamagoyaki is simple but a little fiddly to make, but it is stunning when served as an accompaniment to a sushi feast.

It has a beautiful sweetness that comes from adding mirin and a little sugar to the omelet mixture.

Some people use tamagoyaki as one of the sushi stuffings. Whichever way you decide to use it, it is stunningly good. Click for recipe here.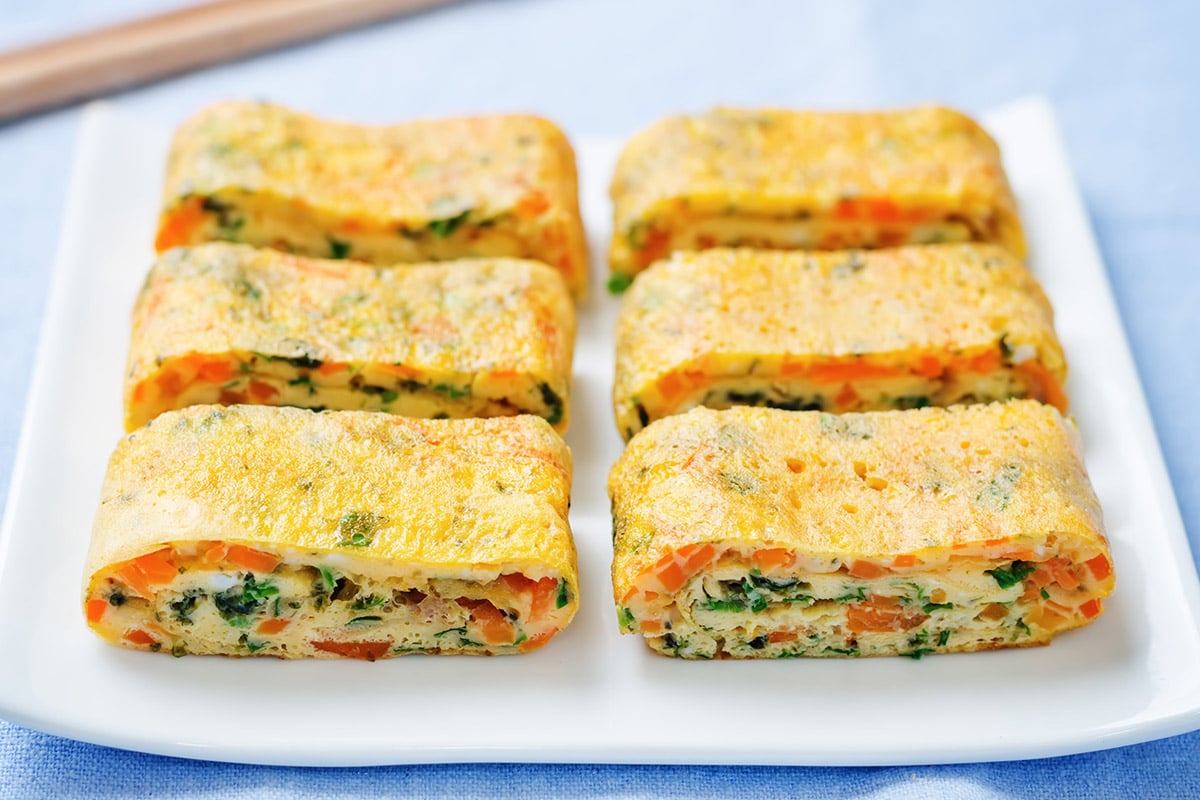 ---
12

Cucumber sesame salad

This is my favorite go-to side dish for sushi. The flavor of the rice vinegar, sesame oil, soya sauce, and sesame seeds complement sushi perfectly.

If, like me, you like your dishes a tad piquant, sprinkle a few red pepper flakes over your salad. Way to go. Grab the recipe here.
---
13

Tako Su - Japanese octopus salad

Tako Su, the Japanese name for octopus salad, is a popular dish served in Izayakas or Japanese tapas-style restaurants.

It is made with octopus sashimi (boiled octopus), cucumber, a small portion of wakame seaweed, and some toasted white sesame seeds.

It is served with a vinaigrette made from rice vinegar, sugar, soy sauce, sea salt, and toasted white sesame seeds.

In Japan, they use Japanese cucumber, but I prefer to use English.

Okay, it's not for everyone, but if you can get past the thought of eating octopus, I'm sure you'll find it delicious, and it makes a great accompaniment to any sushi feast.

You can make it a little in advance and keep it in your fridge for 30 minutes to allow the flavors to intermingle. Recipe here.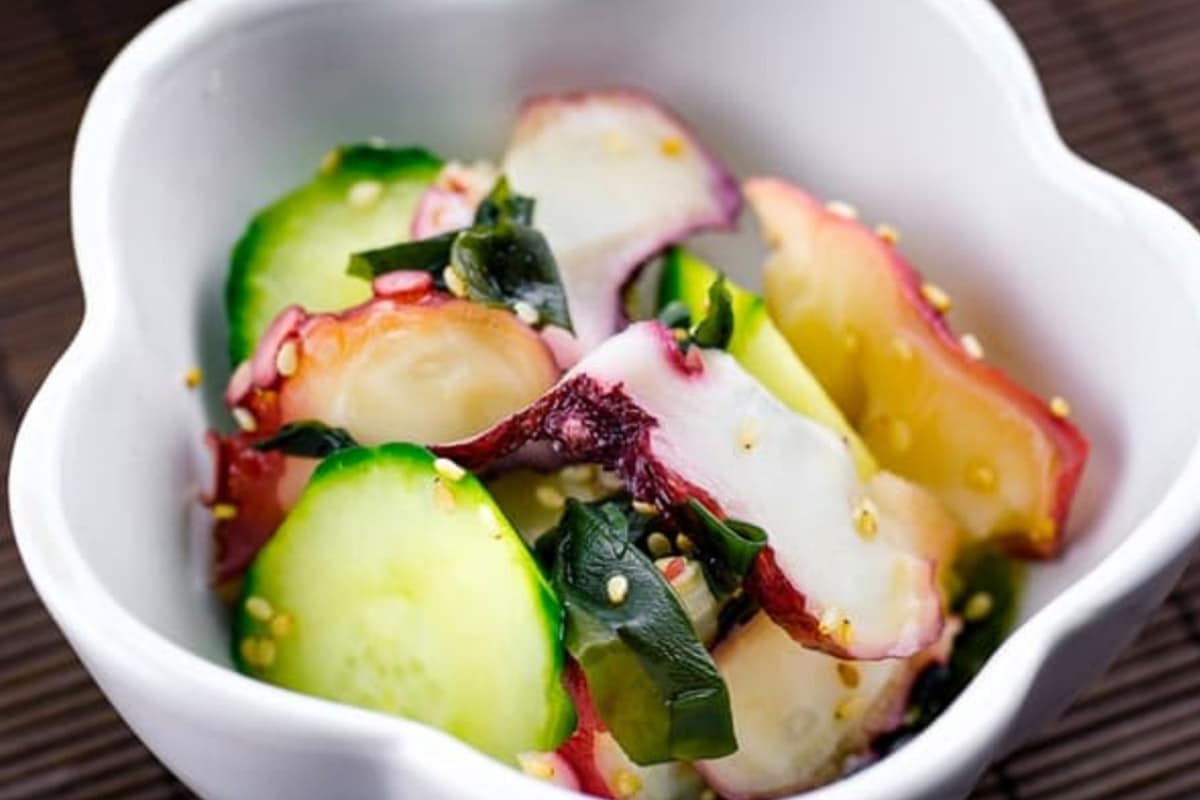 ---
14

Crab rangoon

Although it is of Chinese rather than Japanese origin, Crab Rangoon is a delicious side for sushi.

They are fairly simple to make, and here is an easy recipe to follow.

These delicious little bites are made using canned crab, cream cheese, minced garlic, green onions, Worcester sauce, soya sauce, and wonton wrappers.

They are deep-fried or oven-baked and provide a nice crispy side for sushi - especially when dipped in sweet chili or sweet and sour sauce.

There's nothing wrong with a little Chinese-Japanese fusion. You can also check my Shumai recipe here.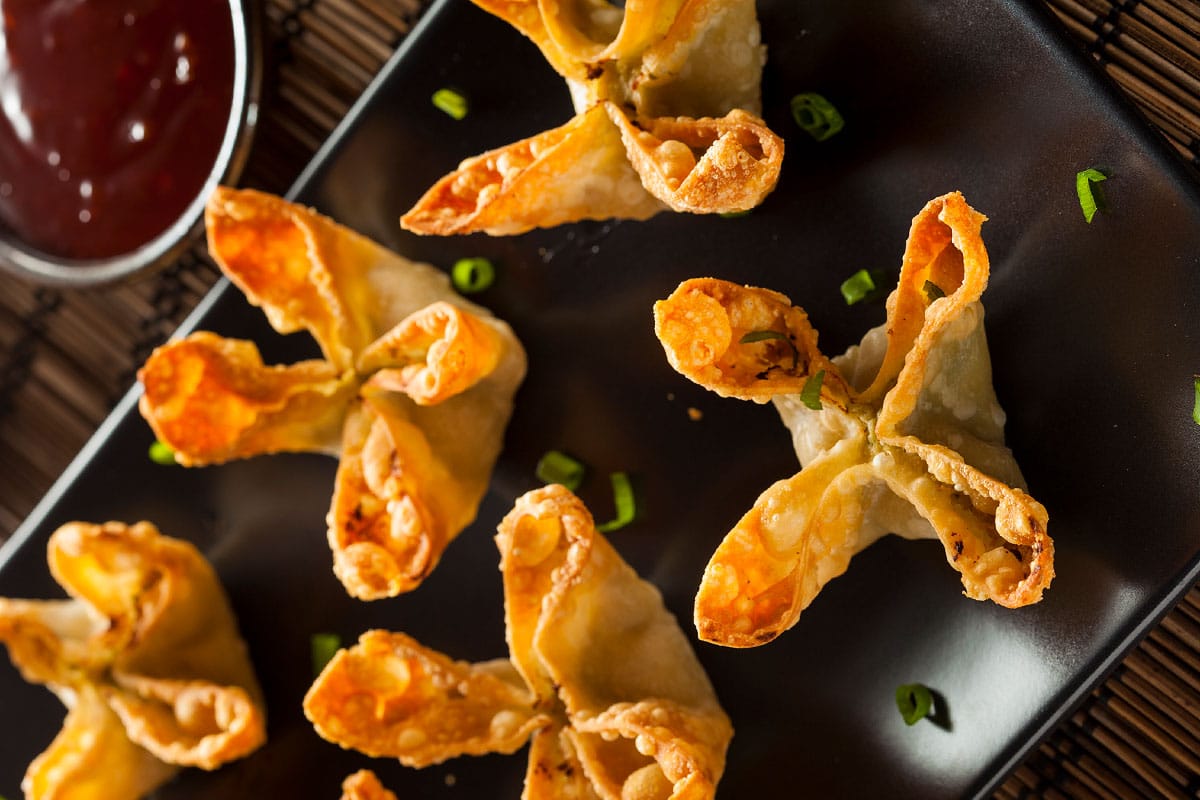 ---
Drinks to enjoy with your sushi.
Think of Japanese cuisine, drinks to accompany it, and your mind automatically goes to sake. But saké is only one of many options.
Let's take a look at the alternatives, but starting with saké.
Option
1

Saké

It might surprise you to know that saké is not generally served in Japanese restaurants as it is considered to be somewhat overpowering.

It doesn't go towards making the sort of balanced meals that Japanese connoisseurs pursue.

Another potential problem with serving saké is that it is made from rice, so it might be rice overload when serving it with sushi.

But if you would prefer to stick with saké, please feel free, though I would suggest going for the Dassai Junmai Ginjo brand as I think its subtle fruity blend and mild acidity pair nicely with sushi.

But I warn you; it's not cheap.
---
Option
2

Japanese beer

A nice, crisp Japanese beer goes well with sushi. The brands that I have sampled include Ashi and Kirin - drafts available in some Japanese restaurants or bottled Coedo or Sapporo.

They are all light-flavored so that they won't overpower the delicate flavors of your sushi.

Some people prefer a more bitter beer as they think it works well with sushi. Pilsners are also popular. It's a very personal think thing, so it's a case of suck it and sees.
---
Option
3

Wine

Most foodies like to drink wine with their meals, and finding the right pairing is an acquired skill.

I have already mentioned a particular saké and various types of beers, but when it comes to wine, you need to apply the same principles, i.e., that whatever you choose doesn't steal the limelight from the sushi.

For me, wines that work well include Chardonnay, Pinot Grigio, Pinot Blanc, and even some champagnes.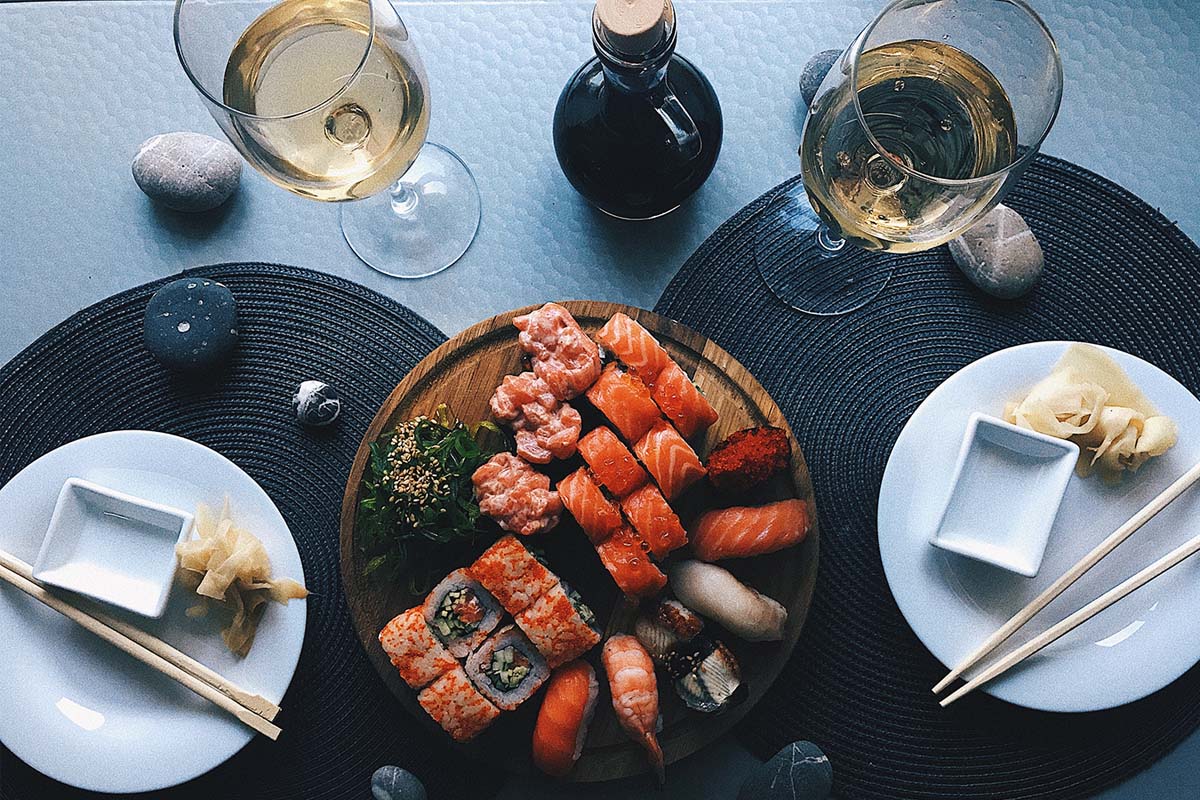 ---
What wine goes good with sushi
In addition to the suggestions mentioned earlier, if you want to experiment yourself, I recommend choosing dry, light, non-oaked white wines.
I mentioned chardonnay above, and this can work, providing it is non-oaked. A dry Riesling will work well, as will a Gewürztraminer. A good sauvignon blanc can work to providing it is nice and fruity.
Some people prefer red wines, and these too can work, providing they're not too bold in flavor or too rich in tannin. Beaujolais and Pinot Noir will work, as will some rosés.
Don't forget, as well as not overpowering the star of the show; they also need to be capable of standing up to stronger flavors like soya sauce and wasabi.
---
Option
4

Green tea

If you go to a sushi restaurant in Japan, the odds are that you will be served green tea as standard.

It's a prevalent choice not only because it is very subtle in flavor and won't compete with the sushi, but it is also non-alcoholic and very healthy.

Flavor-wise, its bitterness adds a nice contrast to the creaminess of the sushi.

When served in a Japanese restaurant, green tea is very hot.

The reasoning behind this is that the hot temperature is supposed to enable the tea to act as a palate cleanser, helping it deal with any oily residue from sushi fish fillings.
---
Japanese condiments that work well with sushi
The first time you go to a Japanese restaurant to enjoy a sushi meal, you may be surprised with the array of condiments that arrive on your table.
Let me quickly walk you through the most popular.
1

Gari - Pickled ginger

I won't spend a lot of time discussing this one with you because we talked briefly about one of the side dishes you can serve.

Suffice it to say that it works as an excellent palate cleanser in between bites.
---
2

Wasabi pate

If you like horseradish, you will love wasabi, although if you haven't tried it before, I must warn you that it is extremely strong and can bring tears to the eyes if you take too much.

As well as having an extremely strong taste, it is said to aid digestion and keep fish safe for eating.
---
3

Shoyu - Soy sauce

Japanese soy sauce, or Shoyu, is widely used in Japanese cuisine as well as Western. So too is Chinese soy sauce.

It is an incredibly tasty condiment that works well with most dishes. The thing that makes it so versatile is that it contains all five tastes - bitterness, saltiness, sourness, sweetness, and umami.
There are over 300 aromatic variations of soy sauce, but the five main ones include:
Shiro (White) Soy Sauce
Usukuchi (Light) Soy Sauce
Kikuchi (Dark) Soy Sauce
Saishikomi (Twice-Brewed) Soy Sauce
Tamari Traditional Soy Sauce
Another popular Japanese sauce, similar to soy sauce but sweeter and with a much stronger citrus flavor, is Ponzu. This, too, works well with sushi.
---
4

Hot mustard sauce

If you're a fan of hot spices like me, the hot mustard sauce that some Japanese restaurants serve will suit you well.

You can make it yourself by blending mustard with chili oil to give you a smooth, light yellow dipping sauce.

Another alternative is oil mixed with chili powder; this works well because it cuts through the stickiness of the sushi rice and imparts the heat of the chili.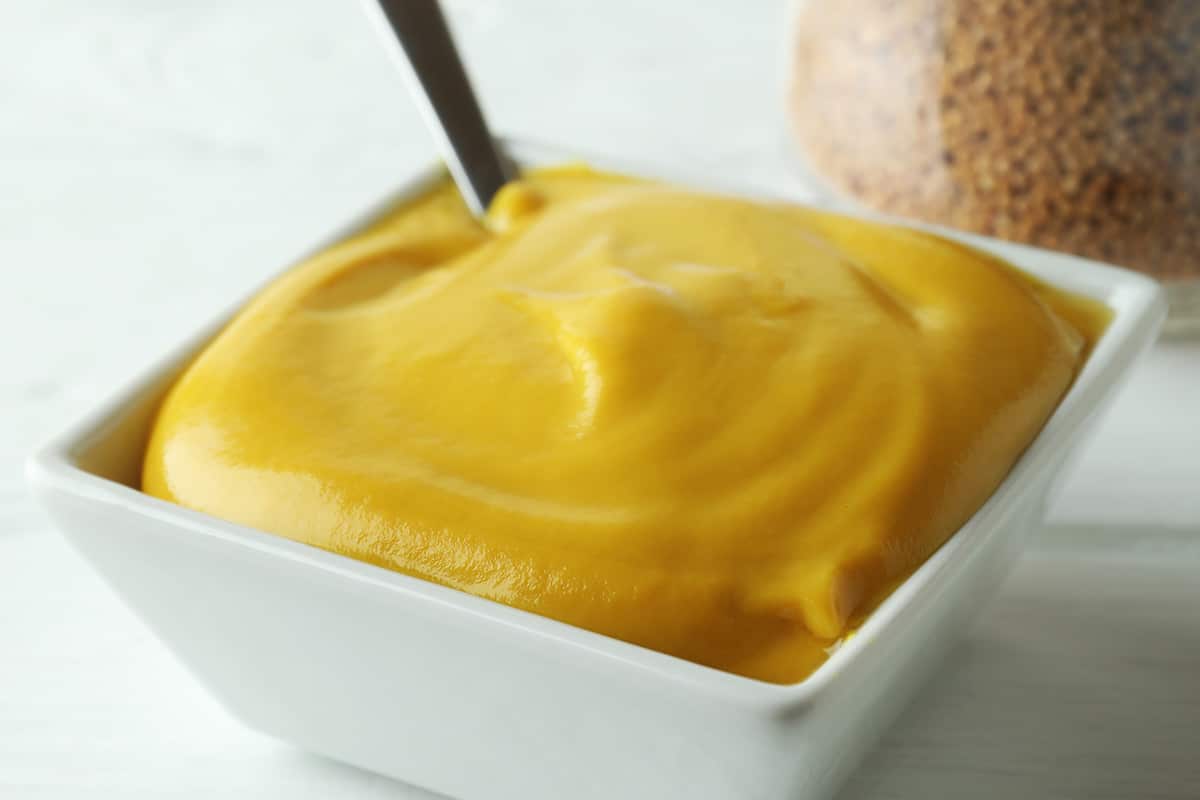 ---
What to serve for dessert with sushi
Having enjoyed your feast of sushi, with your choice of the optional starters I mentioned above, together with some of the delicious condiments, you might be wondering how to finish off your meal.
It's pudding time.
Option
1

Dango

Unlike most of us here in the West, the Japanese do not have such a sweet tooth. Their deserts tend to be quite simple flavors that are not sickeningly sweet.

Dango is a colored dumpling dish made from sweetened rice flour and water. They are formed into bite-size balls and presented on a skewer.

They are fun and pleasant to eat and could be the perfect ending to your sushi feast.

In Japan, they are often served with green tea, as their sweetness is designed to counteract the bitter edge of the tea.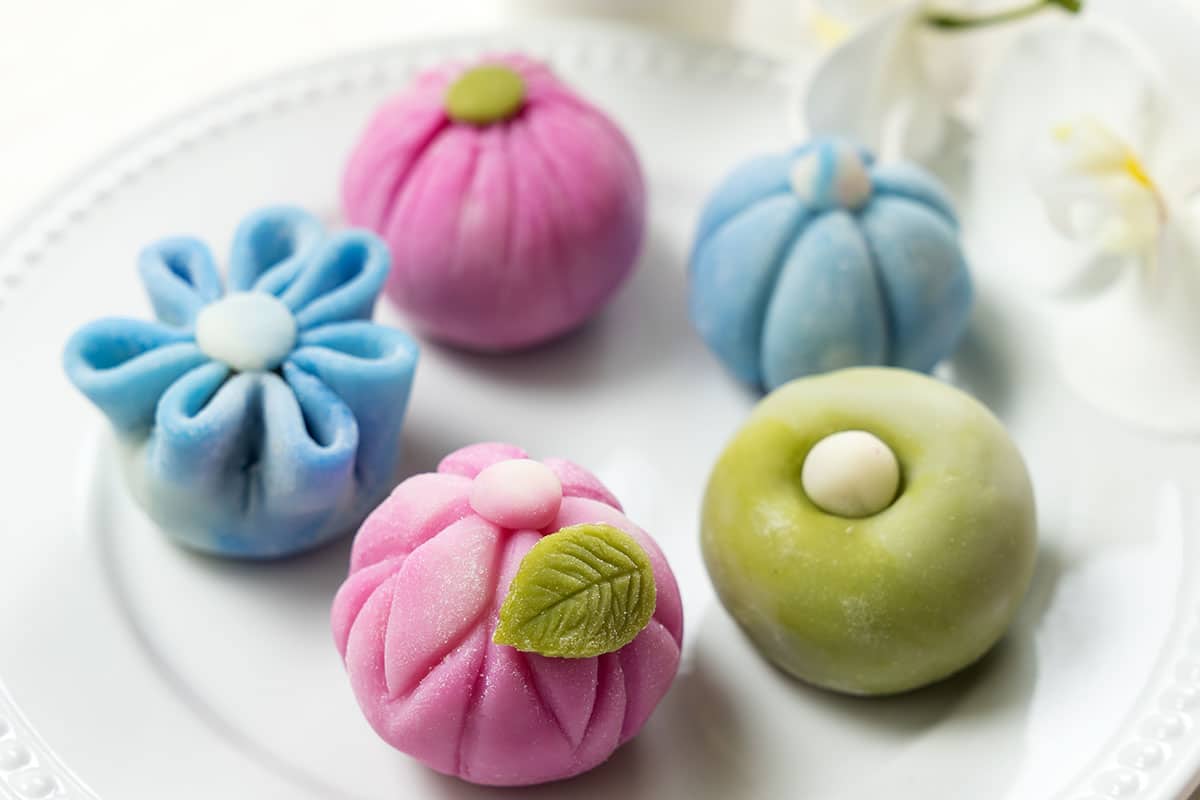 ---
Option
2

Matcha ice cream

This is ice cream with a difference. Matcha ice cream has a distinctive bitter and powdery taste. However, when made into ice cream, it is the perfect way of ending any Japanese meal.