Chicken Lollipop Recipe
Cooking for family get-togethers can be rewarding and frustrating at the same time. I hate to admit it, but my competitive spirit tends to get the best of me when I'm planning the dish or dishes I'm going to take.
I want something that everyone will love, which is not only tasty but also attractive, memorable and has flair.
I've spent hours planning dishes to dazzle—and I've got to admit—outdo my cousin, who also could be classified as a competitive cooker.
I know she must spend just as many hours finding the right recipe to create.
Even though I'm competitive, I'm also a problem solver when it comes to cooking. The last family gathering had dishes that were outrageously delicious, but rather hard for the kids to eat.
Each child was "marinated" (*messy hands) thoroughly after he or she finished the meat on the plate since we're all big on sauces and marinades to add magic to the main courses.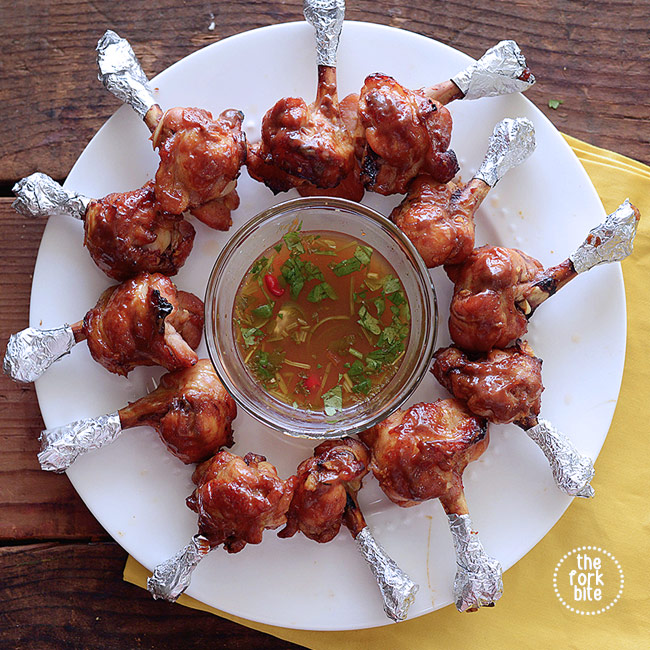 I found a few recipes that would dazzle the grown-ups but kept the problem creating kid-friendly meals in the back of my mind.
When scanning the internet, I saw the perfect solution, chicken lollipops!
They were cute, child-friendly and even had their own grip that would keep little hands cleaner.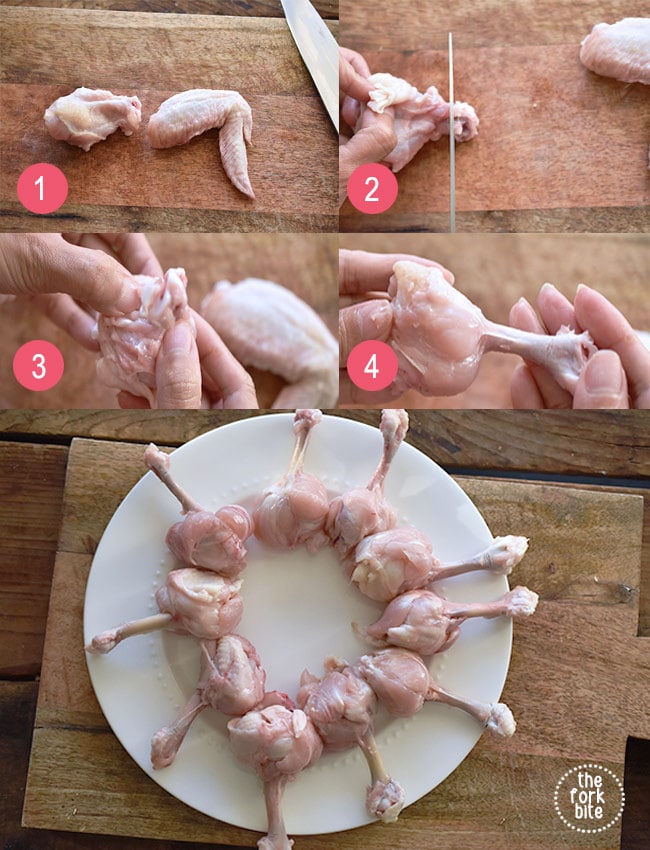 The cooking part was easy, preparing the chicken drumettes for cooking was the tough part. I used my kitchen knife or scissors to help with the job, cutting the skin and tough tendons around the base of each, then pushing the meat toward the end.
It made the drumette look just like a lollipop. Removing the knuckle wasn't easy either, but well worth it when you saw how cute the final product looked.
I wrapped the "stick" end in tin foil for serving and it created the perfect handle for the kids with far less dripping and sticky fingers.
The only problem I had with these darling additions to the meal is that I didn't make nearly enough. So, I served them with Kung Pao Chicken.
All the adults wanted some too! The marinade made them moist and tasty and the tinfoil stick made them easy to eat. My cousin was so jealous and I smiled inside, victoriously.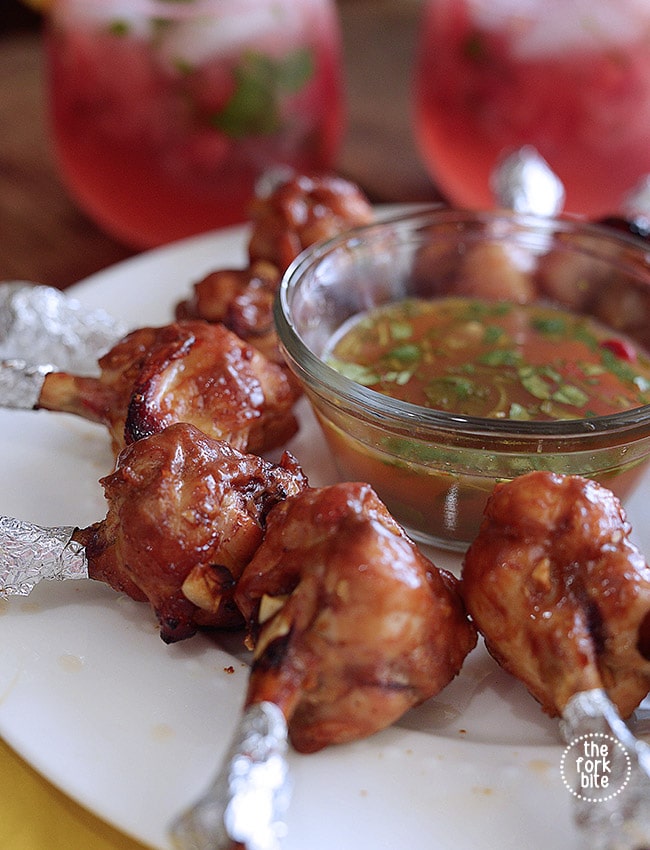 Baked Chicken Lollipop Recipe
Category: Dinner, Brunch, Appetizer

Cuisine: Asian

Baked Chicken Lollipop - these drumette appetizers are perfect finger food and are shaped like a lollipop. Marinated with hoisin ginger and baked to juicy deliciousness.
10 chicken drumettes, skin attached, cleaned and pat-dry
Marinade:

2-inch ginger, peeled and minced
1 clove garlic, peeled and minced
3 tablespoons Hoisin sauce
1/2 tablespoon mild chili sauce, optional
1/2 tablespoon soy sauce
1/2 tablespoon honey or sugar
1/2 tablespoon water
Chili Lime Dipping Sauce

2 tablespoons of jalapeno pepper chopped finely
1 tablespoon chili sauce
1/2 cup lime juice
1/3 cup chicken stock
2 tablespoons fresh cilantro (coriander leaves)
2 cloves garlic
1 teaspoon sugar
1/4 teaspoon salt
Instructions
Use a kitchen knife or scissor to cut the skin and tendons around the base of each drummete.
Peel, scrape and push the meat down to the thick end, from top to bottom. It made the drumette looks just like a lollipop.
Repeat with remaining chicken drumettes.
In a bowl, prepare the Marinade ingredients. Add in the chicken drumettes, coat well and marinate for at least 1 hour, or best overnight.
Preheat the oven to 350°F. Arrange the chicken drumettes on the wire rack set over a baking pan. Bake until the chicken is nicely browned and slightly charred, and completely cooked through, for about 35 minutes.
Serve with the dipping sauce of your choice. They are delicious as is without any dipping sauce.
Notes
(adsbygoogle = window.adsbygoogle || []).push({});
Nutrition Facts
Baked Chicken Lollipop Recipe
Serves
Amount Per Serving
Calories
75.44 kcal
% Daily Value*
Total Fat 3.6 g
5.5%
Saturated Fat 1.08 g
5.4%
Trans Fat 0.02 g
Cholesterol 28.13 mg
9.4%
Sodium 177.9 mg
7.4%
Total Carbohydrate 6.01 g
2%
Dietary Fiber 0.42 g
1.7%
Sugars 3.22 g
Protein 5.04 g
| | |
| --- | --- |
| Vitamin A | Vitamin C |
| Calcium | Iron |
* Percent Daily Values are based on a 2,000 calorie diet. Your daily values may be higher or lower depending on your calorie needs.

https://www.theforkbite.com/baked-chicken-lollipop-recipe/