This homemade Taiwanese Popcorn Chicken or salt pepper chicken (鹽酥雞 Yan Su Ji) are so scrumptious and crackly bits all over. Bring the night market to your home when you missed it!
The one thing I love about Asian style street food is the variety of foods available. One of my favorites is Taiwanese popcorn chicken. You can tell by the name itself that it is chicken nuggets with a Taiwanese twist.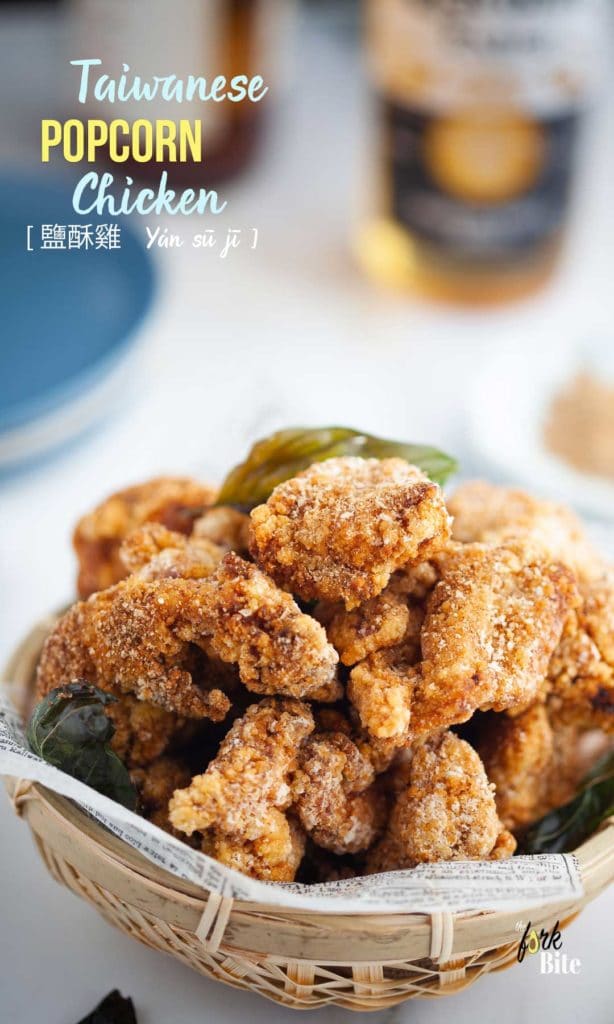 I don't know how and why it's called 'Taiwanese popcorn chicken' or ( 鹽酥雞 Yan Su Ji ). I imagine that it's maybe because you end up popping quite a few into your mouth!
Yes, this is a crispy and juicy Asian version of fried chicken nuggets. It's delicious to eat and is easy and affordable enough for you to make for everyone in the family.
Moreover, there's a recently open joint near my home. I love its ambiance because it's decorated like any other Asian night market store.
Besides, it offers a myriad of Asian style street food for you to order and enjoy.
Of the lot, I like the outlet selling Asian popcorn chicken. They have so much to offer on their menus like pork chops, vegetables, tasty chicken wings, chicken, fish and a lot more.
I always think of trying out something new but eventually end up ordering my favorite Asian popcorn chicken (or Yan Su Ji). Besides, it's also a favorite of my little H.
There however is a little problem. Their portion is small, and it doesn't even satisfy my fried chicken craving.
This is why I end up ordering more than one portion which unfortunately ends up rather expensive for me. This is why I thought that it was better to make some at home. And I'm really happy I did because it was amazing!
I have here a recipe for a xiao chi or rather a finger foods recipe that is popularly found in Taiwanese night markets. You could say that it's popcorn chicken's 'cousin' with a few changes.
These chicken popcorns are flavored with garlic, soy and quite a lot of Chinese Five Spice powder.
Origin of Asian popcorn chicken
Asian popcorn chicken has its origins from Taiwan, which is why you can find them in most Taiwanese roadside stalls and street food carts. It's also popular in night markets and is available at regular restaurants and stores.
It's left to you to decide if you want to add Thai basil leaves to it or not. I, love the taste of Thai basil leaves and always add it to my chicken. Besides, my fridge always has some Thai basil leaves.
And about eating it, you can eat the chicken on its own or dip it in some sweet chili sauce and eat. If you ask me, Taiwanese fried chicken and any other dish for that matter taste best with sweet chili sauce.
Just picture juicy, crispy and flavored popcorn chicken dipped in some sticky, sweetish and slightly spicy chili sauce. It's indeed better than chicken nuggets which I guarantee everyone in your family will enjoy and love.
Tips in Finding the Ingredients (Taiwanese Popcorn Chicken )
Chinese popcorn chicken or Taiwanese popcorn chicken is generally made using boneless thigh meat because of its extra juice. You can also use boneless breast meat but it is comparatively not as juicy as thigh meat.
Some ingredients may be easily available if there are no Asian grocery shops nearby.
1.   Sweet potato starch or yam starch or sweet potato flour may be the most difficult to find. It's usually found in Asian and some Latin or Mexican grocery stores. If you do find one, first examine the powder's color before using it. 
If it's white and has the texture and feel of cornstarch, it's probably the starch and that's what you want in this recipe.
Try squeezing the bag because  if it's squeaks, then it's a starch. If the powder is yellowish or orangish in color, doesn't squeak and has the same soft and puffy texture like all-purpose flour, then it's probably not a sweet potato powder.
2.  The remaining ingredients like 5-spice, Thai basil, and the sweet rice wine mirin, is available in typical Asian and large grocery stores. While you may think of using black pepper instead of white pepper, white pepper is better.
It's because it gives a sharp and slightly spicier note upon first touching your tongue. The spicy taste quickly reduces when compared to black pepper's spicy notes.
3.  Black pepper's spice lasts longer on your tongue due to its deep and husky heat. Of course, it is a good substitute but it may not give you the same taste of chicken you find on Taiwan streets.
4. Marinade the chicken with gluten-free tamari if you want gluten-free popcorn chicken. Use coconut aminos instead of soya sauce, and 1 tablespoon of white wine with 1 tsp. of coconut palm sugar or honey instead of the mirin (if you're using) for a paleo option. Use cold-pressed coconut, unrefined avocado or olive oil for frying.
Taiwanese Popcorn Chicken
Print
Pin
Rate
This homemade Taiwanese Popcorn Chicken or salt pepper chicken (鹽酥雞 Yan Su Ji) are so scrumptious and crackly bits all over. Bring the night market to your home when you miss it!
Ingredients:
3

chicken breasts or chicken thigh fillets
Marinade:
2

garlic cloves finely grated

2

tbsp

finely grated ginger

2

tbsp

soy sauce

1

tbsp

Mirin

*see notes

1

tbsp

ShaoXing wine

or dry sherry (*see notes)

1

tsp

sweet potato starch

or Tapioca starch

1/2

tsp

5-spice powder

* see notes

1/2

tsp

ground white pepper

1/4

teaspoon

cayenne pepper

1/2

tbsp

brown sugar
Coating:
2

eggs + add 3 tbsp water

2

cups

sweet potato starch
Garnish:
A handful of fresh Thai basil leaves
Mixed Salt for Seasoning:
1

tbsp

salt

1

tbsp

5 spice powder

1

tbsp

white pepper

a pinch of chilli powder
Instructions:
Cut the chicken into 1-inch chunks and place in large bowl. Mix the marinade ingredients and add the mixture into the chicken, toss well. Set aside and refrigerate for 20 minutes or overnight.

When ready to cook, place the eggs in a bowl, add 3 tbsp of water and whisk with fork. Place the sweet potato starch in a separate bowl.

Using chopstick (or a tong), dip the chicken first into the egg mixture, then toss in the sweet potato starch and coat evenly. Shake off excess starch.

Heat the oil in the wok, when oil reached 150 degree C, scatter the basil leaves and stir for about 20 seconds until the basil leaves turn translucent and crisp. Remove from the wok and drain. Set aside.

Increase the heat of oil to 170 C and fry the coated chicken in batches for about 2-3 minutes (do not overcrowd the wok) or until golden brown. Regularly skimming any floating flour bits from the oil.

Place the cooked chicken in a wire rack lined with paper towel to drain the oil.

While the cooked chicken are still hot, sprinkle or season with a good pinch of Spiced Mixed Salt. Serve immediately and garnish with fried basil leaves.
Notes
1.) 5-spice powder (五香粉) is an ingredient commonly used in Chinese and Taiwanese cuisine and encompasses all five flavors: sweet, sour, bitter, salty, and umami. You can find this at your neighborhood Asian market.
2.) Mirin (味醂 or みりん) [miɾiɴ] is a Japanese sweet rice wine that lends mild acidity to a dish. It is similar to sake, but is lower in sugar and alcohol, and provides a nice contrast when used with saltier sauces, like soy or Tamari. Available in any Asian stores.
3.) ShaoXing wine is known as a traditional Chinese cooking wine made from fermented rice. It tastes much like dry sherry, which can be used as a substitute. Available at any Asian markets as well.
Nutrition Facts
Taiwanese Popcorn Chicken
Amount Per Serving
Calories 359
Calories from Fat 9
% Daily Value*
Fat 1g2%
Sodium 1824mg79%
Potassium 35mg1%
Carbohydrates 87g29%
Protein 1g2%
Vitamin A 42IU1%
Vitamin C 1mg1%
Calcium 34mg3%
Iron 1mg6%
* Percent Daily Values are based on a 2000 calorie diet.