Hey, foodies, there's a kickin' bun in town. Instead of the familiar wheat-type bun, our recipe for Chicken Katsu Rice Burger is constructed with two pan-seared rice patties. Are you curious about how to keep rice buns from falling apart?
Straight from the Japanese cook's mouth to your ear: before frying, press nori seaweed on the underside of the rice bun. Or, use the nori seaweed on both sides of the rice bun for added durability.
There is a caveat if you decide on a double dose of nori; it's harder to sink your teeth into the rice bun.
Read This Recipe: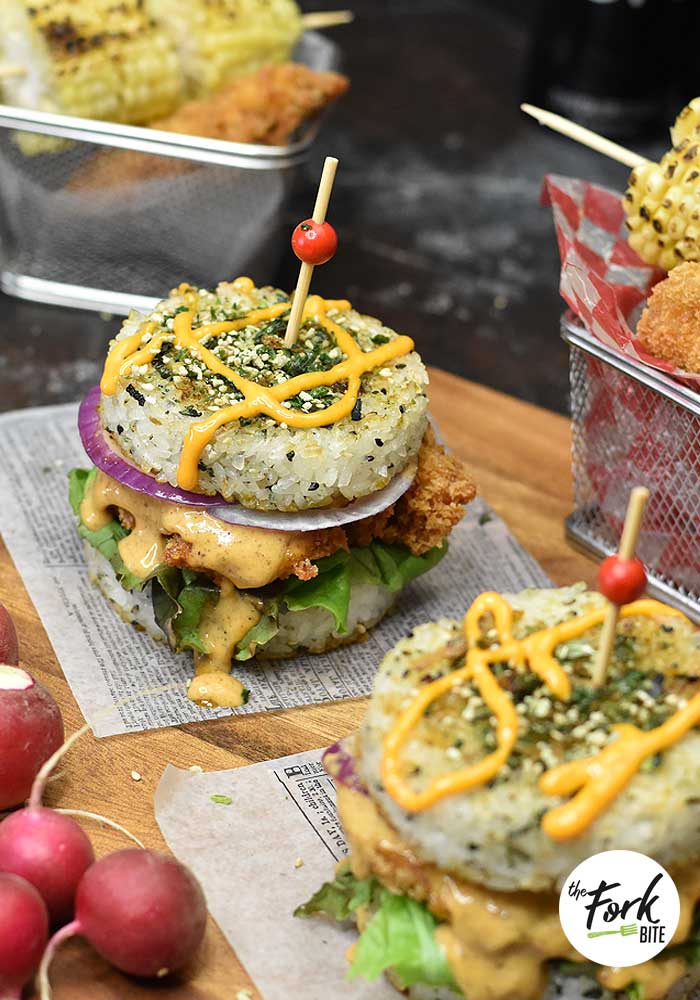 If you belong to the I-hate-nori camp, wrap your Chicken Katsu Rice Burger in edible rice paper. Although, if you don't like the taste of edible rice paper, you may need to refine the rice bun until it's just right for your family's taste buds.
If for whatever reason you can't eat bread, rice is a marvelous substitute. It's also gluten-free.
So, what if your rice bun crumbles a bit? Ridiculously-messy food is fun to eat and an auspicious conversation starter among guests.
Do you wonder whether brown rice is a viable alternative? Granted, brown rice is more nutritious and higher in fiber, than white rice. But for this particular recipe, Japanese sushi-style, short grain rice works better.
Because it manifests with a clumpy-ness not present in other types of rice. Also, long grain rice is not a good option because it cooks up fluffy and doesn't stick together like short grain rice.
Chicken Katsu or Katsu Chicken
Now, let's talk about chicken katsu. Think chicken nuggets developed to the nth degree. The Japanese prefer dark chicken meat. Traditional chicken katsu cutlets (in Japanese katsu means cutlet) are made with thigh meat.
This recipe calls for the chicken breasts that Americans love. Panko breading supplies the chicken's crispy, crunchy texture.
Watch The Video Below 👇👇
A generous amount of curry sauce adds just the right amount of zest to the flavor profile. Since the white rice bun provides the dominant color of this dish, replace the traditional white plate, with a contrasting color, i.e. Purple, rich brown or black.
Your job is done. Sit back and wait for the mmm-mmm's!
Chicken Katsu Recipe Rice Burger
Category: entree

Cuisine: Japanese, American

This Chicken Katsu is juicy in the inside and crispy in the outside. Smeared with Chicken Katsu curry sauce and sandwiched with 2 pan-seared rice patties.
Chicken Katsu

1 boneless chicken breast, pounded until ½" thick, cut in half to make 2 pieces
1 cup panko crumbs
2 eggs
1 cup all purpose flour
Salt and black pepper
Chicken Marinade (skip this if you'll get the marinated chicken)

1 tbsp Soy Sauce
1 tbsp Rice wine vinegar
1 tsp garlic powder
½ tsp cayenne pepper (optional)
1 tbsp brown sugar
Curry Roux:

3 tbsp unsalted butter
¼ cup all purpose flour
1 tsp cocoa powder
1 tbsp Worcestershire sauce
2½ tbsp curry powder
1 tbsp tomato paste
½ tsp cayenne pepper (optional but you can add for slight spiceness)
pinch of black pepper
Curry Sauce

1 medium onion, roughly chopped
3 garlic cloves
1 tbsp mince ginger
2 1/4 cup chicken stock
Salt to taste
Sugar to taste
Black pepper to taste
Rice Buns

2 cups cooked sushi rice (Japanese short grain or cooked rice)
Sesame oil
Soy sauce
White or black sesame seeds
Japanese rice seasoning (or Seaweed flakes)
Instructions
Ready in

2 hours, 20 minutes
Chicken Katsu:

Butterfly the chicken breast fillet and pound until ½" thick, cut in half to make 2 pieces.
Add the marinade ingredients and store in the fridge for 2 hours or overnight.
Prepare 3 separate bowls and fill each with flour, eggs and panko crumbs.
Coat chicken in the flour and dunk it in the egg wash. Coat it with the panko crumbs, pressing it so that the chicken is coated completely.
Repeat the process one more time (with the flour, egg and panko crumbs) and set aside until ready to be fried.
Heat oil to 350 F over medium-high heat, Once the oil is hot, gently place the breaded chicken cutlet and fry it for 3-4 minutes on each side OR until golden brown (do not overcrowd the pan).
Place the chicken katsu in the oven at 200 F to keep warm until needed.
Chicken Katsu Curry:
For the Roux:

Melt the butter over low heat, add the flour and mix well. Add the remaining ingredients for the roux and continue to stir.
Note: the mixture will become crumbly and dry but make sure not to burn it. Turn off the heat and set aside.
For the Curry:

Using a blender, blend the garlic, onion, and ginger to make a paste. Then fry the paste over a medium-low heat until fragrant and translucent. Add the chicken stock and bring it to a boil.
Season with salt, black pepper and some sugar according to your taste.
Once the chicken stock is boiling hot, pour the roux mixture and stir well until the roux has fully dissolved while the mixture thickens. Turn off the heat
Rice Buns:

Spread the cooked sushi rice in a container and sprinkle with black sesame seeds and Japanese rice seasoning (keep a wet cloth handy). Using a rice paddle, fold the rice lightly and roughly divide the rice into 4 portions.
Using an egg ring, place 1 portion of the sushi rice and compress it with a wet spoon until it forms a molded rice patties. Brush both sides with soy sauce. Set them aside covered with damp cloth.
If shaping the rice buns by hand - shape each portion into burger patties with wet hands so the rice won't adhere into your hands while shaping.
Brush both sides with soy sauce. Set them aside covered with damp cloth.
Over a medium heat, add some oil and sear the patties until a bit crisp on both sides. Set aside and keep covered with a damp cloth.
Assembling the Rice Burger:

Place lettuce or your favorite toppings to the bottom rice patty. Place the chicken katsu and spoon a generous amount of katsu curry on top of the chicken. Top with another sushi rice patty.
For added help to stay intact, you can wrap the rice burgers using a parchment paper (this is optional). Serve immediately.
https://www.theforkbite.com/chicken-katsu-recipe/