When it's horrible and cold outside and blowing a gale, there is nothing better than sitting safe and sound at home, tucking into a bowl of hot, nourishing soup.
Heck, there's nothing wrong with doing the same thing in the summer as long as the temperature isn't too hot.
Don't get me started on the various types of soup. There are so many, and each is good in its way. But is there anything better than a steaming bowl of New England Clam Chowder?
I don't think there is. Not only is it absolutely delicious, but it's also quick to make to which is a real bonus.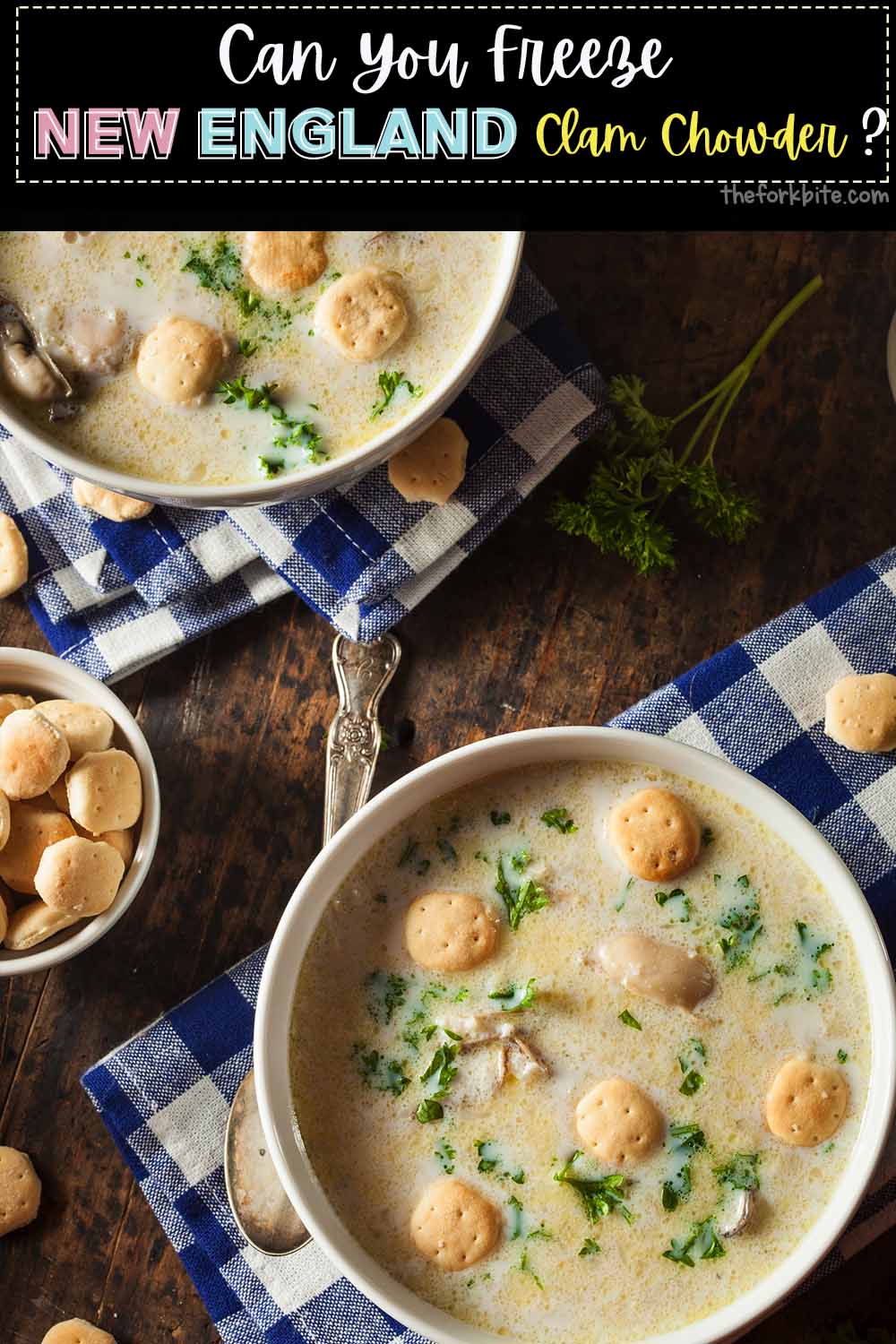 I don't know about you, but when I make homemade soup, I nearly always make too much to eat in one sitting.
Throwing any leftover away is, of course, not an option, so it begs the question about the possibility of freezing cloud chowder.
Jump to:
---
Can you freeze New England clam chowder?
Many foodstuffs (and I'm pleased to say it includes New England clam chowder) are freezable. However, there are provisos, and they usually depend on the ingredients used in the recipe.
As used in clam chowder, things like heavy cream, milk, and potatoes are not very freezer-friendly.
The best way of getting around this is to leave them out before you pop your chowder into the freezer.
If you follow this rule and store your clam chowder in the recommended way (which I go into in more detail shortly), frozen clam chowder will last for up to 6 months.
---
What freezing clam chowder involves
You can freeze both homemade clam chowder and store-bought canned clam chowder.
If you're freezing homemade chowder, however, it's advisable that you freeze it on the same day you make it to keep the ingredients as fresh as possible.
Here are the processes best recommended.
1

The cooling process

Once you've finished cooking your homemade clam chowder, you need to allow it to cool down to room temperature. It's essential to make sure that there is no steam coming off it; as if there is, it will produce condensation as it freezes.
---
2

Transferring into a container or reusable freezer bag

Now that your clam chowder is nice and cool, you can pour it into an airtight container or a reusable freezer bag.

When you transfer the chowder into the container or bag, ensure sufficient airspace at the top. It allows room for the chowder to expand a little, as is usual during freezing.

If there isn't enough room, the container or bag could get broken due to this expansion.

Before you pop the chowder into the freezer, you should evacuate as much air as possible, which is where using reusable freezer bags comes in handy.
---
3

Don't forget to label it.

Before freezing any homemade foodstuffs, I recommend labeling it so you can tell at a glance what the bag contains, and if you also remember to date it using a marker pen, how long it's been sat there in your freezer.

If you're freezing a batch in several bags, make sure the contents are frozen solid before trying and putting anything on top of them.

Once fully frozen, you can stack or stand them upright, whichever you prefer.
---
Potatoes behaving badly
If you've ever frozen mixed vegetable soup, which includes potato, you've probably noticed that all the veggies fare nicely except potato. If you try it, you'll see what I mean.
When defrosted, the potato ends up like cubes of mash and is quite unpleasant to eat. So, I thought, if you can't beat 'em, join 'em.
That being the case, when I freeze something like leek and potato soup, I mash the potato first, and when I come round to defrosting the soup, it has a perfect consistency.
The other option is to freeze the soup without the potato, and then when defrosting, boil a new batch of potato, which you can then add before you serve.
I know that some of you will say that you can freeze potatoes, and I agree that it works perfectly well with a baked potato. But you're not going to be putting them into soup, are you?
---
Tips when freezing clam chowder
So, as you can see, providing you have the necessary equipment, freezing clam chowder is a piece of cake.
However, to make sure you get the best results in terms of flavor and texture when it comes to defrosting and reheating, here are some top tips to help you on your way.
Tip
1

Ditch any delicate ingredients

I already touched on the subject of ingredients a little earlier, and I want to take this opportunity to reiterate.

If you're freezing clam chowder, I recommend not including any heavy cream or potatoes before it goes into the freezer.

The other thing you should omit is celery. These can all be added after you defrost it before reheating and serving.
---
Tip
2

Ban the bitterness

Some ingredients, referring to specific types of herbs and spices like cilantro, sage, or thyme spices, can make the clam chowder taste bitter when you freeze it. I, therefore, recommend you leave them out before freezing.

You can add them in any combination you wish once the clam chowder has been thawed and you are about to reheat.
---
Tip
3

Cooling your chowder quickly

As you are probably aware, allowing food to stay outside of the fridge at room temperature for any length of time is potentially dangerous. It will enable bacteria to begin forming, and this can lead to food poisoning.

I, therefore, recommend stirring the chowder from time to time as it cools. It has two benefits.
Firstly it helps to quicken the cooling time.
Secondly, it will ensure that skin doesn't form on the surface of your chowder.
The less time you leave foods out at room temperature, the better. To promote rapid cooling, you can always place the pan or container of clam chowder into cold water.
Just be sure no water gets into the cooling chowder as it will alter its flavor and texture.
Using the intermittent stirring trick as well will also promote quicker cooling.
---
Tip
4

Leaving room to grow

No, I'm not talking about buying clothes for your kids. I'm still talking about tips for freezing clam chowder, and again I have mentioned this before, but it is worth emphasizing.

Don't fill your bag or container too full. Allow a little room at the top for the chowder to expand as it freezes.
---
Tip
5

Stirring it up

I'm not suggesting you start stirring up trouble with your partner. What I am suggesting is stirring your defrosted frozen clam chowder.

Your clam chowder would separate during the freezing and thawing process if it included dairy in the ingredients.

Once it has defrosted, and before or during the reheating process, a quick stir will soon put this right.
---
Should you refreeze clam chowder?
In a word, no. If you do, it will adversely affect both the taste and texture of your chowder. It will also cause it to separate. Thawed refrozen clam chowder will also lose much of its flavor.
To avoid this happening, I recommend thawing your chowder in smaller portion sizes, as mentioned above. It should rule out any need for refreezing as you only thaw what you need each time.
---
How well does clam chowder freeze?
If you keep within the procedures I've outlined above, you'll find that clam chowder freezes well, and you'll be able to enjoy it for between 4 to 6 months after the initial freezing.
---
Various types of clam chowder
There is clam chowder, and there is clam chowder. There are several different variations, and each has its own characteristics and is made with a distinct blend of ingredients.
It means that they won't all behave in the same way concerning flavor and texture when frozen and then defrosted. You can check out what goes well with clam chowder here.
Let's take a look at the three main types you are likely to come across.
1

New England clam chowder

New England clam chowder is probably the most popular variant of all. Its ingredients include chopped clams, dairy milk or cream, salty bacon, onions, and potatoes. The same goes with this ham and corn chowder recipe.

When making it, you start with heavy cream and butter base, and it is this which gives New England clam chowder its lovely thick consistency.

The use of dairy products separates the New England variety from the Manhattan and Rhode island variants.

It was the one first introduced into America by the first settlers as far back as the 1700s and is the one that is now considered by most to be the clam chowder staple. Recipe here.
---
2

Manhattan clam chowder

As the name suggests, this variation of clam chowder was born in Manhattan, New York.

The main difference between this and other clan variants is that it doesn't use any dairy. Instead, the base is made with tomato and vegetable stock.

The addition of the tomato gives Manhattan clam chowder its distinctive redness. Because there is no dairy, it has a thin consistency.

Whereas the potato in New England clam chowder contributes to a thicker consistency, leaving this ingredient out also creates thinner consistency.

Sometimes people add cubed potato towards the end of cooking.

Leaving out the potato and the dairy means that Manhattan clam chowder is ideal for freezing. Check the recipe here.
---
3

Rhode Island clam chowder

Rhode Island clam chowder is akin to the Manhattan variety, the main difference being that instead of a tomato base, it uses broth (vegetables or chicken).

Like the New England variant, the Rhode Island version uses a potato to thicken the consistency.

The other thing that sets Rhode Island clam chowder apart from its other cousins is the use of quahog clams; the smallest is known as "littleneck" while the largest are called "cherrystone."

As far as freezing is concerned, Rhode Island clam chowder freezes well.

However, you may elect to remove the potato before freezing, add freshly cooked potato after defrosting, and before you serve. Find the recipe here.
---
Freezing canned clam chowder
As mentioned earlier, it is possible to freeze canned, store-bought clam chowder. I should qualify this by saying that you mustn't freeze it while still in the can.
Referring back to the principle of expansion, the can could easily burst during freezing.
If you intend to freeze unopened, canned clam chowder, I suggest that you first transfer it into a freezer-safe container or reusable freezer bag.
But do you need to freeze unopened cans of clam chowder? All canned goods have a long shelf life anyway.
---
How long can you keep frozen clam chowder?
If you store homemade clam chowder correctly, it will be good for anywhere between four and six months as long as it remains in the freezer at a constant temperature of 0°F.
After that, it will start to deteriorate in taste and consistency.
---
The 11th commandment
You can freeze homemade clam chowder in any batch size you wish.
However, I would recommend breaking a large batch down and freezing it in smaller containers or bags if possible.
It will stop you from having to throw away any surplus once you've defrosted a big batch.
Thou shall not throw clam chowder away - the 11th commandment.
---
The best way to thaw clam chowder
It's not recommended to thaw this dish in the microwave.  You know why?  Because clam chowder contains dairy or seafood, you need to take precautions when thawing it.
It would be best to defrost it overnight in your refrigerator for food safety. Also, as I said before, you will need to stir it as it is likely to have split.
When reheating, continue to stir it over medium heat to help to restore it to its thick consistency if it's the New England version.
Step by step instructions
Step
1
Remove the reusable bags or containers from your freezer and transfer them into your sink or a large bowl full of hot water.
Allow them to sit there for between five and 10 minutes, after which you should be able to break the chowder into small pieces.
---
Step
2
Place the pieces of chowder into a saucepan on your stovetop on a medium to high heat setting. As it begins to liquify, keep stirring it gently. Heating it slowly will ensure it doesn't curdle.
---
Step
3
As the thawing process continues and the chowder becomes more liquid, then is the time to add any other ingredients you might have left out before freezing, including any herbs and spices.
---
Step
4
If the chowder is thicker than you would like, you can thin it down slightly by adding either milk or broth.
---
Step
5
Once it is gently boiling, place a lid on the pan and allow it to cook for 60 seconds or so.
---
Step
6
Remove from the heat and allow it to cool slightly before serving.
If any evaporation occurs during reheating, you can continually replenish with broth, milk, or water, depending on which you prefer to use.
I find it's always best to replenish any evaporation loss with the same liquid you originally cooked the chowder.
So, for New England Crown chowder, milk or cream is good, while clam juice and water will work best with Rhode Island clam chowder.
---
Frequently asked questions
Is it okay to freeze fish chowder?
I recommend not to freeze fish chowder based on my experience. If you do, upon defrosting, the ingredients will separate, and the texture will become grainy.

Leave the fish out and add it later when it comes to reheating.
Which wines work best with New England clam chowder?
The choice of which wines go well with new England clam chowder will vary from person to person. However, from my perspective, I suggest a cold, crisp Chenin Blanc, Pinot Grigio, or Pinot Blanc.

If, on the other hand, your clam chowder has a cream base, you may find that a more full-bodied wine like a Californian or Chilean oaked Chardonnay works better.
If I put cream in my clam chowder, can I still freeze it?
I wouldn't recommend it. It tends to split and separate when thawed and reheated. It is better to freeze it without the cream and then add it later when reheating.
What differences are there between New England and New York clam chowder is?
The New England variant has a thick consistency and is made using clams, dairy milk or cream onions, and potatoes. In contrast, the New York or Manhattan variant has a tomato base.