Hearty soups are perfect for cold winter days. They are also pretty good on any chilly day, no matter what the time of year.
The problem is that soups on their own can sometimes not be enough to satisfy a hungry belly, and you need something else on the side to banish those hunger pangs.
Clam chowder is perfect for those in need of carbs, for those trying to avoid meat, and for anyone seeking to up their vegetable intake.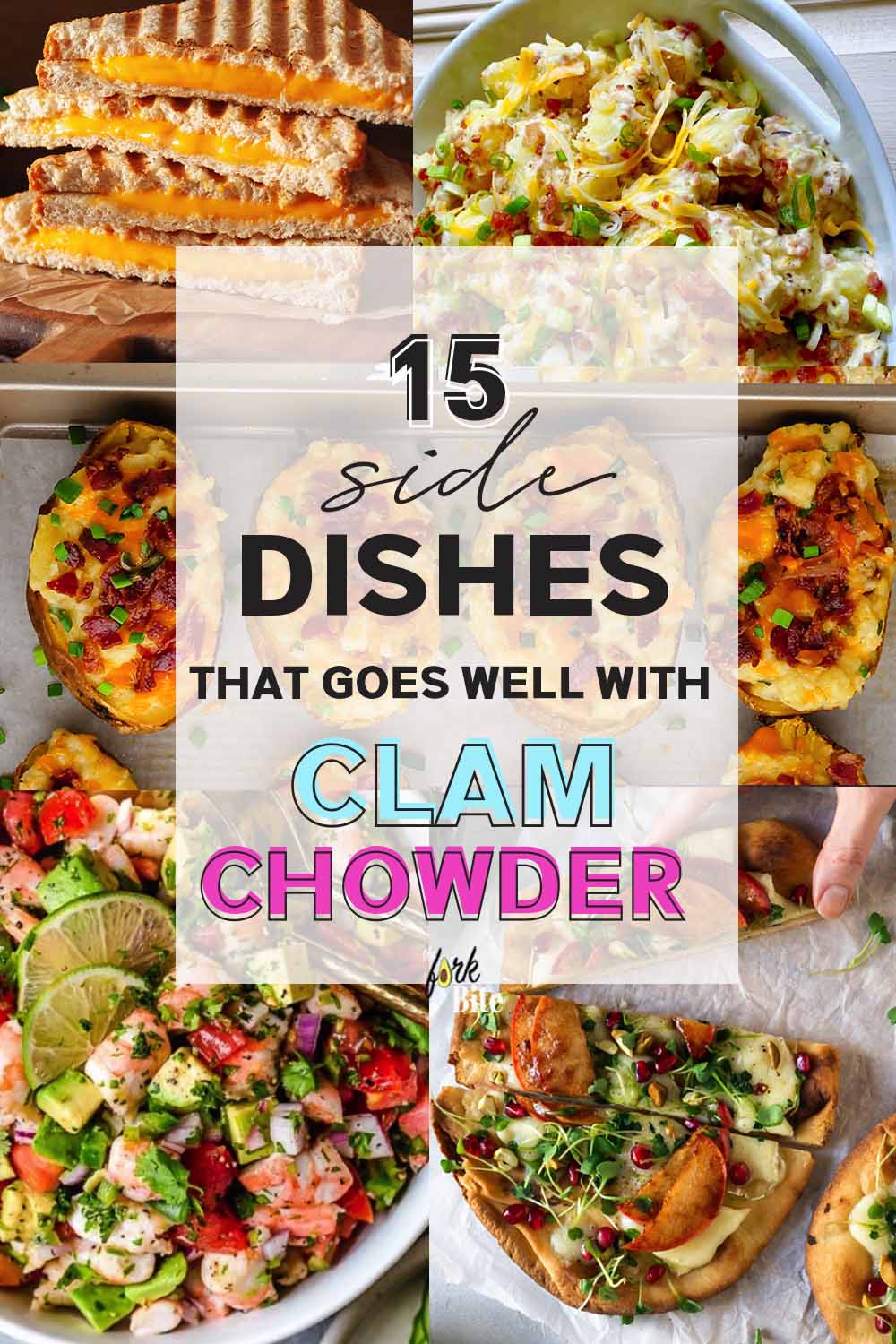 Jump to:

It's also great for serving kids. But if you're looking for something to turn a simple clam chowder into a more filling meal, I'm about to give you a few ideas on the best way of going about it.
One of the great things about clam chowder is that it's a favorite with most people. Here's how to make it even more nourishing.
---
What to serve with clam chowder?
1

Caesar salad

Caesar salad is an absolute winner for serving with clam chowder. It gives you a great contrast between hot and cold and a great change of texture. Salad is also quite big in terms of volume while still remaining light.

Caesar salad is undoubtedly one of the best types of salad you can choose. The tanginess of the dressing contrasts beautifully with the silky smoothness of the soup.

While the crispy romaine lettuce in a lovely Caesar dressing adds an element of freshness.

The toppings of a good Caesar salad, including cooked eggs, nice crispy bacon, crunchy croutons, and a liberal sprinkling of Parmesan cheese.

All serve to make this the perfect accompaniment chowder meal. Check the recipe here.
---
2

Oyster crackers

Oyster crackers are a favorite for many people when it comes to an accompaniment for clam chowder. These small salty crackers, which you can buy in either round or hexagonal shapes, are very moreish.

They can be bought from most grocery stores or supermarkets or, if you're feeling adventurous, you can make them yourself.

One thing is for sure, and that is whether they are store-bought or homemade Oyster crackers with clam chowder always go down a storm.
---
3

Sourdough Bread

If you haven't tried serving clam chowder in bowls made from sourdough bread, you should. They are a great preamble to any barbecue party, and your guests will love them.

But the sourdough doesn't have to be made into a bowl. You can serve it in a roll or sliced form or as a whole baguette. It's the sour flavor that matters. It pairs with clam chowder superbly.
---
4

French fries

Who doesn't love a French fry? These delicious little slivers of fried potato are a must for serving alongside clam chowder.

It may not be the first thing that pops into your mind, but why not? They are so much more than just something to serve with burgers. Fries go well with another seafood favorite - mussels.

As the Belgians and French call them, Moules-Frites is a great pairing - nearly as good as Clam chowder French fries …. nearly.
---
5

The Grilled cheese sandwich

Now we're getting serious. What better to go with a bowl of clam chowder than a gorgeous, gooey, grilled cheese sandwich?

All that lovely, melted cheese, creating elasticated strands of cheesiness after you have bitten into your sandwich, works so well flavor-wise with the chowder.

You can add things to the sandwich too - crispy bacon, mayonnaise, pesto, sun-dried tomato. I've started drooling already.
---
6

Loaded baked potato salad

You've already got some potato in your chowder, but if you're a spud fancier, why not add some more courtesy of a loaded baked potato salad?

Potato you can get your teeth into, and some al dente green beans together with some diced celery and chopped dill in a creamy dressing, provide a match made in heaven.

Have some fun by using purple potato pieces (unpeeled, of course) just to amuse your guests.

You can prepare the salad in advance and chill in your fridge until it's time to serve with the clam chowder. Yum!
---
7

Fried Paneer cheese pakoras

This Indian snack works superbly well when served with clam chowder.

With a sumptuously soft inner of paneer cheese, and a crispy outer courtesy of deep frying the gram flour outer. These little beauties are fantastic with chowder, whether they are served separately or dropped into the chowder itself.

This recipe tells you how to make these Indian favorites which also work well on their own as a supper snack.
---
8

Baked Stuffed Potatoes

Back on the potato kick again. I love baked potatoes - even more so when they are of the stuffed variety.

I adore them with a medium-rare steak, some roast chicken, a slice of meatloaf, or even a side with a piece of tuna. But when I serve them up with clam chowder - oh boy!

The cool thing with these baked stuffed tatties is that you can make them in batches and pop them into the freezer. So you always have some when the urge takes you, like on game-day, or come rain, come shine.

They go with almost anything, but the cheese and the potato make them an outstanding addition to clam chowder.
---
9

Baked Cheese Quesadillas

Cheese and chowder are meant for each other, and to help you on your way to five a day, these Mexican-inspired cheesy quesadillas fit the bill perfectly.

Oven baking them ensures they are wonderfully crisp and provide a great texture contrast when served with clam chowder.

If you want to omit the oil when cooking the bell peppers to cut back on the calories, please feel free to do so.
---
10

Avocado and lime shrimp salad

Another great way of spinning out a serving of clam chowder is to plate up a helping of avocado and lime shrimp salad.

Shrimp and lime were made for each other, and the gentle, luxurious creaminess of avocado with a hint of spice from the cilantro work so well clam chowder.

You don't have to worry about the avocado turning brown, as it does when exposed too long to the air because the lemon and lime keep it bright and fresh.

If you keep the portion sizes small, you can serve the chowder with salad as an elegant starter.

If you use fresh uncooked prawns, you can cook them ahead of time and keep them in your fridge. You can place them inside a sealed container, for a couple of days without any problem.

You can also check out my cilantro lime recipe and the crab ceviche recipe.
---
11

A delicious smoked salmon bagel

Instead of serving up a chunk of bread with your chowder, why not try a bagel for a change?

Cut the bagels in half and serve as an open sandwich or as a traditional closed-loaded bagel.

In this recipe, the creamy herb cheese, together with a little spice from the pickled red onions and the vinegary, salty hit of the capers, and the silky smoked salmon, is simply divine.

As an accompaniment to a bowl of clam chowder, it's pretty hard to beat.
---
12

Zucchini, oven-fried

This is a tasty side dish with so many foods. They complement all types of meat and work particularly well with chicken.

They are light, and the parmesan cheese breadcrumbs give them a satisfying crunch before surrendering to a lovely, moist inner.

Lightly coat them in olive oil and baking in the oven as per this recipe means they are easy on calories.

When served as a side with a bowl of clam chowder, they add another dimension.
---
13

Cornbread

This might be suggestion number 13, but there is nothing unlucky about it for those of a superstitious nature.

Cornbread is heaven-sent. A gift from the gods, and it's so easy to make when you follow the recipe.

If you throw some bacon drippings into the mix, cornbread and chowder become inseparable pals. Don't forget to grease the dish with bacon fat to up flavor even more.

If you like a hit of spice in your cornbread, why not add some jalapeño peppers? When you eat it, spice cornbread with clam chowder; the chowder helps counter the chilis' fire.

For a texture contract, you can add some whole corn kernels into the bread.
---
14

Brie flatbread with grilled apple

The suggestions just keep coming. This flatbread recipe on the jzeats.com website is a must-try.

Brie and apple are another one of the heaven-made harmonies, and when you add a cinnamon glaze to the apple, it sets the bar even higher.

Flashed under the grill, a few slices of this gourmet flatbread served alongside clam chowder will have your guests howling for more.
---
15

Buttermilk biscuits

They go well with any soup and with clam chowder especially. When it comes to dunking, these buttermilk biscuits remain unrivaled.

Buttermilk biscuits are not really biscuits. Providing the butter is cold when offered into the mixture, they will rise beautifully, and their texture will be more like a vol-au-vent than a biscuit.

If you're expecting guests, you can serve these fluffy biscuits with bacon, sausages, scrambled eggs, whatever, but if you want to spoil your visitors, serve them alongside a bowl of steaming hot corn chowder.

If you make more than you devour eat at one sitting, these little babies are easy to freeze.

Okay, we've come to the end of my suggestions for accompaniments to clam chowder. Now I'd like to talk about freezing it.
---
Does clam chowder freeze okay?
Clam chowder can be eaten as a snack, or you can go the whole hog and serve it as a main meal with one of the servings mentioned above suggestions, so it's always worth making a big batch.
If you end up with any leftovers, there's always the chance of freezing them.
---
Can you freeze clam chowder?
Sure you can. The freezability of clam chowder is somewhat dependent on the ingredients you use when you make it.
As you probably know, things like cream, milk, and potatoes when used in the soup don't always freeze very well.
Therefore, I suggest leaving them out when you freeze clam chowder and add them in later after defrosting.
If you prepare it properly and leave these ingredients out, you will be able to freeze clam chowder for up to 6 months safely.
---
3 types of clam chowder
The feasibility of clam chowder depends on its ingredients. We ought to talk about the chowder variants you can come across, as the products used in making them will affect the flavor and texture of the chowder if it's frozen and then thawed.
1

New England clam chowder

New England clam chowder is probably the most popular of all here in the States.

The ingredients used in making it include chopped clams, onions, potatoes, salty bacon, and cream or milk.

You concoct a heavy base with cream and butter when making it, making the chowder deliciously thick.

The addition of dairy makes this version of chowder so popular, being introduced in the 1700s by the first settlers.
---
2

Manhattan clam chowder

It's hardly surprising that this particular type of soup originated in New York with a name like Manhattan clam chowder.

It uses vegetable broth and tomato juice as its base. It doesn't have potatoes, so it is quite thin and red due to the tomato juice.

It doesn't contain heavy cream either, so this variant of clam chowder is eminently freezable.
---
3

Rhode Island clam chowder

Rhode Island is one of the smallest US states, but it's big enough to have its own variant of clam chowder.

It's quite similar to Manhattan clam chowder, but rather than having a tomato juice base, Rhode Island's clam chowder has a broth base.

Unlike the Manhattan variant, however, this one does use potatoes which gives it a thicker consistency. It is also made with quahogs.

Because it is thicker than its Manhattan cousin, Rhode Island clam chowder freezes well.
---
Freezing clam chowder after cooking
Whichever variant of clam chowder you are considering freezing, the first thing to do having finished cooking it is to let it cool.
1

Allow it to cool

If you will be freezing clam chowder, it needs to be allowed to cool after cooking it. Remove it from the heat and let it stand for between 20 to 30 minutes.

As it cools, you will need to stir it from time to time to stop it from developing a skin on top.

It shouldn't be left out in the open for more than two hours following good food safety.
---
2

Freeze it in portion sizes

If you have a large quantity of clam chowder to freeze, your best bet is to freeze it in individual portions.

That way, you can defrost as much as you want to rather than having to defrost the whole lot. Remember, once it's thawed, you should not refreeze it.
---
3

Choosing containers

Once you've allowed your chowder to cool down to room temperature, you can pour it into Ziploc-type bags or airtight freezer containers.

If you're going to pour it into bags, it's best to pour the chowder into the bags over a large bowl, so you catch any spillage.
A summary of the best containers in which to freeze clam chowder
To protect frozen foods from freezer burn, it's a good idea to wrap them in some foil, or paper, or plastic.
As far as containers go, you can choose from the following:
Ziploc freezer bags
Lidded plastic containers - ensure the plastic is BPA free
An aluminum pan complete with its lid
Glass jars or bowls or containers that have plastic lids
Vacuum sealed bags
---
4

The importance of labeling

Whenever you put food into your freezer, it is always a good idea to label it to identify what it is, when you prepared it, and if you know it, its use-by date.

You'll be surprised how easy it is to forget how old something is after it's been sat there for a while and it's not labeled.
---
5

The right temperature for freezing

According to the US Department of Agriculture, to remain safe and extend their shelf life, you should constantly keep frozen foods at or below a temperature of 0°F.

Although you can store most foods for a considerable time in the freezer, both their taste and textures will decline the longer they are kept.

As far as frozen corn chowder is concerned, I recommend defrosting and reheating within 2 to 3 months of the first frozen date.
---
Defrosting clam chowder
Bearing in mind that clam chowder contains dairy and seafood ingredients, you must defrost it with care. The best way of doing this is to take it out over your freezer and leave it in your refrigerator overnight.
Once it's completely thawed, you should pour it into a large mixing bowl or pan and stir it thoroughly to remix it as it is likely to have split during defrosting.
Top tip:
Do not defrost clam chowder in your microwave. It's much safer to defrost overnight in your fridge.
Step by step instructions on thawing clam chowder
Step
1
Remove the frozen clam chowder from your freezer and put it into a large bowl or your kitchen sink with plenty of hot water, and allow it to sit for between five and 10 minutes, after which you can break it into sizeable pieces.
---
Step
2
Transfer the chowder into a saucepan and place it on your stovetop on a medium to high heat setting. Stir the chowder until it has completely melted.
As it begins to heat, you should continue to stir vigorously but not too energetically to help to prevent it from curdling.
---
Step
3
Now is the time to add those other ingredients, such as cream and potatoes, which I recommended you leave out before freezing. Add any herbs you see fit.
---
Step
4
If you think the clam chowder is a little on the thick side, you can dilute it slightly by adding milk or broth.
---
Step
5
Once it's boiling, turn down the heat slightly, and allow it to simmer for one minute.
---
Step
6
Before you serve it, allow it to cool a little. You don't want anybody burning their mouths.
If you think some liquid has evaporated during the reheating process, you can always replace it, but if you do, try and use the same liquids you added originally.
So, you can add cream or milk for the new England variant, or if it's the Rhode Island version, you can add clam juice or a little water.