I love casserole type dinners, probably because my mother made them frequently and then refrigerated the leftovers for our lunches on Saturday when she was working.
I'm also using all the "about to expire things from my freezer and cleaning out the canned goods from the shelves, so I can load it up for the holidays.
I ended up with quite an array of things. I made some wonderful beef stock and quarts and quarts of soup, plus freezing the rest for a brisk winter day.
Used the final peppers from the garden and a bag of tomatoes for stuffed peppers, too.
All I had left was to figure out something to do with the chicken and the quart container of milk that was frozen.
Watch How to Make The Chicken Spaghetti:
Originally, I planned to just bake the chicken and make some rice pudding as a side, but I came across this recipe and it looked so good I just had to try it.
I don't use Velveeta, but had lots of different hard cheese in the refrigerator and adjusted the recipe a bit by first making my own Velveeta from the block cheese, milk and a dash of cumin. Used the microwave to make it.
When I was ready for the recipe using the Cream of mushroom soup I had on the shelf, some of the tomatoes from the freezer (cook them down a bit for the best results), the cheese and chicken.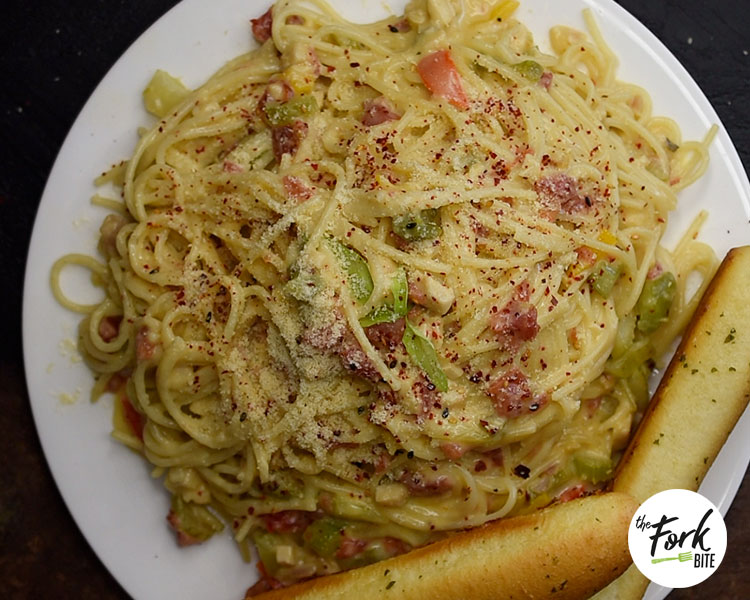 There are several versions of this dish on the internet, I combined two of them to create my own. That's another reason I love casserole type dishes, like soups, you really can't mess them up much by omitting an ingredient or adding another.
You'll simply get a slightly different flavor and use up some of the back of the shelf items you already have stocked.
I have to admit, I loved the crunchiness of the cheesy chicken spaghetti made in the oven, but if I were serving a lot of people or taking the dish somewhere, I'd opt for the one in the slow cooker.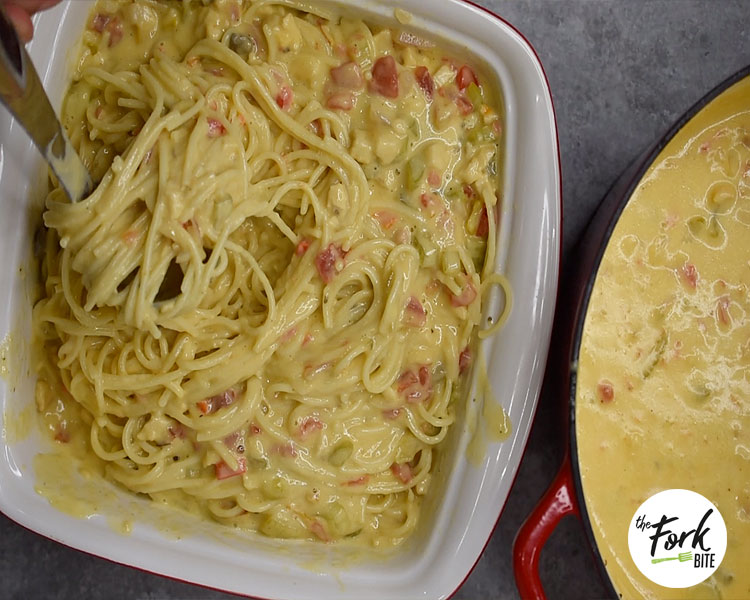 Your family is going to love this one and you will too. It's easy! It's cheesy! It's simple! Those are three things I love in any dish. One last thing. I didn't use the whole chicken, only half of the cooked chicken.
With the rest, I chopped and added celery, onion, cheese cubes and onion and then mixed with my favorite dressing for a quick lunch the next day.
Yeah, I had extra bread and lettuce and decided to make chicken salad sandwiches for lunch.
Creamy Chicken Spaghetti
Category: Dinner, Brunch, Appetizer

Cuisine: Italian

This recipe uses ingredients you likely have on your kitchen and even my picky son was asking for seconds. When everyone in the family agrees on a recipe, it's definitely a win in my lists.
16 oz spaghetti cooked and drained
1 lb Velveeta cubed (or Mild Cheddar Cheese)
1 cup cooked chicken diced (leftover chicken)
1 can cream of mushroom soup 10 oz
1 can cream of chicken soup 10 oz
1 can of either petite diced tomatoes or Rotel tomatoes (drained)
1/2 cup milk
3/4 cup chicken stock
1 tbsp minced garlic
1/4 cup sliced onions
1/4 cup bell peppers (cut in small cubes)
1/4 cup celery
Instructions
For the stove top (You Can Watch the Video Above):

In a large pot, saute the garlic and onions. Then add the vegetables. Season with salt and pepper according to your taste. Stir to cook.
Now, add the cream of mushroom, cream of chicken and the Rotel tomatoes.
Add the chicken stock, mix them all together. Then you can drop the Cheddar cheese and chicken.
Add the milk and keep stirring until the cheese have melted over medium heat.
Stir until all ingredients are mixed well. Add spaghetti and serve.
For the CrockPot:

Mix all ingredients and place into greased slow cooker.
Stir every 30 minutes or so.
Cook on low 2 hours or until all the Cheese have melted.
Notes
You can be creative by adding your favorite vegetables like mushrooms, broccoli etc also you can use bacon instead of chicken.


(adsbygoogle = window.adsbygoogle || []).push({});

https://www.theforkbite.com/chicken-spaghetti-recipe/