I can't stress enough the importance of avoiding common pitfalls in brownie baking. It's all about paying attention to the details and learning from those little missteps that can make a difference. Over the years, I've seen countless enthusiasts struggle with achieving that perfect balance of gooey, fudgy goodness and a delicate, tender crumb.
Let's explore these usual brownie mistakes and, more importantly, find out how to fix them.
Take aways
Proper oven temperature: Accurate oven preheating and temperature are essential for even baking and achieving the ideal brownie texture.
Adequate baking time: Avoid overbaking or underbaking by observing visual cues and using the toothpick test to determine optimal baking time for brownies.
Appropriate pan size: Choose the right pan size as per the recipe to ensure proper brownie thickness and baking time for the best results.
Jump to: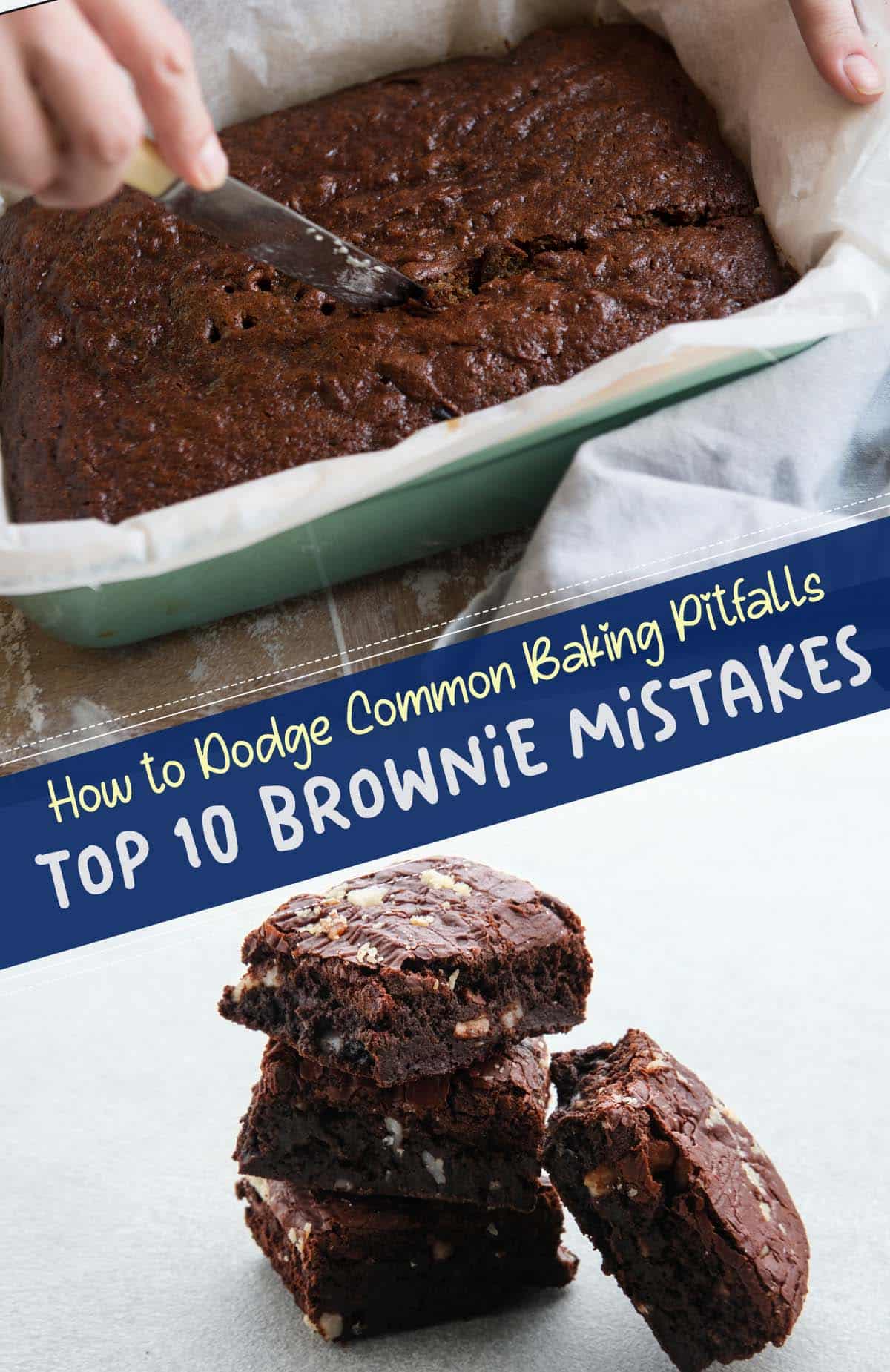 10 Common mistakes when baking brownies
Avoid common baking mistakes with our top 10 tips for perfect brownies. By following these guidelines, you'll enjoy irresistibly fudgy, chewy treats with a rich flavor that keeps you coming back for more.
Mistake

1

Overmixing the batter
I baked countless batches of brownies and experienced firsthand the consequences of overmixing brownie batter. Mixing the batter too vigorously or too long, you incorporate too much air. This excess air causes gluten development in the flour, which leads to a tougher, cake-like texture instead of the desired fudgy, chewy brownies we all love. Trust me; it's a mistake you'll want to avoid.
---
The importance of achieving the right consistency.
Achieving the right consistency in your brownie batter is the key to unlocking that irresistibly fudgy and chewy texture we crave in a perfect brownie.
In my years of baking, I've understood that the ideal brownie batter should be smooth and thick but not overly dense. When you strike that delicate balance, you can expect the brownies to bake evenly, with a moist and gooey interior and a slightly crispy, crackled top.
---
Tips on how to mix brownie batter correctly.
The secret to creating those perfect, fudgy brownies lies in mixing the batter just right. Here are some expert tips for ensuring your brownie batter is mixed to perfection:
Use room temperature ingredients: Ensure all components, especially eggs, and butter, are at room temperature before mixing. This makes it easier to combine the ingredients smoothly and efficiently.
Sift dry ingredients: Sift the flour, cocoa powder, and other dry ingredients together to eliminate lumps and ensure even distribution throughout the batter.
Combine wet and dry ingredients separately: Mix the wet ingredients (eggs, melted butter, and vanilla extract) in one bowl and the dry ingredients (flour, cocoa powder, sugar, and salt) in another. This helps prevent overmixing when the two are combined.
Gentle mixing: When combining the wet and dry ingredients, gently fold the mixture with a spatula or wooden spoon. Mix just until the dry ingredients are incorporated, and avoid overmixing to prevent developing too much gluten, which can result in a tough, cakey texture.
Add mix-ins last: If you're adding chocolate chips, nuts, or other mix-ins, fold them in gently at the very end after the wet and dry ingredients are combined. This ensures even distribution without overworking the batter.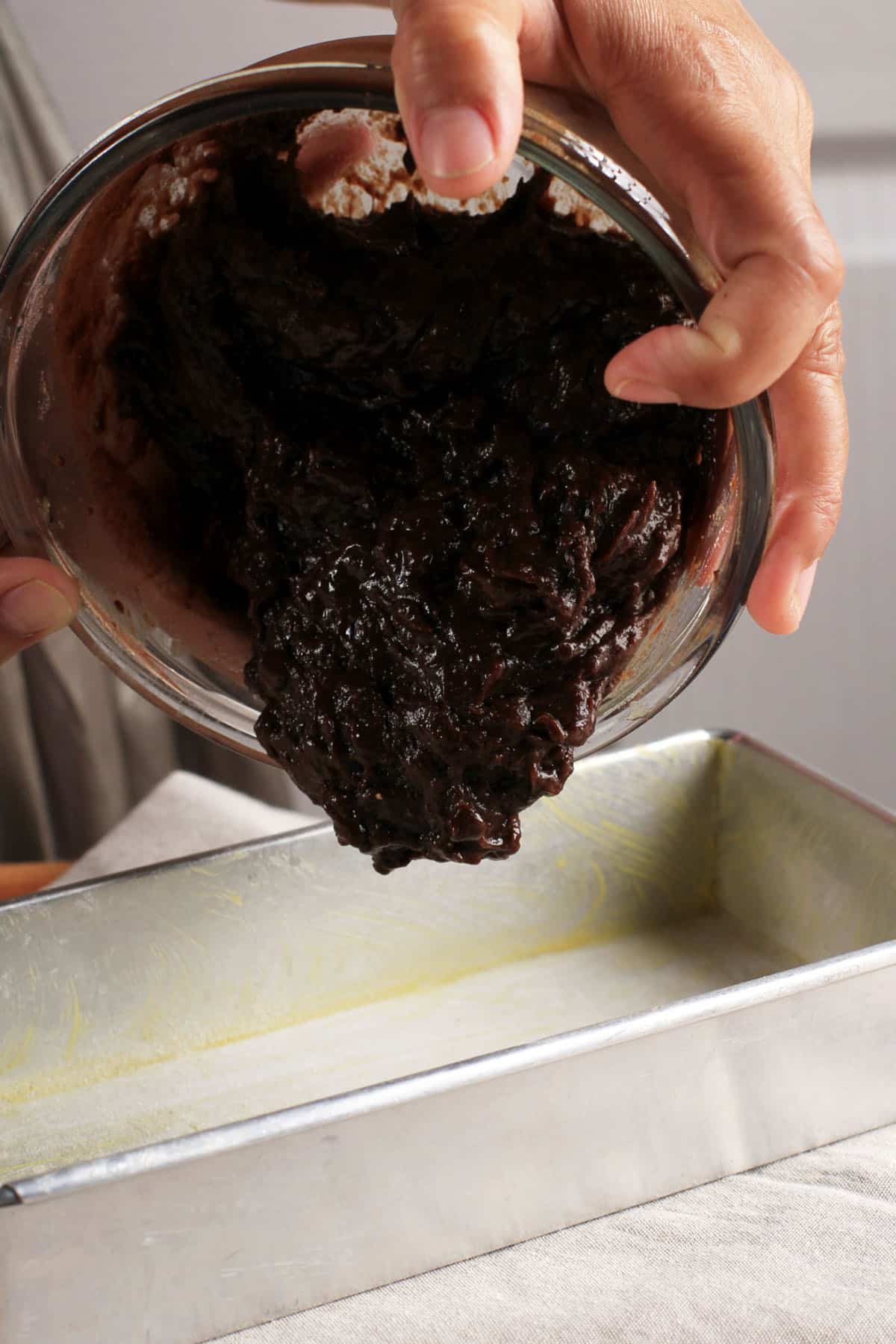 ---
Mistake

2

Incorrect oven temperature
Setting the right temperature ensures that your brownies have the ideal balance of a fudgy center and tender crumb with a beautiful, crackly top. Let's discuss the effects of using an incorrect oven temperature and its impact on your brownies' taste and texture.
Underbaking: When the oven temperature is too low, brownies may not bake thoroughly, leading to a raw or undercooked center. This can result in overly gooey, almost liquid-like brownies that are difficult to cut and serve.
Overbaking: If the oven temperature is too high, brownies can become dry and crumbly, losing their characteristic fudgy texture. The edges may become tough and overcooked, while the center may still be underdone.
Uneven baking: An incorrect oven temperature can cause brownies to bake unevenly, with some parts being overcooked while others remain undercooked. This may result in an inconsistent texture throughout the pan.
Poor rise: The right oven temperature is essential for brownies to rise and develop their structure. An incorrect temperature can result in too dense brownies, lacking the desired balance between a fudgy center and a slightly cakey, tender crumb.
Read:
---
Guidelines for properly preheating the oven.
Ensuring that your oven reaches the correct temperature before baking is crucial for achieving the desired texture, taste, and appearance. Let me share some essential guidelines to help you properly preheat your oven, setting the stage for delectable, mouthwatering brownies every time.
Read the recipe: Carefully review the brownie recipe for the specified oven temperature. Most brownie recipes call for a temperature between 325°F (163°C) and 350°F (177°C).
Allow ample preheating time: Begin preheating the oven for at least 15-20 minutes before putting the brownies in. This allows the oven to reach a stable temperature and ensures even baking.
Use an oven thermometer: For greater accuracy, place an oven thermometer inside the oven while preheating. This will help you verify if the temperature is accurate and consistent with the recipe's recommendation.
Check oven calibration: If you consistently experience baking issues, your oven's temperature may be off. Check the manufacturer's instructions to learn how to calibrate your oven, or consult a professional technician for assistance.
Rotate the pan: To ensure even baking, consider rotating the brownie pan halfway through the baking process. This can help compensate for any hot spots or temperature inconsistencies within the oven.
---
How to calibrate an oven thermometer to ensure accuracy.
A properly calibrated thermometer helps ensure that your oven reaches the ideal temperature for baking, which is crucial for achieving perfect results. Here's how to calibrate an oven thermometer to ensure accuracy:
Test the thermometer: Before calibrating, you'll want to test your oven thermometer's accuracy. Preheat the oven to a specific temperature, such as 350°F (177°C), and place the thermometer in the center. After about 15-20 minutes, check the thermometer's reading. You may need to calibrate if it shows a significant deviation from the set temperature.
Consult the manufacturer's instructions: Many oven thermometers come with instructions for calibration. Review these guidelines carefully, as different thermometers may have specific calibration requirements.
Adjust the thermometer: If your oven thermometer is adjustable, calibrate it by holding the dial face and turning the nut or screw on the back until the needle points to the correct temperature. If your thermometer is not adjustable, you may need to note the difference in temperature readings and adjust your oven settings accordingly.
Re-test for accuracy: Repeat the initial testing process after adjusting the thermometer. Preheat the oven to the same temperature as before and check the thermometer's reading after 15-20 minutes. If it's now accurate, your calibration was successful. If not, you may need to make further adjustments or consider purchasing a new thermometer.
---
Mistake

3

Overbaking or underbaking
Understanding the signs of overbaked and underbaked brownies is essential for achieving that perfect balance of a fudgy center and a slightly cakey, tender crumb.
Signs of overbaked brownies
Dry and crumbly texture: Overbaked brownies tend to be dry and crumbly, lacking the desired fudgy consistency. The brownies may also appear more cake-like than expected.
Tough edges: If the edges of your brownies are noticeably hard or tough, they've likely been overbaked. Ideally, the edges should be slightly firmer than the center but not excessively hard.
Darkened color: Overbaked brownies with a burnt or overly darkened top crust may have a darker hue than properly baked ones.
Shrunken appearance: Brownies that have been overbaked can shrink and pull away from the sides of the pan, resulting in a smaller, denser treat.
Signs of underbaked brownies
Gooey center: A slightly underbaked brownie will have a fudgy center, but it's likely underbaked if it's excessively gooey or nearly liquid.
Lack of structure: Underbaked brownies may be difficult to cut and serve, as they lack the structure needed to hold their shape.
Sinking in the middle: If the middle of your brownie pan sinks significantly after removing it from the oven, this can indicate that the brownies were underbaked and didn't have enough time to set properly.
---
Guidelines for properly preheating the oven
Determining the optimal baking time can make all the difference in creating a mouthwatering treat everyone will love. To help you master this crucial aspect of brownie baking, here are some valuable tips that will guide you in finding the perfect baking time for consistently delectable brownies.
Follow the recipe: Start by following the suggested baking time. Remember that variations in oven temperature, pan size, and ingredient substitutions can all affect the actual baking time needed.
Preheat your oven: Ensure your oven is properly preheated to the correct temperature before placing your brownies inside. This promotes even baking and helps you achieve more accurate baking times.
Check for doneness early: Begin checking for doneness a few minutes before the suggested baking time. This helps prevent overbaking and allows you to gauge the progress of your brownies.
Use the toothpick test: Insert a toothpick or wooden skewer into the center of the brownies. For cakey brownies, the toothpick should come out mostly clean. When removed, a few moist crumbs should cling to the toothpick for fudgy brownies.
Watch for visual cues: Observe the brownies as they bake. They should develop a slightly crackled, shiny crust and pull away slightly from the edges of the pan when done.
Adjust for pan size: If using a different pan size than specified in the recipe, you may need to adjust the baking time. Smaller, thicker brownies may require more time, while larger, thinner brownies may need less time.
Record your results: Once you've found the optimal baking time for your brownies, make a note of it for future reference. This will save you time and help ensure consistent results in future baking endeavors.
---
How to adjust the baking time based on brownie texture preference.
Some people love a fudgy, gooey brownie, while others prefer a more cakey and tender treat. To help you achieve your desired brownie texture, here are some suggestions on how to adjust the baking time based on your preferences:
For fudgier brownies: If you prefer a fudgier texture, you'll want to reduce the baking time slightly. Start by checking the brownies a few minutes earlier than the recipe suggests. Use the toothpick test to assess the texture; fudgy brownies should have a few moist crumbs clinging to the toothpick when removed.
For cakier brownies: If you're more of a cakey brownie fan, you'll need to increase the baking time slightly. Monitor the brownies closely as they approach the suggested baking time, and use the toothpick test to check for doneness. Cakey brownies should have a mostly clean toothpick when removed.
Keep an eye on visual cues: Regardless of your texture preference, pay attention to the appearance of the brownies as they bake. Fudgy brownies should have a slightly crackled and glossy crust, while cakey brownies will have a more matte finish. Both types should pull away slightly from the edges of the pan when done.
Take note of your results: As you experiment with baking times to achieve your preferred brownie texture, note the adjustments you made and the resulting texture. This will help you consistently achieve your desired brownie texture in future baking sessions.
---
Mistake

4

Using the wrong pan size
The size of the pan you choose can significantly affect the brownies' thickness and the baking time required. Here's a closer look at how pan size impacts the outcome:
Brownie thickness: A larger pan will spread the batter more thinly, resulting in thinner brownies, while a smaller pan will create thicker brownies. The thickness of your brownies can affect their overall texture, with thinner brownies tending to be more cakey and thicker brownies being more fudgy.
Baking time: The thickness of the brownies in different pan sizes will directly impact the baking time. Thinner brownies will generally require less baking time, as they cook more quickly, while thicker brownies will need more time in the oven to ensure they're cooked.
Even baking: Using the wrong pan size can also lead to uneven baking, with some parts of the brownies being overcooked while others remain undercooked. A pan that's too small may cause the batter to overflow or the center to remain undercooked, while a pan that's too large can cause the edges to overcook and become hard.
Serving size: The pan size also affects the servings you'll get from your brownie batch. A larger pan will yield more servings but may be smaller and thinner. Conversely, a smaller pan will result in fewer servings but will be larger and thicker.
Note:
To ensure the best results, it's essential to follow the pan size recommendations in your brownie recipe or adjust the baking time accordingly if you're using a different size. This will help you achieve the perfect thickness and texture and ensure even baking and consistent serving sizes.
Choosing the right pan size for brownies.
Your pan size can make all the difference in your brownies' thickness, texture, and even baking. To help you make the best decision regarding pan size, here are some valuable suggestions that will guide you in choosing the perfect pan for consistently delicious brownie results.
Follow the recipe: The easiest way to select the right pan size is to follow the recommendations in your brownie recipe. Most recipes specify a particular pan size, ensuring the desired texture and baking time are achieved.
Standard pan sizes: Consider using a standard size if your recipe does not indicate a specific pan size. The most common pan sizes for brownies are 8-inch and 9-inch square pans. Both sizes can produce great results, but the thickness and baking time will differ slightly.
Adjust for preferences: If you prefer thinner or thicker brownies, you can choose a pan size accordingly. Use a larger pan for thinner, more cake-like brownies or a smaller one for thicker, fudgier ones. Remember to adjust the baking time as needed to accommodate the change in thickness.
Non-square options: If you don't have a square pan, you can also use a rectangular pan, such as a 9x13-inch pan. Remember that this will produce thinner brownies and likely require a shorter baking time. Be sure to monitor the brownies closely to avoid overbaking.
Material considerations: The material of your pan can also impact your brownies. Metal pans heat up quickly and cook evenly, while glass or ceramic pans may require longer baking. If using a glass or ceramic pan, you might need to reduce the oven temperature by 25°F and monitor the brownies for doneness.
---
Mistake

5

Skipping the sifting step
The role of sifting is often overlooked, but it's a simple step that can greatly improve the final product. Here's how sifting contributes to a smoother batter:
Aeration: Sifting dry ingredients, such as flour, cocoa powder, and powdered sugar, helps to incorporate air and create a lighter, more even texture in the batter. This can lead to brownies with a more consistent crumb and an appealing texture.
Breaking up lumps: Cocoa powder and powdered sugar are prone to forming lumps due to their fine consistency. Sifting these ingredients breaks up clumps, ensuring a smoother batter and preventing pockets of dry ingredients in your brownies.
Even distribution: Sifting allows for more uniform mixing of the dry ingredients before they're combined with the wet ingredients. This results in a more homogenous batter and consistent flavor and texture of brownies.
Easier mixing: Sifting dry ingredients can make it easier to incorporate them into the wet ingredients, reducing the risk of overmixing the batter. Overmixing can lead to tough, dense brownies, so this benefit of sifting is significant.
---
Guidelines on how to sift dry ingredients properly.
Sifting may seem like an insignificant step, but it plays a crucial role in producing a smooth, lump-free batter that leads to delicious, evenly-textured brownies. Here are the guidelines on how to sift dry ingredients properly, ensuring your brownie-making experience is a success.
Select the right tool: Use a fine-mesh strainer or a flour sifter for the best results. Both options are effective, but a flour sifter may provide a more even and quicker sifting process.
Measure first: Before sifting, measure the required amount of each dry ingredient according to your recipe. This ensures you use the correct amount of sifted ingredients in your batter.
Sift onto parchment paper or a bowl: Place a large piece of parchment paper or a mixing bowl beneath your sifter or strainer. This will catch the sifted ingredients and make it easier to transfer them to your batter.
Combine ingredients: If your recipe calls for multiple dry ingredients to be sifted together, combine them in the sifter or strainer before sifting. This will ensure even distribution and easier mixing with the wet ingredients later.
Sift with a gentle tap or turn: If using a fine-mesh strainer, gently tap the side of the strainer with your hand or a utensil to sift the ingredients onto the parchment paper or into the bowl. Turn the handle or squeeze the lever to pass the ingredients through the mesh if using a flour sifter.
Scrape any stubborn bits: Some cocoa powder or powdered sugar bits may occasionally clump and resist passing through the mesh. Use a spoon or spatula to break up these clumps and continue sifting gently.
---
Mistake

6

Failing to measure ingredients accurately
In baking, precision is key, and even small deviations in ingredient measurements can significantly impact the final product. Here's why accurate measurements are essential when making brownies:
Balance of flavors: Properly measured ingredients ensure a harmonious balance of flavors. Too much or too little ingredient can throw off this balance, resulting in brownies that are too sweet, too bitter, or lacking in depth.
Texture: The ratios of ingredients play a significant role in the texture of your brownies. For example, over-measuring flour can lead to a dry, crumbly texture, while under-measuring can result in overly gooey brownies.
Rise: The correct amount of leavening agents, such as baking powder or baking soda, is crucial for achieving your brownies' desired rise and structure. Inaccurate measurements can cause brownies to be too dense or overly cakey.
Consistency: Measuring ingredients accurately ensures consistent results every time you bake brownies. This is particularly important if you're baking for others, as you'll want to replicate the same delicious outcome with each batch.
Read:
---
Tips for proper measuring techniques.
While it may seem like a simple task, employing proper measuring techniques ensures consistent results and delicious brownies every time. Here are the tips for proper measuring techniques that will help you achieve consistent, delicious results when baking brownies:
Use the right tools: Invest in a set of measuring cups and spoons for dry ingredients and a liquid measuring cup for wet ingredients. Consider using a kitchen scale for precise measurements, especially when measuring flour or other dry ingredients.
Spoon and level method: Use the spoon and level method for dry ingredients like flour or cocoa powder. Lightly spoon the ingredient into the measuring cup without packing or tapping it down, then use the straight edge of a knife or spatula to level off the excess, ensuring an accurate measurement.
Pack brown sugar: When measuring brown sugar, press it firmly into the measuring cup until it holds its shape when turned out. This ensures you're using the right amount of sugar for the recipe.
Room temperature liquids: Ensure that liquid ingredients, such as milk or melted butter, are at room temperature when measuring unless otherwise specified in the recipe. Cold or hot liquids can affect the consistency and temperature of your batter, impacting the final result.
Zero out the scale: When using a kitchen scale, always zero it out with the container you use to hold the ingredients. This ensures you're only measuring the weight of the ingredients, not the container.
Measure accurately: Be precise when measuring ingredients like baking powder or baking soda, as even a small variation can impact the rise and texture of your brownies. Use the appropriate measuring spoons and level off the excess with a straight edge.
Double-check measurements: Before adding ingredients to your batter, double-check your measurements to ensure accuracy. Mistakes can happen, and correcting them is easier before combining ingredients.
---
Read: How to Fix Too Much Water in Brownie Mix
Mistake

7

Not allowing brownies to cool before cutting
I understand the temptation to cut into a freshly baked batch of brownies straight from the oven. However, exercising patience and allowing brownies to cool before cutting is crucial for achieving the best possible results.
Here are the benefits of letting your brownies cool down completely before cutting them:
Cleaner cuts: When brownies are hot, they are quite soft and fragile. Attempting to cut them immediately after taking them out of the oven can cause them to crumble, resulting in uneven and messy slices. Allowing the brownies to cool down helps them firm up, making achieving clean, sharp cuts easier.
Improved texture: Brownies continue to cook and set as they cool down, contributing to their final texture. Cutting into hot brownies disrupts this process, potentially yielding a less desirable texture.
Enhanced flavor: As brownies cool, their flavors meld and intensify, creating a more harmonious and well-rounded taste. Cutting the brownies too soon can prevent the flavors from reaching their full potential.
Easier handling: Allowing brownies to cool completely makes them easier to handle and serve. Hot brownies are more likely to fall apart when transferred to a serving plate, while cooled brownies are sturdier and more likely to retain shape.
---
Speeding up the cooling process without sacrificing quality.
Waiting for brownies to cool can feel like an eternity, especially when you're eager to enjoy your delicious creation. Fortunately, there are ways to speed up the cooling process without compromising the quality of your brownies. Here are some suggestions to help you achieve that:
Use a cooling rack: Transfer the brownies (still in the pan) to a wire cooling rack immediately after removing them from the oven. The elevated position of the cooling rack allows air to circulate around the pan, promoting faster and more even cooling.
Divide and conquer: Carefully remove the entire slab of brownies from the pan and place it on the cooling rack. Cutting the slab into larger sections (not individual servings) can expose more surface area to the air, helping the brownies cool more quickly.
Refrigerate: While not ideal for all types of brownies, placing the pan in the refrigerator for a short period (around 15-20 minutes) can help speed up the cooling process. Be cautious not to leave them in too long, as extended refrigeration can negatively impact the texture and moisture of the brownies.
Freeze briefly: Place the brownies in the freezer for about 10 minutes for an even quicker solution. Keep a close eye on them, as you don't want them to freeze completely. This method works best when you need to cool the brownies quickly for a specific reason, such as adding a topping that requires a cool surface.
Room temperature: Ensure that your brownies are cooling in a room with a comfortable temperature, as extreme heat or cold can affect the cooling time and overall quality of the brownies.
Read:
---
Mistake

8

Using cold eggs on brownie batter
Egg temperature plays a significant role in the consistency of brownie batter and the overall outcome of your baked treats. Using room-temperature eggs ensures they blend more effortlessly into the batter, resulting in a smooth, homogenous mixture.
Cold eggs, on the other hand, can cause the batter to become thicker and more difficult to mix. The uneven incorporation of cold eggs can lead to an inconsistent texture in the final brownies, with some areas being denser and others lighter.
Moreover, when beaten, room-temperature eggs provide better aeration, essential for achieving the desired rise and texture of brownies. Cold eggs may not whip as well, leading to a denser, less airy final product.
---
Tips for using eggs at room temperature
One of the key components is using eggs at room temperature. To ensure the best results when baking brownies, follow these tips for using eggs at room temperature:
Plan ahead: Remove eggs from the refrigerator and let them sit on the countertop for about 30 minutes before using them in your recipe. This will allow them to reach room temperature naturally.
Quick warm-up method: If you're short on time, place cold eggs in a bowl of warm (not hot) water for 5-10 minutes. This will help bring them up to room temperature more quickly without cooking the eggs.
Avoid temperature shock: When using room-temperature eggs, ensure other ingredients, such as butter or chocolate, are also at room temperature. This will help prevent temperature shock, which can affect the batter's consistency and the final brownie texture.
Consistent recipes: Always use room-temperature eggs when a recipe specifically calls for them. This ensures you'll achieve the intended consistency and texture for your brownies.
Check the freshness: Remember to check the freshness of your eggs before using them in any recipe. To do this, place the egg in a bowl of water; a fresh egg will sink, while an older egg will float.
---
Mistake

9

Baking brownies in a glass dish
Baking brownies in a glass dish can affect the outcome due to how glass bakeware conducts and distributes heat. Glass is a poor conductor of heat compared to metal, which means it heats up and cools down more slowly. This slow heating process can lead to uneven baking, causing the edges to overcook or become too hard while the center remains undercooked or gooey.
Additionally, glass bakeware tends to retain heat longer than metal pans. This means that even after you remove the brownies from the oven, they will continue to cook in a glass dish, increasing the risk of overbaking.
When using a glass dish for baking brownies, it's essential to adjust the baking temperature and time to achieve the desired texture and prevent overcooking or uneven baking.
Generally, you can lower the oven temperature by 25°F (15°C) and slightly extend the baking time to compensate for glass bakeware's heat retention and distribution properties.
Note:
Choose a light-colored metal pan to bypass these issues for the best results. If you can only access dark metal pans, lower the oven temperature by 25° for optimal baking.
Mistake

10

Skimping on ingredients
Every ingredient plays a crucial role in the outcome, and skimping on quality can result in a subpar brownie experience.
Premium chocolate, for instance, imparts a rich, deep flavor that cannot be achieved with low-quality alternatives. Opting for high-quality cocoa powder or chocolate chips ensures an authentic chocolate taste that will elevate your brownies.
Likewise, using fresh, high-quality eggs, butter, and sugar contributes to the overall consistency and taste of the brownie. Fresh eggs provide structure and stability, while quality butter adds a smooth, creamy mouthfeel. Similarly, using high-quality sugar ensures the right level of sweetness and contributes to the texture.
---
Brownie troubleshooting: Tackling common issues
Crafting the perfect brownie can sometimes be a challenge. Various factors can influence the final outcome, leading to dryness, crumbly texture, or uneven baking.
Problem: Dry brownies
Cause: Overbaking or using too little fat (butter or oil) in the recipe.
Solution: Closely watch your brownies as they bake, and use a toothpick to test for doneness. Ensure you're using the correct amount of fat as specified in the recipe.
Problem: Crumbly texture
Cause: Too much flour, not enough fat, or insufficient mixing of ingredients.
Solution: Ensure you're using the right amount of flour by measuring accurately. Additionally, check that you have enough fat in the recipe, and mix the ingredients thoroughly to achieve a well-incorporated batter.
Problem: Soggy or undercooked center
Cause: Incorrect oven temperature or taking the brownies out too soon.
Solution: Verify that your oven is preheated to the correct temperature, and use an oven thermometer if necessary. Allow the brownies to bake for the recommended time and test for doneness using a toothpick or skewer.
Problem: Unevenly baked brownies
Cause: Oven hotspots or an unbalanced batter.
Solution: Rotate the pan halfway through baking to ensure even heat distribution. Also, ensure your batter is mixed uniformly before pouring it into the pan.
Problem: Hard, tough edges
Cause: Overmixing the batter or baking in a dark-colored pan.
Solution: Mix the batter gently, just enough to combine the ingredients. Consider using a light-colored metal pan, which promotes even baking and helps prevent overcooking the edges.
Problem: Brownies stick to the pan
Cause: Insufficient greasing of the pan or cutting brownies too soon.
Solution: Properly grease the pan and use parchment paper if needed. Let the brownies cool completely before cutting them, allowing them to set and making removing them from the pan easier.
---
FAQs related questions
Why are my brownies too dry or overcooked? 
Overbaking brownies is a common mistake that leads to a dry and crumbly texture. To avoid this, check your brownies a few minutes before the recommended baking time. Look for a slightly moist crumb sticking to a toothpick or knife inserted into the center.
How can I ensure my brownies have a consistent texture?
Sifting dry ingredients, such as flour and cocoa powder, helps achieve a smooth, lump-free batter. Mixing the batter enough to combine the ingredients without overmixing will create a consistent texture.
Why are my brownies too thin or not rising properly?
Using the wrong pan size can affect your brownies' thickness and baking time. Stick to the pan size recommended in the recipe, as this will allow the brownies to rise and bake evenly.
Why do my brownies have a gummy or unevenly cooked texture when baked in a glass dish?
Glass bakeware tends to distribute heat differently than metal pans, which can result in unevenly cooked brownies. To mitigate this issue, use a light-colored metal pan, or if using a glass dish, adjust the baking time and temperature accordingly.
How can I prevent my brownies from being too cakey?
Overmixing the batter can incorporate too much air, creating a cakey texture. To achieve a fudgy consistency, mix the ingredients until combined, being careful not to overmix.