We've all been there—distracted for just a moment, and suddenly, we've added too much water to our brownie mix. In this blog post, I'll walk you through the steps to balance out that extra liquid and save your scrumptious, fudgy brownies.
If you've accidentally added too much water to your brownie mix, don't fret! Simply add more dry ingredients to balance it out. I often add extra cocoa powder, flour, or even ground almonds to absorb the excess liquid. Just remember to keep the consistency thick and fudgy, then bake as usual.
Take aways
Altered Texture: Extra water changes brownie texture from dense and fudgy to airy and cake-like.
Flavor Dilution: The iconic rich chocolate taste weakens due to the excess water in the mix.
Longer Baking Time: Too much water in the mix may require extended baking time to evaporate the excess moisture.
Jump to: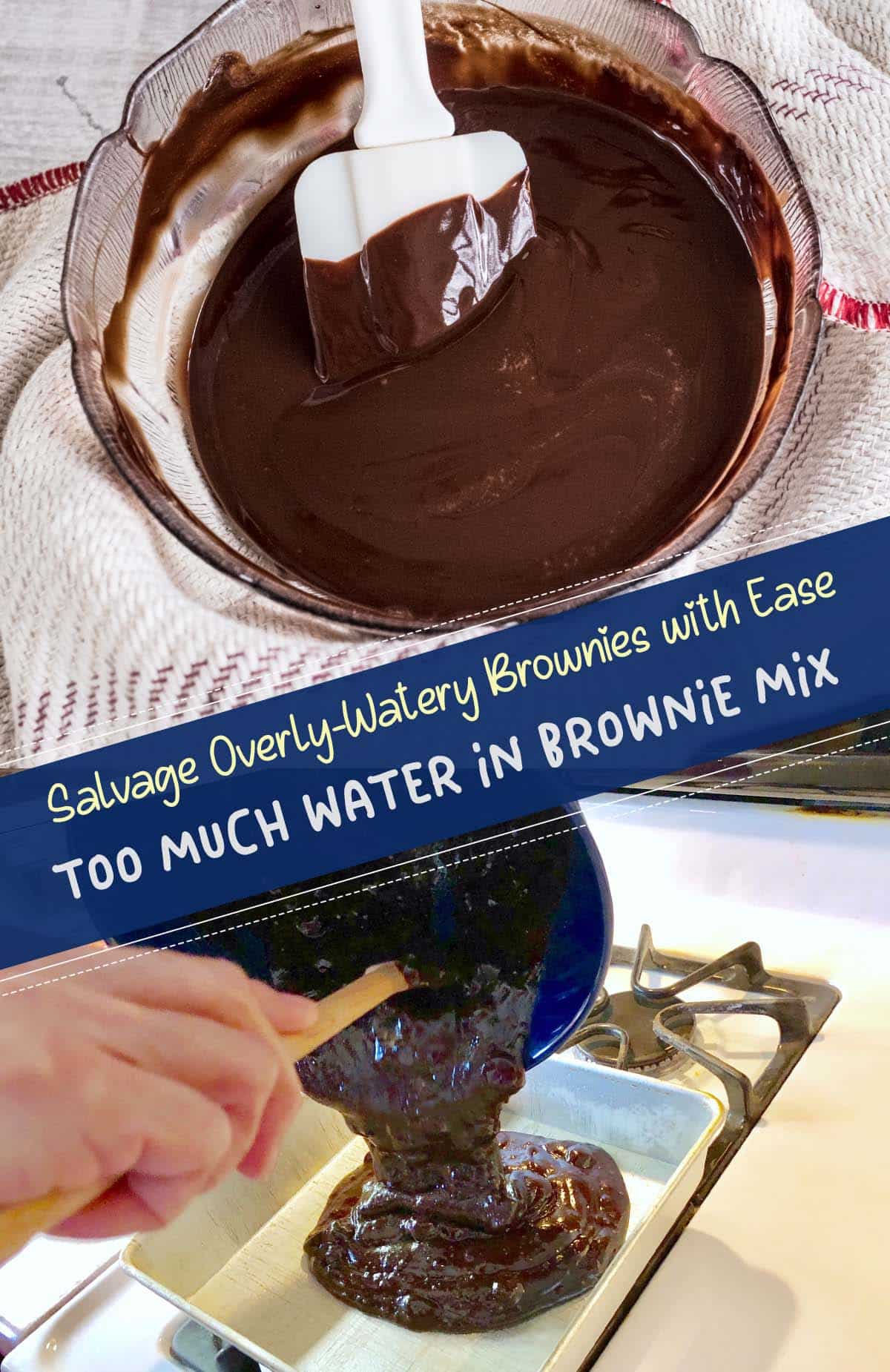 How to fix too much water in brownie mix (3 ways)
This guide will explore what happens when you accidentally add too much water to your brownie mix. Don't worry; we'll share some easy tricks to help you fix this mistake and save your favorite dessert from being ruined.
Fix

1

Adding dry ingredients.
This strategy can help counteract the negative impacts of too much moisture and restore balance to the overall consistency of your dessert. Here's a breakdown of how adding more dry ingredients can address the issue of excess water:
Flour: Introducing extra flour into the brownie mix can absorb the extra moisture and help restore the intended texture. Flour's starchy composition allows it to absorb and retain water, mitigating the impact of excess liquid in the batter. Adding flour in small increments is essential to avoid drastically altering the desired consistency, as too much flour can lead to a dry, crumbly texture.
Cocoa powder: Additional cocoa powder can help manage excessive water by absorbing some of the moisture, maintaining the rich chocolate flavor, and contributing to a denser, fudgier texture. However, be cautious when increasing the cocoa powder content, as it can also intensify the bitterness of the chocolate.
Powdered ingredients: In some instances, incorporating powdered ingredients, such as powdered sugar or instant pudding mix, may help to counterbalance the surplus moisture in your brownie mix. These ingredients can absorb water and thicken the batter, enhancing your brownies' overall consistency and flavor. Be mindful of the specific powdered ingredient you add, as it may also impact your dessert's sweetness and flavor profile.
---
The process of adding extra dry ingredients.
Following a careful process, you can add extra dry ingredients to your brownie batter and salvage your dessert. Here's the step-by-step guide to incorporating additional dry ingredients like a pro:
Step 1: Assess the situation
Before diving in, take a moment to assess the consistency of your brownie batter. Is it slightly too wet, or is there a significant amount of excess water? This evaluation will help you determine the right amount of extra dry ingredients to add.
Step 2: Choose your dry ingredients
Select the appropriate dry ingredients to add to your mix based on your assessment. Consider factors such as taste, texture, and dietary requirements when choosing.
Step 3: Start with a small amount
Remember, adding more dry ingredients is easier than removing them. Begin by adding a small amount of your chosen dry ingredient to the batter, such as a tablespoon or two, depending on the extent of the excess water.
Step 4: Mix gently
Incorporate the additional dry ingredients by folding them into the batter gently with a spatula or wooden spoon. Avoid overmixing, as this can lead to tough or chewy brownies.
Step 5: Reassess and adjust
Check the consistency of your batter after adding the initial amount of dry ingredients. If it's still too wet, repeat steps 3 and 4 until the desired consistency is achieved.
Step 6: Bake as usual
Once satisfied with the batter's texture, pour it into your prepared baking pan and bake according to your recipe's instructions. Keep an eye on the brownies as they bake, as adding extra dry ingredients may slightly alter the cooking time.
---
Fix

2

Adjusting Baking Time
One solution for dealing with too much water in your brownie mix is to extend the baking time, allowing for the extra liquid to evaporate during the baking process. Here's how it works:
Understanding the role of evaporation
During baking, heat causes the water content in your brownie mix to evaporate, resulting in a drier, firmer texture. Increasing the baking time gives your brownies more opportunity to release the excess water and achieve the desired consistency.
How to extend baking times effectively
To extend the baking time for your brownies without overcooking or burning them, follow these expert tips:
Monitor the oven temperature: Ensure that your oven temperature is accurate and consistent. You may consider lowering the temperature by 25°F (around 14°C) to allow for a longer, slower bake that prevents overcooking the edges while the center can firm up.
Check your brownies regularly: Keep a close eye on them as they bake, especially during the extended baking time. Look for visual cues, such as the brownies pulling away from the edges of the pan or a slight crust forms on the surface.
Test for doneness: To check if your brownies are fully baked, insert a toothpick or a sharp knife into the center. If it comes out with just a few moist crumbs clinging to it, your brownies are ready to be removed from the oven.
Allow cooling time: Remember that your brownies will continue to set as they cool. After removing them from the oven, let them cool in the baking pan for at least 20-30 minutes before cutting and serving.
---
Monitor brownies to prevent overbaking.
I can't stress enough the importance of monitoring your brownies during baking to prevent overbaking. Here's why it's essential and how to do it right:
Why monitoring brownies is crucial.
Texture: Overbaked brownies lose their signature fudgy, moist consistency and become dry, crumbly, and unpalatable. Monitoring your brownies ensures they remain delectably gooey and irresistible.
Flavor: Overbaking can lead to the chocolate in your brownies tasting burnt or bitter, which detracts from the overall taste experience. You can preserve their rich, chocolaty flavor by keeping a close eye on your brownies.
Even baking: Monitoring your brownies allows you to detect any hot spots in your oven and rotate the pan accordingly, ensuring that the brownies bake evenly and have a consistent texture throughout.
Expert tips for monitoring brownies
Know your oven: Understand how it works and any quirks, such as uneven heating or temperature fluctuations. This knowledge will help you make any necessary adjustments during baking.
Set a timer: Use a timer to keep track of your baking time. Set it for a few minutes before the minimum suggested time, so you can start checking your brownies early to avoid overbaking.
Use your senses: Pay attention to visual cues like the edges pulling away from the pan, a slight crust forming on top, and the brownies appearing set in the center. You can also use your sense of smell to detect any signs of burning or overcooking.
Test for doneness: Insert a toothpick or a sharp knife into the center of the brownies. Your brownies are done if it comes out with a few moist crumbs clinging to them. Give them more time if it comes out wet, but keep checking every few minutes.
Read:
How to test for doneness.
Here's a comprehensive guide on how to test your brownies for doneness, ensuring you produce a delectable treat that can outshine any competition:
1. The toothpick test
The toothpick test is a classic method to check for doneness in brownies. To perform this test, follow these steps:
Remove the brownie pan from the oven using oven mitts.
Insert a toothpick or wooden skewer into the center of the brownies.
Carefully pull the toothpick out and examine it.
Note:
If the toothpick comes out clean, it might indicate overbaking, and your brownies could be less fudgy and more cake-like. Your brownies are done if the toothpick comes out with a few moist crumbs clinging to it. They need more time to bake if it comes out wet or coated with batter.
2. Visual cues
In addition to the toothpick test, you can rely on visual cues to determine if your brownies are ready:
The edges should be set and slightly pulled away from the pan.
The top should have a shiny, slightly crackled crust.
The center should no longer look wet or wobbly when the pan is gently shaken.
3. Touch test
Another way to assess the doneness of your brownies is by gently pressing the surface:
Using a clean finger or the back of a spoon, apply light pressure to the center of the brownies.
Your brownies are done if the surface springs back lightly and leaves no indentation.
If the surface feels too soft or leaves a deep impression, give your brownies more time in the oven.
Note:
Remember that brownies will continue to cook and set as they cool in the pan, so it's better to err on the side of slightly underbaking them to achieve that perfect fudgy texture.
Fix

3

Transforming brownie mix.
Instead of worrying about how to fix a brownie mix with too much water, consider transforming it into a unique and delicious dessert that can stand out from the rest.
Reinventing your brownie mix: Creating a new dessert
Brownie mix is a versatile base that can be adapted to create a wide range of mouthwatering treats. Here are a few ideas to turn your brownie mix into an impressive dessert:
Brownie Pudding: Embrace the extra moisture by converting your brownie mix into a tasty pudding. Simply pour the mixture into a greased baking dish and bake it in a water bath. The result will be a delightful dessert with a fudgy brownie top and a gooey, pudding-like center.
Brownie Trifle: Transform your brownie mix into a delectable trifle by layering bite-sized pieces with whipped cream, chocolate pudding, and fresh fruit. This eye-catching dessert is perfect for dinner parties and special occasions.
Brownie Cake: Combine your brownie mix with extra flour, eggs, and a leavening agent to create a rich and decadent chocolate cake. Frost it with a luscious chocolate ganache or buttercream frosting for an indulgent treat sure to impress.
Brownie Cookies: Use your brownie mix to make chewy, fudgy cookies by adding extra flour, an egg, and a splash of oil. Bake spoonfuls of the mixture on a cookie sheet, and you'll have a delightful cross between a brownie and a cookie, perfect for any occasion.
Brownie Cheesecake Bars: Create a show-stopping dessert by swirling a layer of cheesecake batter into your brownie mix. The combination of rich chocolate and creamy cheesecake will make a memorable dessert that will captivate your guests.
Read: What to Do with Leftover Brownies
What happens to brownies if you add too much water?
Accidentally adding too much water to your brownie mix can significantly change your final product. This excess water transforms the texture from dense and fudgy to a cake-like consistency, diluting the rich, indulgent chocolate flavor that makes brownies irresistible.
1

Transforming Texture: Cakey Brownies
The texture of your brownies will undergo a considerable change. Instead of the classic, dense, and fudgy consistency that brownie enthusiasts adore, your brownies may take on a more cake-like texture. This is due to the additional water, which causes the batter to become lighter and airier, leading to a fluffier and less dense final product.
2

Diluted Flavor: Less Chocolatey
The flavor of your brownies will be affected. Brownies are known for their rich, indulgent chocolate taste that leaves you craving more. However, with too much water added to the mix, this deep chocolate flavor becomes diluted, diminishing the satisfying experience. The result is a less intense and less satisfying chocolate treat that lacks the mouthwatering appeal of a perfectly crafted brownie.
Related: 10 Common Mistakes When Baking Brownies
---
Understanding Brownie mix ratios
Importance of ingredient ratios in brownie mix
Striking the right balance among ingredients is essential for achieving that irresistible combination of a moist, fudgy interior and a slightly crisp exterior that brownie lovers crave.
Measuring each ingredient and adhering to the recipe guidelines is essential to ensure your brownies turn out exactly as you intend. This level of precision guarantees consistency in your baking results and allows you to build a solid foundation of baking skills.
---
How too much water affects the final product
Even a slight increase in water content can throw off the delicate balance of ingredients and create a ripple effect of undesirable changes. Here's how too much water can influence your brownies:
Altered texture: The excess water affects the brownie batter's consistency, causing it to become lighter and airier. This results in a final product that is more cake-like, with a fluffy texture, rather than the dense, fudgy brownie that most people expect and desire.
Diluted flavor: The additional water dilutes the rich chocolate flavor that makes brownies so delectable. Instead of a well-balanced brownie's bold, indulgent taste, you end up with a less satisfying, weaker chocolate experience.
Longer baking time: Due to the increased moisture content in the batter, your brownies will likely require a longer baking time to set properly. This extended time in the oven can be tricky to gauge, as it increases the risk of overbaking, leading to a dry or crumbly final product.
Weaker structure: Excess water can also compromise the structural integrity of your brownies. They may become more fragile, making cutting and serving clean, visually appealing slices difficult.
---
The role of dry ingredients in brownie consistency.
Each dry ingredient contributes unique properties that create the perfect balance of flavors and textures in your dessert. Here's an overview of the key dry ingredients and how they influence brownie consistency:
Flour: Flour provides structure and support, giving brownies their characteristic shape and texture. The proportion of flour to other ingredients determines whether your brownies will be dense and fudgy or light and cakey. A higher flour-to-fat ratio results in a more cake-like consistency, while a lower ratio creates that sought-after fudgy texture.
Cocoa powder/chocolate: Cocoa powder and chocolate are the sources of the rich, bold chocolate flavor that defines a brownie. They also contribute to the overall consistency by affecting the balance between moist and dry components. A higher cocoa powder or chocolate content can produce a drier, denser texture, while a lower content may yield a softer, more tender crumb.
Sugar: Sugar adds sweetness and influences the brownie's overall consistency. Sugar helps create a tender, moist texture by attracting and holding onto moisture. The type of sugar used can also affect the final outcome, with granulated sugar producing a crisper, more delicate crust and brown sugar contributing a chewy, moist interior.
Leavening agents: Leavening agents, such as baking powder or baking soda, are occasionally included in brownie recipes to create a lighter, more cake-like texture. These ingredients cause the batter to rise and expand, introducing air pockets and contributing to a fluffier consistency.
Related: 4 Proven Methods to Make Brownies Soft Again
---
Tips to Prevent too much water in brownie mix
Following these strategies will ensure your brownies turn out perfectly every time.
1

Carefully measure liquid ingredients:
Always measure liquid ingredients, such as water, milk, or oil, using a liquid measuring cup. This will help ensure you add the exact amount needed for the recipe. Be sure to level off your measurements to avoid accidentally pouring too much liquid.
2

Double-check recipe ratios:
Before mixing your ingredients, double-check the recipe ratios to ensure they align with standard brownie mix ratios. This step can help you catch any potential errors in the recipe and prevent you from adding excess water.
3

Use room temperature ingredients:
Using room temperature ingredients, especially eggs, and butter, can help prevent over-hydration. Cold ingredients can cause liquid ingredients to clump together, making it difficult to incorporate them evenly, which may result in an overly wet mixture.
4

Gradually add liquid:
Instead of adding all the liquid ingredients at once, incorporate them gradually. This method allows you to gauge the consistency of your brownie batter and stop adding liquid if the mixture appears too wet.
5

Pay attention to altitude:
If you live at a high altitude, you may need to adjust the amount of liquid in your brownie recipe. High-altitude baking can cause the evaporation of liquids more quickly, but you still want to ensure you don't start with too much water in the mix.
6

Choose high-quality cocoa powder:
High-quality cocoa powder can better absorb the liquid in your brownie mix, reducing the risk of overhydration. Opt for unsweetened, Dutch-processed cocoa powder for the best results.
7

Test your oven's temperature accuracy:
An inaccurate oven temperature can make achieving the perfect brownie consistency difficult. To tackle this issue, invest in an oven thermometer. This will ensure your oven heats accurately, allowing your brownies to bake evenly and preventing excess moisture from affecting the final product.
---
Alternative Brownie recipes
1

Cake-Like Brownies
How watery brownie mix can result in cake-like brownies.
If you have a watery brownie mix, it can actually lead to cake-like brownies. The excess water changes the ratio of wet to dry ingredients, causing the brownies to rise more during baking. As a result, the texture becomes lighter, fluffier, and more cake-like, rather than the dense, fudgy consistency of traditional brownies.
The texture differences between fudgy and cake-like brownies
Fudgy brownies and cake-like brownies have distinct texture differences that cater to individual preferences. Fudgy brownies are dense, moist, and have a rich, gooey texture. They're usually slightly underbaked, contributing to their intensely chocolatey, melt-in-your-mouth quality.
On the other hand, cake-like brownies have a lighter, airier texture with a more tender crumb. They're baked longer, allowing them to rise more and develop a delicate, fluffy consistency similar to a chocolate cake. While still moist and delicious, cake-like brownies have a less concentrated chocolate flavor than their fudgy counterparts, offering a unique and enjoyable alternative for those who prefer a less dense treat.
---
A simple recipe for cake-like brownies using the watery mix.
Here's a simple recipe for cake-like brownies using a watery brownie mix:
Ingredients:
1 box brownie mix (prepared with excess water)
½ cup all-purpose flour
½ teaspoon baking powder
2 large eggs
¼ cup vegetable oil
1 teaspoon vanilla extract
Instructions:
Preheat your oven to 350°F (175°C) and grease a 9x13-inch baking pan.
Combine the watery brownie mix in a large mixing bowl with the all-purpose flour and baking powder. Stir until well combined.
Whisk together the eggs, vegetable oil, and vanilla extract in a separate bowl. Pour this wet mixture into the brownie mix and stir until just combined, being careful not to overmix.
Pour the batter into the prepared baking pan and spread it evenly using a spatula.
Bake the brownies for 25-30 minutes, or until a toothpick inserted into the center comes out with a few moist crumbs. Keep an eye on the brownies to avoid overbaking.
Allow the brownies to cool completely in the pan before cutting them into squares and serving.
---
2

Brownie Truffles
Brownie truffles are an indulgent and creative way to transform your watery brownie mix into a delectable treat. These bite-sized delights combine crumbled brownies with a rich binder, such as chocolate ganache or frosting, and then roll them into balls.
How to prepare brownie truffles using the watery mix
To prepare brownie truffles using the watery mix, follow these simple steps:
Bake the brownies: Begin by baking the watery brownie mix according to the package instructions or your recipe, considering it might take a bit longer to bake due to the extra water. Use a toothpick to test for doneness; it should come out with a few moist crumbs attached.
Cool and crumble: Allow the brownies to cool completely in the pan. Once cooled, crumble the brownies into a large mixing bowl, making sure there are no large pieces.
Add a binder: To bind the crumbled brownies; you'll need a rich, thick ingredient like chocolate ganache, cream cheese frosting, or Nutella. Start with about ¼ cup of your chosen binder and mix it into the crumbled brownies. Add more as needed until the mixture is moist and holds together when pressed.
Form the truffles: Scoop out portions of the brownie mixture using a tablespoon or small ice cream scoop. Roll each portion between your palms to form smooth, round balls. Place the truffles on a parchment-lined baking sheet.
Chill: Chill the truffles in the refrigerator for at least 30 minutes to help them firm up.
Add a coating: Melt chocolate, either dark, milk, or white, in a double boiler or microwave. Dip each chilled brownie truffle into the melted chocolate using a fork or dipping tool, letting any excess chocolate drip off. Place the coated truffles back on the parchment-lined baking sheet. Optionally, you can sprinkle the truffles with toppings like cocoa powder, chopped nuts, or sprinkles before the chocolate sets.
Chill again: Refrigerate the truffles for another 30 minutes or until the chocolate coating has set.
Serve and enjoy: The brownie truffles are ready to be enjoyed once the chocolate has set. Store any leftovers in an airtight container in the refrigerator for up to a week.
---
Describe the texture and flavor of the final product.
The final texture and flavor of brownie truffles made with watery mix will be delightfully indulgent. The truffles have a moist, dense, and fudgy interior, contrasting nicely with the smooth, firm chocolate coating.
How to prepare alternative desserts using the watery mix.
Embrace your creativity and turn a potential baking disaster into a delicious success with the following ideas:
1

Chocolate Pudding Cake:
To create this warm, gooey dessert, follow these simple steps:
Preheat your oven to 350°F (175°C) and grease an 8x8-inch baking dish.
Mix the watery brownie batter with ½ cup of all-purpose flour, ensuring it is well combined.
Pour the batter into the greased baking dish.
Combine ½ cup granulated sugar, ¼ cup unsweetened cocoa powder, and 1 cup boiling water in a separate bowl. Stir until the sugar dissolves.
Carefully pour this mixture over the brownie batter in the baking dish.
Bake for 35-40 minutes or until the top is set and slightly crusty.
Allow it to cool for a few minutes before serving. Enjoy with a scoop of ice cream or whipped cream.
---
2

Brownie Pancakes:
Transform your watery brownie mix into scrumptious brownie pancakes by following these steps:
In a large bowl, combine the watery brownie mix with 1 cup of all-purpose flour, 1 teaspoon of baking powder, and ¼ teaspoon salt.
Mix in 1 cup of milk, 1 large egg, and 2 tablespoons of vegetable oil until well combined. The batter should be slightly thick but still pourable.
Preheat a non-stick griddle or frying pan over medium heat. Lightly grease the surface with butter or oil.
Pour ¼ cup of batter onto the heated surface for each pancake. Cook until bubbles form on the surface and the edges look set. Flip and cook for another 1-2 minutes until done.
Serve your brownie pancakes with your favorite toppings, like whipped cream, chocolate syrup, or fresh fruit.
---
3

Brownie Bread Pudding:
Use your watery brownie mix to create a rich and indulgent bread pudding with these steps:
Preheat your oven to 350°F (175°C) and grease a 9x13-inch baking dish.
Cut about 6 cups of day-old bread into 1-inch cubes and place them in the greased baking dish.
Whisk together the watery brownie mix in a large bowl, 2 cups of milk, ½ cup of heavy cream, 4 large eggs, and 1 teaspoon of vanilla extract.
Pour the brownie mixture over the bread cubes, ensuring they are evenly coated. Press down the bread cubes with a spatula or spoon to help them absorb the mixture.
Let the bread soak for about 15 minutes before baking.
Bake for 45-50 minutes or until the bread pudding is set and slightly crispy on top.
Serve warm with a caramel sauce drizzle or a powdered sugar dusting.
---
Describe the texture and taste differences compared to traditional brownies.
While alternative desserts made from a watery brownie mix might have different textures and tastes than traditional brownies, they still offer delightful eating experiences.
1

Texture:
Traditional brownies are characterized by their dense, fudgy, and slightly chewy texture. They have a moist, rich crumb with a soft, slightly crackly crust. When you prepare alternative desserts using a watery brownie mix, the texture may differ:
Chocolate Pudding Cake: This dessert features a cake-like, tender, and moist texture on top, with a warm, gooey chocolate sauce layer beneath.
Brownie Pancakes: These pancakes have a fluffy, tender, and moist texture, similar to regular pancakes, but with a slightly denser crumb due to the brownie mix.
Brownie Bread Pudding: The texture of this dessert is soft and moist, with the bread cubes absorbing the brownie mixture and creating a creamy, custard-like consistency throughout.
---
2

Taste:
Traditional brownies have a strong, rich chocolate flavor, often with notes of butter and vanilla. They are sweet, with a perfect balance of chocolatey bitterness. Alternative desserts made from a watery brownie mix may have slightly different taste profiles:
Chocolate Pudding Cake: The taste of this dessert is still rich in chocolate, but it might be slightly milder than traditional brownies. The warm chocolate sauce adds an extra layer of sweetness and decadence.
Brownie Pancakes: The chocolate flavor in these pancakes is more subtle than in traditional brownies, as they are meant to be a breakfast dish. However, the chocolatey taste is still present and enjoyable.
Brownie Bread Pudding: The chocolate flavor in this dessert is somewhat muted compared to traditional brownies, as the bread and custard components dilute the richness. Nevertheless, it remains a delicious and satisfying treat with a hint of chocolate.
---
FAQs related questions
Can I add extra dry ingredients to fix watery brownie mix?
You can add extra dry ingredients like all-purpose flour, unsweetened cocoa powder, or finely ground nuts to fix a watery brownie mix. Gradually add the chosen ingredient and mix well to reach the desired consistency, being cautious not to add too much.
How do I know when my brownies are done after correcting the watery mix?
To determine if your brownies are done, insert a toothpick or a thin skewer into the center. If the toothpick comes out wet, continue baking and check regularly to avoid overbaking. Your brownies are done if it comes out with a few moist crumbs.
What can I make with a brownie mix that has too much water?
You can transform the watery brownie mix into alternative desserts like cake-like brownies, brownie truffles, or even a chocolate pudding cake. Adjust the mix as necessary, and follow the specific recipe instructions for each dessert.
Can I still bake brownies if I add too much water to the mix?
You can still bake brownies with too much water by adding extra dry ingredients to absorb the excess moisture, extending the baking time, or transforming the mix into an alternative dessert. Monitor the baking process closely to ensure the best results.
How can I prevent adding too much water to my brownie mix in the future?
To prevent adding too much water to your brownie mix, carefully measure all liquid ingredients using the proper measuring tools, such as liquid measuring cups. Follow the recipe instructions closely, and be mindful of ingredient ratios to ensure a balanced brownie mix.