Ah, the sweet aroma of freshly baked brownies wafting through the air—a smell that could make anyone's mouth water! But what happens when we have more brownies than we can eat? If you're anything like me, you can't bear the thought of letting those chocolatey squares of heaven go to waste. Here's the ultimate guide on what to do with leftover brownies!
Take Aways
Transform them into new desserts: Leftover brownies can be easily repurposed into creative new treats, giving them a new life and exciting flavor combinations.
Use as a base or topping: Crumble leftover brownies and use them as a tasty topping. This adds texture and a rich chocolate flavor to your favorite dishes.
Freeze for later use: If you can't find an immediate use for your leftover brownies, simply wrap them tightly in plastic wrap or aluminum foil and store them in the freezer.
Jump to:
What to do with leftover brownies
I've gathered a treasure trove of creative and delectable ideas to give your brownie leftovers a new lease on life. So let's explore a world of brownie possibilities you never knew existed! Let's dive in and give our beloved brownies a second chance they deserve!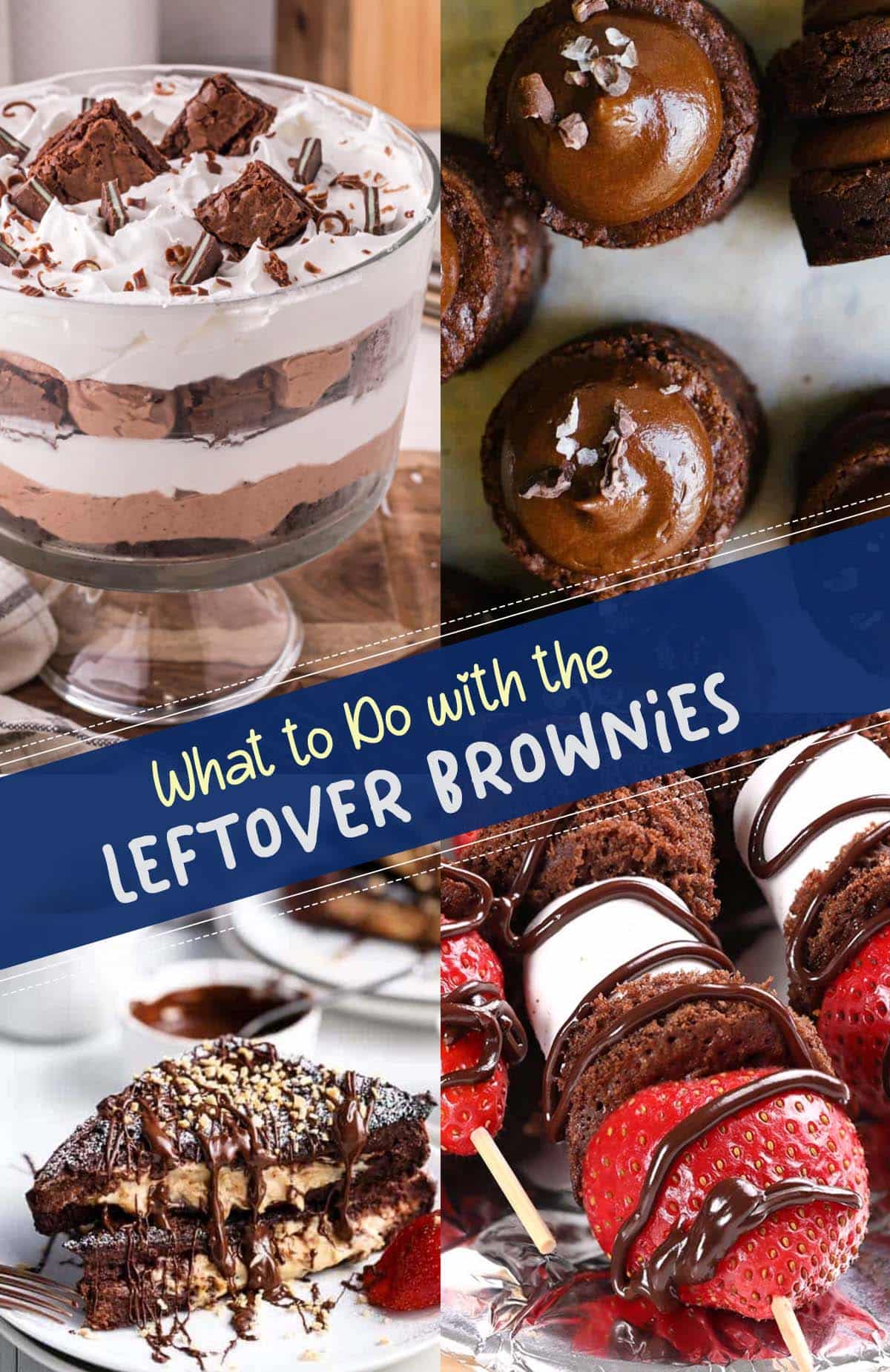 1

Brownie trifle
Dive into a world of decadent flavors with this irresistible Chocolate Brownie Trifle recipe from lovebakesgoodcakes. This delicious dessert combines layers of rich homemade brownies, velvety chocolate pudding, and light whipped cream to create a stunning and mouthwatering treat.
Ideal for any gathering that can also be enjoyed as a comforting treat during cozy nights or as a delightful surprise for your loved ones on a regular day.
Follow the step-by-step instructions on EasyPeasyPleasy.com, and don't let those leftover brownies go to waste—give them a new life as a heavenly dessert masterpiece!
---
2

Brownie-based ice cream sundaes
The Brownie Sundae recipe from TheRecipeRebel.com offers a delectable dessert experience that combines warm, fudgy brownies with cold, creamy ice cream. The rich chocolate sauce, whipped cream, and cherry on top make this classic dessert a delightful contrast of textures and temperatures.
The recipe provides easy-to-follow instructions for baking the perfect brownies and assembling a heavenly sundae to please dessert lovers of all ages. Enjoy this delightful treat as a special indulgence, or share it with friends and family at your next gathering.
Read:
---
3

Brownie and fruit kabobs
The Strawberry Brownie Kabobs recipe is a delightful and innovative dessert that combines juicy strawberries, delectable brownie bites, and fluffy marshmallows on skewers. Drizzled with a tempting chocolate sauce, these eye-catching kabobs are perfect for parties, picnics, or family gatherings, offering your guests a unique and exciting treat.
With easy-to-follow steps in the recipe, you can assemble these playful kabobs effortlessly and enjoy the tasty combination of fresh fruit, chocolate, and marshmallow in every bite. Discover this creative twist on traditional brownie treats by visiting SugarApron.com for the full recipe and instructions.
---
4

Brownie bread pudding variations
The Leftover Brownie Bread Pudding recipe ingeniously repurposes extra brownies into a luscious and comforting dessert. This recipe transforms the classic bread pudding into a delightful chocolate lover's dream by combining brownie pieces with a rich custard mixture and baking until perfectly moist and tender.
Ideal for using up leftover brownies, this warm and satisfying dessert is a creative way to enjoy a beloved treat in a whole new light. Visit ATasteOfMadness.com for the recipe and instructions to make this delicious Leftover Brownie Bread Pudding at home.
Read: Guide to Fixing Undercooked Brownies
---
5

Incorporating brownies into milkshakes and smoothies
The Brownie Milkshake offers an indulgent and refreshing dessert that blends creamy ice cream with rich, fudgy brownie pieces. This thick and satisfying milkshake is perfect for chocolate lovers seeking a cool and delightful treat, with the bonus of tasty brownie bits in every sip.
The recipe provides simple instructions for creating a luscious, chocolaty shake that is perfect for satisfying your sweet tooth on a warm day or as a special indulgence at any time. Visit BeeyondCereal.com to explore this delightful Brownie Milkshake recipe and elevate your dessert experience.
Read:
---
6

Brownie pops and cake pop alternatives
The Easy and Fudgy Brownie Cake Pops offer a delightful and creative way to enjoy brownies in a fun, bite-sized form. These cake pops feature a rich, fudgy brownie center, coated in a luscious layer of chocolate and adorned with colorful sprinkles or decorations of your choice.
Perfect for parties, gatherings, or a unique dessert, these brownie cake pops are simple to make and sure to impress. Visit MyMommyStyle.com for the full recipe and step-by-step instructions on how to make these delicious brownie cake pops.
---
7

Brownie cheesecake swirl recipes
The Cream Cheese Brownies recipe from BakedByAnIntrovert.com combines the best of both worlds with its delectable fusion of rich, fudgy brownies and smooth, creamy cheesecake. These delightful treats feature a classic brownie base swirled with a luscious cream cheese mixture, creating an eye-catching marbled effect and a heavenly taste in every bite.
Perfect for dessert lovers who enjoy both brownies and cheesecake, this recipe offers a unique and indulgent experience. Visit BakedByAnIntrovert.com to get the full recipe and easy-to-follow instructions.
Read:
---
8

Brownie s'mores and campfire treats
The S'mores Brownies bring the classic campfire favorite to your kitchen by combining gooey marshmallows, crunchy graham crackers, and rich, fudgy brownies. This delicious treat features a graham cracker crust topped with a layer of brownie batter and finished with a generous layer of marshmallows.
With its irresistible combination of textures and flavors, this S'mores Brownies recipe captures the essence of the beloved campfire treat, making it perfect for enjoying anytime. Find out how to create these delicious S'mores Brownies at home by visiting TravelFfeine.com.
---
9

Brownie parfaits and layered desserts
The Brownie Parfait recipe is an enticing dessert that artfully layers rich, fudgy brownie pieces with velvety whipped cream and fresh, juicy berries. This visually stunning treat offers a delightful contrast of textures and flavors, making it a perfect choice for dessert lovers who enjoy the combination of chocolate, fruit, and cream.
Ideal for special occasions or a decadent indulgence, these Brownie Parfaits are easy to assemble and sure to impress. See how to make these delightful Brownie Parfaits at home by visiting WordsOfDeliciousness.com.
Read: Common Mistakes when Baking Brownies
---
10

Brownie-stuffed chocolate chip cookies
Experience the delightful fusion of two beloved desserts with the Brownie-Stuffed Chocolate Chip Cookies. Rich, fudgy brownies are hidden within a soft, chewy chocolate chip cookie, offering a pleasant surprise in each bite. Ideal for indulging your sweet tooth or sharing with friends and family, these unique and irresistible cookies are sure to impress.
To recreate these heavenly Brownie-Stuffed Chocolate Chip Cookies at home, follow the step-by-step instructions available at Kitchen335Co.com.
---
11

Brownie pizza with sweet toppings
The Easy Brownie Pizza recipe presents a delightful and creative twist on traditional brownies by transforming them into a delectable dessert pizza. This inventive treat features a rich, fudgy brownie base topped with a creamy layer of frosting and an array of sweet toppings, such as candies, sprinkles, or fruit.
Perfect for parties, gatherings, or a unique dessert option, this Brownie Pizza is simple to make and offers endless customization possibilities. Create this fun and tasty Brownie Pizza at home by following the step-by-step instructions at CrazyForCrust.com.
---
13

Brownie fondue and dipping options
The Brownie Bites with French Vanilla Dipping Sauce recipe presents a unique and delightful dessert that pairs bite-sized brownie morsels with a silky dipping sauce. These decadent, fudgy brownie bites harmonize beautifully with the creamy French vanilla sauce, offering an irresistible contrast of flavors and textures.
This interactive dessert is ideal for social gatherings and events, where guests can customize their treat with dipping options. For the full recipe and instructions on preparing this captivating Brownie Fondue at home, visit SpicedBlog.com.
Read: How to Fix Too Much Water in Brownie Mix
---
13

Brownie waffle sandwiches
The Easy Brownie Waffle Ice Cream Sandwiches recipe, puts a creative spin on a classic dessert by combining brownie waffles with cool, creamy ice cream. Ideal for a fun and innovative dessert option, these Brownie Waffle Sandwiches are perfect for enjoying on a warm day or any special occasion.
These mouthwatering treats consist of brownie batter cooked in a waffle iron, filled with your favorite ice cream flavor, and optionally rolled in sprinkles or other toppings for added texture and taste. Find the complete recipe and step-by-step instructions at MomDoesReviews.com.
---
14

Brownie crumble toppings for yogurt or oatmeal
The Brownies and Yogurt Summer Parfait recipe introduce a delightful way to elevate your yogurt or oatmeal by incorporating brownie crumble toppings. This delicious combination features crumbled brownie pieces layered with creamy yogurt or mixed into your oatmeal, offering a rich, chocolatey contrast to the light and healthy base.
Perfect for a satisfying breakfast, snack, or dessert, this Brownie Crumble Topping adds an indulgent touch to your everyday meals. Detailed instructions can be found at SandrasEasyCooking.com.
---
15

Brownie French toast creations
The Peanut Butter Cheesecake Stuffed Chocolate Brownie French Toasts recipe is a delicious fusion of rich, fudgy brownies and classic French toast. This dish features layers of brownie and peanut butter cheesecake filling sandwiched between slices of French toast, creating a unique and indulgent meal.
This Brownie French Toast offers a delightful combination of flavors and textures, perfect for a special brunch or a memorable dessert. At CafeDelites.com you can find the complete recipe and detailed instructions for preparing this delicious dish.
---
16

Brownie granola bar remixes
The Dark Chocolate Brownie Granola Bars recipe puts a creative spin on conventional granola bars by blending in rich, chocolatey brownie elements. These healthy and indulgent bars mix rolled oats, nuts, and seeds with cocoa powder and chocolate chips, resulting in an enjoyable and invigorating snack.
Ideal for on-the-go, lunchboxes, or a quick energy boost, these Brownie Granola Bars offer a delightful fusion of flavor and nutrition. To make these unique and satisfying bars at home, find the complete recipe and step-by-step instructions at MelsKitchenCafe.com.
---
17

Brownie tiramisu variations
When I discovered the Tiramisu Brownies recipe, I knew I had found the perfect fusion of rich, chocolatey brownies and classic Italian tiramisu flavors. This delightful dessert starts with a fudgy brownie base, which I then top with a luscious layer of mascarpone cheese mixture before dusting with cocoa powder. The result is an elegant and irresistible treat that marries the best of both worlds. I love making this captivating Brownie Tiramisu for special occasions or whenever I feel like indulging my sweet tooth. If you'd like to try making this masterpiece at home, head to TidyMom.net for the full recipe and detailed instructions.
---
Read: How Long Can Cookie Dough Sit Out
18

Brownie energy bites and protein-packed snacks
When I came across the No-Bake Fudge Brownie Energy Bites recipe, I found the perfect solution for a quick, energizing, and chocolatey snack. These little bites combine dates, almonds, cocoa powder, and coconut oil to create a delicious and nourishing treat. I love how simple they are to make, requiring no baking, and they're perfect for satisfying my sweet cravings while boosting energy. To make these Energy Bites, you can find the full recipe and detailed instructions at TheSuburbanSoapbox.com.
---
19

Brownie ice cream sandwich combinations
The Decadent Brownie Cookie Ice Cream Sandwiches recipe offers a fantastic combination of two dessert favorites: brownies and ice cream. This creative treat features chewy brownie cookies as the base, filled with a generous scoop of ice cream in your flavor.
The result is a perfect harmony of textures and flavors, making these Brownie Ice Cream Sandwiches an irresistible summertime treat or a special dessert for any occasion. To explore the complete recipe and step-by-step instructions, visit BeautifulEatsAndThings.com.
---
20

Brownie petit fours and miniature dessert ideas
The Brownie Petit Fours recipe presents a delightful mini dessert option with two styles, perfect for special occasions and gatherings. The first option features small, bite-sized brownie rounds with a luscious ganache glaze poured on top, which firms up to form a soft chocolate coating.
In the second option, the brownies are slightly larger and double stacked with a thick ganache piped on each layer, providing an extra indulgent treat. Both styles of Brownie Petit Fours taste delicious and make a visually appealing addition to any dessert table. To learn how to create these charming brownie variations, visit TheWoodAndSpoon.com for the full recipe and detailed instructions.