Whether cooked or not, fresh spaghetti should be refrigerated to keep it nice and fresh and to delay mold growth for as long as possible. You can generally keep most spaghetti or pasta in your fridge for between three and five days.
Traditional spaghetti is made by mixing flour, eggs, olive oil, and water, then stretching it into strands. There is a knack to it, but it is very easy to pick up, and once you get going, it's fun.
Jump to:
However, people often make too much - more than they can eat in one sitting.
Were you aware that you can make pasta from different things like beans, lentils, peas, etc.? Well, you can. You can make it, so it is gluten-free.
But whatever type of pasts you make, you could easily end up with a surplus, which poses the question, how long can spaghetti sit out?
---
How long can spaghetti sit out?
Uncooked, dried spaghetti can last for several years. But once it's been cooked, it will start to turn bad if you keep it out at room temperature for longer than a couple of hours.
Any longer and pasta will enter the so-called "danger zone" (between 40°F and 140°F), whereby bacteria will begin to form and multiply.
But if you let it cool (which it will in no more than 20 minutes), and as soon as it has, you transfer it to your fridge, you can keep it to up to four of five days.
You might have wondered why it is that in summer, pasta spoils so quickly?
It is, of course, to do with the higher temperatures and the increased humidity. 
As a matter of fact, if the air or room temperature is above 90°F, the two-hour rule becomes a one-hour rule.
You should be careful, especially If you're hosting an outdoor party and you will be serving pasts. You could end up unwittingly poisoning your guests.
---
Safety tips when serving pasta at a party
If you are going to be serving pasta at a buffet-type party, here are a few helpful tips to avoid the chances of your guests getting ill.
Don't serve the pasta until just before or just after your guests have arrived,
Once you serve it, set a timer on a two-hour alert.
Be sure to provide a dedicated serving spoon - you want to avoid letting guests use utensils they have eaten from for serving themselves seconds.
Keep pasta sauce in its dedicated serving dish together with its own serving spoon.
When the two-hour timer alarm sounds, remove the dishes containing the pasta and sauce from the serving table and refrigerate or dispose of them.
If you decide to refrigerate the pasta and the sauce, put them into separate airtight containers and seal the lids before transferring them to the fridge.
---
How long is leftover Spaghetti good for?
Cooked leftover spaghetti is easy to store for reheating at a later date, providing you store it in the right way. The same goes for any leftover pasta sauce.
When you knock up a new batch of fresh spaghetti from scratch, all you have to do is boil it.
Depending on which pasta sauce you are making, it can be pretty simple, and it's just as easy to make a large batch of spaghetti and sauce as it is a small one. It's ideal for storing as leftovers.
It's simple to refrigerate or freeze if you want to keep it for longer.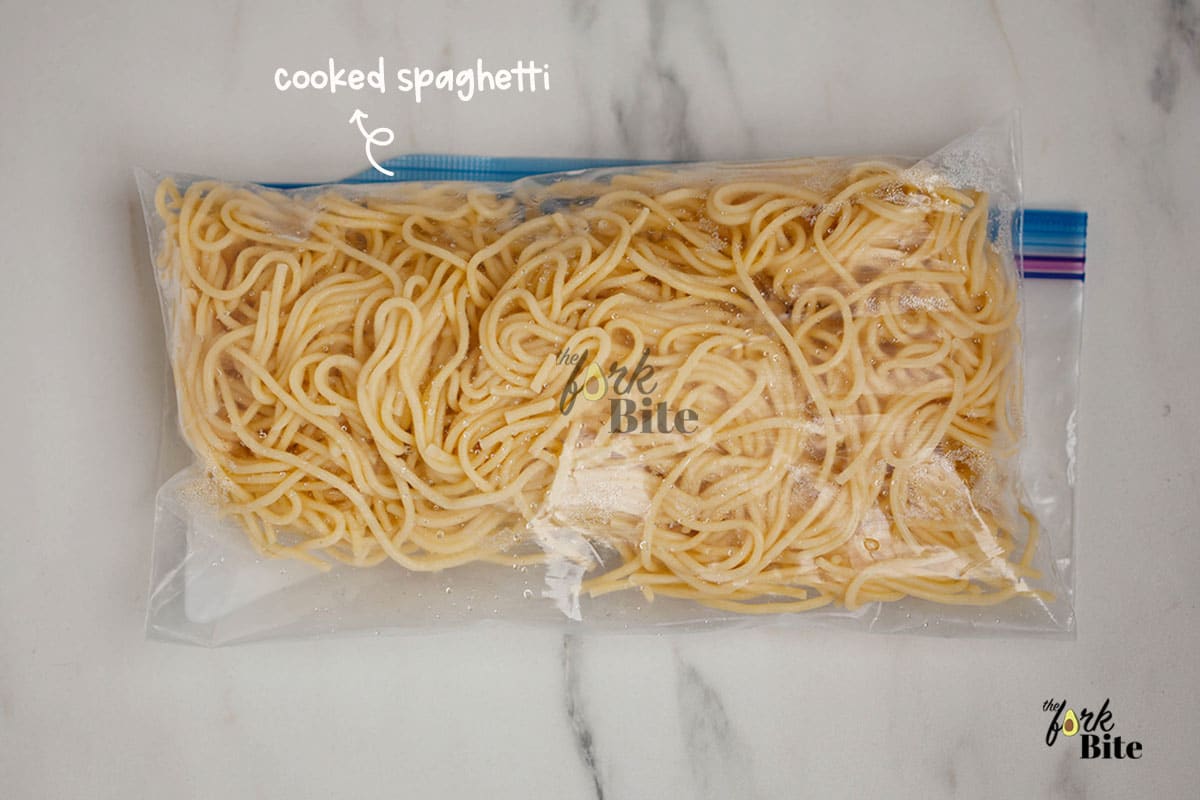 ---
How long does spaghetti last in your fridge?
Two things determine how long leftover spaghetti will be good for when refrigerated - food safety guidelines and the quality of the stored pasta.
The problem is that while leftover spaghetti can taste okay, but it could still be infected with bacteria. The same goes for the sauce.
The USDA's guidelines suggest eating leftovers within three to four days of cooking and refrigerating. This allows some leeway in terms of safety and quality, so follow this rule and won't go wrong.
To summarise how long to keep spaghettis leftovers for:
Don't let leftover spaghetti sit out at room temperature for longer than two hours.
If it's already mixed with sauce, it's safe in your fridge for up to two to three days.
Leftover spaghetti without sauce can be safely refrigerated for up to four or five days.
If you're left with more leftover sauce or spaghetti than you can eat within that time, you can opt to freeze it to extend its shelf life.
Read: How Long is Cooked Spaghetti Good in the Fridge
---
Additional Notes
The safe storage time for pasta sauce varies slightly depending on its ingredients, and there are loads of different recipes. For example, if the spaghetti is mixed with Bolognese sauce, it won't last as long. 
It's because the meat in the sauce goes off more quickly than the pasta. You shouldn't keep this sort of spaghetti mixed with sauce in your fridge for longer than two to three days.
If the sauce contains fish, you should eat refrigerated leftovers within 24 hours.
A tomato-based sauce with no meat or fish will be safe to keep in your fridge for up to four or five days. The same goes for sauces made with dairy - alfredo sauce, cheese, or pesto cream sauce. 
---
How to store cooked pasta in the fridge
As I've already mentioned several times, to observe the best food safety standard, don't let leftover pasta sit outside at room temperature for longer than 2 hours.
Apart from this "golden rule," the only other thing you need for packaging leftover spaghetti is to keep in your fridge in an airtight container with a tightfitting lid, or Ziploc bag, and a small amount of butter or oil.
Here are the step-by-step instructions:
Step

1
Transfer the leftover spaghetti into the container or bag and drizzle with a few drops of olive oil or melted butter.
Toss the spaghetti well to ensure that each strand is lightly coated to prevent them from sticking together.
As far as the type of oil you use is concerned, I leave it up to you. I normally use extra virgin olive oil.
But if I will be mixing it with a more delicate sauce when I reheat and serve, I will use a more neutral oil such as canola or vegetable.
If you are refrigerating freshly homemade pasta or spaghetti, I recommend tossing it with a pinch or two of flour instead of oil or butter.
---
Step

2
At the risk of being a pain in the proverbial, I will remind you once again not to close the container or bag while the pasta is still warm. Let it cool first.
Whether you are using a container of a Ziploc bag, try to evacuate as much air as possible before sealing. The more air left in, the greater the chance of mold and bacterial growth.
I refrigerate or freeze quite many leftovers, so I treated myself to a Foodsaver vacuum sealer. It's one of the best investments I have ever made.
Leftover, cooked spaghetti on its own will keep well in your fridge for up to four or five days.
You might be able to keep it for longer, although you will need to double-check to make sure it's okay to consume, but if you do, you will find that it begins to lose a bit of flavor.
---
How to store leftover spaghetti in the freezer
If you want to keep leftover spaghetti or pasta for longer than four to five days, it's best to freeze it.
Packaged properly, your pasta will be good for up to three or four months. I find that two months is optimum for the best flavor and texture.
Before you come to reheat frozen spaghetti, you need to defrost it. I usually do this overnight in my fridge.
---
Additional note:
I use a vacuum sealer before storing food in my freezer, as I mentioned earlier. Not only does it lessen the chance of a bacterial or mold infection, but it also helps to prevent freezer burn.
If you haven't got one, use a Ziploc bag, seal it almost fully closed but leave one corner open; insert a straw, and suck out as much air as you can - remove the straw and complete the sealing in one process.
Step-by-step instructions:
Step

1
Let the spaghetti cool. If you want to flash freeze it, transfer it onto a baking sheet in a single layer, flash freeze for a few minutes, and then transfer to a container or Ziploc bag.
Let the pasta cool down before placing it into freezer-safe bags or containers.
---
Step

2
When transferring the pasta to a bag or container, do so in portion sizes. It makes it much easier to take out as much as you need when you come to reheat it, and it makes the defrosting quicker.
Helpful tips
While the spaghetti or pasta is still warm, toss it in a little oil to prevent it from sticking together. Evacuate as much air as possible, seal and freeze.
Portioning your frozen pasta makes it easier to take out just what you need and saves you from having more leftovers. It's not a good idea to refreeze unless you know how – something I will explain later. You can also freeze spaghetti in sauce, but more about that too, in a moment.
While the spaghetti or pasta is still warm, toss it in a little oil to prevent it from sticking together. Evacuate as much air as possible, seal and freeze.
---
Step

3
Label and date. It's not always easy to remember when you froze something, so labeling and dating is a good idea.
---
Packaging sauce-covered spaghetti or pasta for freezing
Whether you store your spaghetti and pasta separately or together is up to you.
Just bear in mind that storing them apart gives you more flexibility when you use the spaghetti later. You might, for example, fancy a different sauce with it.
There is one other thing to consider. If you store them already mixed, the pasta will get a little mushy the longer it is stored.
The other side of the coin, though, is that if you store them ready-mixed, the pasta will absorb flavor from the sauce. It's up to you.
Whichever way you decide to go, transfer it into a container or Ziploc bag and remove as much air as you can and seal.
Don't forget to label and date. It not only helps to keep a check on how long it's been frozen for, but it also helps to jog your memory as to what sort of sauce it is.
Read: How to Thicken Spaghetti Sauce
---
Refreezing once frozen and thawed spaghetti sauce.
Contrary to public opinion, you can safely refreeze spaghetti mixed with sauce if you know how the rules.
Because some spaghetti sauces have relatively high sugar content, they are not very good breeding grounds for bacteria.
Providing you follow the usual rules, i.e., make sure the once frozen and defrosted sauce is cool before transferring it into an airtight container or Ziploc bag.
It would be best to evacuate as much air as possible, and then refreeze, you should be okay
---
Safe defrosting methods
There are several ways you can safely defrost frozen food but leaving it out on your worktop is definitely not one of them.
At room temperature (between 40°F and 140°F), any food left out can enter the "danger zone" that we talked about earlier, whereby bacterial growth is highly likely.
The most trusted and safest way of defrosting that I know and use is to transfer frozen spaghetti sauce from the freezer into your fridge and leave it there overnight to defrost.
If you thaw it this way, you can even leave it in the fridge for a day or two before you get around to using it.
Another option is the microwave, but if you go down this route, you need to be sure (a) not to overheat it and dry it up, or (b) not to underheat it, so it enters the dreaded "danger zone."
When reheating any previously frozen sauce, you need to ensure that it reaches an internal temperature of 165°F. To be sure, you ought to use a food thermometer.
---
How to use frozen spaghetti sauce
If you froze your spaghetti in one large container, but you only want to use some of it, here's what to do.
Step

1
Defrost the whole container full and once you've done so, separate what you want to use and repackage the remaining sauce into a smaller container.
Evacuate as much air as you can, seal the container or Ziploc bag containing the remaining sauce into the freezer while it is still cold.
If you plan to use all the sauce, skip this first step and move straight on to the 2nd and 3rd steps.
---
Step

2
Using stovetop:
Transfer the thawed sauce into a saucepan and place it on the stovetop over a medium/low heat source.
Heat it gently, stirring from time to time until the internal temperature of the source reaches 165°F.
Using Microwave:
Transfer the sauce into a microwave-safe dish.
Cover it with a cling wrap, stab it with a knife to create a couple of vent holes.
Nuke it at 30 seconds bursts until you reach the 165°F internal temperature.
It's a good idea to give it a little stir from time to time to make sure it heats through evenly.
Depending on how much sauce you're microwaving, it will take somewhere between 30 seconds and 2 minutes intervals.
---
If you have any leftovers, pour them into a shallow container, allow them to cool, and store it in your fridge within 2 hours.
Having allowed it to sit in your fridge until it's completely cool, you can then transfer it to your freezer.
When you reheat sauce like this, it won't taste quite as good as it did the first time around.
However, when you reheat it for the second time, you can always add some fresh herbs and spices to rejuvenate it.
---
Can you refreeze meat sauce?
Refreezing an acidic sauce like tomato, which doesn't contain any meat, is relatively safe. However, sauces containing things like ground beef or Italian sausage are not.
The good news is that meat sauces can be refrozen safely as long as they have been properly thawed, reheated, and allowed to cool before being refrozen.
It would be best to make sure that the sauce and any meat products are reheated to an internal temperature of 165°F.
---
How about barbecue sauce?
Okay, I understand that you're not likely to use barbecue sauce with spaghetti (I guess some do, so each their own), but on the subject of freezing and reheating sauces generally, I am often asked about how to treat barbecue sauce.
So here goes.
Frozen barbecue sauce that has been thawed is very straightforward to use because, ordinarily, you don't want to heat it.
It's simply a case of defrosting it and brushing it onto your burgers, ribs, or stakes, or whatever else you might be cooking.
If you have any leftover defrosted barbecue sauce and you're thinking about refreezing it, follow the steps outlined above under the heading, "how to use spaghetti sauce."
You could omit the cooling down process unless you reheated it for some curious reason.
---
Packaging, refrigerating and reheating a pasta dish sauce and all.
The most important thing when storing leftover spaghetti and pasta sauce is to allow it to cool but ensure that you get it into the fridge within two hours.
1

Cooling and refrigerating
If you've got a lot of leftovers, divide them into portion-size containers to allow them to cool more rapidly.
When you transfer the containers into the fridge, do not stack them. Spread them around as best you can. If you do stack them, you run the danger of maintaining heat in the containers in the center of the stack.
If your only option is to stack them, you will need to rotate them every hour to ensure they are all cool, nice, and evenly.
After they have cooled, you can label and date each one to know which to use first.
---
2

Reheating a leftover pasta
When you reheat any leftover food, you should always ensure that it reaches an internal temperature of 165°F.
Reheating the spaghetti takes almost no time. Start by bringing a large pan full of water to a boil.
While you're waiting for the water to boil, transfer the sauce into a saucepan and simmer it gently on your stovetop, giving it an occasional stir to ensure it doesn't stick to the bottom of the pan.
While your sauce is gently simmering and the pan of water for reheating the spaghetti has boiled, carefully dunk your spaghetti into the pan, immersing it totally.
Allow it to carry on boiling for about 30 seconds. That's all it needs.
---
3

Reheating in the oven

Another way of reheating spaghetti sauce is in your oven.
If you're taking this option, preheat your oven to a temperature of 350°F.
Transfer the sauce into an oven-safe dish and cover with a piece of aluminum foil to seal in the moisture and stop it from drying up.
Drain the reheated spaghetti, serve, and spoon over with the reheated sauce.
---
4

Reheating spaghetti mixed with sauce in the microwave

If you choose to reheat spaghetti already mixed with sauce, you can do so in the microwave.
Microwave the mixture for 30-second interval for about two minutes (maybe more depending on the size of the batch), being sure to give it an occasional stir.
Once finished, allow the dish to sit for another couple of minutes to ensure the heat is distributed evenly throughout.
Remember the golden rule when reheating food, ensure it reaches an internal temperature of 165°F.
---
How long can you keep dry spaghetti?
Dry spaghetti or pasta has been dehydrated and therefore doesn't contain any moisture. It is even safe to consume when it's past its best by date. However, it is likely to have lost some flavor.
Because it's dehydrated, dry pasta or spaghetti is more likely to disintegrate rather than decay. Ideally, it should be stored in a temperature range of 65°F to 80°F in a low humidity atmosphere.
---
How to tell if cooked pasta is bad?
You will normally tell that fresh pasta or spaghetti has gone off by its appearance and feel.
Just before mold starts to grow, pasta becomes sticky or gooey. It also starts taking on a grey or white hue.
If it's completely turned, it will also have a horrible smell.
If you spot any of these signs, it's time to throw the spaghetti away.
---
Will bad spaghetti make you ill?
When spaghetti goes off, it can make you ill in many ways, depending on what sort of bacteria or fungi are thriving.
The symptoms of food poisoning can be anything from a mild tummy ache to severe stomach cramps, diarrhea, fever, and vomiting.
One of the most common bacteria is Bacillus Cereus. This nasty little devil loves starchy foods like pasta, and once established, it cannot be removed by boiling.
It can cause severe bowel and stomach upsets and even death in rare cases.
Spaghetti can also pick up campylobacter, listeria, or salmonella infections when combined with sauces whose ingredients include dairy, eggs, or meat.