Egg Rolls or lumpia should be lovely, light, and crunchy. There are not many things more disappointing than sorry, oil sodden lumpia.
If you would like to know the secrets behind how to make the perfect, dry, and crispy rolls, you've come to the right place.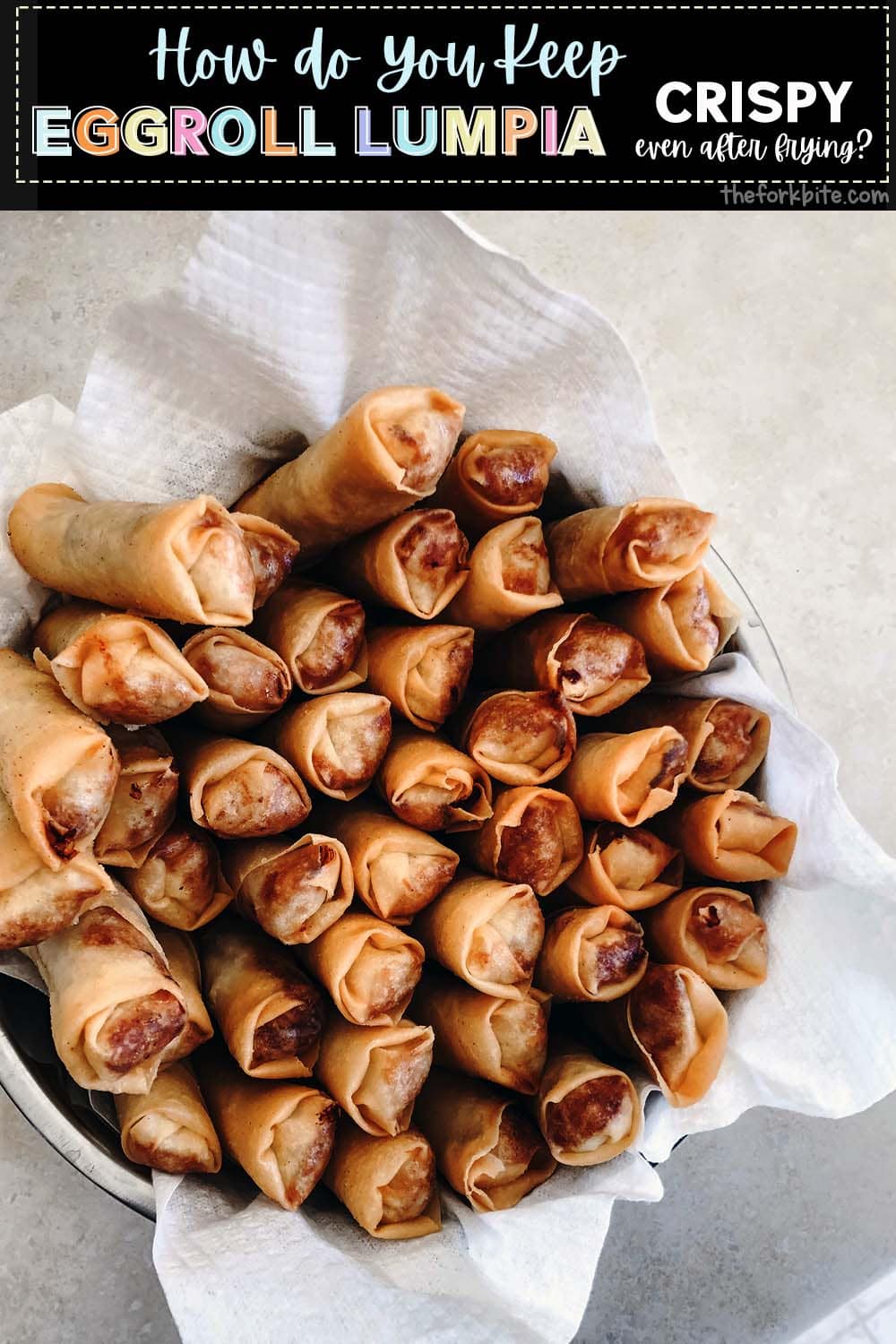 ---
Jump to:
What is lumpia or egg rolls?
Lumpia, also known as "lumpiang", is the Indonesian or Filipino version of US egg rolls originally coming from China.
Filled with fillings like meat and vegetables, then wrap in egg-based wrappers. The ones we have here in the States are known as egg rolls, but they are all very similar, like the Chinese Spring Rolls.
---
Egg rolls vs spring rolls - the difference explained.
The big difference between US egg rolls and Chinese Spring Rolls is the wrappers. US egg rolls have much thicker wrappers than spring rolls. The thicker wrappers give you a more substantial bite.
Chinese Spring Rolls are made very similar, but the wrappers are much thinner than the thickness of a French crepe. Because they are thinner, they cook that much faster. The fillings tend to be pretty much the same.
Another variant of these types of rolls is the Vietnamese summer roll. But the big difference here is the wrapper made of rice paper.
The rice paper is soaked in a bowl of warm water, after which it is gently laid out and filled with summer salad veggies. They are delicious and refreshing especially served with peanut sauce dip.
Whether we are talking lumpia, egg rolls, spring rolls, or summer rolls, all are delicious and make excellent party fare.
Still, here in this article, we will be concentrating on the deep-fried version of lumpia, which you can make with homemade or shop-bought wrappers.
---
How to keep lumpia crispy after frying?
I have used this method many times, and on each occasion, the rolls are still lovely and crispy even after five hours.
Follow these tips below, and you can't go wrong.
1 First of all, smear or brush the egg roll or lumpia wrapper with oil before adding the fillings. Doing this process makes the egg rolls crispy when frying, hence stay crispy for long.
Doing this process (brushing oil in the egg roll wrapper) will help ensure that the wrappers' inner layers are adequately cooked without the outer layer burning.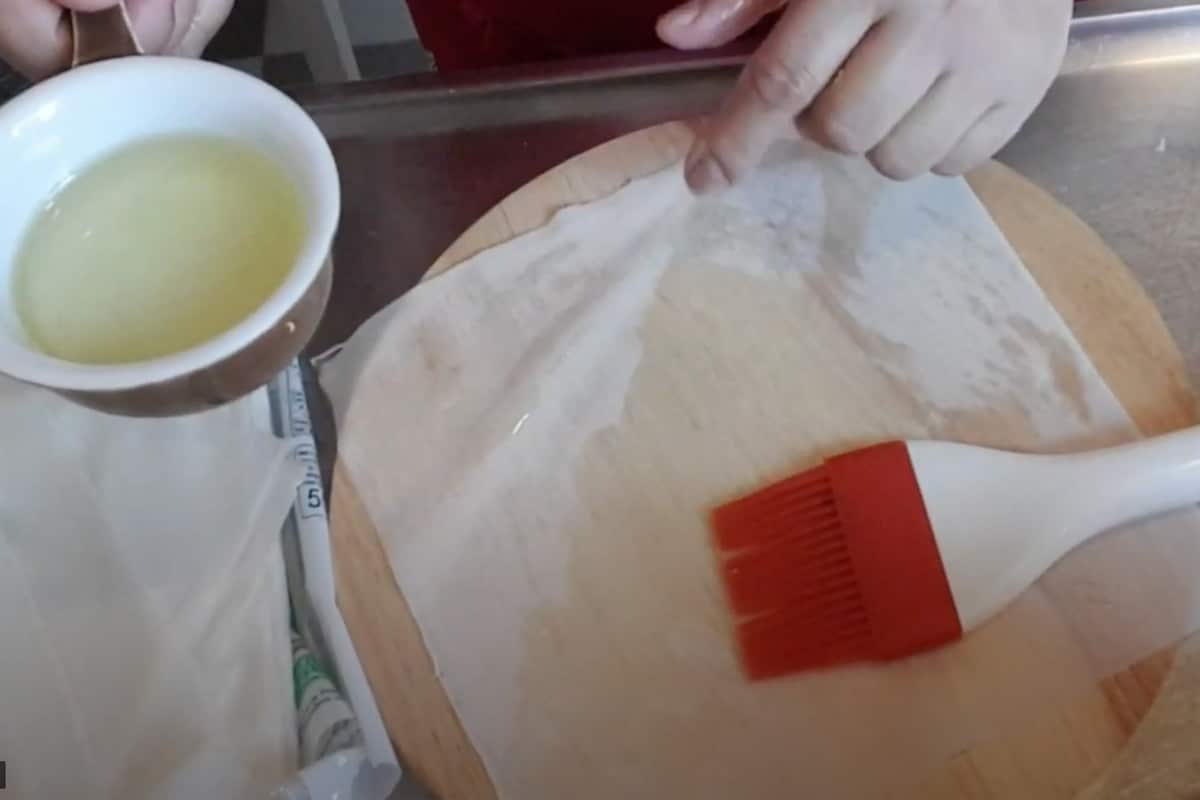 ---
2 When you fry egg rolls or lumpia, the oil need only be slightly hot. You don't want it too hot. The trick is to increase the temperature as you cook gradually.
Checking the oil: Dip in a wooden cooking spoon. The oil is ready when small bubbles rise up around the wooden spoon.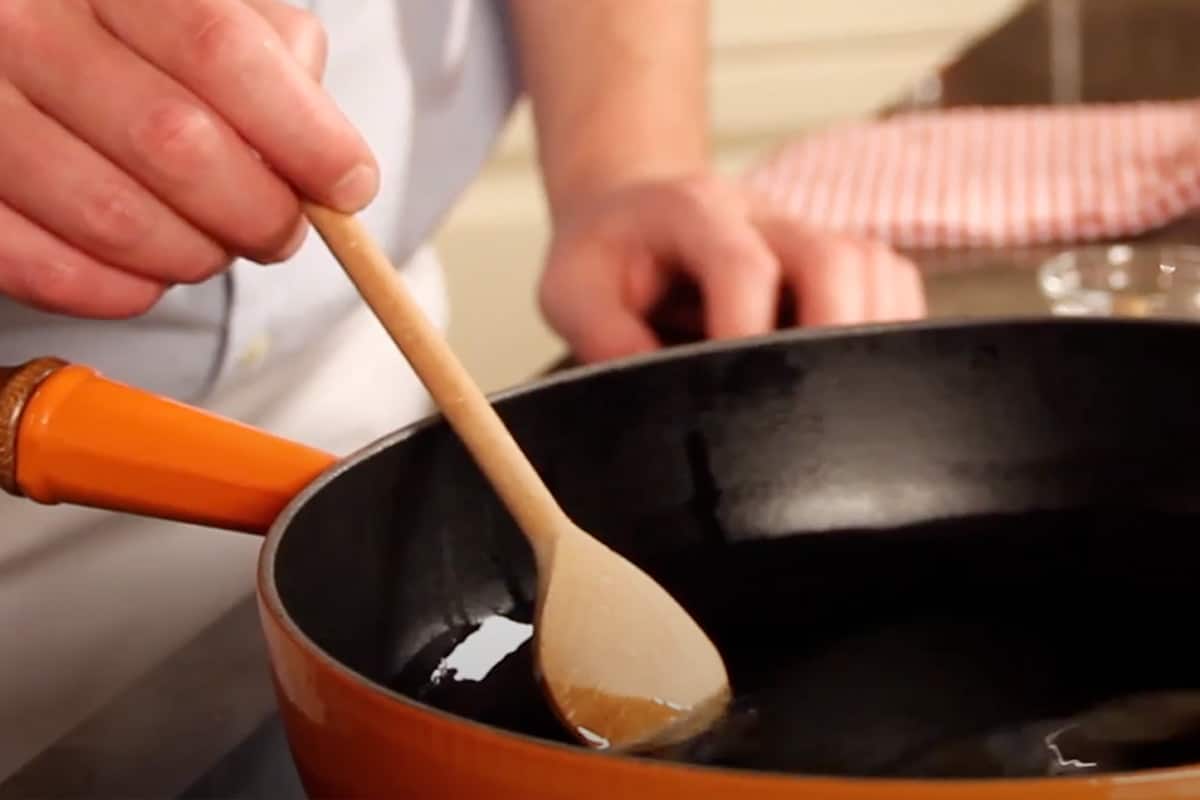 ---
3 It's best to use freshly made wrappers that are not dry but still retain some moistness.
---
4 Cook until the rolls brown nicely on one side and then turn them over. It takes few minutes, so don't be too hasty.
---
5 The idea is to fry them nice and slowly to allow them to brown gradually. If your egg rolls brown very quickly, the oil you're using is too hot, and the egg rolls will not turn out nice and crispy. They will burn.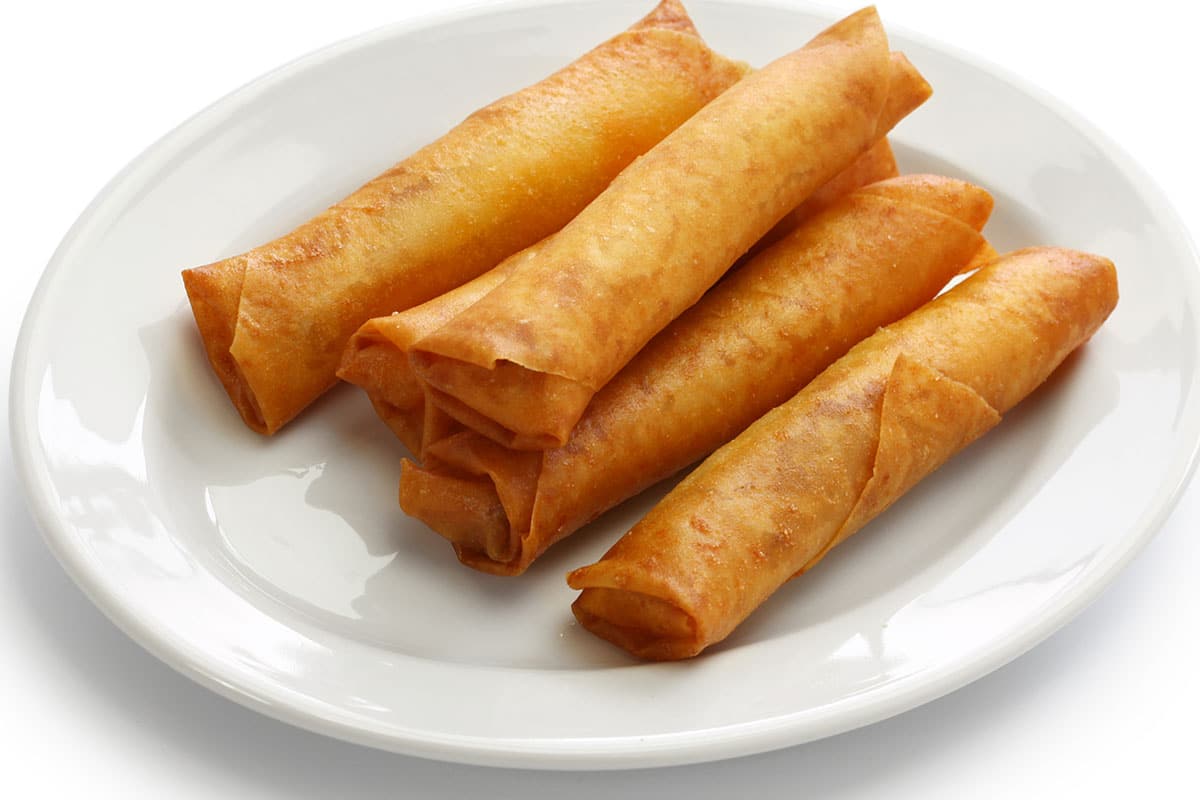 ---
6 Once you've evenly brown them all over, you need to get rid of the excess oil straight away, as this is what will help to keep them crisp for longer.
---
7 Transfer the lumpia into a colander or strainer to allow the oil to drain away. To dry them further, you can apt them gently with some paper kitchen towel.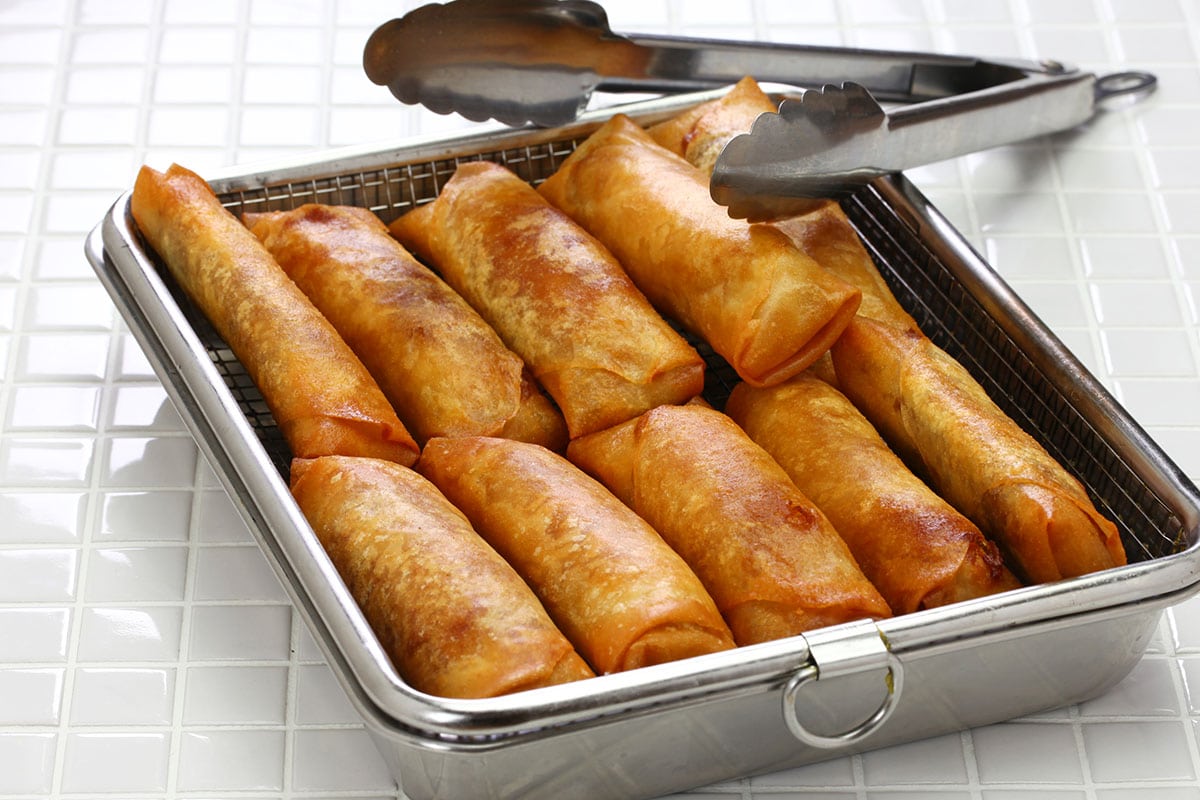 ---
How to soften lumpia wrappers
If the wrappers you've got are dry and stiff, you can transfer a few sheets at a time onto a plate.
Cover them with a damp towel and microwave on a medium power setting for approximately 10 seconds. After which you'll find they should be nice and soft and ready for use.
---
How long can you keep lumpia in the freezer?
When uncooked, lumpia can be packed in tightly sealed freezer bags and frozen for up to 3 months. When the time comes to cook them, you don't need to defrost them first. You can simply transfer them straight into a pan of hot vegetable oil.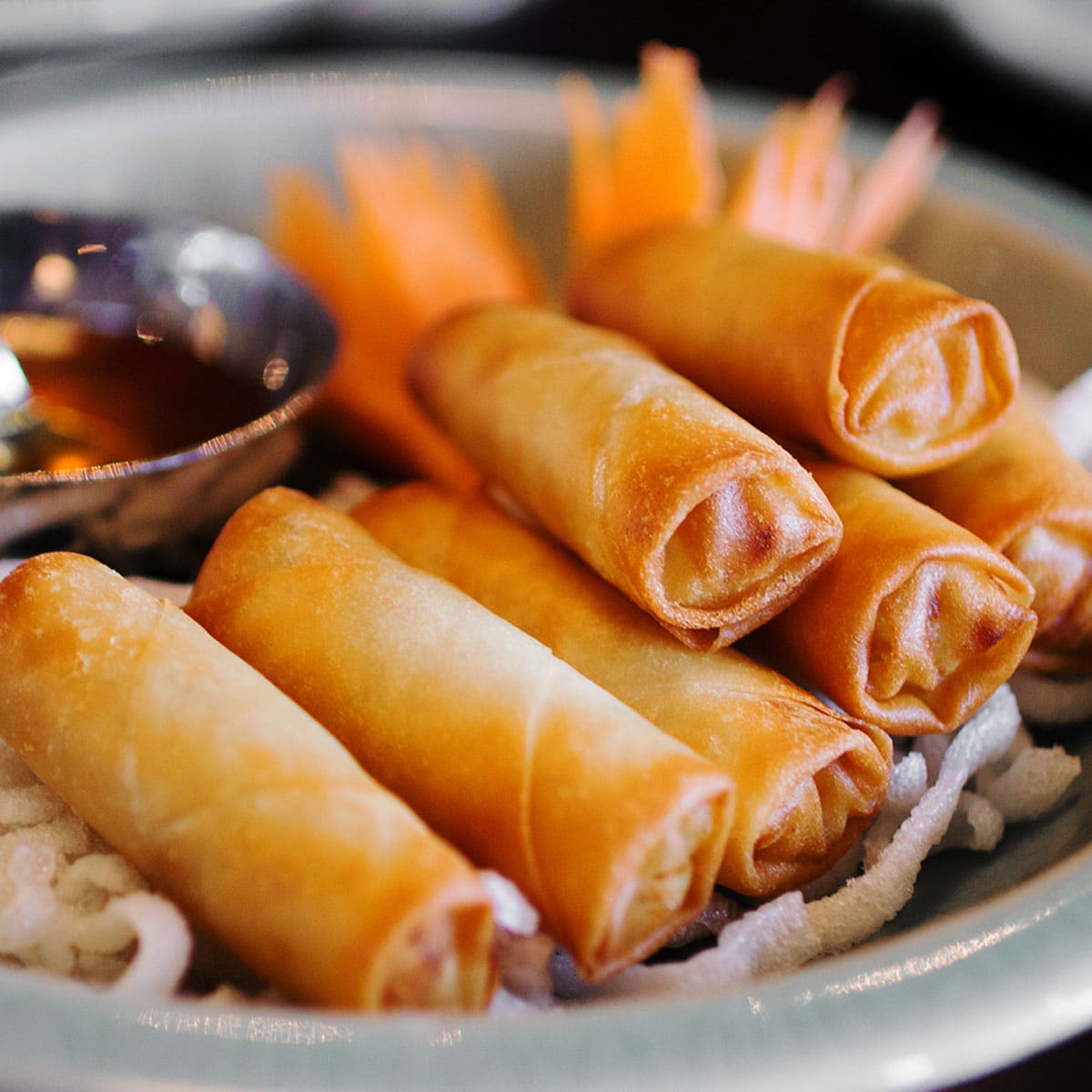 ---
How to keep lumpia from sticking together
The best way of preventing your lumpia from sticking to each other is to layer the bottom of a freezer-proof tray with parchment paper.
Put the rolls in position and dust them all over with a bit of cornflour or general-purpose flour.
---
Do you need to thaw frozen lumpia before frying?
As briefly mentioned above, there is no need to defrost frozen lumpia.
You can take them straight out of the freezer and transfer them immediately into your fryer.
It helps to keep them crisp and retains the best flavor.
---
Top tips when making egg rolls or lumpia
I prefer to deep-fry my lumpia, but it is essential to have the oil at the right temperature, so I use a deep-fry thermometer.
It's important because too low a temperature will result in soggy, partly cooked lumpia, while too high a temperature will tend to burn the outer layer. 350°F is about right.
1

Don't overcrowd the pan.

If you do, it will reduce the temperature of the oil, which will, in turn, make the lumpia soak up more oil. It's best if you cook the egg rolls in small batches at a time.
---
2

Keep egg rolls or lumpia warm in a low-temperature oven.

To keep your lumpia warm before serving, put a cooling rack onto a baking sheet. Position the egg rolls on top, and place the sheet into a pre-warmed, low-temperature oven.

Placing them on a cooling rack allows the air to circulate and helps to keep them nice and crispy.

If you prefer, you can make your lumpia in advance, store them in your fridge overnight and fry them the next day.
---
What oil is best for frying egg rolls?
The best way of getting nice crispy lumpia is to deep fry them. However, it is vital to use the right oil because some are more suitable than others.
Look for oil with a high smoking point (which relates to the temperature of around 450°F/232°C) and has a neutral taste. Oily tasting lumpia is not pleasant.
If you use an oil with a low smoking point, not only will you generate a lot of smoke, but you'll also find that the lumpia smell and taste of burnt oil.
Oils to avoid using, include sesame oil and olive oil.
I find that the best oil is peanut, which has both a high smoking point and a lovely nutty flavor.
If you don't have any peanut oil, you can use canola or corn oil as an alternative, although it's not as nice.
As well as the oils I've already mentioned, suitable high smoking point oils include:
Choose with care as some taste better than others; the more neutral the taste, the better.
Don't leave your lumpia out overnight.
---
How long can leftover egg rolls be left at room temperature?
Like most foods, egg rolls should not be left outside the fridge at room temperature for long.
The so-called "danger point" for food left outside the fridge is between 40°F and 140°F. Bacteria thrive and increase rapidly between these temperatures.
No foods, including lumpia, should be left outside the fridge at room temperature for longer than 2 hours.
To prolong the shelf life of lumpia or egg rolls, you should put them into a sealed airtight container or wrap them tightly in plastic food wrap or heavy-duty aluminum and refrigerate them.
Correctly stored in this way, you can leave them for up to 3 to 4 days in your fridge.
If you want to store them for longer, then the best thing to do is freeze them, cover or wrap them in airtight containers or heavy-duty freezer bags.
You can also use heavy-duty aluminum foil or freezer-safe food wrap.
---
The best way to freeze egg rolls
Both egg rolls and lumpia are one of the most popular dishes in Asia. They can be served on their own as a delicious main dish with dips, a starter, or a snack.
If you're having a party or gathering, egg rolls or lumpia are the perfect party food. You can prepare them in advance and freeze them either cooked or uncooked.
If you are going to freeze them, this is the way I recommend you do so.
---
Freezing uncooked lumpia
1 Take a freezer-proof tray and line it with a sheet of parchment or wax paper.
---
2 Position the uncooked lumpia on top of the parchment paper allowing an air gap between each one. To prevent them from sticking together, you can coat egg rolls with a light dusting of cornflour. It isn't necessary, however, if there is a small gap separating them.
---
3 Wrap the tray, covering the lumpia with cling film. Wrap it nice and tightly to prevent cold air from getting inside, as this will result in the lumpia becoming dry.
---
4 After about an hour, they should be partially frozen, and if they are hard enough, you can store them in a freezer bag if space is an issue. If you transfer the lumpia into a bag, take out as much air as possible before sealing.
---
5 When cooking frozen lumpia or egg rolls, you can take them straight from the freezer and transfer them into your frying pan or deep fat fryer.
---
6 If the oil is at too high a temperature, the lumpia might crack open.
---
7 Heat the oil at a medium-low temperature for the first 3 to 5 minutes. You can do this according to the size of the egg rolls.
---
8 You can then turn the heat up to finish cooking the egg rolls to give them a nice goldy brown color and crispy texture.
---
Read: Crispy Homemade Egg Rolls recipe
Freezing cooked lumpia
1 Allow the lumpia to cool down after cooking before transferring them to your fridge or freezer.
---
2 Once the egg rolls have cooled down, wrap them tightly in clingfilm.
---
3 Transfer the wrapped lumpia into a freezer-safe bag or container, seal, and freeze. Before you seal, take out as much air as possible.
---
4 You can transfer your cooked frozen lumpia straight into your frying pan or deep fat fryer as with the uncooked frozen lumpia. Follow the same procedure, ensuring that the oil isn't too hot, to begin with.
---
How long can leftover egg rolls last in the freezer?
You must store the egg rolls or lumpia correctly to keep them for approximately 1 to 2 months. You can store them even longer, although the flavor will begin to deteriorate.
If kept at a steady temperature of 0°F, lumpia will remain safe to eat almost indefinitely.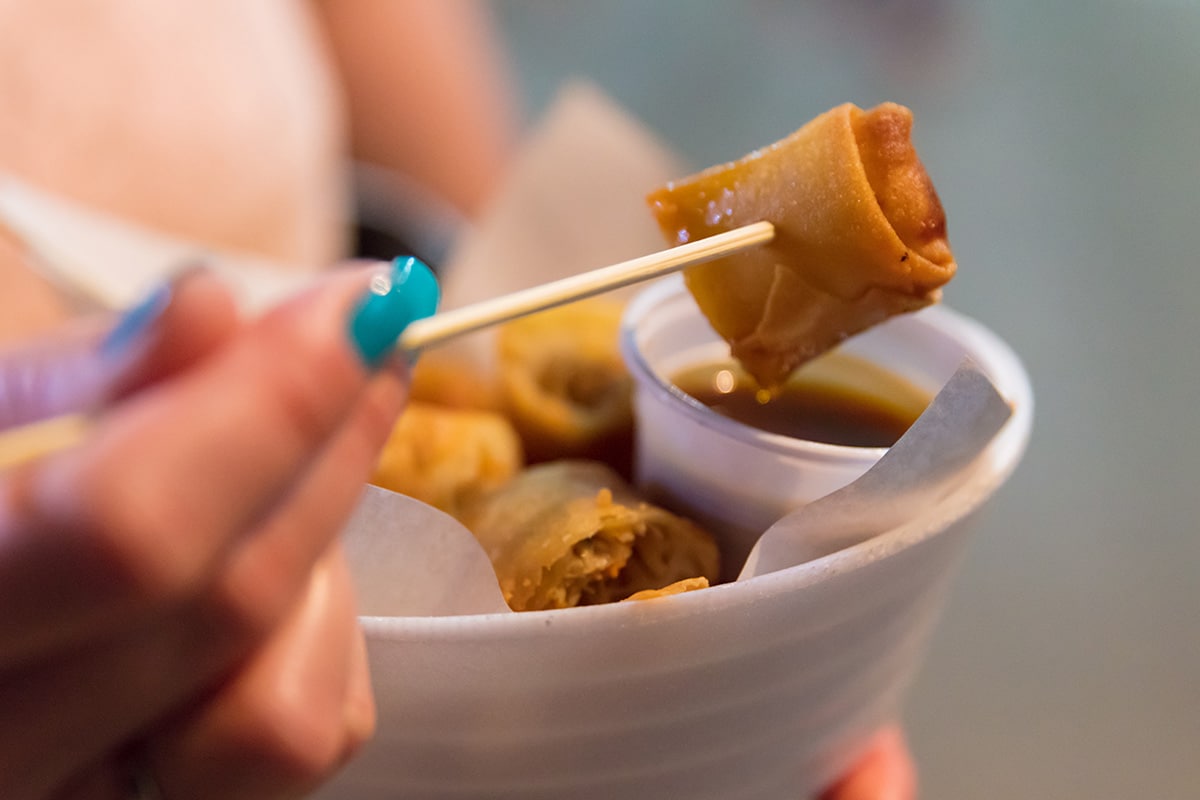 ---
How long do leftover egg rolls last after being frozen and thawed?
If you defrost frozen lumpia overnight in your fridge, you can keep them refrigerated for up to 3 to 4 days.
If you defrost them in your microwave or with cold water, you should eat them straight away.
---
How do you keep egg rolls from getting soggy?
I discovered another great way of ensuring that my lumpia are crispy. Fry them twice.
I find that putting freshly made egg rolls into the fridge for 10 to 15 minutes helps them dry a little, which makes them beautifully crunchy when fried.
When you first fry them, do so on medium-low heat. The aim is to cook first, remove from the oil, drain, and let them cool.
If you want to, you can transfer them to your freezer at this stage for longer storage.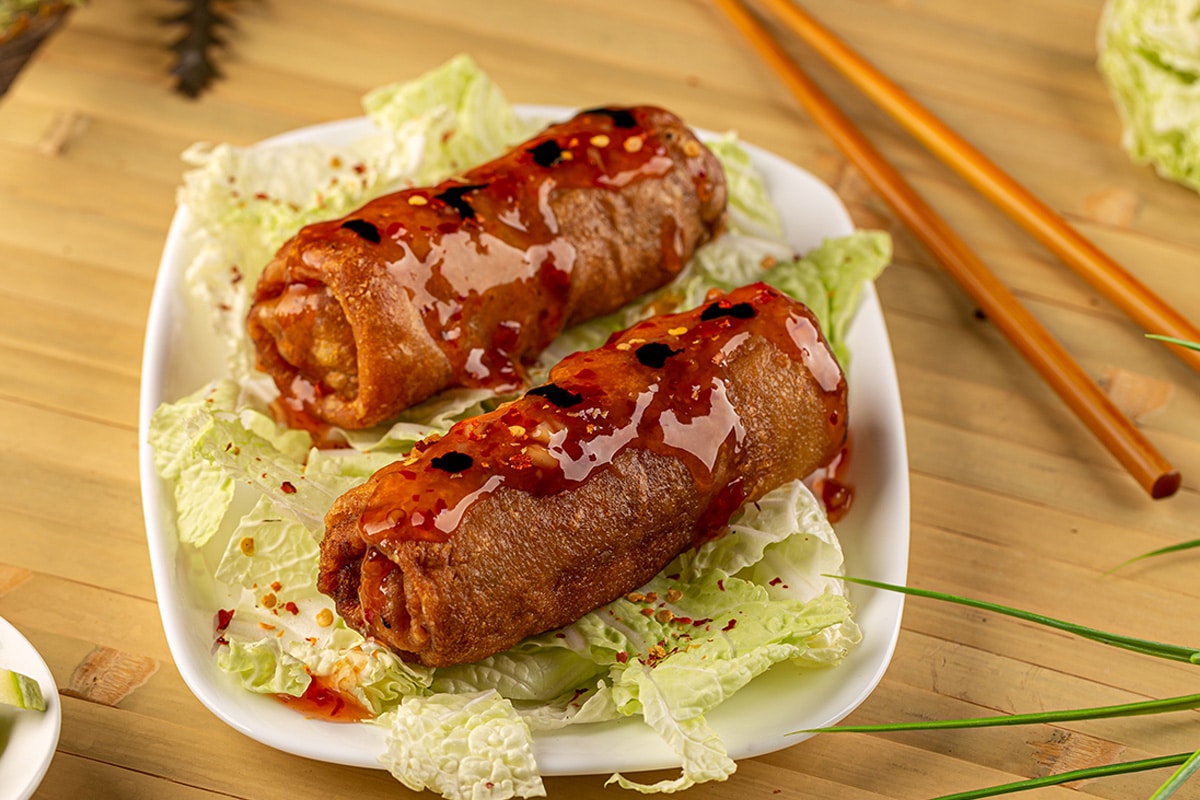 Once your lumpia have cooled satisfactorily (and assuming you're not going to freeze them), you can fry them for a 2nd time in medium hot oil until they get that nice golden brown color and deliciously crunchy.
I usually deep frying them as it produces that lovely crispy eggroll you're looking for.
As I mentioned earlier, take care not to overload the pan. If you do, there is a greater risk of the lumpia sticking together and the skin tearing.
If it does, they will fill with oil and become greasy.
As an alternative to 2nd frying, you can transfer the lumpia into an oven preheated to 390°F. As well as being less greasy, they will still be nice and crunchy.
Read: How to Reheat Egg Rolls
---
Why do my egg rolls fall apart or exploding when frying?
1

Rolling tight or overfilling

One of the things that can cause your egg rolls to disintegrate when you fry them is if you roll them too tightly. The other thing is overfilling them.

To combat this, roll them a little looser and add a little less filling while still keeping them the same size.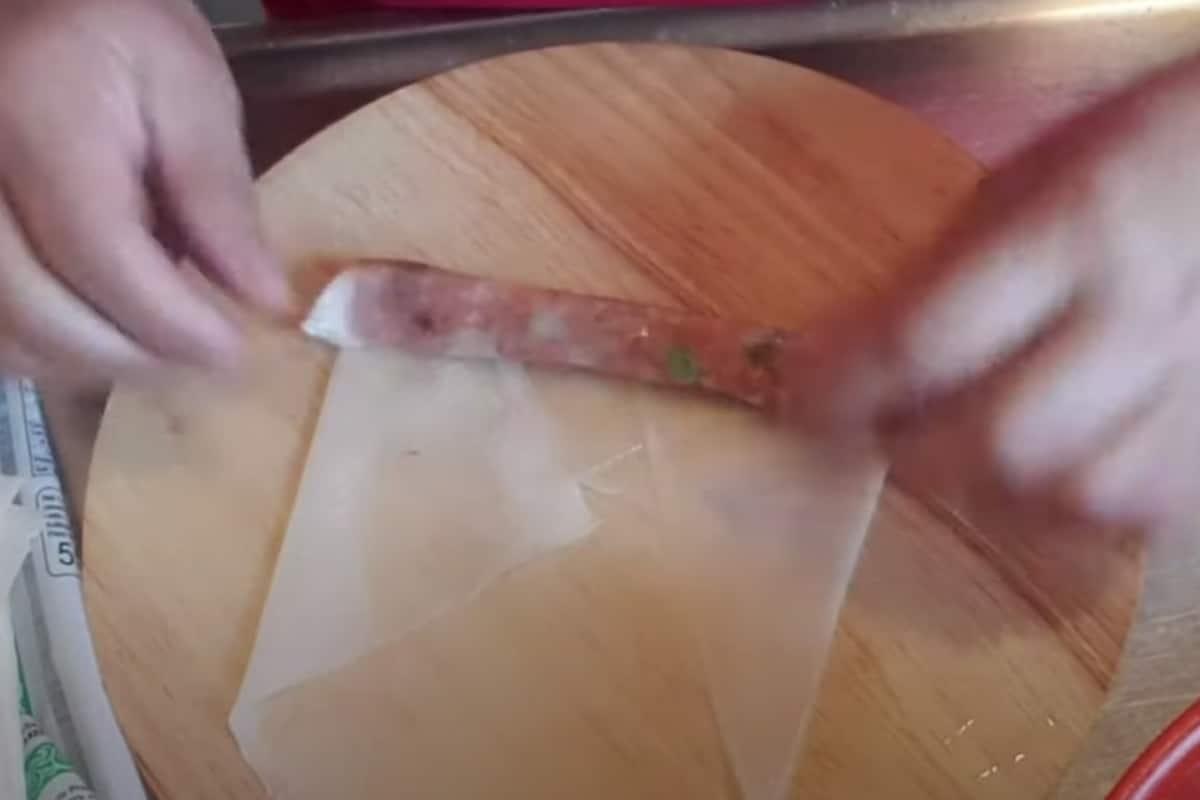 ---
2

Using cheap brand of wrappers

Another possibility is that you are using inferior lumpia wrappers. Try another brand and see if that makes any difference.
---
3

Too much liquid on the fillings

Making the filling too liquidy can also cause problems. As the liquid turns to steam, it can burst the pockets as it seeks an escape route.

So, try and make the filling a little drier. It still needs to be moist but not overly so.
---
4

Wrapper is a bit dry

If your wrappers are too dry, this can also lead to the lumpia bursting. You can keep them moist while doing the filling process by lining your work surface with a wet paper kitchen towel.
---
5

The oil temperature is too hot

Last but not least, adjust the temperature of the oil if it turns too hot. If it is, this could cause steam to build up inside the wrapper, making them burst.
---
Helpful tip
If the filling for the lumpia is too wet, you should try and squeeze out any excess moisture.
One way to do this is to wrap it in a paper kitchen towel and gently squeeze it. Whatever you do, don't overfill the egg rolls. If you do, they will be that much more difficult to seal.
---
What to do if your wrappers are soggy
When you're lumpia wrappers are too soggy, they can easily tear.
If this is the case, they must be handled gently, and instead of sealing them with plain water, coat the edges with beaten egg and sealed them using a pastry brush.
Follow these steps:
Make your lumpia as per the recipe but seal with beaten egg rather than water.
Break the egg into a small bowl. Gently take your lumpia and seal by dipping a pastry brush or a finger into the egg mixture and coating the edges of the wrapper. Don't be afraid to use more of the egg mixture if necessary.
You can use this same fix for both savory lumpia or sweet caramelized turon.
---
Delicious Asian Dipping Sauces
Before I sign off, I would like to suggest three delicious Asian dipping sauces, any of which will go perfectly with Chinese spring rolls, Filipino lumpia, or US egg rolls.
They are:
I guarantee they are all equally delicious, and you can find the recipe for all three here on the culinaryginger.com website.