One of my best friends from elementary school has remained my friend through high school, college and still remains a significant part of my life. We spent hours eating together in all types of restaurants and situations, from fast food to formal and quick meal at one of our homes to a picnic in the park with our family.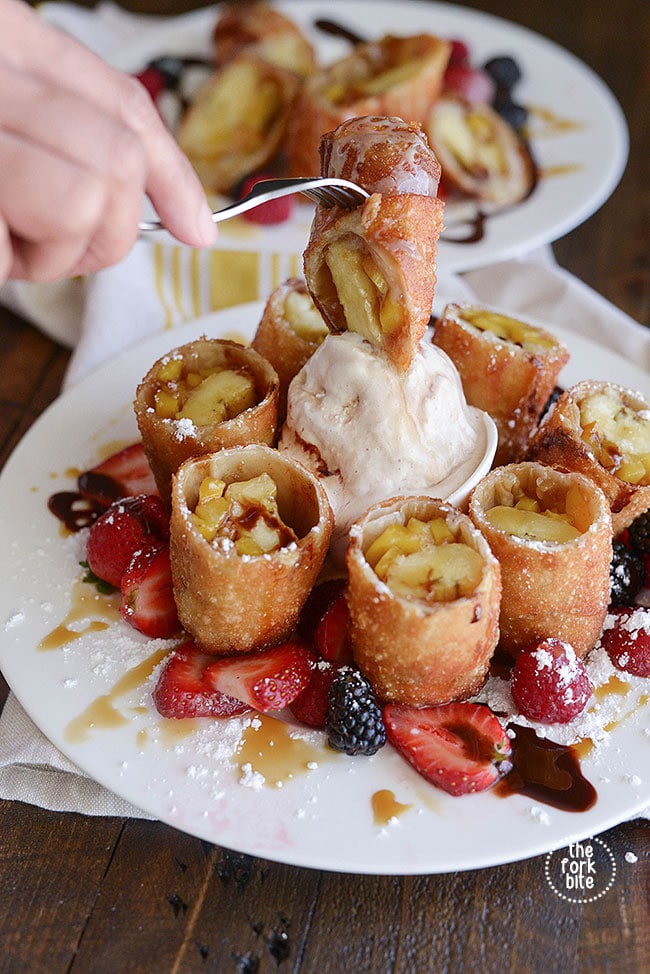 When it was time to throw her a birthday celebration, I knew exactly what she'd love for dessert. We both absolutely adore the banana spring rolls with the drizzled caramel sauce and a side of coconut pineapple ice cream from PfChangs. I decided that I had to make it for her special day.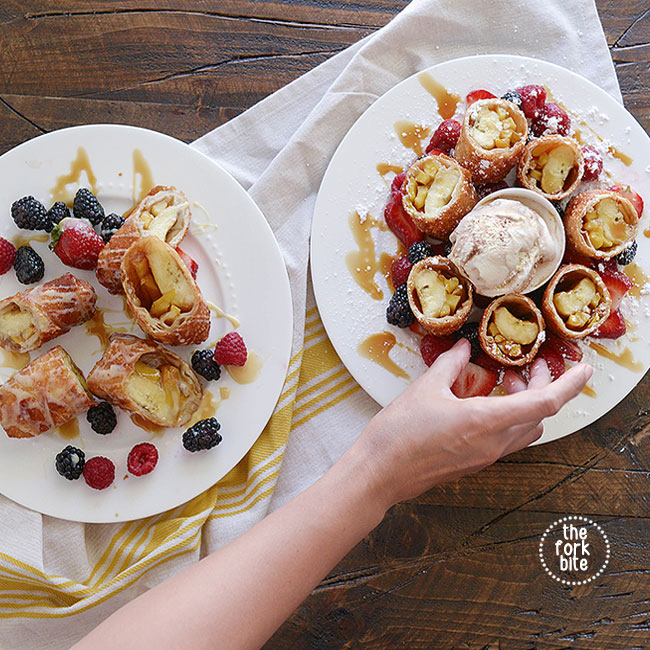 Even though it was intimidating, this recipe was really easy and tasted positively divine. The hardest part was the caramel sauce since I purchased the ice cream. Initially, I thought I might make the ice cream, as I did find a recipe online, but then saw it in the grocery while I was shopping and decided that Haggan-Dazs was just as delicious as homemade and quicker. I was running behind as usual and was glad to delegate the task to the professionals.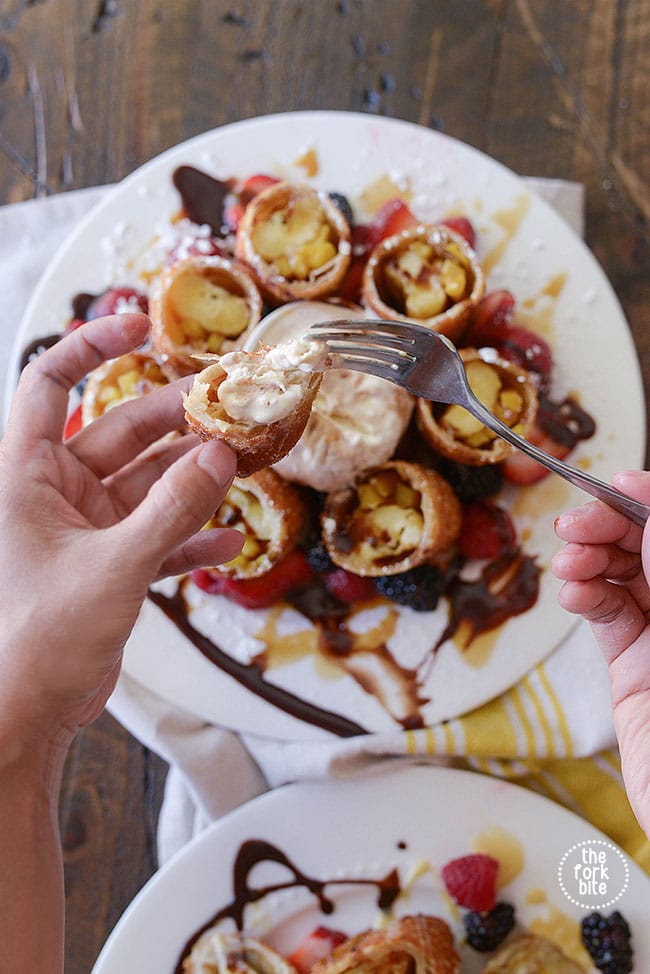 The only "difficult" part is watching the caramel sauce to ensure it was perfect, while also frying the banana spring rolls. While you can make the sauce ahead, I love to make it at the time of serving, it just seems to taste better. My husband actually helped me here, so we could get the dessert prepared and on the table in a flash.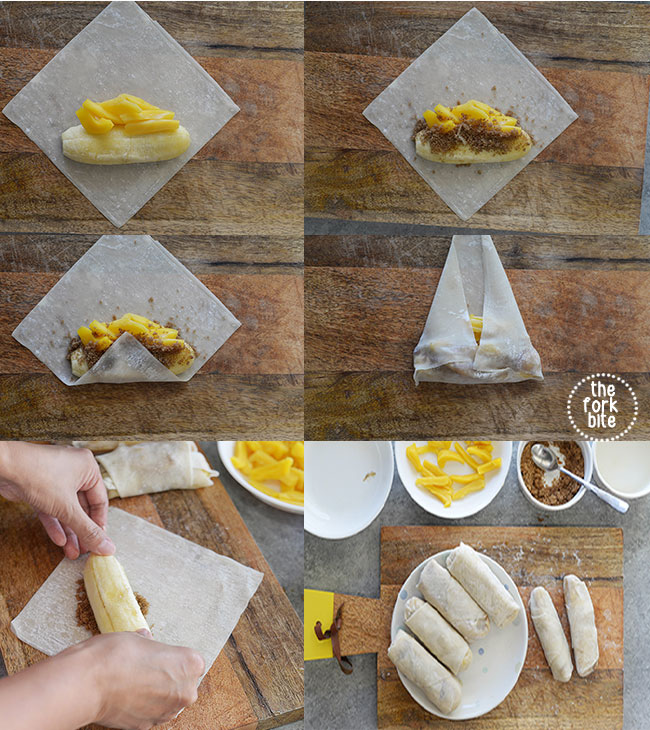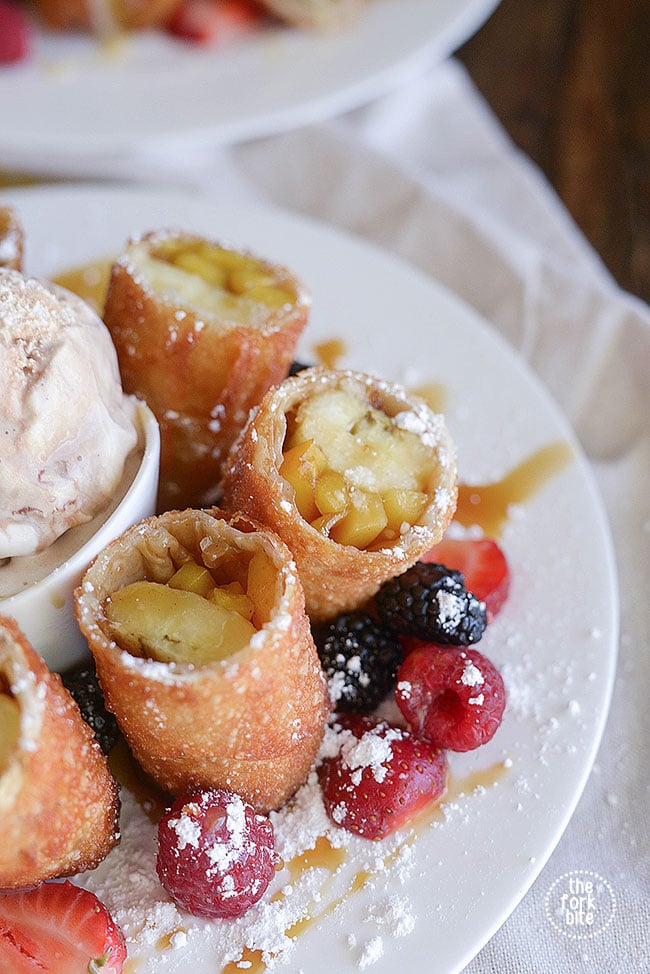 He stirred the caramel sauce while I wrapped the bananas in the wonton wrappers and heated the oil. We then switched positions and he took over the bananas while I finished the sauce. It went smoothly, was finished in a flash and all that was left to do was serve it with the ice cream. OMG! It was perfect and my friend loved the fact that I took the time to make her birthday so special.
PF Changs Banana Spring Rolls - Turon Recipe
3-4 ripe Saba bananas (or cooking bananas)
8 wonton wrappers / Egg roll wrappers
1/4 cup brown sugar
1/8 teaspoon Chinese five spice mix* (available at Asian market - see NOTES below)
jack fruit in can
oil for frying
Caramel Sauce (or you can just buy the ready-made one)

1 cup sugar
4 tablespoons water
2 tablespoons light corn syrup
1/2 cup heavy cream
2 tablespoons butter
Instructions
Preheat oil to 350 degrees in a saucepan or a deep fryer.
Set two small bowls side by side, one with a scoop of brown mixed with the five spice, one with water. Separate the egg roll wrappers you are going to use, one per half banana.
Add the sliced banana, some jackfruit and brown sugar (mixed with Chinese 5 spices).
Wrap them up like the pictures above and place in the preheated oil.
Deep fry until the color changes to crispy brown.
Set aside and serve hot.
Notes
DIY Chinese five spice : Mix all the ingredients. 1 teaspoon ground cinnamon 1 teaspoon crushed anise seed or 1 star anise, ground 1/4 teaspoon crushed fennel seed 1/4 teaspoon freshly ground pepper (or 1/4 teaspoon Szechuan pepper) 1/8 teaspoon ground cloves.
Nutrition Facts
PF Changs Banana Spring Rolls - Turon Recipe
Serves
Amount Per Serving
Calories

520.32 kcal

% Daily Value*
Total Fat

28.93 g

44.5%
Saturated Fat

6.86 g

34.3%
Trans Fat

0.19 g

Cholesterol

30.89 mg

10.3%
Sodium

194.84 mg

8.1%
Total Carbohydrate

64.19 g

21.4%
Dietary Fiber

1.9 g

7.6%
Sugars

40.18 g

Protein

4.03 g
| | |
| --- | --- |
| Vitamin A | Vitamin C |
| Calcium | Iron |
* Percent Daily Values are based on a 2,000 calorie diet. Your daily values may be higher or lower depending on your calorie needs.
https://www.theforkbite.com/pf-changs-banana-spring-rolls-turon-recipe/