Sometimes, you get carried away when you order Chinese takeout that you have to figure out how to eat egg rolls. The most common food item in the Chinese takeout menu is the egg roll. This portable, easy-to-eat dish can be quite addictive.
Even so, there are times when you just can't finish your serving of egg rolls. If you want to store them, egg rolls can keep in your fridge for four days. Store them in a Ziploc bag or an airtight food container. To enjoy them after, you still need to reheat your egg rolls.
How do you reheat these ready-to-eat morsels? You can heat your egg rolls using your microwave, initially. Then, you move on to heating them using your toaster or your oven. You can essentially reheat egg rolls with even your air fryer or frying pan on our stovetop cooker.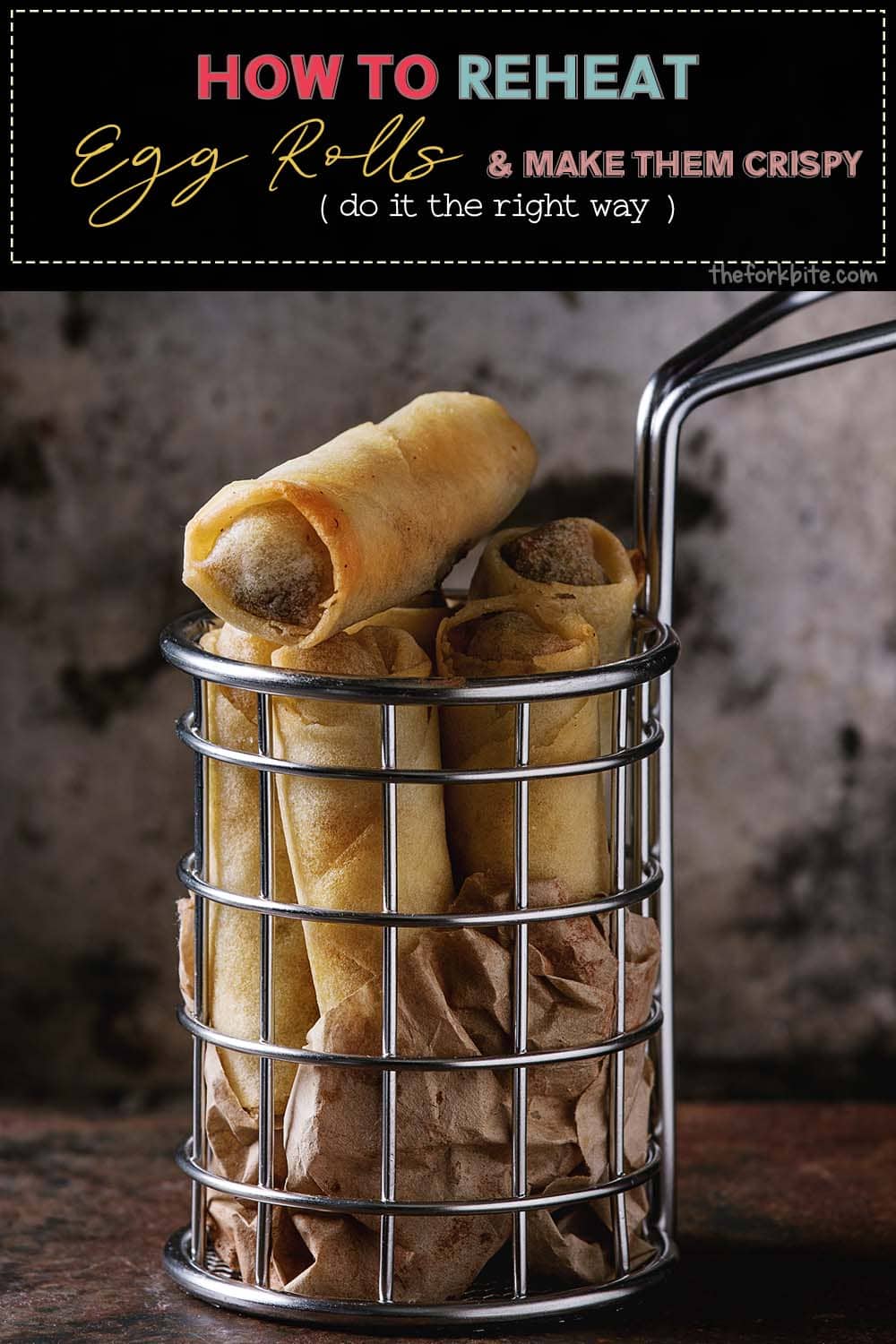 ---
Jump to:
Reheating Yesterday's Egg Rolls
Freshly-cooked egg rolls are crispy because they were deep-fried. In reheating last night's egg rolls, you should make sure that you preserve the crunch.
When you store egg rolls in the refrigerator, they get a bit soggy. Many, like me, have reheated numerous egg rolls in the microwave. They're still delicious, but unfortunately, their crunch usually disappears. It's similar to eating a thin sheet of noodle that surrounds some filling.
---
Recommended: Reheating in a Microwave and Then Oven
This method is maybe one of my favorites when it comes to reheating egg rolls. It allows the cold egg rolls to crispy on the outside and just become hot and juicy inside.
Time is what you need to get that egg rolls crunchy again. To crisp up last night's egg rolls without burning them, here's what you should do:
Reheat the egg rolls quickly in the microwave to warm up the filling.
Transfer the egg rolls into a hot toaster or oven to jolt the egg roll wrapper to life.
Preheat your oven to 425°.
I love to run the egg rolls in the microwave for 15 seconds first. The filling heats up quickly.
The heating time depends on the microwave and on the number of egg rolls you have. If you have two egg rolls, 15 seconds is enough. You aim to warm them a little on the inside. The bottom of the plate should be a bit warm to the touch when the heating is done.
Then, you take the egg rolls and transfer them to your oven to toast them up. Bake the egg rolls for three minutes and then turn the rolls to bake for another three minutes. When I did this, my egg rolls didn't burn, but you can check your egg rolls sooner if you're worried. Consider the egg rolls if they're baked or fried and how soft they became in your fridge. The steps above might need some more adjustments.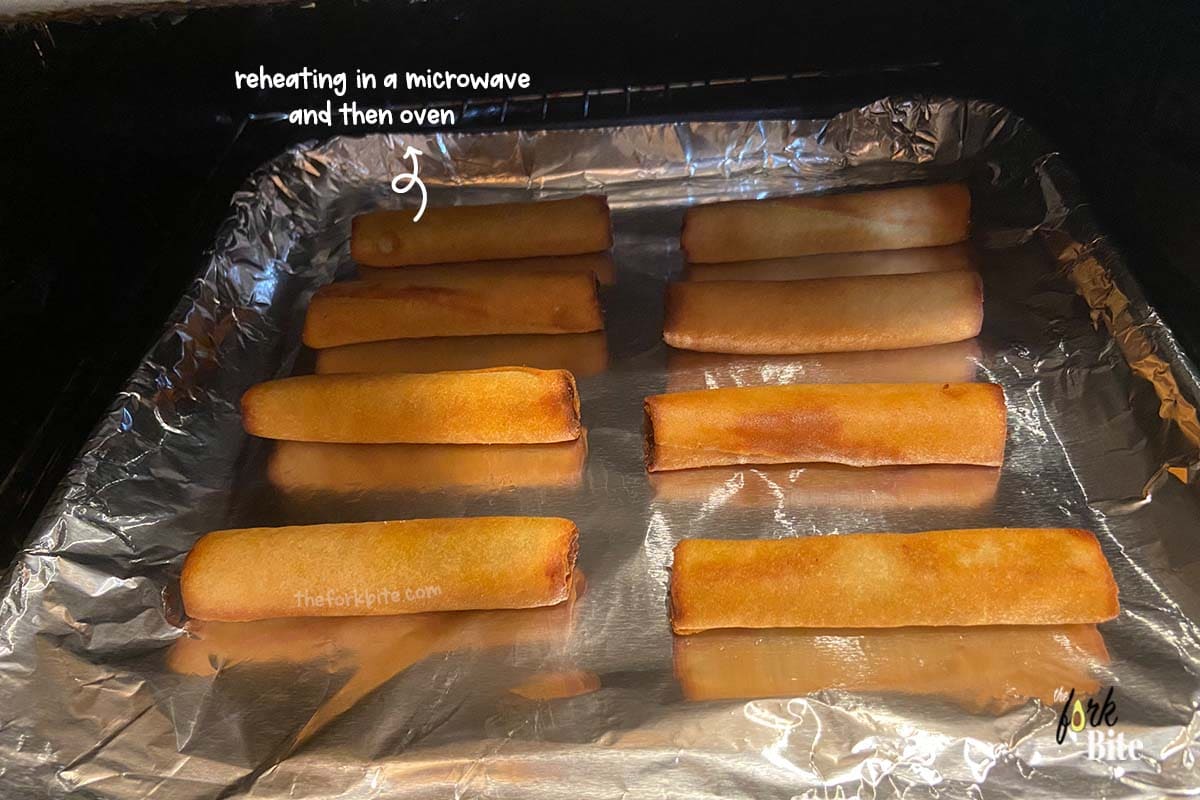 ---
If using a toaster:
Perform the same process mentioned above and toast your egg rolls for 7 to 10 minutes. If the egg roll wrappers are thicker, you need to keep an eye on the egg rolls depending on your egg rolls' size.
---
2nd best option: On the Stovetop – Skillet
If you want to know how to reheat egg rolls without using the oven and don't want to use the microwave to reheat food, you can just use your stovetop. This is your next best option for reheating your egg rolls.
Note: If you have egg rolls wrapped in a thin type of wrapper, you can use your stovetop cooker and skillet to warm it up. Because of their thin wrapping, I don't find it advisable to use a microwave. Their skin is too delicate that it might break.
I would place a non-stick skillet over medium heat and put some oil in it. I then place the egg rolls in the skillet. This is my favorite method because I am grilling the egg rolls this way.
If ever you decide to use an oven or a toaster, you can put your egg rolls in it with a little oil for about five minutes. You just have to flip them once.
---
Here is how to reheat egg rolls on the stovetop:
Get some oil and grease the non-stick pan. I find that canola oil works best for heating egg rolls.
Turn on the heat and place your egg rolls on the pan. Ensure that the oil is hot before you put the egg rolls in, or they will just soak all the oil. Their skin will only get soggier.
Start rotating the egg rolls to make them crispy and to warm them up as well. It will take about 5 to 10 minutes to reheat medium egg rolls.
Be sure to keep the heat low to keep the egg rolls from absorbing all the oil.
Once the egg rolls are crispy and heated up, take them out of your skillet.
Get a serving platter, lines with a few paper towels.
Place your heated egg rolls on the platter so that the paper towel lining can absorb the excess oil. It is best to serve the egg rolls immediately.
Low heat is the first secret to heating egg rolls on your stovetop and your skillet. Second is not to leave the egg rolls long in your skillet.
High heat will only make the skin crispy. The inside will remain cold. This is a common problem, especially with egg rolls that have thick wrapping.
If you leave the egg rolls too long in the skillet, the filling will dry up. The egg roll wrapper will also end up absorbing excessive amounts of oil.
---
3rd best option: Reheating in an air fryer
Using an air fryer requires thawed egg rolls. You should not put frozen egg rolls into your air fryer because doing so will just burn the egg rolls on the outside before the inside even defrosts and heated up.
You can just thaw your egg rolls in your fridge first before reheating them using your air dryer.
Here's how to reheat egg rolls in an air fryer:
Heat your air fryer at 350° Fahrenheit.
Place the egg rolls in your air fryer with a pair of tongs and heat it for 1 to 2 minutes.
Ensure that you have ample space between them so that they don't stick to each other as you reheat them.
Halfway through reheating, flip the egg rolls so that each side gets heated evenly. This also ensures that they stay juicy inside and become crispy outside.
Once done, take your egg rolls out of your air fryer and enjoy them immediately.
---
Reheating in Microwave
A microwave is reliable if you don't have the time to reheat your egg rolls any other way. Just be sure not to overheat them, or you will end up with soggy egg rolls.
This method is not the best way to reheat egg rolls and get that crispy skin. Even so, a microwave can reheat your egg rolls inside and out. Be careful when you start to eat because you will surely get hot egg rolls after using your microwave.
Here's how to reheat egg rolls in a microwave:
Place a trivet on your microwavable bowl or platter. Put your egg rolls on the trivet. This tool will prevent your egg rolls from getting soggy after reheating.
Put the egg roll setup in your microwave. Heat the egg rolls on high for at least 30 seconds if you have just taken the fridge's egg rolls.
Flip your egg rolls and heat them again for another 15 to 30 seconds.
One your egg rolls become crispy, take them out of the microwave and check the internal temperature to make sure they are hot before you eat them.
---
How to Reheat Frozen Egg Rolls
In reheating frozen egg rolls, it's always possible that the inside of the rolls stays cold. If you don't have enough time to thaw the egg rolls, below are two effective methods to reheat them:
Method #1 - Deep Fry
You can use a deep fryer to reheat your frozen egg rolls. This usually adds more calories to your egg rolls. Yet, you can be sure to get reheated and crispy egg rolls in no time.
Make sure to start with low to medium heat. Then adjust to high heat for a few more minutes until their skin becomes crispy. It may take 9 to 10 minutes to reheat your egg rolls with your deep fryer.
Method #2 - Use your Oven
This also works efficiently in reheating frozen egg rolls. The process may take longer, but the result will always be crispy and warm egg rolls.
In reheating frozen egg rolls, don't use your air fryer or microwave. Transfer your egg rolls from the freezer to your fridge for a few hours to thaw first. Once your egg rolls have thawed, reheat them as indicated previously.
---
How to Keep Egg Rolls Crispy
Losing the crispiness of the wrapper is the main problem in reheating egg rolls. If you want to get crispy, reheated egg rolls, here are a few tips below:
Here are some tips for reheating egg rolls:
Tip #1: Skip the Oil When Reheating in the Oven
It is best not to put any oil when you place your egg rolls on a baking sheet lined with parchment paper or aluminum foil. More oil will only make your egg rolls heavy, greasy, and soggy.
Tip #2: From Microwave into the Oven
Microwaving your egg rolls is effortless and quick, but the egg roll's skin will not be crispy in the end.
You can correct this by just microwaving your egg rolls for 15 seconds to warm up the filling. Then, transfer them to your oven, which has been preheated to 425°F.
Then, leave the egg rolls in the oven for 3 to 4 minutes. Flip the egg rolls and leave them in there for another 3 minutes to get the egg rolls crispy all over.
Tip #3: Deep Frying for the Ultimate Crispiness
For extra crispy, reheated egg rolls, using a deep fryer is ideal. Immersing your egg rolls into the hot oil will make the skin crispy, which you always look for in egg rolls.
Note that this is not good is you are calorie conscious. But if your only goal is to get that crispiness in your egg rolls, deep frying is the method for you.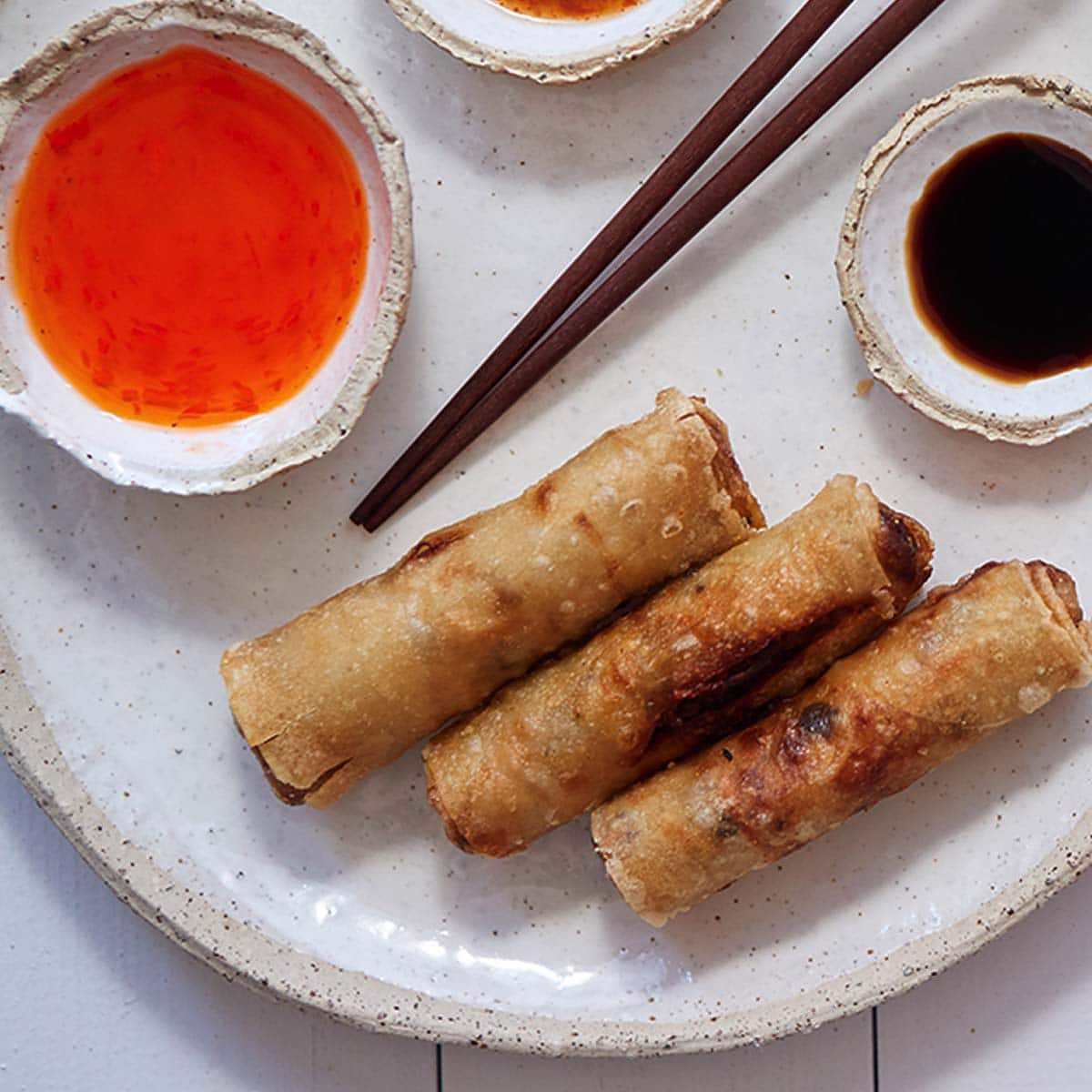 ---
How to Store Egg Rolls
You can just place them on a sheet pan and cover then with plastic wrap for overcooked egg rolls. Put them in the freezer for about four hours so that the egg rolls can flash freeze.
Put your frozen egg rolls in a thick freezer bag and seal it. You can store your uncooked egg rolls in the freezer for about half a year.
If you have freshly-cooked egg rolls, cool them to room temperature and wrap them tightly in aluminum foil.
Place the wrapped egg rolls in a thick freezer bag and seal it. This will ensure that your egg rolls will stay moist. You can store these egg rolls for approximately 4 months.
You can heat your egg rolls using several methods. Yet, whatever method you choose, the most important thing is to warm up the inside and outside of your egg rolls.
It may be tricky to warm up your egg rolls evenly, especially if the wrapper is thick.
You should cut your reheated egg rolls diagonally to see if they are warm enough. You should not risk serving egg rolls with cold filling.
Try serving your egg rolls with a side of fresh salad or a special sauce to make the rolls more attractive and appetizing. They will appear as if they have just been prepared.
Delicious egg rolls are those that are not soggy and dripping with cooking oil.
Here are good tips for making ideal egg rolls that are not soggy or dry:
---
Tips for Cooking Chinese Egg Rolls
1 Prepare the Vegetables for the Egg Rolls Ahead of Time
The last thing you want is to have a wet filling in your egg rolls. A wet filling will only turn your egg rolls soggy. You can avoid this by washing all your ingredients earlier and then drain them properly.
2 Don't Use Leftover Meat
It is always best to avoid using leftover meat. All egg rolls taste more delicious with fresh meat juices in the filling.
3 Make Sure the Filling Isn't Too Soggy
Liquid gravy is not necessary for making egg rolls. If you notice a little too much liquid in your filling, take the time to drain it out.
As you wrap your egg rolls, tilt the bowl a little to isolate the excess liquid on the other side of the bowl, possibly away from most of the filling.
4 Taste and Adjust the Seasoning
Taste the filling as you cook it. Make the necessary adjustments before you wrap your egg rolls.
5 Cool the Filling
After you stir-fry your egg roll filling, set it aside first to cool it. Don't be in a hurry to wrap the egg rolls. Letting the filling cool will make the ingredients reabsorb the juices. A cooled filling will not cook your egg roll wrappers, either.
6 Deep-Fry the Wrapped Egg Rolls Quickly
Remember to deep fry your egg rolls within half-an-hour of wrapping them. Any longer will cause the filling juices to leech out, leaving you with dry egg rolls after frying them.
7 Carefully Deep-Fry the Egg Rolls
Preheat your oil to 375 F (190 C). When you reach this temperature, slide in your prepared egg rolls one after the other.
Doing so will prevent oil splatters. Remember not to overcrowd your deep fryer or wok to avoid bringing down the temperature of the oil.
Fry your egg rolls until they are golden brown all over. Drain them on a cooling rack, on a tray, lined with paper towels or colander.
8 Don't Stack the Cooked Egg Rolls
Do not stack your egg rolls on top of each other before or after frying them. If you do this before cooking, the bottoms will flatten out and lose their cylindrical shape. Stacking the egg rolls after frying will remove the crispiness and only encourage sogginess.
9 Preparing Egg Rolls Ahead of Time
Feel free to freeze your egg rolls before or after you fry them. Wrap your rolls in aluminum foil and seal them in a freezer bag.
Doing so will help retain their moist filling. If you've already cooked the egg rolls, cool them first before you freeze them.
You can keep your egg rolls in a resealable freezer bag for about four months.
Make sure you thaw your frozen egg rolls in your fridge first before you deep fry them. You can then reheat the egg rolls quickly by deep frying them or putting them in the oven.
---
FAQs about Egg Rolls:
How do you keep egg rolls crispy all day?
Make sure you keep your egg rolls on a single layer and cover them with plastic wrap to prevent them from drying up. If you prefer to stack your egg rolls, make sure you have a parchment paper layer between the layers of egg rolls to prevent them from sticking to each other. Keep the wrappers covered with plastic wrap to keep them from drying as well.
Can I eat an egg roll that was left out overnight?
When you store leftover egg rolls properly, they can last for three to four days in the fridge. Bacteria thrive at temperatures between 40 °F and 140 °F. If leftover egg rolls are exposed at room temperature for at least two hours, you should discard them.
Why are my egg rolls soggy?
Be sure that the filling of your egg rolls is not too soggy. You don't need heavy amounts of gravy in your egg rolls at all. When you finish stir-frying the filling and notice excessive amounts of liquid, make sure to drain most of it. While wrapping your egg rolls, keep the bowl tipped so liquid concentrates at the bowl's bottom, away from the filling.
Why are my egg rolls greasy?
As you fry your egg rolls, your oil should always be at the correct temperature. About 350 degrees F is usually ideal. Cooking oil that's too hot burns the skin or cooks the wrapper earlier than the filling. Cooking oil that's too cold makes the egg rolls greasy.

I hope that these tips on reheating egg rolls have shed light on your egg roll cooking and reheating issues.
---
Interesting recipes