There's nothing quite like the satisfaction of a delicious home-cooked taco. Lucky for you, reheating taco is a breeze! But what do you do when there are leftovers?
In this blog post, we'll show you how to reheat tacos + the shells so that you can enjoy your favorite dish again and again. Stay tuned for tips and tricks on making your leftovers taste just as good as the first time around!
So what's the best way to reheat taco shells? It depends on whether you're using hard shells or soft shells. For those who like their food crispy, oven-heating is your go-to method, while for those who prefer more delicate textures and warmer flavors (and less crunch), foil wrapping will get things right!
But first, let's discuss what tacos are and the three elements that make them unique: the meat, the shell, and the toppings.
Jump to:
---
What are tacos?
Mexico's staple dish, tacos, is typically made from corn or wheat tortillas stuffed with various meats, cheeses, and veggies. The most common fillings include beef, chicken, pork, and seafood. Tacos can be served as a main course or as an appetizer and usually come with sides like refried beans, rice, salsa, and guacamole.
Everyone has an ideal taco. Some like it soft, while others prefer their shell crispy. Some key points of contention among taco connoisseurs come down to texture:
do you like your taco meat dry or juicy?
Whether the tortilla should be folded or rolled.
the crunch of the hard shells or warmed soft tortillas
If you like your tacos on the juicier side, reheating in the oven might not be the best method because it dries out food. We recommend reheating your tacos in the microwave or on the stovetop.
On the other hand, if you prefer your tacos on the crunchier side, then reheating in the oven is definitely the way to go! We recommend preheating the oven to 400° Fahrenheit and heating the tacos for about 2 to 3 minutes, or until they're warmed to your liking.
The good news is, there's no wrong way to enjoy a taco! Whether you're a purist that only wants the classic beef filling or you like to mix it up with different meats and toppings, there's a taco out there for you.
But regardless of your preference, there's one thing we can all agree on: tacos are delicious!
Read: Korean Bulgogi Beef Tacos Recipe
Tacos have three main components.
1

Fillings

In tacos, the authentic taste comes from the fillings, including chicken, beef, pork, and, in some cases, a combination of the three. Herbs and spices play an important role in giving tacos their distinctive flavor. 
---
2

Tortillas

The second is the tortilla, made from grains, including corn and wheat. These various shells impart different textures and flavors to the recipe. Maintaining the shells' crunch while keeping the fillings warm requires some technique.
---
3

Toppings

The third and final element of tacos is the toppings, including anything from cheese and sour cream to salsa and guacamole. You can get as creative as possible with your toppings or keep it simple with just a few key ingredients.
---
Different types of taco shells or tortillas
How well do you know all the different tortillas or taco shells? If not, don't worry - we're here to help! Taco shells are also known as tortillas, and you can make them with a wide range of different grains based on personal tastes. The most popular types are wheat and corn tortillas.
These taco shells or tortillas vary in shape, size, and flavor, so there's definitely something for everyone. Their ingredients can range from grains like wheat or corn to a combination of them. There are even gluten-free options available!
---
There are many types of tortillas, but some of the most common include:
1

Flour tortillas:

The key ingredients are wheat flour, water, salt, oil, and baking powder. They're typically soft and pliable, making them a popular choice for tacos. The gluten from the flour gives them a chewy texture. The dough is formed into a thin disk ball, flattened, and then cooked on a hot griddle.

Bringing them to your burritos, quesadillas, or wraps will add a fresh touch. You can also fry flour tortillas to create a crispy shell.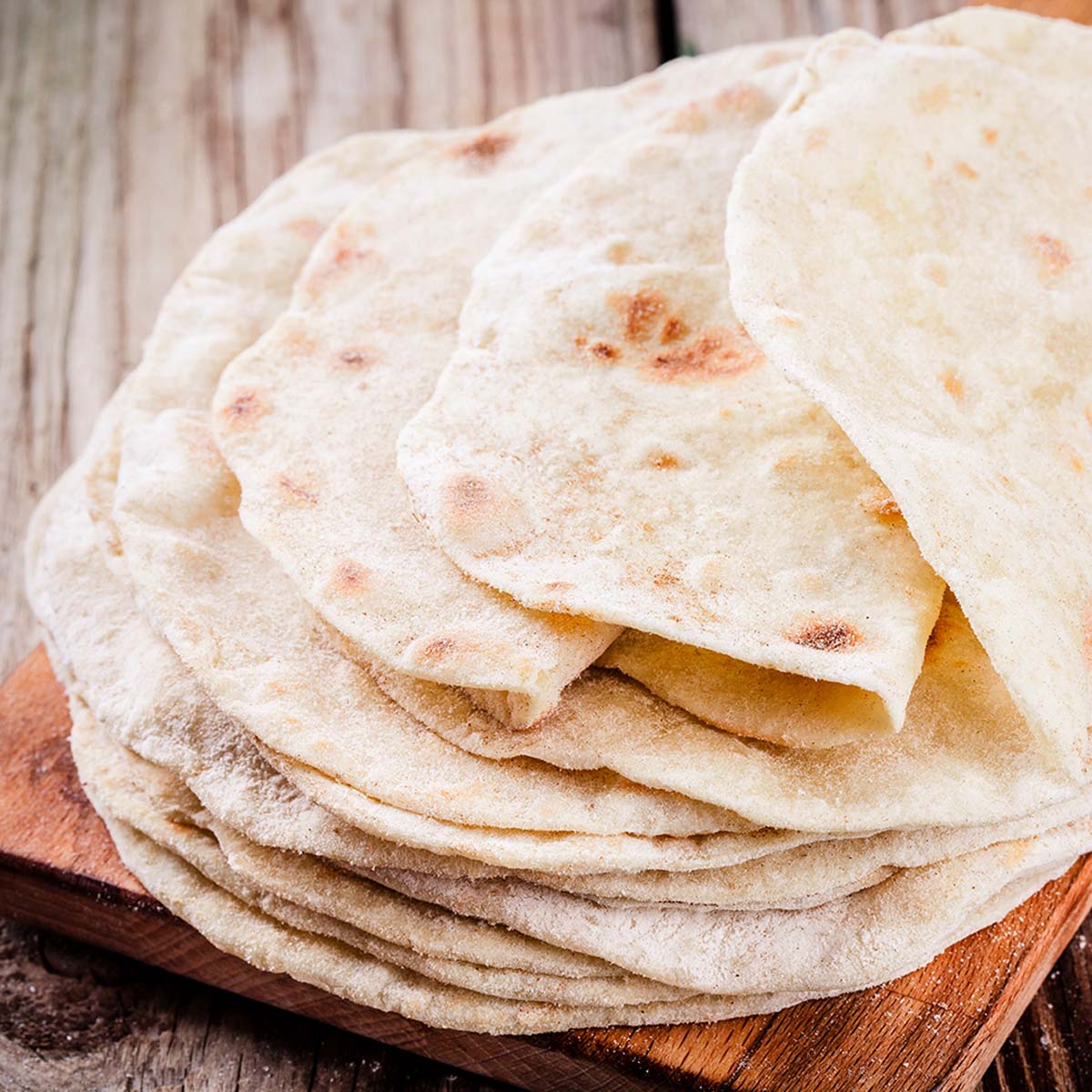 ---
Which side of the flour tortilla is the outside?
The outside of the tortilla is the side that's cooked on the griddle. The outer side will slightly char from the skillet, adding flavor and texture. This side should be facing up when you're reheating them.
The exterior of the tortilla is darker and thicker while it's smooth and pliable. On the contrary, the lighter and bumpy side has a more delicate interior and soft texture. Flipping them over, you can see small bubbles on the smooth side due to hot air rising and causing pockets of steam to form inside the dough.
---
2

Corn tortillas

These are made with masa "harina" (a type of corn flour), a dough made of nixtamalized corn kernels, soaked and ground into a fine flour. The process of nixtamalization is an ancient Mesoamerican method of food preparation. It involves soaking and cooking the corn in an alkaline solution, making the corn more nutritious and easier to grind.

Corn tortillas are traditionally soft, but you can also fry them to create a crispy shell. The sizes and shapes of corn tortillas vary depending on the region. In Mexico, they're typically small and round, while in the United States, they're larger and more oval-shaped. They are usually thinner than flour tortillas.
---
3

Whole-wheat tortillas

Whole wheat tortillas are made of enriched wheat flour, a refined grain, and not the same as whole wheat. If you are looking for a healthier option, whole wheat tortillas are good. They have a nutty flavor and are slightly denser than other types. 

Differences in diameter and thickness can vary depending on the brand and produce a wide range of calories.

You can use them in the same way as flour or corn tortillas. Making whole wheat tortillas typically involves using all-purpose flour and whole wheat flour.
---
Soft shell tacos vs. hard shell tacos
Regardless of the ingredients, they can be divided into two groups of taco shells: soft and hard. Flour tortillas, corn tortillas, and whole wheat tortillas are some examples of soft taco shells. On the other hand, a crispy taco shell is an example of a hard taco shell like the ones you would find at a fast-food restaurant. You can fry corn tortillas to create a hard shell.
Each type of taco has its preferable ways of reheating. For example, soft tacos are better to reheat by steaming, while hard tacos are better by baking.
---
What are hard shell tacos:
These are the traditional tacos that most people think of when they hear the word "taco." The shells are made from a corn tortilla that has been deep-fried and shaped into a U-shape. Hard shell tacos are crispy and hold all the toppings and fillings nicely.
This is the common form of tacos that you would find at a fast-food restaurant. The shell is already crispy, so you don't need to do anything to it.
Apart from that, hard shell tacos tend to have a longer shelf life than soft tacos. They can be stored in the fridge for up to a week, whereas soft tacos will only last for a few days.
There's something about the combination of flavors of the filling, the cheese's creaminess, and the lettuce's crunchiness that create the perfect bite. The shell complements the flavors perfectly. And most importantly, it has more salt, making everything taste better.
On the other hand, some people find it too crunchy and difficult to bite into. The result is messy and taco filling all over the place.
---
Why are there still hard-shell tacos when soft tacos are far less messy?
Mouthfeel or texture is an important factor in the overall dining experience, and hard tacos offer a different crunchy texture than soft tacos. It is also about flavors working together. The crispy shell complements the fillings and toppings, making for a well-rounded flavor.
The irony is that this crispy, self-destructing, mess-making shell wrapped around ground beef is an American invention. Authentic Mexican tacos don't use hard shells but rather soft corn tortillas.
And with regards to whether hard-shell tacos are less or more messy, it is a matter of opinion. Some people find that hard-shell tacos are less messy because the shell holds everything in place. Other people find they are messier because the shell can break, and the fillings and toppings fall out.
---
Why it's messy to eat tacos with hard shells?
Messy tacos are usually characterized by their easy-to-break and crumble shells. In this case, the fillings and toppings fall out, creating a very messy experience. It is also harder to eat hard shell tacos without spilling.
---
How to counter the messiness of hard shell tacos?
You can do a few things to make hard shell tacos less messy.
First, make sure the shell is not overcooked and brittle. This will make it more likely to break and crumble.
Second, don't overstuff the tacos, making them more challenging to eat and more likely to fall apart.
Finally, be careful when you bite into them. Hard shell tacos can be very delicate, so you need to take your time eating them.
---
What should you do if your tacos are too dry?
If your tacos are too dry, you can add a dollop of sour cream or salsa to moisten them up. You can also try reheating them in the microwave with a little water. This will help to rehydrate the tortillas and make them pliable.
---
How to reheat hard shell tacos?
It can be difficult to reheat taco shells at first. However, once you've reheated them once, they'll be much easier to reheat in the future. When trying to reheat the hard taco shells, they must maintain the concave shape as they originally were. You can even buy a stainless steel rack to keep taco shells upright in the oven, which is a clever idea.
If, in case, you don't have those taco racks available, then you can use a regular baking sheet, but you'll need to prop them up with something. For example, you can use aluminum foil balls or rolled pieces of parchment paper to prop up the taco shells on the side.
This way, you will have plenty of room to assemble your tacos, and you can preserve the foil balls for the next cooking session.
---
Reheating hard shell tacos in the oven.
Step 1
Preheat the oven to 400° Fahrenheit and place the tacos on a baking sheet.
---
Step 2
Next, take the shells out from the box or plastic and place them on the baking sheet. Separate what you need and place the shells open side down. Make sure that they are not touching each other so that they can heat evenly.
Optional: If you have a taco rack available, use that to keep the tacos upright. If not, you can use aluminum foil balls or rolled pieces of parchment paper to prop up the taco shells on the side.
---
Step 3
Then, we're going to warm them for 2 to 3 minutes in the oven. Oversee the process to make sure the shells don't get too crispy, or they'll crack when you try to fill them.
---
Step 4
Assemble your tacos. Fill taco shells with your favorite toppings. Be create; there are endless possibilities.
Start with the protein. Add shredded lettuce, diced tomatoes, grated cheese, diced onion, and your favorite sauce.
And that's it! You've now successfully reheated your hard shell tacos. Enjoy!
Note:

Do not heat taco shells in the microwave or toaster oven under any circumstances. The reason not to use the microwave is that it will make the shells soggy. Limp taco shells are just as bad as no taco shells. A toaster oven will turn the shells hard and make them difficult to eat. If the shells become crispy, they will be more likely to crack when you fill them.
---
What to do with the leftover taco shells?
For leftover hard taco shells that you will likely consume in the next day or two, seal the remaining portions carefully in a Ziploc bag, stacking the contents the way they appeared in the box.
It is best to store the taco shells in the refrigerator for a few days and rewarm them in the oven before serving.
Consider putting your tacos in the freezer if it will be a few weeks before you will eat them again. There is no need to thaw them out. You need to heat them back up in the oven again.
---
What are soft shell tacos?
While you can find soft shell tacos at some restaurants, they're just as easy to make at home. Instead of tough corn shells, soft shell tacos feature warm, pliable flour tortillas. Soft tortillas also benefit from having a squishy texture, which absorbs all the flavors of the fillings. While hard tacos have great texture, the soft tacos' simplicity makes them the best option for taco-filling ideas on the saucy side.
Soft tacos are typically smaller than hard tacos. They are softer and more pliable than hard shell tacos, making them easy to fold and eat. Also, soft tacos have a shorter shelf life than hard tacos and should be eaten within a few days. You can store them in the fridge, but they will start to get soggy after a day or two.
Three easy methods to reheat soft taco shells or tortillas
1

How to heat tortillas in the microwave:

The quickest way to reheat your tortillas is in the microwave. Simply place them on a plate and heat them for 30-60 seconds, flipping them halfway through.

How to do it:

Step 1

Place the tortillas on a heat-proof plate. Cover with a slightly damp paper towel. This way, the tortillas won't dry out as they heat up. I like to position a small container, fill it with some water, and place it next to the plate. This will help to create steam and make the tortillas more pliable.
---
Step 2
Zap them for 15-second intervals until they're warmed, and flip them over halfway through. You can also reheat multiple tortillas at once. Just make sure to stack them and alternate which side is face down. Don't try to heat all of the tortillas at once, or they will cool down too much when you're ready to eat.
---
Step 3
After warming up the tortillas, wrap them in a clean kitchen towel or place them in a tortilla warmer until you're ready to use them. This will help to soften them even further and make them more pliable.
---
2

How to heat up tortillas in the oven:

This is the best way to reheat your tortillas if you plan to make a big batch. It might take a little longer than the microwave, but it's worth the wait.

How to do it:

Step 1

Preheat your oven to 300° Fahrenheit. When you preheat the oven before baking, you will evenly distribute the heat energy, so your tortillas will reheat evenly.
---
Step 2
Wrap tortillas in a damp paper towel and use aluminum foil to double wrap. Place them on a baking sheet and heat them for 10 to 15 minutes. This will help to keep the tortillas from drying out as they reheat. I find that stacks of 6 to 8 tortillas or less reheat the best.
---
Step 3
Wrap them in a clean kitchen towel to keep them warm until you're ready to eat.
---
3

How to heat up tortillas on the stovetop:

If you want your tortillas to have a bit of char, reheat them on the stove. They tend to be stiffer and need drier heat. You can also warm corn tortillas over an open flame for a traditional method.

How to do it:

Step 1

Preheat a dry skillet over medium heat for about 2 minutes (no oil necessary). You can use a little cooking spray to coat the pan, then wipe it with a paper towel to remove any excess. This will help to prevent sticking and make cleanup a breeze.
---
Step 2
Place the tortillas in the skillet, flipping them every 20 to 30 seconds. If you're reheating a stack of tortillas, place them face down in the pan so that they all get evenly heated.
---
Step 3
Set each tortilla aside and cover with a slightly damp kitchen towel as you finish heating them. This will help to keep them warm and prevent them from drying out.
---
Taco storage tips
No matter what type of taco shell you're using, keep leftovers in an airtight container, so they don't spoil. This will help keep them fresh and prevent them from drying out.
If you're using hard taco shells, you can store them in the fridge for four days. If you're using soft taco shells, they'll only last for two days in the fridge.
If you want to freeze your tacos, they'll last for two months. However, we recommend only freezing the meat filling and not the taco shells themselves. This is because the shells can become brittle and crack when reheated.
---
The best ways how to reheat taco meat.
There are taco variations all around the world. The dish has evolved, and each region has its unique twist on the classic dish. Tacos are prepared in many different ways, so there is no one-size-fits-all answer to how to reheat taco meat. Either technique could potentially dry out the meat, so it is essential to exercise caution when reheating.
The two most common methods for reheating taco meat are the stovetop and the microwave. I wrote a detailed post discussing the pros and cons of each method, so be sure to check that out if you're unsure which method to use.
How should you prepare tacos before reheating them?
Before reheating, you should do a few things to the tacos. First, if the tacos have lettuce, tomatoes, or any other fresh toppings, you should remove them. These toppings can make the tacos soggy when reheated.
You should also separate the meat from the shell. This will help each component retain its texture and flavor. Once the meat is separated, let it cool slightly before assembling the tacos.
Finally, reheat the taco shells before adding the meat. This will prevent the shells from becoming soggy.
When it comes time to use your ground beef, take into account that some of the fat was removed, so adding a pat of butter, an extra sprinkle of cheese or a drizzle of olive oil does the trick for bringing back some of that richness. Learn here how many times you can reheat food.
---
Reheating taco meat on the stovetop:
This is the best method if you're looking to achieve that fresh-off-the-grill taste.
All you need to do is place the meat in a skillet over medium heat and cook until warmed through.
If the meat is dry, you can add a little bit of water or broth to keep it moist.
Wait until the liquid has evaporated before serving. Turn the heat down to low once the meat sticks on the pan.
---
Reheating taco meat in the microwave:
This is the quickest and most convenient method for reheating taco meat.
Place the meat in a microwave-safe dish and cover with a damp paper towel to prevent drying.
Reheat in 30-second intervals, stirring until the meat is warmed through after each interval.
If the meat is dry, you can add a little bit of water or broth to keep it moist.
Once the meat is heated, it can be added to fresh tortillas and served with your favorite taco fillings. It's time to assemble your tacos and enjoy!
---
Preparing on how to reheat tacos
In preparing to reheat the tacos, the whole taco should be deconstructed before going to the next steps. Try to remove the wet ingredients from the taco before reheating. These include lettuce, tomatoes, guacamole, and sauces. Wet ingredients make the taco soggy and can make the shell fall apart.
But for me, when you reheat tacos, separating the meat from the shell is better so that each retains its integrity and texture. The taco shell should be reheated first before adding the slightly cooled-down meat. This is to avoid making the taco shell soggy. Set aside and let it cool before assembling.
A few methods can be used to reheat the tacos, and each has its pros and cons.
General tips to keep in mind when reheating taco meat:
If possible, reheat the meat in the same pan you used to cook it. This will help to preserve its flavor.
Reheat the meat over low heat to avoid overcooking or drying it out.
Add a little bit of water, broth, or tomato sauce to the pan to help keep the meat moist.
Stir the meat occasionally to prevent it from sticking to the bottom of the pan.
If you're reheating ground beef, consider adding a little bit of fat (such as lard or bacon grease) to the pan to help keep it moist.
---
How do you keep leftover tacos fresh?
The fresh ingredients of tacos can make them difficult to reheat and keep fresh. Wet ingredients make the taco soggy and can make the shell fall apart. To keep your tacos fresh, removing the wet ingredients before reheating is crucial. These include lettuce, tomatoes, guacamole, and sauces.
Store the wet ingredients separately in a container in the fridge. When ready to reheat the tacos, simply add the ingredients back in. Or you can use fresh ingredients when you reheat the tacos. This will give you the freshest and most flavorful tacos.
You can store leftover taco meat in the fridge for four days. Simply place the meat in a covered container and store it in the fridge. When ready to reheat the meat, simply follow the instructions above.
---
How to freeze taco meat for future use
Freezing can be a great way to extend the shelf life of your taco meat. The ease of freezing and reheating can make it a great option for busy weeknights. There are a few things to keep in mind when it comes to freezing taco meat.
Step 1
First, it's important to cook the meat thoroughly before freezing it. Freezing reduces enzyme activity which can lead to foodborne illness, and stops the growth of bacteria.
---
Step 2
After cooking the meat, let it cool completely before freezing it. This will help to preserve the flavor and texture of the meat.
---
Step 3
Once the meat is cooled, you can portion it into individual servings or freeze it in one large block. Wrapping the meat tightly in plastic wrap or aluminum foil will help to prevent freezer burn.
---
Step 4
You can freeze it in a covered container or ziplock bag for three months—label and date for more easy meal planning and reheating instructions.
---
Step 5
When ready to reheat the meat, simply thaw it in the fridge overnight and follow the instructions above.
Taco meat is a great option for busy weeknights or large gatherings. You can quickly reheat and enjoy your tacos without any trouble with a little planning.