How to tell the difference between cabbage and lettuce. Have you ever been in the fresh vegetable section of your local supermarket looking at heads of cabbages and lettuces, not really knowing which was which? More people have than would care to admit.
On first impression, these two vegetables look very similar. But if you know what to look for, there are several differences between them. I've been at it long enough to know, but if you're still a newbie to vegetable shopping and have problems spotting the differences, I'm here to help.
But before we get down to the nitty-gritty, let's take a quick look at the different varieties of cabbage and lettuce that are on sale in stores today. 
Let's start with lettuce.
Jump to:
What is lettuce?
Lettuce is a member of the Lactuca Sativa group of vegetables, which is, in turn, a member of the Cicoreae tribe of the Compositae family. It is a leafy vegetable best known for its use as a base for salads.
There are many different types, all of the lettuce, which is healthy. Depending on the lettuce type, the vitamin content varies.
The four basic types of lettuce
The different kinds of lettuce are grouped into four main types -
Butterhead
Crisphead
Romaine
Leafy.
1

The butterhead variety

Butterhead lettuces are characterized by their soft leaves, forming small, round, loosely packed heads. In color, the outer leaves are pale green and the inner, pale yellow to green. They have a slightly sweet, succulent taste and texture. The two best-known types of butterhead are Boston and Bibb.

Boston and Bibb lettuces are great for making chicken or tuna salad wraps, thanks to their cup-shaped leaves. Their tender leaves also work well with a mild dressing as the base of the salad. Bibb lettuces are often sold in plastic containers to protect their delicate leaves.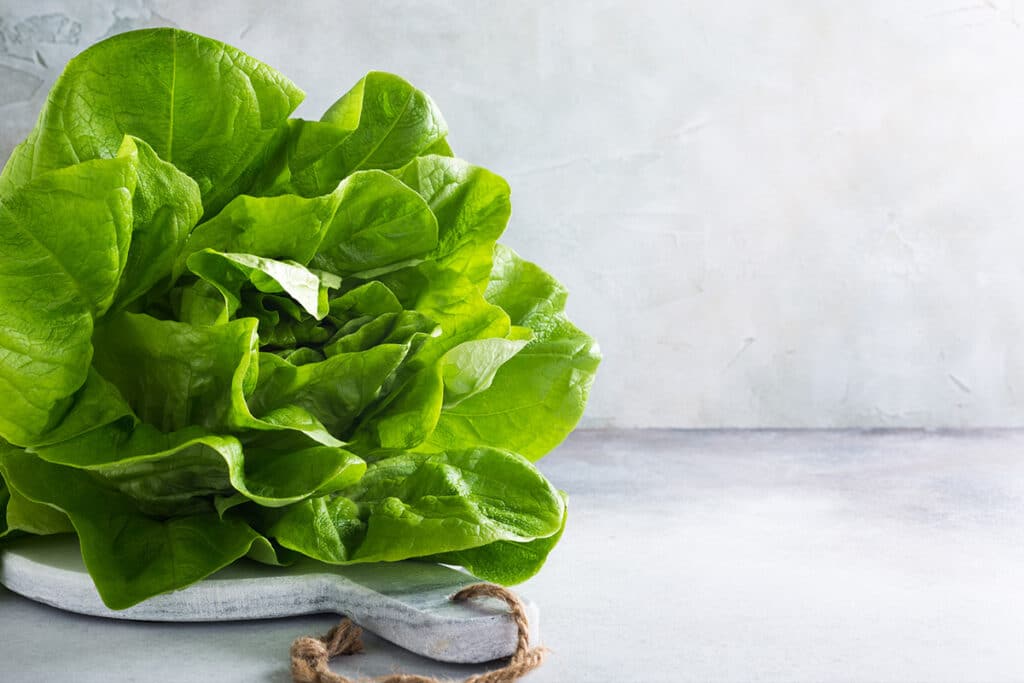 ---
2

The crisphead variety

Crisphead lettuces are famous for their lovely crisp texture. The leaves are pale green and form a tightly packed head that can be easily mistaken for cabbage at first glance. They are cheap to buy and have a long shelf life.

With their mild-tasting, crunchy textured leaves, which stay crispy even when heavily dressed, many people serve them with a nice, juicy burger or chop them and serve in tacos.

The most well-known variety of crisphead lettuce is the iceberg. Crisphead lettuce is a great source of folate. It also makes a great side when cut into thick wedges and served with a bit of blue cheese dressing drizzled over the top.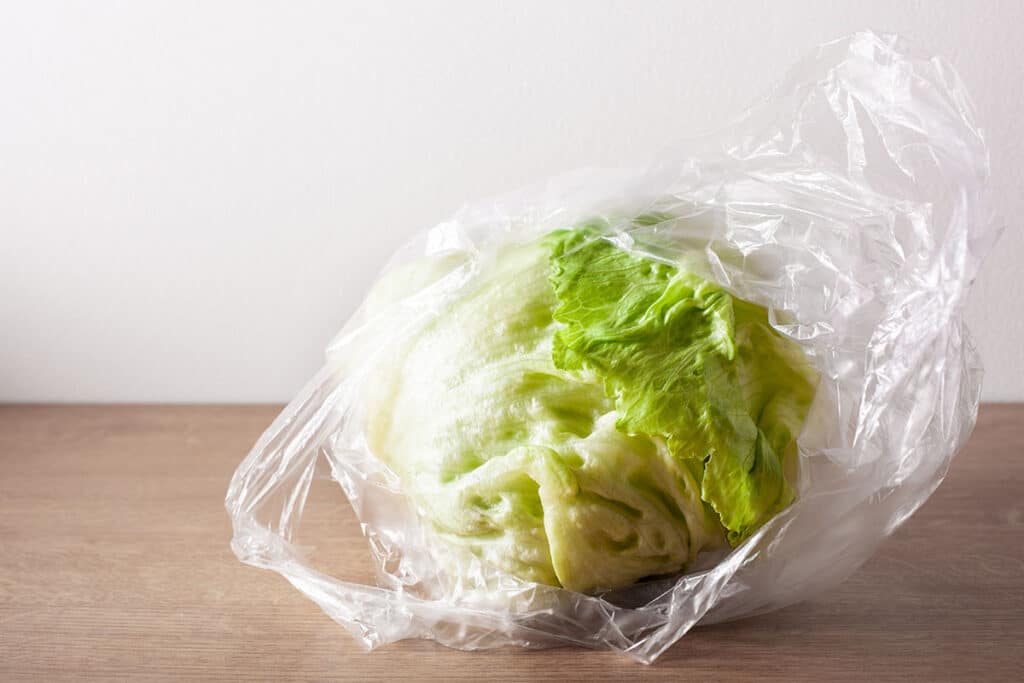 ---
3

The Romaine variety

You can distinguish romaine lettuces by their deep green, long leaves, which grow to form a sort of cigar-shaped elongated head. The taste is slightly bitter, and the leaves have a nice crisp texture.

The crunchiest leaves with the best flavor are those packed closer to the center of the head. Romaine lettuce is widely used to make Caesar salad, and it goes well with creamy or rich dressings.

This variety of lettuce is an excellent source of potassium.

Check here how to freeze lettuce.
---
4

The leafy variety

Yes, I know that all lettuces have leaves, but with this particular leafy variety, the leaves don't form a head as such but grow loosely from a single stalk.

The leaves have a delicate, mild flavor and are often used when making sandwiches. The most popular leafy lettuce varieties are green, red, and oak.

If anything, the leafy lettuce is closer to the Romaine, and it ranks second highest in terms of vitamins and minerals.

If you'd like a visual reference to the main types of lettuce, please take a look at this YouTube video.
---
The best time to buy lettuce
Lettuce is a cool-weather crop. When exposed to too much heat, it becomes bitter. Before we had the extensive supply chains that we have today, the best time to buy lettuce was during Spring and Fall in warmer areas and late spring through to summer in cooler regions.
But thanks to the extensive supply chains that exist today, lettuces are always in season somewhere and therefore usually figure on the shelves of suit supermarkets all year round.
---
What you need to look out for when buying lettuce
Lettuce is a fresh salad vegetable and is best when freshly picked. When out shopping, keep an eye open for lettuce, whose base looks pristine as if they've been newly cut. The leaves shouldn't look at all dried out or wilted. They should be crisp and look nice and bright. Also, avoid discolored cut ends.
When preparing lettuce, bear in mind that the darker green leaves contain more nutrients than lighter green.
As with any veggie, lettuces must be washed and thoroughly drained. If you leave too much moisture on the leaves, it accelerates spoilage. After washing, I usually blot my lettuces with a sheet or two of paper kitchen towels to soak up any excess water.
Although some types of lettuce, like an iceberg, can be kept longer than others. In general, you can keep lettuce in an airtight container in your fridge for up to 6 days.
---
The best way to store lettuce
When you return home from shopping, as soon as you can, grab the lettuce you bought, give it a thorough cleaning, then dry it.
Next, wrap the lettuce in a few sheets of paper kitchen towel, transfer the wrapped veggie into a plastic bag, and place it into your fridge in the crisper drawer, where you can keep it for up to one week.
If you store them properly, your lettuce won't wilt and stay nice and crisp. Thanks to the paper kitchen towel, it is kept hydrated, keeping the lettuce's inner dry while soaking up any excess moisture from the outer leaves.
Extra tips
Include salad leaves in sandwiches. It has a succulent crispy texture. If you construct the sandwich so the lettuce is in contact with both slices of bread, it prevents the bread from becoming soggy if you've got a slightly wet filling like tomatoes.
Tear the leaves by hand rather than cut them. Edges trimmed with a knife tend to brown quicker.
Don't serve your salad coated with dressing. Allow your guests or family members to apply the dressing themselves. There's nothing worse than being served a soggy salad. It will keep the salad crisper longer.
You can spread a salad dressing more evenly when lettuce leaves are dry properly.
If you use a salad spinner to get rid of excess moisture; after spinning, dab the lettuce with a few pieces of paper kitchen towel to absorb any excess water.
If you've got any wilted or leftover lettuce, a good way of using it up is to add it to soups and stews. It's best if you don't add it until just before you serve
---
What is cabbage?
Green cabbage is sometimes referred to as cannonball cabbage because of its lush green leaves, which form into tightly packed spherical heads, giving you the overall impression of a cannonball.
It is a variety of cruciferous vegetables, which means that it belongs to the Brassicaceae family with other veggies such as broccoli, Brussels sprouts, cauliflower, and kale.
You can eat cabbage raw or cooked, pickled or fermented. Its leaves, which have a crunchy but waxy consistency, vary from pale to dark green.
The leaves grow around a solid core which typically gets removed during preparation because it's rather tough and doesn't make good eating.
---
What does cabbage taste like?
Green cabbage has a vegetal, with a hint of peppery flavor when you eat them raw. However, it gets toned down when cooked. 
When you start to cook green cabbage, you will notice a sulfurous smell. Sulforaphane is a sulfur-rich compound found in various cruciferous vegetables, including bok choy, broccoli, and cabbage. This compound has significant health benefits, allegedly improving heart health and aiding digestion.
But need not worry because the sulfur compounds smell dissipates and cook away.
The cabbage flavor is slightly similar to its cousins, namely Brussels sprouts and cauliflower.
---
Different types of cabbage
Green cabbage comes in many varieties. The traditional way of cooking it is boiling, but there are many other ways. Let's look at the various types of cabbage together with some serving suggestions.
1

Green cabbage

Ordinary green cabbage is probably the most popular cabbage of all. It has fan-like green leaves with a lovely smooth texture when boiled.

You can eat it either raw, cooked, or fermented in recipes such as coleslaw, sauerkraut, and stuffed cabbage. When buying this type of cabbage, look for heads that are tightly packed and heavy.
---
2

Red or purple cabbage

Although it's called red cabbage, this type of cabbage is a darker purple than red. In appearance, it looks like a green cabbage apart from the fact that it's purple.

Red cabbage heads are typically smaller than their green cousins, but when buying, use the same principle as when buying green cabbage, which is looking for heads that are tightly packed and heavy.
It's deliciously cooked, or raw and thinly sliced, as in red cabbage slaw. It's also fantastic when pickled and served with fish tacos - so much better than using store-bought coleslaw.
TIP: To stop red cabbage from turning a weird bluey-grey color, add a little vinegar or lemon juice when you cook it. It helps to keep its glorious purpleness.
---
3

The versatile Savoy cabbage

Savoy and green cabbage are much the same, except for their crinkly leaves. Its lovely ridged green leaves make it one of the prettiest cabbages around. The taste is milder and sweeter than green cabbage. It's also a little more tender, making it ideal for sautéing and stir-frying.

The heads of Savoy cabbage are not as dense and tightly packed as its green or red relatives. Try it braised in butter - it's delicious.
---
4

Chinese Bok Choy

Originally from China, bok choy and baby bok choy have thick white bases or stems with dark green oval-shaped leaves. The flavor is bright, mild, and cabbagey.

The Chinese use bok choy in stir-fries, which has become popular in the US, but you can also braise it, enhancing its sweet taste. Ordinary bok choy is split half lengthwise when stir-fried, whereas baby bok choy can be cooked and eaten whole. Some people prefer to separate the leaves and cook them loose.

Learn how to freeze bok choy.
---
5

Napa Cabbage

Another favorite Chinese cabbage that is now popular worldwide is Napa cabbage. It doesn't have that traditional cabbage head. Instead, it has light green leaves that stem from thick white stalks, which is why people sometimes mistake it for romaine lettuce. However, it has its own unique texture and flavor.

Napa cabbage has a lovely mild flavor but with a peppery kick. It's delicious both in salads or stir-fries. The Koreans ferment it into a spicy dish known as kimchi.
---
6

Brussels Sprouts

Yes, Brussels sprouts did reportedly originate from the capital city of Belgium. But we won't hold that against them. They are now grown worldwide, and like them or hate them (as some kids do), they're here to stay.

Rather than growing straight from the soil like cabbages, these adorable little versions of cabbages we know as Brussels sprouts sprout (excuse the pun) from large stalks, as you can see in this YouTube video.

You might sometimes come across some still on the stalk sprouts in the grocery store, but you're more likely to find them loose or prepacked in bags.

Of course, they are popular as side dishes with a Thanksgiving turkey dinner here in the US. But there are lots of different recipes.
---
7

Curly Kale

Kale, sometimes called curly kale, is known for its dark green and ruffled or curly leaves. It's delicious when boiled and seasoned with a few twists of black pepper, some olive oil, and lemon juice drizzled over it.

It's also very trendy in Gastronomic circles to serve crispy kale. There's a great recipe from Jenn Segal on the onceuponachef.com website.
---
What to look for when buying cabbage
The things to look for when you're buying cabbage include:
Check out that the leaves are tightly packed.
The head of the cabbage should be nice and firm.
Avoid wilted leaves.
When you pick the cabbage up, it should feel weighty for its size.
There is a helpful video on buying cabbage on the JerryjamesStone.com website. It's well worth a quick look.
Once you've bought a lovely fresh cabbage, remember to wrap it with cling wrap and store it accordingly in your refrigerator (see below). You'll be able to extend its shelf life for up to two months, according to Time.
---
The best way to store cabbage
Place the whole head of green cabbage in the fridge's crisper drawer. Even unwrapped, it will remain crisp and unwilted for two weeks.
But once you cut it, wrap the leftover tightly with plastic or cling wrap and store it in your fridge's crisper drawer. You should use it within two to three days.
It's best not to wash green cabbage until you use it. The reason is that excess moisture can speed the spoilage process.
---
How to tell the difference between cabbage and lettuce
1

Appearance

It's pretty easy to confuse green cabbage for iceberg lettuce. The two are somewhat similar. But there is a clear difference in its exterior.

If you compare iceberg lettuce with a similarly sized green cabbage, the green cabbage is considerably heavier.

Another easy way to tell the two apart is their smell. Whereas iceberg lettuce has virtually no smell, green cabbage has a more pronounced pungent aroma.

Cabbage has a round, short stem, and while they may have a few floppy outer leaves, the inner leaves of the head of the cabbage form a tightly packed ball. Also, the leaves of green cabbage are pale green and have a subtle springy texture when raw.

Lettuce has an elongated oblong form, while the outer leaves are soft and manageable to pluck from the stem. It has a rich amount of chlorophyll, giving its leaves an intense color.
---
2

The difference in water content

There isn't a huge difference in the water content of these two veggies, but it makes a significant difference in taste and aroma.

With such a high water content, both veggies are low-calorie.
---
3

Variation in taste

The 3% extra water that lettuce contains gives it a milder flavor and virtually no smell. Although iceberg lettuce is almost flavorless, other lettuce varieties have a bitter edge to their taste, bringing an interesting new taste dimension into salads and sandwiches.

Cabbage has a slightly peppery flavor when raw, but it gradually dissipates while cooking. However, the flavor is still much more intense than lettuce. It is why it is so good in coleslaw - white cabbage in particular.
---
4

The contrast in texture

The stem of lettuce is nice and crunchy, and it leaves soft, although iceberg lettuce has a nice crunchy bite to it.

On the other hand, cabbage is crunchy all over, meaning that it stands up well to cooking, and it pickles well too. Raw cabbage leaves tend to have that springy texture, and as described above, they have a peppery taste, which, when cooked, becomes a little sweeter.
---
5

The difference in smell

Cabbage releases an unpleasant smell when cooking. The distinctive whiff comes from sulforaphane, a compound rife in cabbage. You can minimize its effect by cooking your cabbage quickly and efficiently.

It is what gives this veggie its infamous cabbage smell. If you cook it all day in a crock-pot, that cabbage smell will become quite intense but not unpleasant.

Lettuce, however, has a mild and less intense aroma. The smell isn't strong but can be described as earthy. You can use it to make a delicious, aromatic Mediterranean salad. If lettuce spoils, that nonexistent smell becomes a disgusting whiff.

Suppose you are out buying lettuce and notice brown spots; it only means one thing, it's rotten. If you were to open the bag, the awful smell that wafts out would soon confirm that the lettuce inside is beyond hope.
---
6

Growing conditions

Lettuce is what is called an annual plant. It means that it germinates, grows seeds, and dies in the same year. Lettuce is best grown in warm, shady conditions. It thrives in sandy soil with a pH level from six to seven.

Depending on the variety of lettuce being grown, plants should be spaced between 6 and 18 inches apart in well-drained soil. If you keep the plants well hydrated, they will give you lots of lovely young tender leaves - so don't allow the top layer of soil to become over dry.

Unlike lettuce, an annual plant, cabbage is a biennial with a two-year life cycle. They germinate and grow in one year and bloom and die in the following year.

Cabbage thrives in cooler climates and seasons and likes soil with a pH level of less than 6.5. Unfortunately, cabbage is more susceptible to damage from disease and pests, so it can be quite challenging to grow for beginners.
---
7

Culinary uses

Apart from making coleslaw or pickling in dishes like kimchi, most people usually consider cabbage as something that requires cooking. In contrast, lettuce is usually eaten raw in salads and sandwiches.

But times change, and more recently, braised and charred lettuce is becoming more and more popular.

Recipes to make using lettuce

But when it comes to cabbage, apart from using to make coleslaw or pickling it, most people resort to boiling their cabbage as a vegetable. However, it can be cooked in many ways, including roasting, sautéing, steaming, and stuffing.

Recipes to make using cabbage
---
8

From a nutritional viewpoint

Both of these vegetables are nutritional and high in dietary fiber. They also both contain similar amounts of protein and have high antioxidant contents. They are also vitamin and mineral-rich, for example:
Lettuce contains over 50 more vitamin A than cabbage. It is also richer in vitamins K, E, B1, B2, B3 E, and K and contains calcium, iron, and potassium.
Cabbage contains four times more vitamin C than lettuce and is also higher in vitamins B5, B6, and B9, also known as folate. Green cabbage also contains calcium, magnesium, potassium, and thiamin.
Cabbage has slightly more calories than lettuce due to a higher concentration of macronutrients. The calorie content for 100 g of cabbage is 25, while lettuce is only 15.