PF Chang Lettuce Wrap Recipe
I have so many wonderful memories of favorite foods of the past, which I hate to revive. You may wonder why that is, and the answer is simple, most of these foods aren't readily available.
And those sweet, wonderful memories torture me by setting off a slew of cravings that start with the deep fried tacos from my youth, float gently to the Big Foot Pizza from Pizza Hut and more recently end with chicken lettuce wraps that are a specialty of PF Chang's.
I don't even know if the restaurant offering deep-fried tacos is still open and even if it was, I couldn't reach it in under 24 hours, even driving too fast for safety. I do know that Pizza Hut no longer offers the Big Foot.
I remember what a sad day it was when that occurred since it had been a staple at most of our parties, like cooking the egg rolls. While the other pizzas at the Hut tasted pretty much the same, there still is no substitute for that huge pizza that fed the entire group.
I guess it wasn't the taste that I loved, the association with good times and good friends. The only fond food memory within a two-hour drive that I know is still available is the chicken lettuce wrap from PF Chang's.
Of course, as with many of my cravings, my lack of desire to drive that distance far outweighs my desire to enjoy the food.
I decided to shop around for a substitute for all of my cravings and found that nothing will ever compete with the original. The only way to satisfy them is to recreate the foods in my kitchen.
There's no way to recreate the Big Foot Pizza, part of the magic was in the packaging, delivery, and ambiance of the moment.
I've managed, however, to recreate others, with my biggest success the PF Chang lettuce wrap recipe, saving not only a long drive but also a quite a bit of money in the process, particularly when you add in the cost of gas to get to the closest Chang's location.
Each time I make this delectable dish, I think back on all the wonderful moments with family and friends I spent talking, laughing and eating the chicken wrap. Just the smell brings back sounds and sights from the past, which always bring a smile.
Maybe that's where the cravings come from, not the taste of the food, but rather the memories that the food trigger. You can check my Thai Basil Chicken recipe also.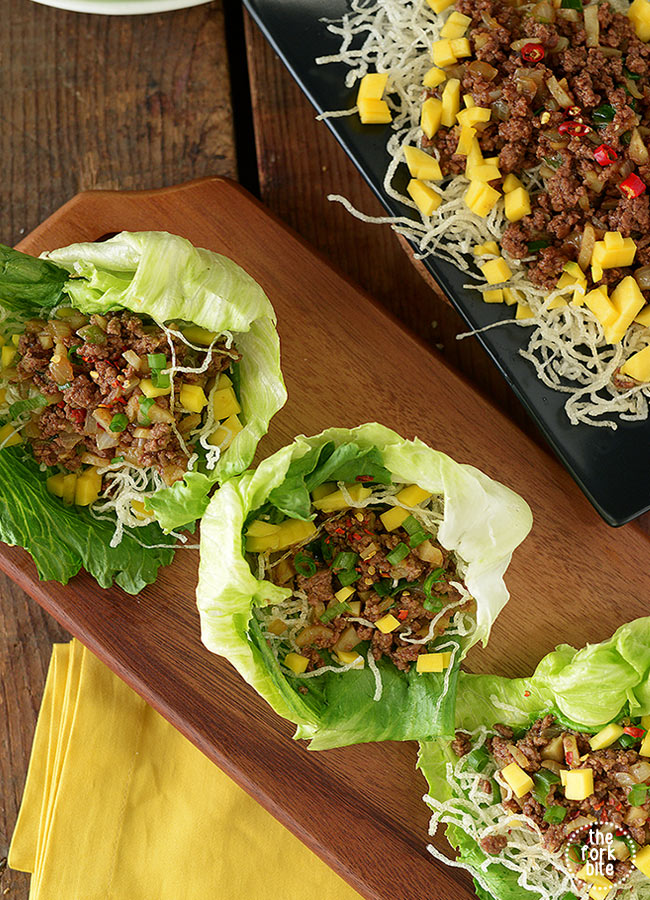 Copycat PF Chang Lettuce Wrap Recipe
Category: Lunch, Dinner

Cuisine: Asian, Chinese

A copycat PF Chang Lettuce wrap recipe that you can easily make in just 20 minutes. So good, healthy and budget-friendly. These Asian Chicken Lettuce Wraps will save you a trip to P.F. Chang's.
1 tablespoon vegetable oil
1 pound ground chicken
3 cloves garlic, minced
1 small onion, minced
1/4 cup hoisin sauce
2 tablespoons Tamari
1 tablespoon rice wine vinegar
1 teaspoon toasted sesame oil
1 tablespoon ginger paste
2 teaspoons Sriracha
1 (4.9-ounce) can sliced water chestnuts, drained and chopped
4 green onions, thinly sliced
Kosher salt
Freshly ground black pepper
1 head butter lettuce
Instructions
Heat oil in a saucepan over medium high heat. Add ground chicken and cook until browned, about 3-5 minutes, making sure to break it up into small bits as it cooks.
Push the meat to the edge of the pan and stir in garlic and onion and cook until onions have become translucent, about 3-5 minutes.
Add the hoisin sauce, Tamari, sesame oil, rice wine vinegar, ginger, and Sriracha Stir in to combine well.
Add the water chestnuts and green onions and cook until tender, about 1-2 minutes; season with salt and pepper, to taste.
Serve with your favorite dipping sauce and garnish (I added mango).
Notes
(adsbygoogle = window.adsbygoogle || []).push({});

https://www.theforkbite.com/copycat-pf-changs-chicken-lettuce-wraps/