Jump To Recipe
This
Fried Macaroni and Cheese Balls
are perfect to use your leftover mac and cheese. Crispy on the outside, yet creamy, cheesy and soft on the inside. They make a great party or after school snack.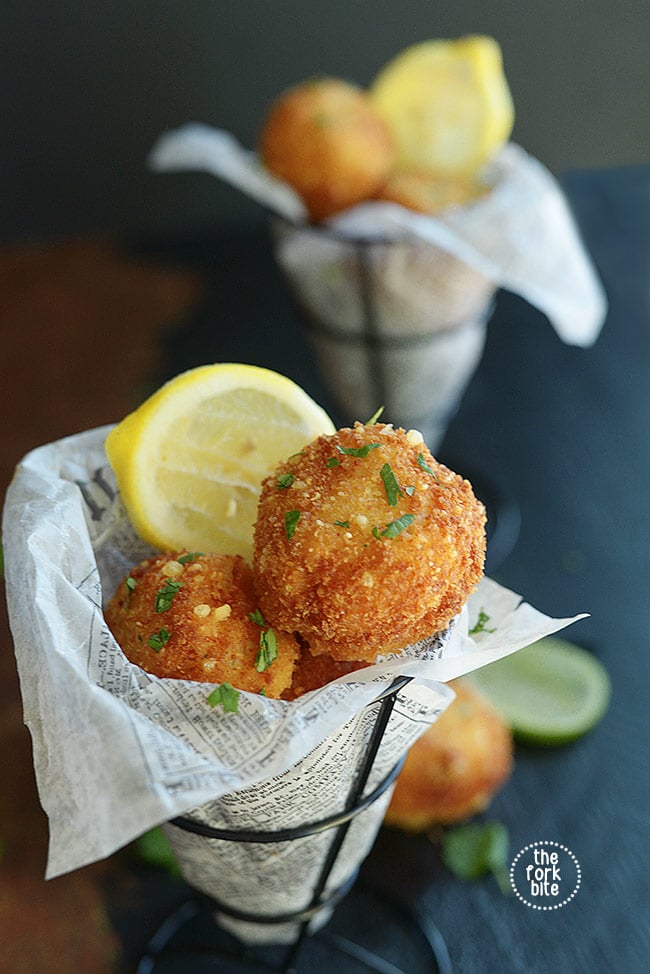 I know this is off topic but it's hard to find great tasting zucchini recipes, but if you've ever grown zucchini, you know getting an abundance of it is never a problem.
In fact, a friend stopped and was interested in seeing how our garden was doing, since she has one too.
For some reason, she moved closer to the fence and either lost her footing or tripped, but fell against the combination wooden and wire gate and landed smack dab on top of a zucchini plant, squishing it thoroughly.
Her foot was caught in the wire mesh, so as we struggled to get her up, it pushed the plant down even further. She lay there on her stomach, but I swear all I could think of was a turtle caught on its back. She was okay, but the plant looked pathetic and we were sure it was dead.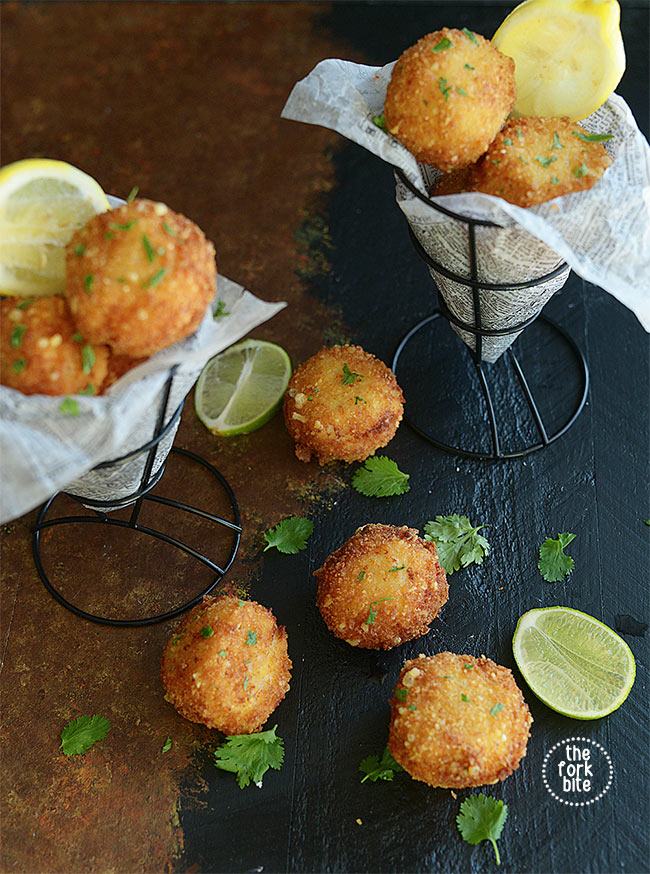 That was four days ago and at the time we thought the plant was a goner but noticed today it has a new small zucchini on it. IT LIVES!
These hardy plants create delicious veggies that are versatile enough to make bread, main dishes, sides, and even snacks, but I'm always looking for new ways to use it since it is quite prolific and as noted previously, tough to kill.
Read: Baked Mac and Cheese
Mac and Cheese Balls
Back to this recipe, I tried baking these since deep frying isn't my thing, considering the cleanup. It was mushy and not very good therefore, deep frying is the best option [for me :)].
Anyway, I'm not a big fan of Mac and Cheese, but when it is made with real, good cheese, it can be tempting. Not only that, if you turn good 'ol Mac and Cheese into small bites and fry or bake them, it's not only awesomeness but ridiculously phenomenal.
Oh boy! I just love the crunchy outside feeling while creamy and cheesy inside. They're so addicting that I can eat the whole plate in one sitting. I could hear my waist screaming for mercy. ha!
I think I found one that also uses some of the leftover homemade macaroni. This would be on top of my list.
I baked them at a higher heat and longer. Still not good. Finally, I fried these in a few inches of hot oil and viola, it was m-m-m-good.
You can serve this alone or with a dip. I liked a ranch dip, but another member of my family enjoyed honey mustard. They're good no matter how you serve it.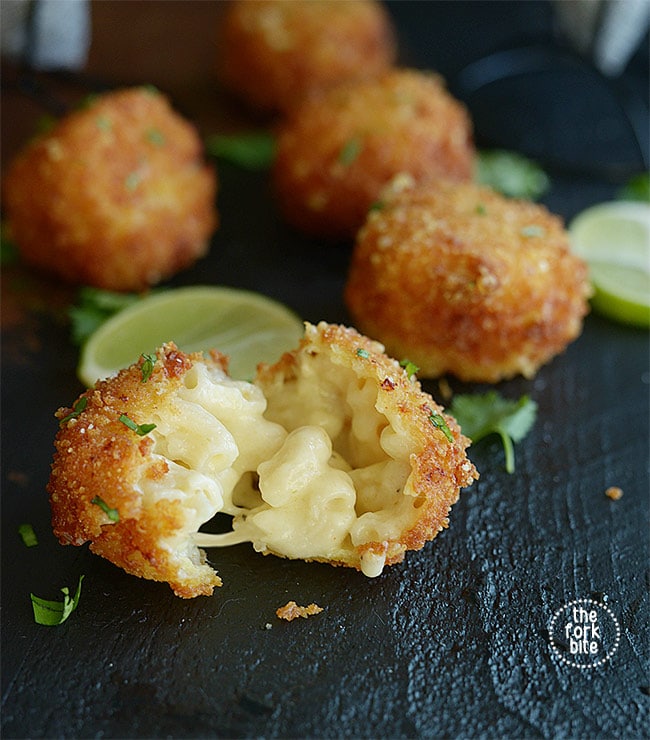 Mac and Cheese Balls
Mac and Cheese balls are a great way to use your leftover Mac and Cheese.
1 pound elbow pasta
4 tablespoons unsalted butter
1/4 cup flour
2 3/4 cups warm milk
2 1/2 cups sharp cheddar cheese, shredded
1 cup fontina cheese, shredded (you can add more if desired)
1 1/4 cups Havarti cheese, shredded
1/4 teaspoon mustard powder
1/4 teaspoon cayenne pepper
1/4 teaspoon salt
1/2 teaspoon pepper
Mac and Cheese balls:

1 1/3 cups freshly grated Parmesan cheese
1 1/2 cups panko bread crumbs
2 tablespoons flour
1/2 teaspoon salt and pepper
3 eggs, beaten
Instructions
Bring a large pot of salted water to a boil. Boil the pasta until al-dente. Drain.
In the same pot you boiled the pasta in, melt the 4 tablespoons butter over medium heat. Whisk in the flour.
Reduce the heat to medium-low and let cook/bubble for 1 minute, stirring once or twice to avoid burning.
Gradually whisk in the milk and raise the heat up to medium-high. Bring the mixture to a boil, whisking frequently until the sauce has thickened, about 2-3 minutes.
Remove from the heat and stir in all of the cheese, mustard powder, cayenne, salt and pepper. Stir until the cheese is fully melted.
Stir in the pasta and transfer to the prepared baking dish. Cover the mac and cheese and refrigerate 1-2 hours or overnight.
In a shallow pie plate or bowl, toss together the Parmesan cheese, bread crumbs, flour, salt and pepper.
In another separate bowl whisk together the eggs.
Scoop out about 1 tablespoon of mac and cheese, and make a ball
Dip into the eggs, making sure to coat the balls fully in eggs
Dip the mac and cheese ball through the bread crumb mixture until completely coated all around.
Place back on the baking sheet and repeat the process until all balls have been breaded.
Place the tray in the fridge while you heat the oil.
Heat a few inches of oil (enough to submerge the balls) in a heavy bottom high sided skillet or deep fryer to 350 degrees F.
Once hot, remove the balls from the fridge and place only a few at time in the oil.
Fry for for 1-2 minutes, flipping throughout cooking if need.
Remove with a slotted spoon and drain on paper towels. Repeat with the remaining balls.
Eat while hot!
Nutrition Facts
Mac and Cheese Balls
Serves
Amount Per Serving
Calories

985.02 kcal

% Daily Value*
Total Fat

51.07 g

78.6%
Saturated Fat

29.11 g

145.6%
Trans Fat

1.15 g

Cholesterol

221.51 mg

73.8%
Sodium

1052.57 mg

43.9%
Total Carbohydrate

80.83 g

26.9%
Dietary Fiber

3.26 g

13%
Sugars

8.94 g

Protein

49.02 g
| | |
| --- | --- |
| Vitamin A | Vitamin C |
| Calcium | Iron |
* Percent Daily Values are based on a 2,000 calorie diet. Your daily values may be higher or lower depending on your calorie needs.
https://www.theforkbite.com/mac-and-cheese-balls/