Who doesn't love mac and cheese? I know I'm not raising my hand on that questions a dish I love to eat in restaurants, but until recently, didn't make it at home because I never could get the perfect cheese sauce and don't care for the box mix style, which has absolutely no personality.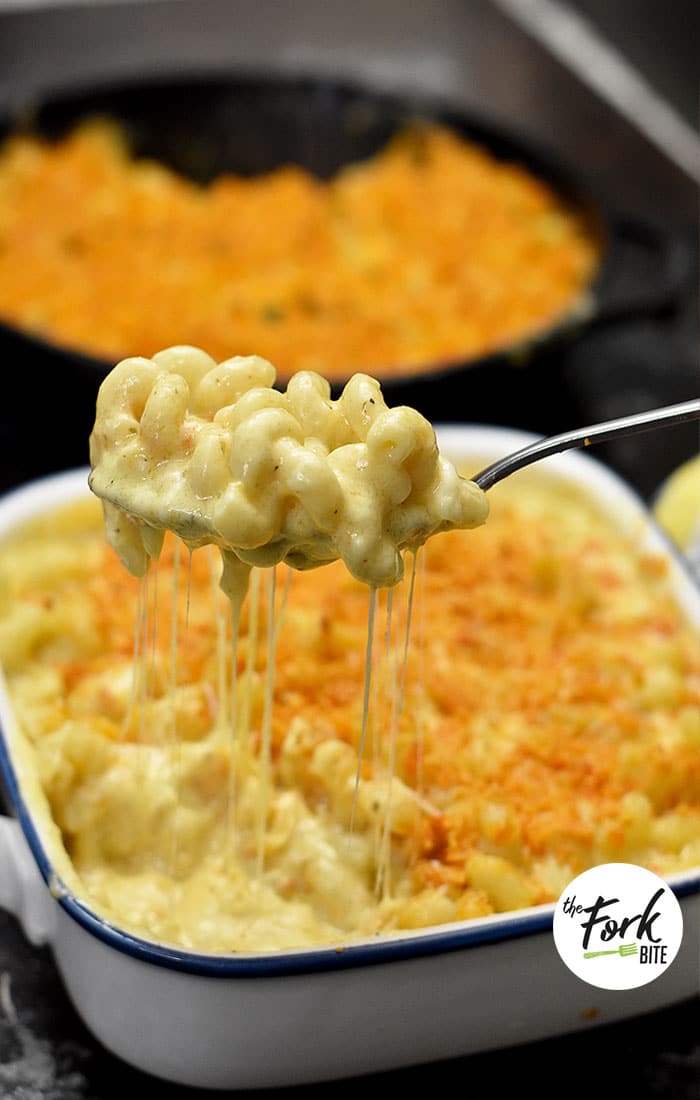 But now, thanks to a recipe on Pinterest, I can make my own super version of mac and cheese at home, using any type of cheese I want.
I don't want to sound unpatriotic, but plain American cheese just wasn't cutting it for me when it came to this dish—although it did remind me of some fond childhood memories.
Check This: Chicken and Rice Casserole
I wanted to make a dish you could embellish with any type of cheese you choose, "grown-up" but also one that was creamy, delicious and just as memorable as it was when I was a child. That was a tall order.
This recipe has it all, primarily because you don't make a cheesy sauce first, but grate the cheese on top of the macaroni, then pour a creamy sauce over it, top it with Pounded Doritos (or panko breadcrumbs browned with butter). But I like the taste of Doritos instead (it's only a matter of preference) but highly recommended.
That may not seem like a huge difference since you could always add any cheese to the sauce you wanted, but it is. What's the reason? I can make as many as four different types of mac and cheese at once!
The key is that you top the pasta with the cheese, so if I want a combination of Gouda and white cheddar, I only put that shredded cheese on one quarter, one third or one half the pasta and then top the other sections based on my family's or guest's taste.
To finish off this delight, just pop it in a preheated 325 F degree oven for 12 – 15 minutes and you have the perfect grownup mac that will please everybody at the table. You can even use plain ole' American cheese if you're hankering for a blast from the past.
What to Do with the Leftover Mac and Cheese?
Well, you can transform the leftover Mac and Cheese into an amazing, yummilicious Mac and Cheese Balls. They are perfect finger foods for weekend family gatherings or your Super Bowl party!
For Soggy Overcooked Pasta:
Toss some butter over the freshly drained macaroni pasta so they'll be slightly coated to help stop from absorbing more liquid as it bakes. One more thing, hot pasta absorbs more liquid easily, so it's better to cool them down before mixing the sauce.
Watch The Video Below 👇👇
More Sauce, More Creamy Mac and Cheese
Who wants a dry Mac and Cheese? I don't like my Mac and Cheese where there's no sauce left after it came out from the oven, so I add more sauce.
I want that cheesy, creamy sauce for my Mac and Cheese but depending on your taste or waist.

Creamy Baked Mac and Cheese
Category: Appetizer

Cuisine: American

This is one of my family favorite recipes. It's so cheesy, creamy with tons of rich cheese sauce and topped with Doritos making it extra delicious!
8 oz. elbow macaroni
½ cup butter
½ cup flour
4 cups milk
3 cups freshly shredded sharp or white Cheddar
3 cups Parmesan cheese
1/2 cup Doritos (or Panko bread crumbs)
Seasonings :

1 tsp garlic powder
1 tsp onion powder
1 tsp mustard powder
1 tsp adobo seasoning
Instructions
PASTA:

Prepare a large pot of salted water and bring it to a boil. Add the elbow macaroni and cook per package directions.
Drain the water and add the 1 tbsp of butter, toss until melted. Set aside to cool.
Creamy Mac and Cheese Sauce (You Can Watch the Video Above):

Melt butter over low heat in a large saucepan. Add the flour and whisk constantly until smooth for about a minute.
Gradually pour 1 cup of milk, keep whisking to mix and dissolve the flour, then add the remaining milk and whisk until lump free.
Season with the seasonings above and adjust according to your taste.
Keep stirring constantly until the mixture thickens into a creamy consistency. Turn off the heat.
Assembling:

Grease a baking dish and add the pasta. Sprinkle the 6 cups freshly shredded cheese over the top. Pour the creamy sauce over the cheese, wait a bit and stir everything together.
Now, pound 1 cup Doritos and sprinkle them on top of the Mac and Cheese.
If you are using Panko Crumbs - Melt 1 tbsp butter and add 1/2 cup panko breadcrumbs, stir constantly until golden brown and sprinkle over the Mac and Cheese.
Bake in a pre-heated 325 F oven for 12 -15 minutes
https://www.theforkbite.com/baked-mac-and-cheese/