What goes good with Jambalaya? When you add one of these dishes, it brings a whole new meaning to the word "perfection."
Many Jambalaya lovers here in the US love eating this exquisite rice dish on its own, and why not? It is a dish whose complex flavors dance across your tongue without the need for any help.
But a growing number of discerning jambalaya connoisseurs are taking to eating this beloved rice dish with side accompaniments, and it's these we are going to explore together.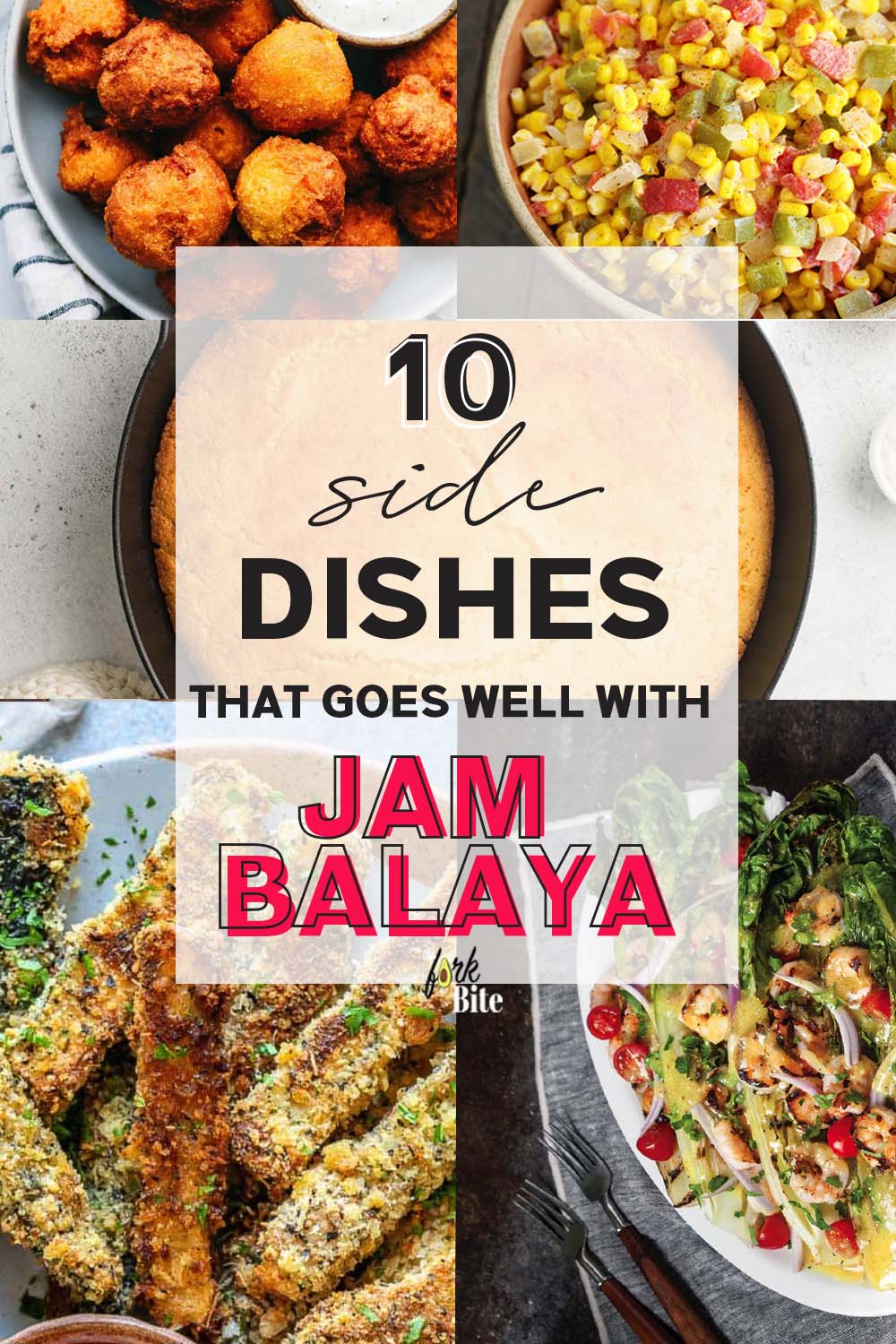 Jambalaya is the perfect one-pot rice dish. Its multi-ethnic heritage stretches back to Louisiana in the 1700s when two basic varieties of Jambalaya evolved - Cajun and Creole.
Jump to:

You can tell the difference through their color. The Cajun variant is brown, while the Creole is reddish-orange. But regardless of their color, they are both absolutely delicious.
At its heart, a good Jambalaya is a mixture of meat, rice, vegetables, and spices. Many people also enjoy incorporating seafood in their recipes.
As a stand-alone meal, this rice dish is right up there with the best, but it takes it to the next level when served with an accompaniment.
---
International Favorites
All countries are recognized for certain recipes. The British have their roast beef or fish and chips; the French have their Coq Au Vin and Lescargots, The Italians have their Tornados Rossini and Pizza.
Jambalaya is one of the great American dishes. It might have its basics in other dishes like Spanish Paella, but it was invented here in the southern USA with influences from France, Spain, and West Africa.
---
The Holy Trinity
A good Jambalaya is all about the "Cajun Holy Trinity," something that falls somewhere between a French Mirepoix and a Spanish Sofrito.
When mixed in with various other ingredients such as Andouille (Cajun sausage), Chicken, Crawfish, Pork, Seafood, etc., plus of course, rice, you've got a bowl full of love.
---
What goes good with Jambalaya?
So why is an accompaniment needed, you may ask? Well, frankly, it's not needed as such, but when you add one of the ten accompaniments I am about to describe, it brings a whole new meaning to the word "perfection."
1

Baked Lady's Finger

Okra is grown in warm, tropical climates such as in Africa and South Asia. It is often referred to as "lady's fingers." Fresh okra comes in two colors - green and red; however, red okra turns green when cooked.

Although people tend to think of it as a vegetable, technically, it is a fruit. It's a great favorite often used in Southern American cuisine and served as an accompaniment to gumbo.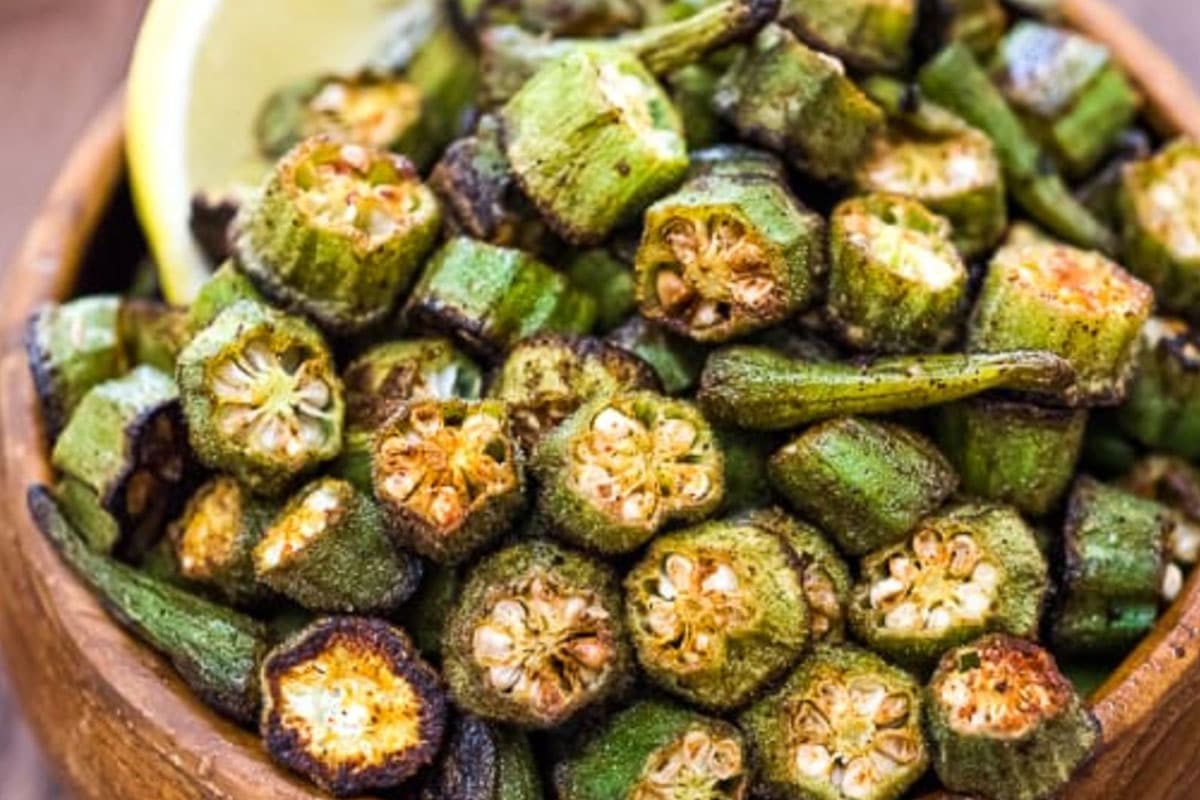 Some people love okra, while some are not quite so keen because of its slimy texture. There are six health benefits associated with okra.
It is rich in nutrients, containing folate, magnesium, vitamins A, E26, C, and K
Packed with antioxidants
It is thought to lower heart disease
It contains lectin - a potential inhibitor to the growth of cancer cells
It can help to maintain healthy blood sugar levels
Potentially beneficial to pregnant women
One way to counter the slimy texture of okra is to bake it with a pinch of cayenne, paprika, and salt. Take a look at this recipe.
Cooked in this way, it comes out with a slightly crispy outer and succulent inner and is a great accompaniment for Jambalaya.
---
2

Mexican street corn

Mexican Steet Corn or Elote Corn, You'll find it all over the US and, of course, in Mexico from where it originates and is a popular antojito.

Roasted over an open grill or barbecue, this corn on the cob dish is smothered in butter, chili powder, cotija cheese, lime, and mayo or Crema Fresca.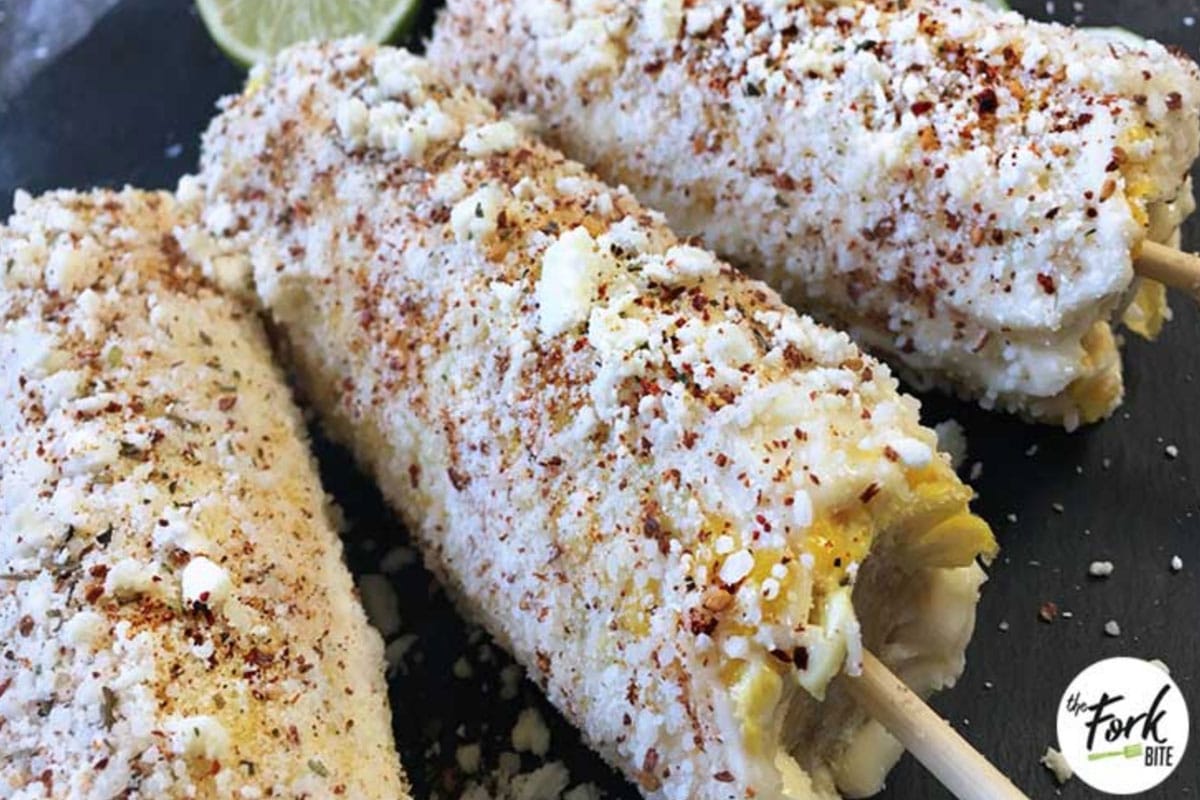 Eating corn straight off the cob is fun, but it can be a little messy, and if you're going to serve Elote as an accompaniment to Jambalaya, you might want to shuck it off the cob and service it as Elote Niblets. It's a winner.
---
3

Swiss chard saute with white beans

This delicious accompaniment for Jambalaya is an Italian-inspired creation. It's fast and easy to prepare and cook and only needs four ingredients - five if you count the Parmesan cheese finishing touch.

The main four ingredients are the Swiss Chard, a little fresh garlic, some white beans, and a little olive oil to saute.

Sometimes called rainbow chard, Swiss chard is a dark leafy vegetable rich in antioxidants and vitamins. It's also low in calories and is, therefore, healthy addition to any diet.

When finished off with a drizzle of olive oil and a liberal sprinkling of Parmesan cheese, it works really well alongside a plate of Jambalaya. Click here for the recipe.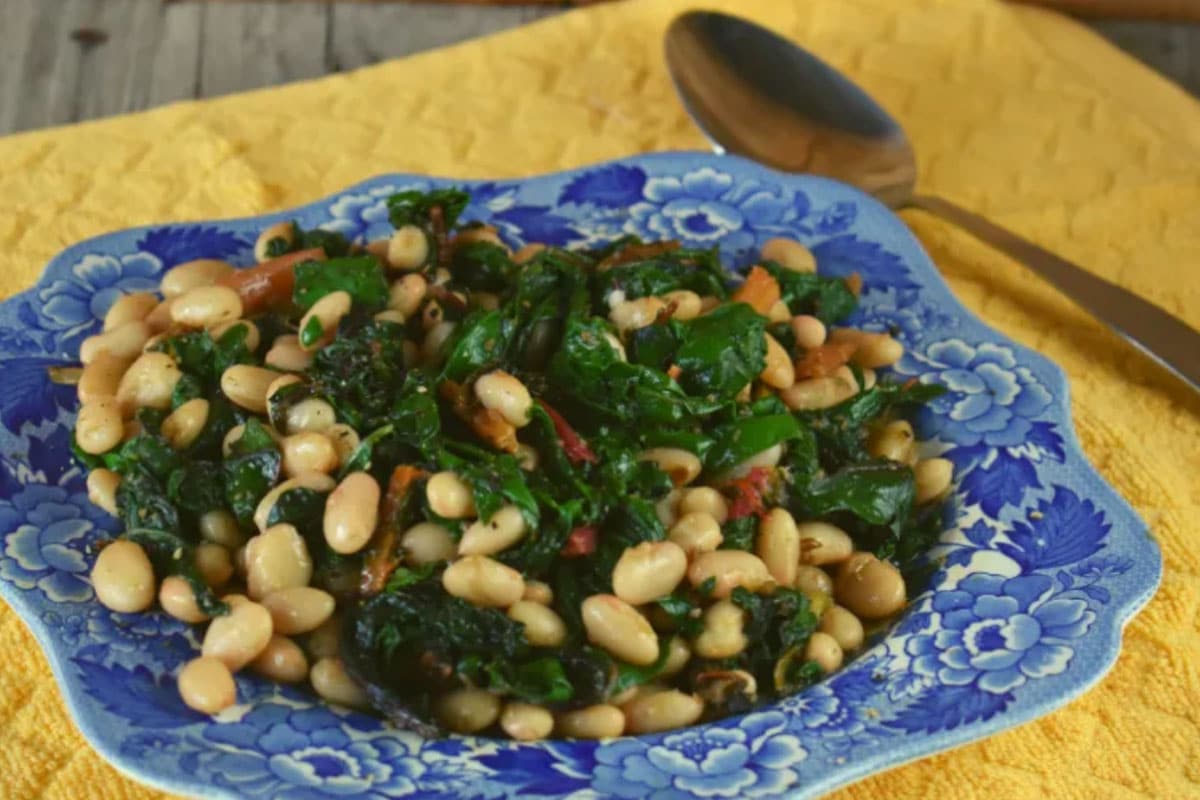 ---
4

Baked cornbread

Jambalaya and cornbread is a mixture made in heaven. Both are staples of Cajun/Creole cuisine, and when you serve them together, it just doesn't get any better!

The preparation is quick and easy - especially if you follow this recipe.

Just whizz the ingredients together, pour into a cast-iron skillet, pop in the oven and bake at 350°F for 45-50 minutes, and it's job done.

Cut into wedges and serve to your guests to mop up those delicious Jambalaya juices. Yum!

For Jamabalaya enthusiasts, why not bake Jambalaya Corn Bread?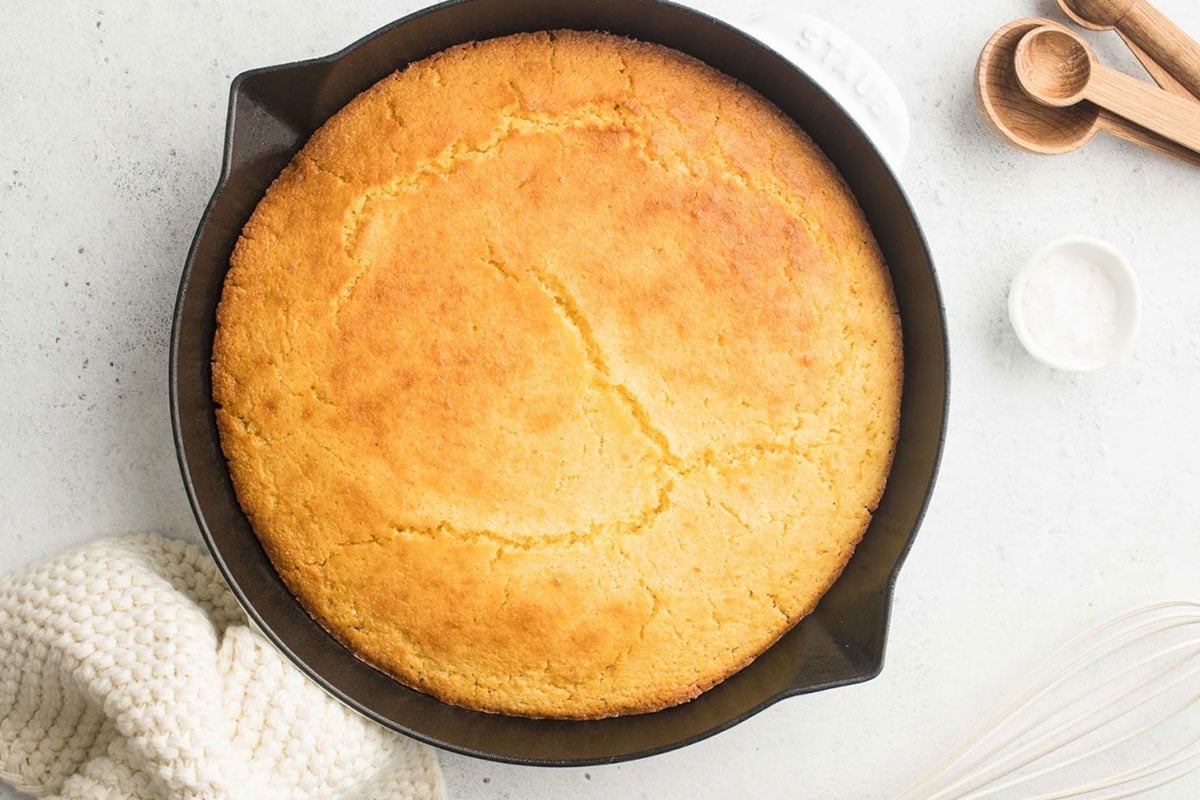 ---
5

Chinese stir-fry green beans

The Chinese know all about stir-fries that go well with rice. Okay, Jambalaya is not exactly Chinese, but a little fusion cuisine never did anybody any harm - far from it. It's all for good.

This stir-fry recipe is a doozy - especially if you take a little tip from me and add some small pieces of bacon to crisp up in there.

It matches the flavor of the Jambalaya down to a tee, and that spicy hit is just what you need to bring the party to life. Click the recipe here.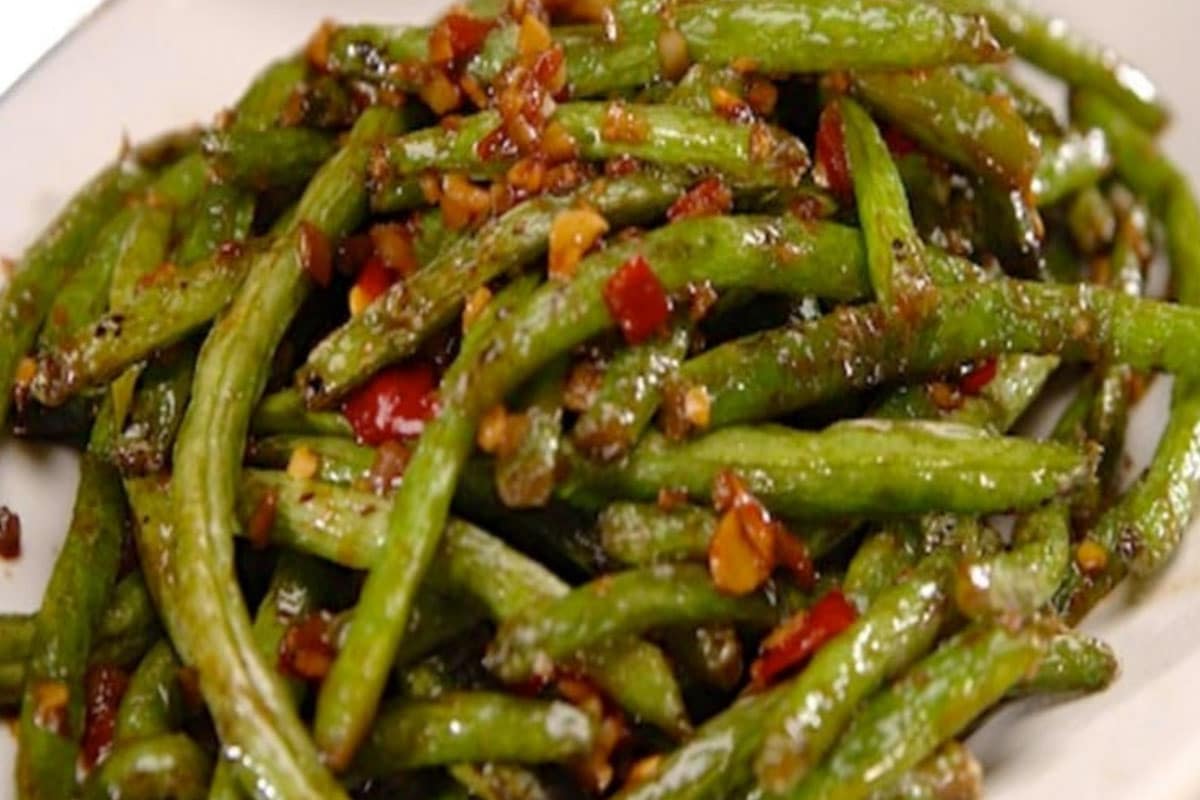 ---
6

Romaine lettuce heart sensational grilled salad

Coming all the way from Baton Rouge, this Romaine Sensation Salad will knock your socks off.

Served with a punchy dressing made from garlic, lemon juice, oil, and Romano cheese, these crunchy Romaine lettuce hearts sit so well beside Jambalaya; once you try this combo, you'll repeat it time and time again.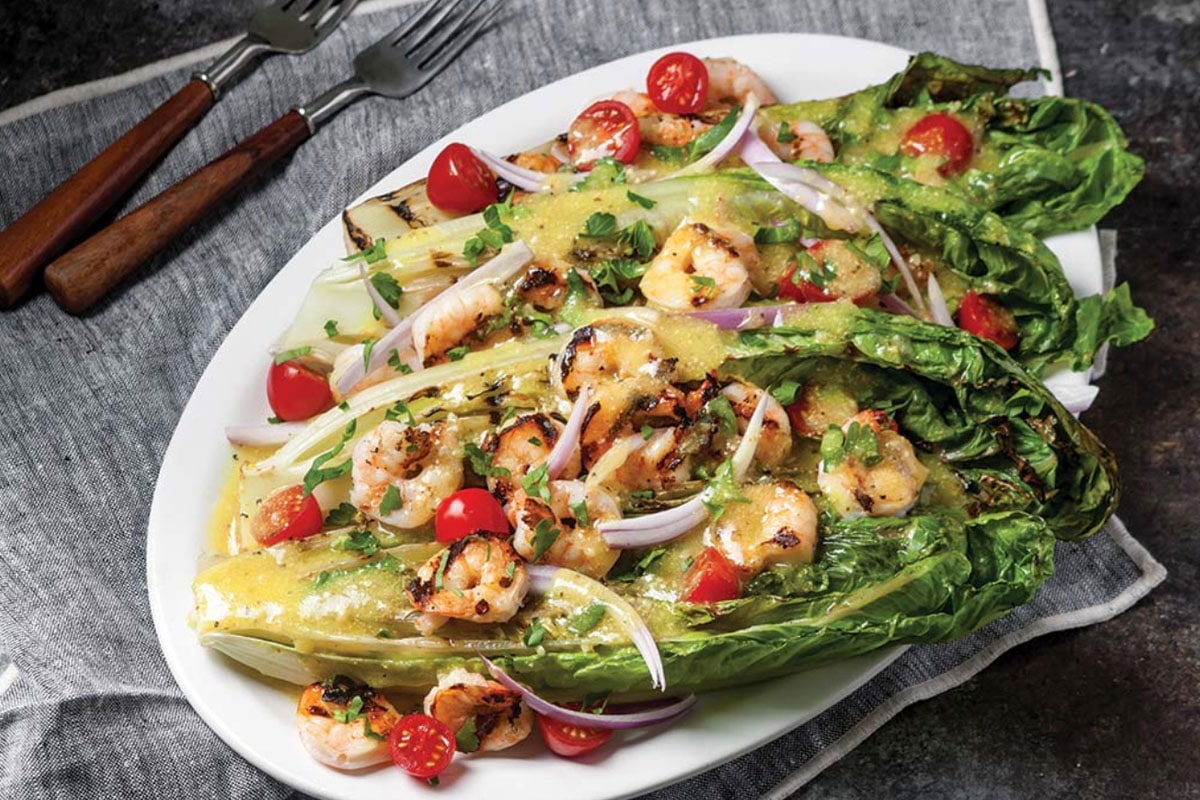 ---
7

Crispy and succulent baked parmesan zucchini fries

We all love fries, but they don't always love us. Although they go great as a side with Jambalaya, all that starch and carbohydrate takes the calorie count way up there.

But toss out the potato and substitute it with Zucchini. Cut into chips.

Make up a mixture of flour, Italian herbs, a little salt, and some smoked paprika. Coat the Zucchini chips in olive oil, toss them in the mix, and oven bake for 15 to 20 minutes.

What comes out of the oven is a great alternative to traditional chips.

They are crunchy on the outside, with juicy, succulent inners, and this combination makes them a great texture contract when served alongside Jambalaya. If you'd like the recipe, please click here.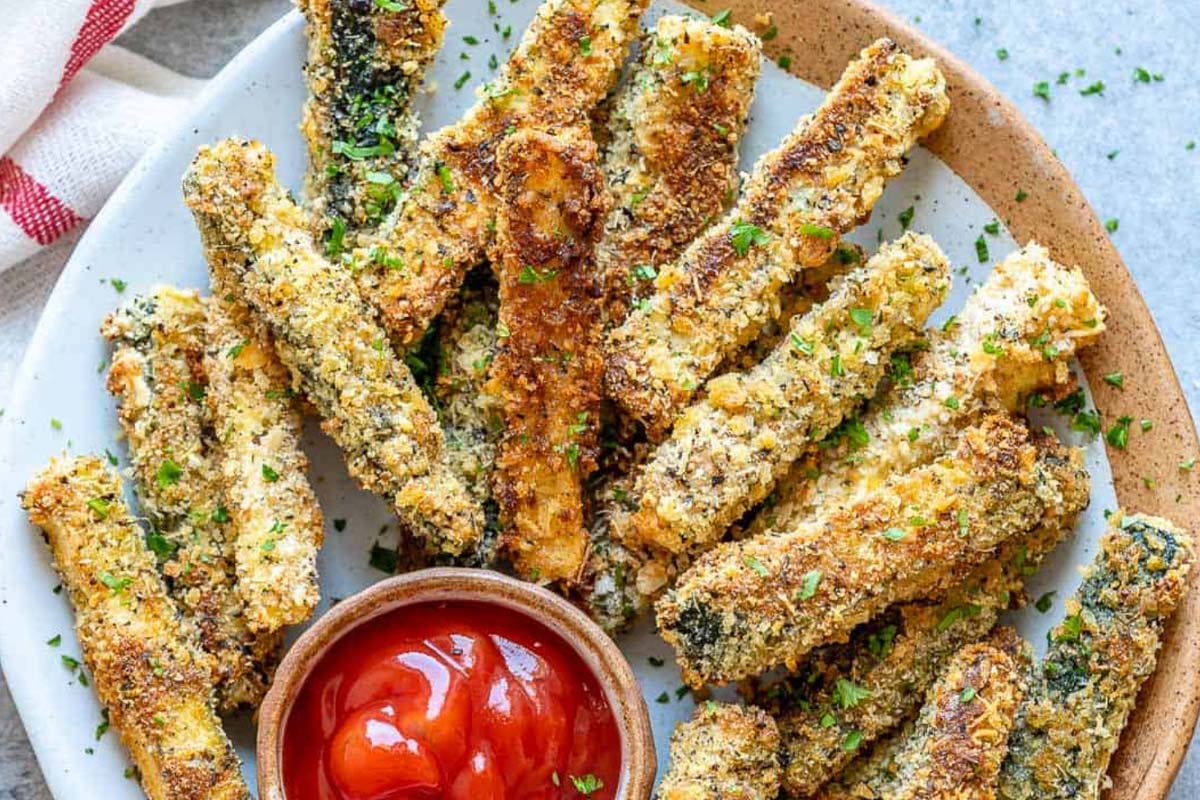 ---
8

Southern maque choux

If you normally add corn into your Jambalaya, but you want to serve Corn Maque Choux as an accompaniment, you might want to consider leaving it out of the rice dish.

There again, if you are a corn lover, there's probably no such thing as a corn overload.

This recipe uses corn, bell peppers, onion, and garlic. Cook it in a dutch oven with some bacon fat and a little (or a lot) of Creole seasoning, and it makes a great side to serve with Jambalaya.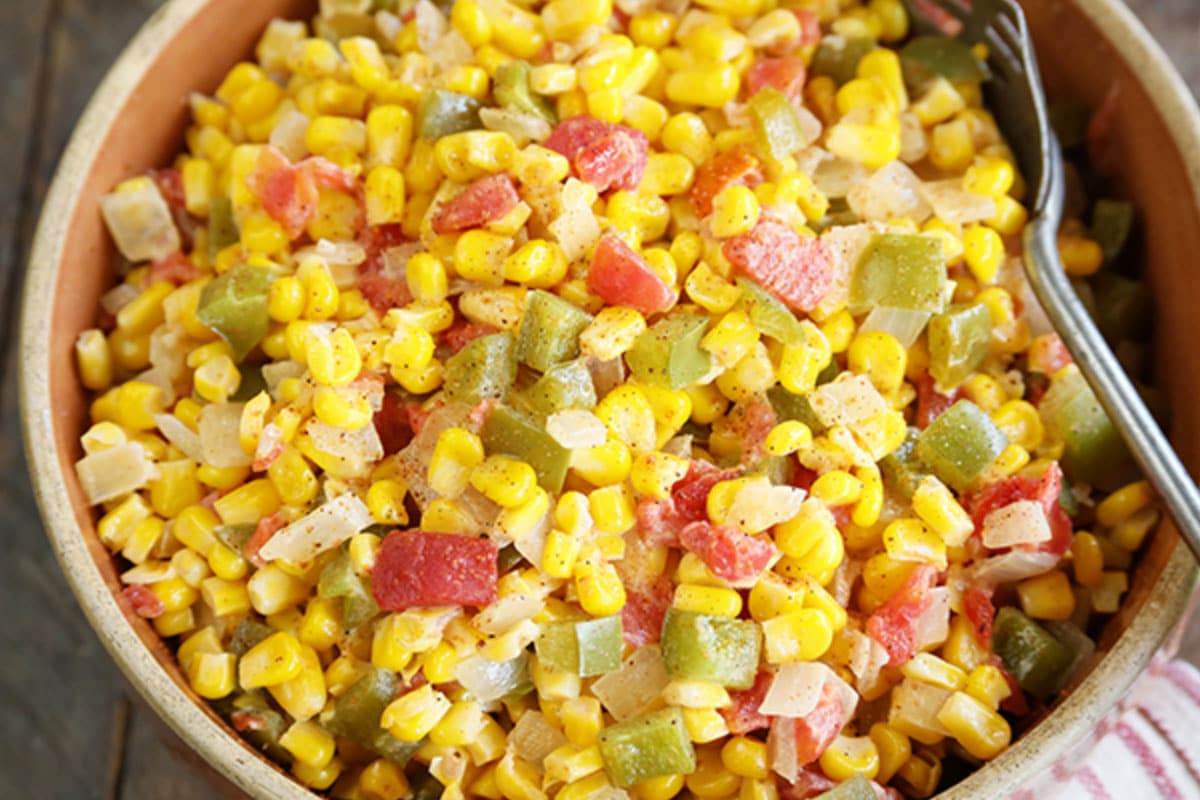 ---
9

Hushpuppy southern corn fritters

Corn fritters make the perfect accompaniment for any Southern-influenced meal, especially Jambalaya.

These little bite-sized pieces of heaven consist of a light, flakey cornmeal batter that is molded into small balls and deep-fried.

They come out as light, crunchy golden brown with soft inners, and they are an absolute joy to eat. Click here for the recipe.

Why are they called Hush Puppies? One story has it that people used to throw them at dogs to stop them from barking.

Really? What a waste of corn fritters; it sounds pretty crazy to me. Any smart dog will quickly get the hang of barking to snaffle up a quick, tasty snack.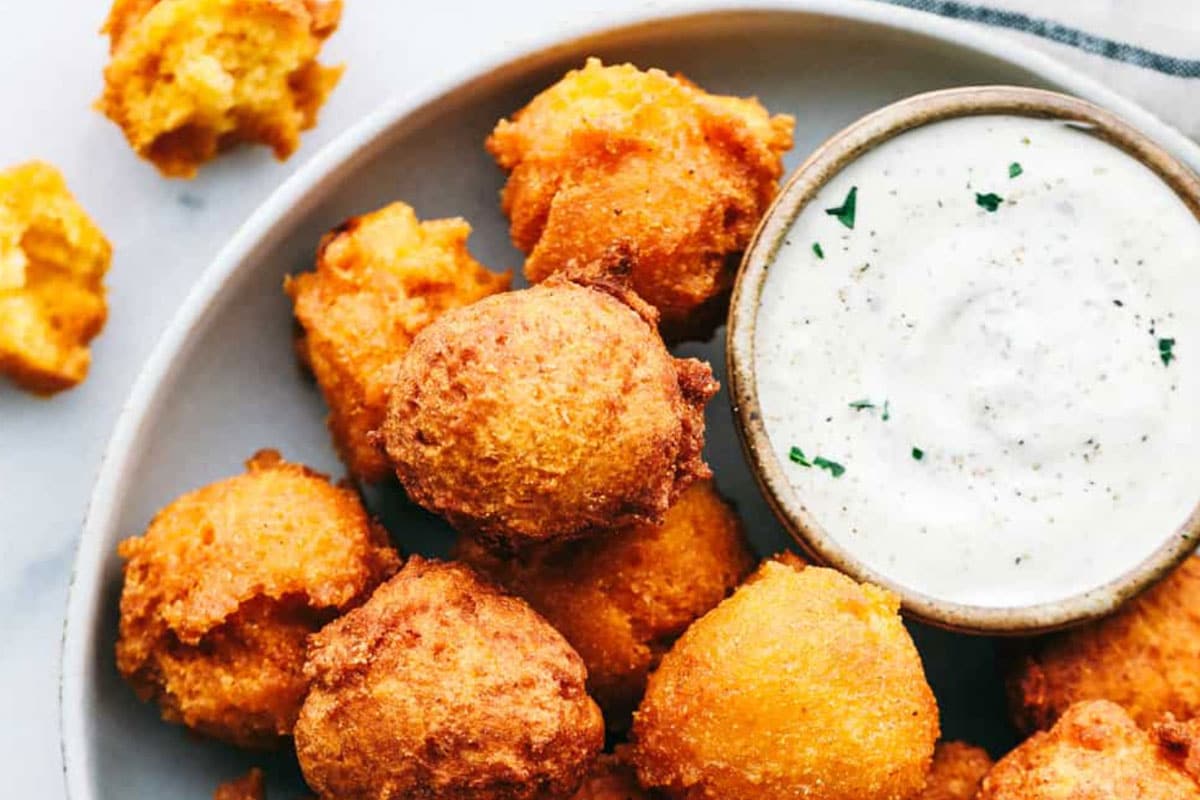 ---
10

Creamy, crunch coleslaw

The original coleslaw is not a southern recipe. In fact, it originates from the Netherlands.

The word "coleslaw" comes from the Dutch "koolsla," and it means "cabbage salad." But those pesky Dutchies get everywhere, including Louisiana, in the late 1700s.

Let's face it, coleslaw is a world favorite, and it certainly works well as a side to Jambalaya.

That crunch mixture of shredded raw cabbage and carrot in a creamy mayo dressing is a crowd-pleaser. When you service with Jambalaya, you might want to spice up this recipe a bit by adding a little mustard or vinegar.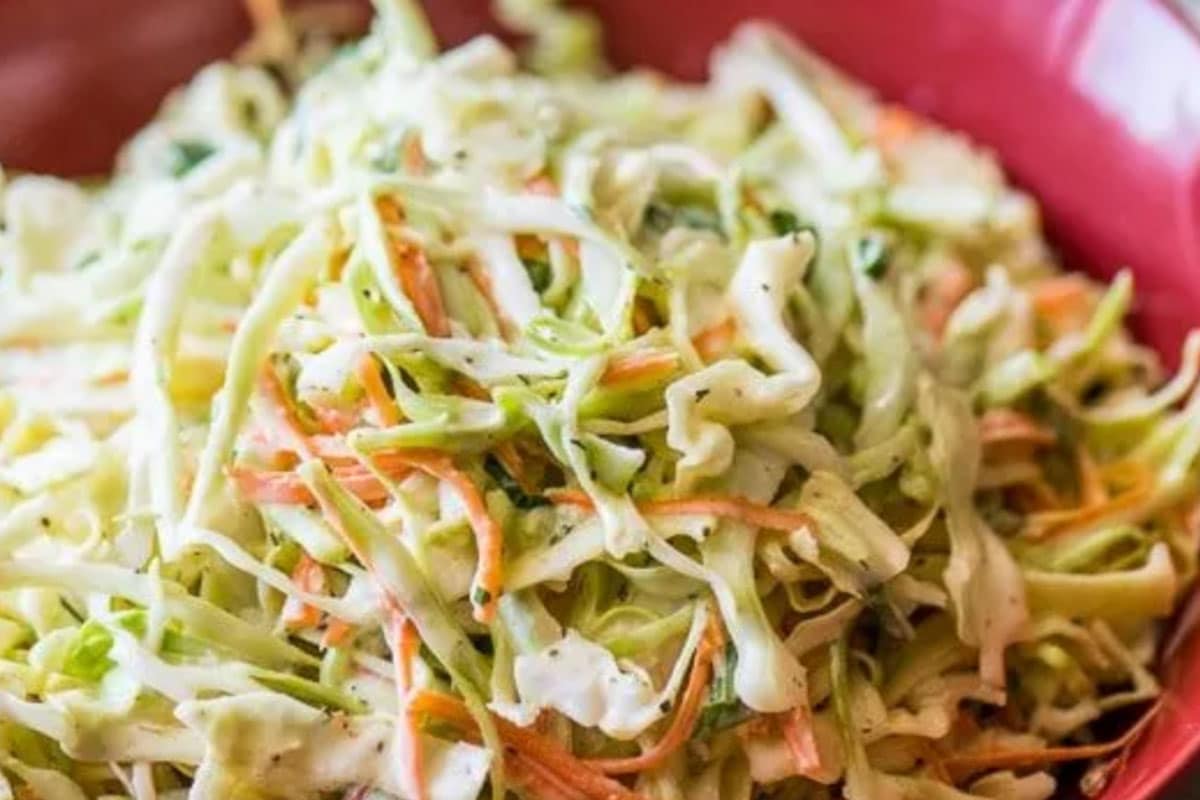 ---
What side dishes go with Jambalaya?
You might think I'm crazy to suggest adding a side when serving Jambalaya, but hey - don't knock it until you've tried. I guarantee you'll be hooked, especially if you use any of the ideas I've outlined above.
---
Related posts: