Jump to Recipe
I am in love with this Stir Fry Green Beans because of the way the ingredients and spices melding together resulting to awesome flavors and the textures. These crunchy green beans are loaded with savory, sweet and a bit spicy kick that makes this Stir Fry a tasty side dish and so great when eaten with lots of rice.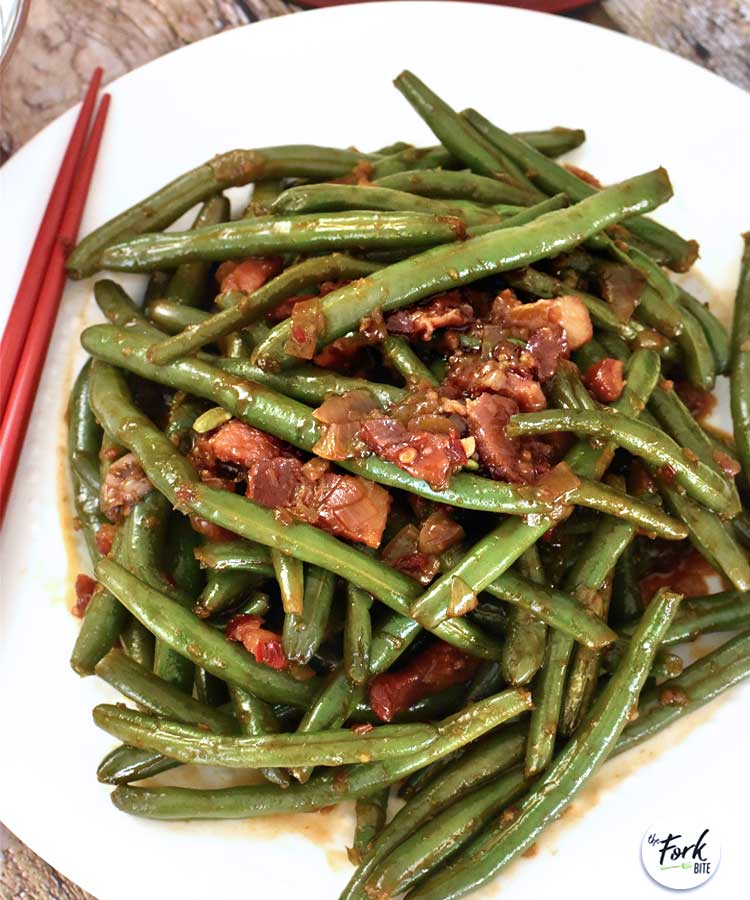 The fragrant aroma will tantalize the family and the taste will have them asking for seconds! Side dishes complete a meal. This Cantonese classic is made with thin Chinese green beans that deliver a satisfying crunch when bit into.
Fairly fresh beans make this recipe taste even better! Ask your local grocer and specialty market when the beans are available to buy. You may also find them at a Farmers Market. They are often available in bundles with a length of 12 to 30 inches long.
Don't worry, there's no need to rush out and get a super-sized skillet! The nickname of Chinese long beans was earned for their length – some varieties exceed a yard in length.
Check out my other recipes :
ShuMai Recipe
Kung Pao Chicken
Pad Thai Recipe
Pork Spare Ribs
Thai Basil Chicken
The beans are usually harvested before they mature. Choose young beans that:
Are flexible.
Don't look dry.
Have no black spots.
Although part of recent popular cuisine in the West Indies, Mediterranean area, and United States, these flavorful bean pods have been an important food source in part of Africa and the Orient for thousands of years. Part of its popularity is earned because it holds up to hot chilies and spices while delivering hearty bites and a chewy texture.
Also known as Chinese snake beans, the blue to violet flowers produce pencil thin pods between two to four weeks after flowering. Some of the pods are left on the vine to mature and dry for next year's seeds.
Keep track of harvest time for Chinese long beans in your area. Young beans are typically available in July. This low-calorie veggie has a good supply of fiber, minerals, and vitamins. It's a good feeling to know you are serving a delicious, healthy side dish to your family, friends, and yourself!
Stir Fry Green Beans
Category: Appetizer

Cuisine: Chinese, Asian

This Stir Fry Green Beans are so easy to make and so addictively yum. Loaded with chilies, crispy bacon, and garlic which is a great takeout fakeout.
1 lb green beans
3 slices of bacon ( or your choice of meat - try this Char Siu recipe ) cut into bite size.
1/4 cup Chicken stock
Sauce ingredients:

2 tbsp Toban Jiang (Chili Bean Sauce)
2 tbsp Hoisin Sauce
2 tbsp brown sugar (reduce the amount of sugar if you don't like sweet)
1/2 cup water
4-5 cloves of garlic (finely chopped)
1 medium shallot
Instructions
Chop the green beans in half (optional - but it's easier to munch) and cut bacon into bite sizes. Set aside.
Sauce:

Mix the sauce ingredients and set aside.
Heat the wok and fry the bacon. Cook the bacon until the edges are a bit crispy while releasing enough oil. Add the chopped garlic and shallots and stir fry for 30 seconds.
Before the shallots and garlic get burned, pour the sauce mixture and stir for 30 seconds. Then add the green beans.
Add the chicken stock and mix well. Cover with lid and let it steam for 10 minutes or until beans are tender crisp. Take off the lid.
Stir fry until the sauce thickens a bit and you're done. Serve over jasmine rice.
https://www.theforkbite.com/stir-fry-green-beans/