Ever wonder why your pasta is chewy and not silky smooth? It's a common problem for home cooks who haven't quite mastered the art of cooking pasta. Contrary to popular belief, it's not always due to undercooking or overcooking - most times, it has to do with incorrect preparation and storage techniques.
If you've ever asked yourself why your pasta is chewy, you're in the right place! Let's explore the most common reasons why your pasta is chewy and some tips and tricks for fixing it. We'll take you step-by-step through creating the perfect al dente pasta. So, if you're ready to learn how to get your pasta just right, keep reading!
Jump to:
---
What exactly is chewy pasta?
Chewy pasta has a tough, rubbery texture that is difficult to bite or chew. It may feel dense and firm when you bite into it and require more effort to chew and swallow. Chewy pasta may also have a slightly sticky or gummy texture, as the starch granules in the dough have become overhydrated and released excess moisture. It may also lack the desirable al dente texture characteristic of adequately cooked pasta.
---
Why is my pasta chewy?
It seems simple - boil the water, throw in some pasta, and wait until it's al dente. But I'm here to tell you there's a lot more to it than that when it comes to getting the perfect pasta. There are plenty of nuances that could make or break the flavor and texture of the meal.
1

Water-to-pasta ratio:
What is the recommended amount of water?
The amount of water you should use when cooking pasta depends on the pasta you are cooking and the size of your pot. As a general rule, you should use at least 4-6 quarts of water per pound of pasta. For example, if you cook 1 pound of pasta, you should use a pot holding at least 4-6 quarts of water.
Water must also be sufficient to cover the pasta completely. This will allow the pasta to move freely in the water and cook evenly. If the pasta is not fully submerged in the water, it may become stuck together or unevenly cooked.
---
2

Season the pasta water with salt:
How much salt to add?
The amount of salt to use when cooking pasta depends on what salt you use. However, a good rule of thumb is to salt the water generously until it tastes like the sea. If you need more precise measurements, it is recommended to use 1.5 to 2 tablespoons of Kosher salt per pound of pasta and 4 quarts of water.
Salt plays some critical roles when cooking perfect pasta:
Enhancing the flavor: In addition to improving the texture, salt can also enhance the flavor of the pasta by bringing out its natural flavors and helping it to pair well with other ingredients in the dish.
Creating a firmer, more al dente texture: When the pasta is placed in salted water, the salt helps to speed up the cooking process by breaking down the starch granules in the dough and allowing them to absorb water more quickly. This can help to create a firmer, more al dente texture that is less likely to become mushy or chewy.
Shortening the cooking time: When salt is added to the cooking water, it helps break down the starch granules in the pasta dough, allowing them to absorb water more quickly. This can help shorten the cooking time, as the pasta will reach the desired level of doneness more quickly.
---
When is the optimal time to add salt to pasta water?
When the water has begun boiling, add salt just before adding the pasta. This allows for an even distribution of salt throughout the water and prevents it from becoming too concentrated. When adding the salt too early, remember that the water may evaporate as it boils and heats up, so you may need to add a little more after it comes to a boil. If this happens, add more water to dilute the concentration.
---
Do I need to use a specific type of salt?
I choose Kosher salt for its clean taste and traditional Italian approach. With a milder flavor than iodized salt, our dishes are better balanced when using Kosher salt. We like to use Kosher salt, equivalent to 'sale grosso' - it's great for cooking pasta water. For seasoning dishes at the end, we prefer using 'sale fino.' It's worth investing in these two types of salt as they have been used traditionally by Italians and give our food an authentic taste.
Read:
---
3

Over-boiling or boiling for too long:
One cause of chewy pasta is over-boiling or boiling for too long. Pasta needs to cook properly to allow the starches to break down, but boiling it for too long can cause it to become mushy or gummy. To prevent this, you should start with a pot of rapidly boiling water and add your pasta. The cooking time will depend on the type of pasta you're using and how al dente you like it, so be sure to refer to package instructions for the best results.
---
What is the best way to determine when pasta is done?
The answer is simple: taste it! While the wall test can be used as a general guide, it's unreliable. The best way to know for sure if your pasta is cooked through is to take a bite and assess its texture. If you need more cooking time, put it back in boiling water until it's done. Your taste buds are the ultimate guide when determining the perfect al dente consistency of your pasta.
---
Is it necessary to cover the pasta while cooking it?
The answer is no. While it may be tempting to cover the pot once the water has begun to boil and the pasta has been added, it's important not to do so to prevent messy spills or boil-overs.
Instead, wait until the water comes to a rolling boil before adding your pasta, and then remove the lid. This way, you can keep an eye on the boiling process and ensure that your pasta doesn't become overcooked or stick together as it cooks. The key is to watch carefully and occasionally stir until your desired doneness is achieved.
Read:
---
4

Pasta shapes
Choosing the right pasta shape can bring out the best flavors and textures in a dish by allowing the sauce to cling to the pasta and complement its shape and size. Different pasta shapes are designed to hold different types of sauces, and matching the right pasta shape with the right sauce can help to create a balanced and delicious meal.
For example, long, thin pasta shapes such as spaghetti and linguine are best paired with light, simple sauces such as marinara or Aglio e olio (garlic and oil). These pasta shapes have a large surface area, which allows the sauce to coat them evenly and provide a balanced flavor.
On the other hand, larger, more porous pasta shapes such as rigatoni and fusilli are well-suited for heartier, chunkier sauces like Bolognese or Carbonara. These pasta shapes have more crevices and indentations, which allow the sauce to cling to them and provide a more intense flavor.
Bottom line:
Choosing the right pasta shape can help to bring out the best flavors and textures in a dish by allowing the sauce to complement the shape and size of the pasta. You can create a delicious and balanced meal by matching the right pasta shape with the right sauce.
---
Note: The Plethora of Pasta Permutations is an incredible illustration that shows the sheer variety of shapes and sizes available to us when it comes to pasta. What's more, Pop Chart Lab has broken down these 250+ kinds of pasta into those that come from machines and those crafted by hand. It's amazing how many types there are!
---
5

Drain your pasta properly
I can't stress this enough: Drain your pasta properly! When boiling the pasta, carefully remove it from the pot and drain it in a colander. It's important to remove enough water to prevent the pasta from being too watery but not so much that it is allowed to dry off and cool.
Once it's drained, transfer it immediately to a pan with your heated sauce – if you let it sit for too long, its starches will firm up and cause all of your pieces of pasta to stick together. Save yourself some frustration by taking a few extra seconds to drain your noodles.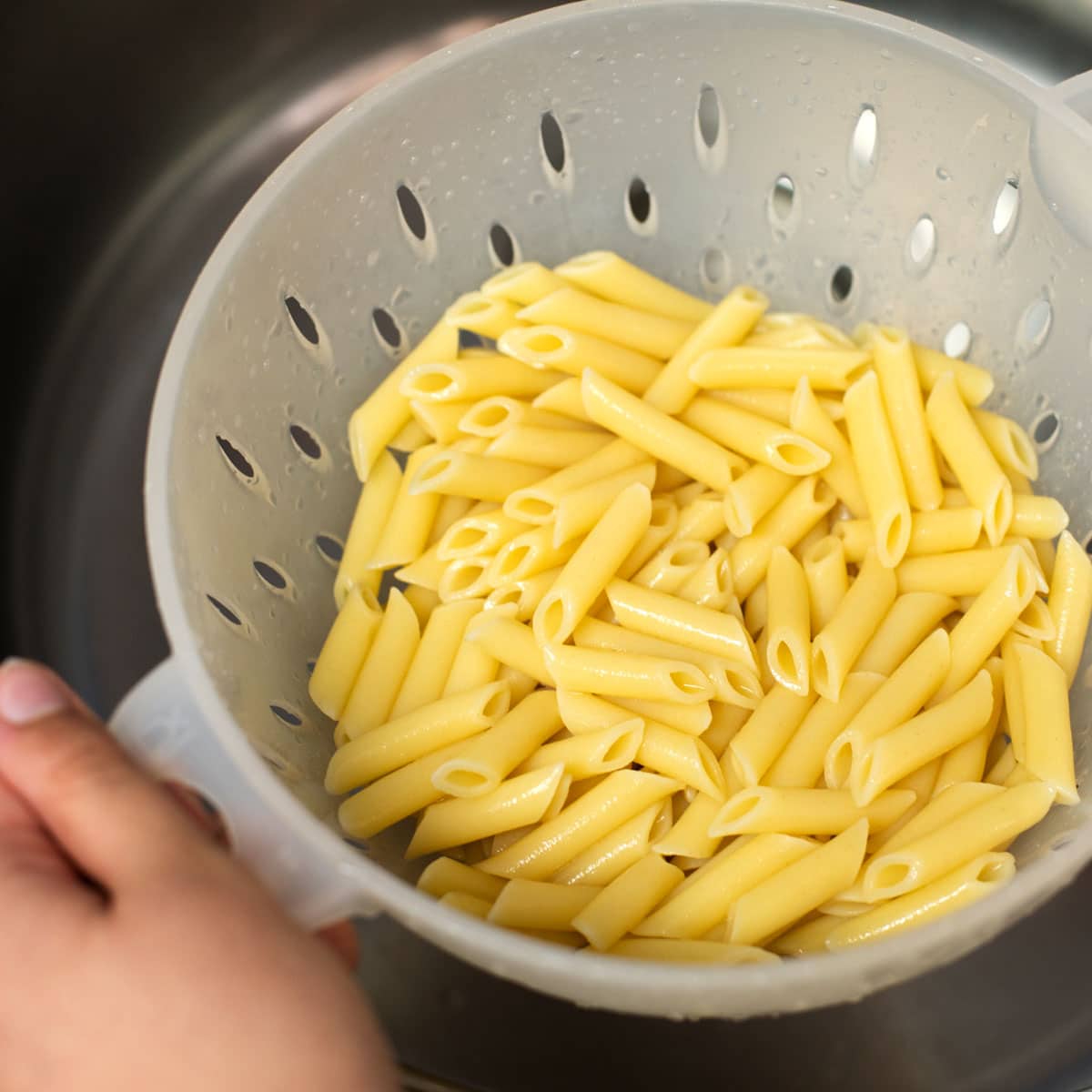 ---
Is it okay to give the pasta a quick rinse after boiling it?
It depends on what you're making. If it's a warm dish, like an Italian pasta bake, I wouldn't recommend rinsing the pasta as it will remove the starches that help thicken up and absorb the sauce.
However, if you're making a cold dish such as a pasta salad, a quick rinse in cold water can help prevent sticking and give you that desirable al dente texture. Just drain it using a colander before serving or adding other ingredients. All in all, rinsing isn't necessary every time – use your judgment!
---
Is it better to use a slotted spoon or a strainer when serving warm pasta with sauce?
I've found that using a slotted spoon works best for me. Not only does it allow you to quickly and easily remove the pasta from the boiling water, but it also allows some of the hot cooking liquid to drip off before adding it to the pan with the sauce.
This helps keep some of the starches intact, which in turn helps thicken the sauce. By stirring everything together, you also help ensure that the pasta is evenly coated with the sauce. Plus, it's much faster than using a strainer and then adding the drained pasta back into your pan.
If your sauce is drying out too quickly during cooking, adding a splash of pasta water with a ladle can help bring back some moisture.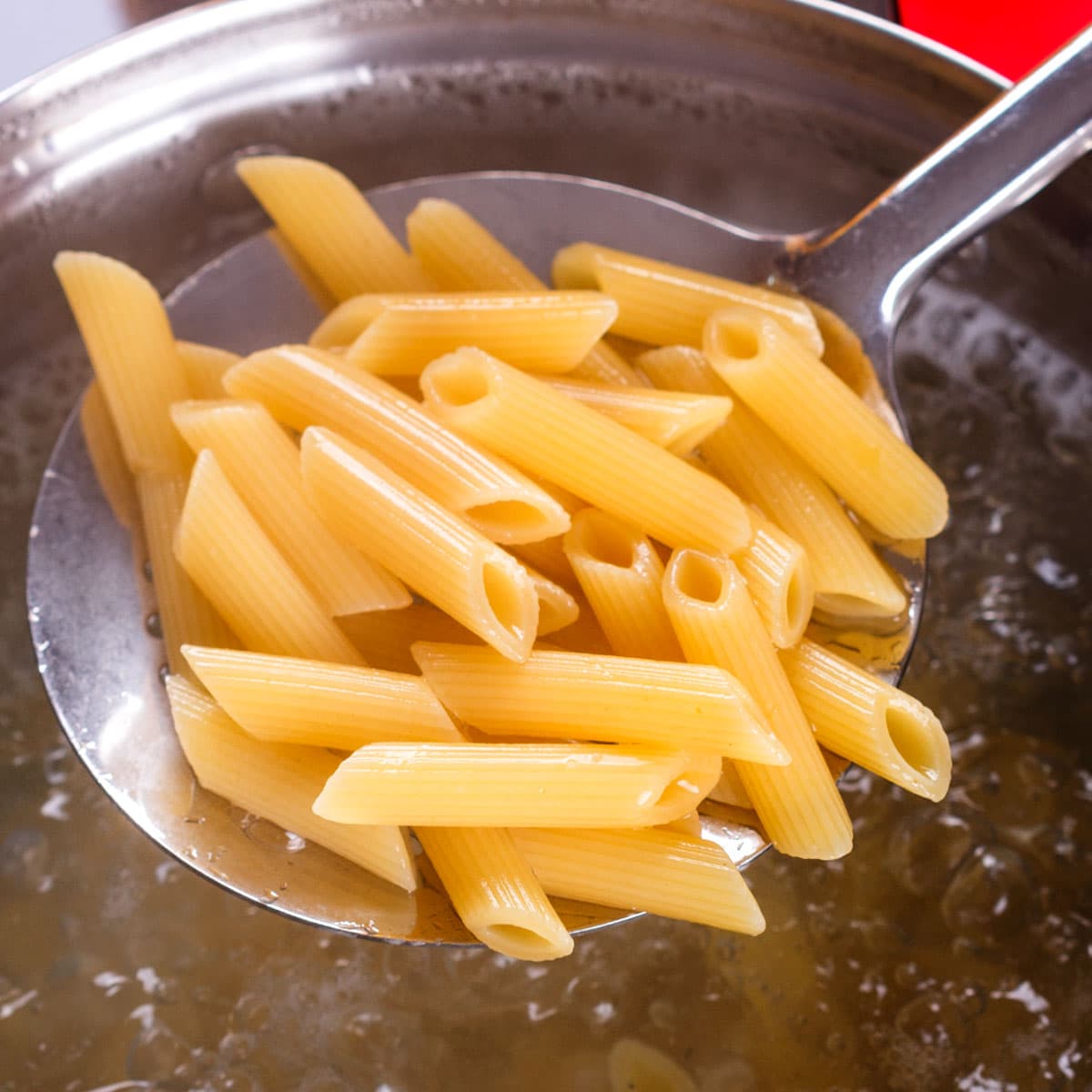 ---
Is it recommended to add olive oil to prevent pasta from sticking together?
No, it is not. I have personally tried this before, and the result was far from what I expected. The olive oil made the pasta strands stick together and prevented other sauces from adhering to them.
Read:
---
6

Mix pasta and the sauce
Does the sauce go on the pasta, or should the pasta go in the sauce?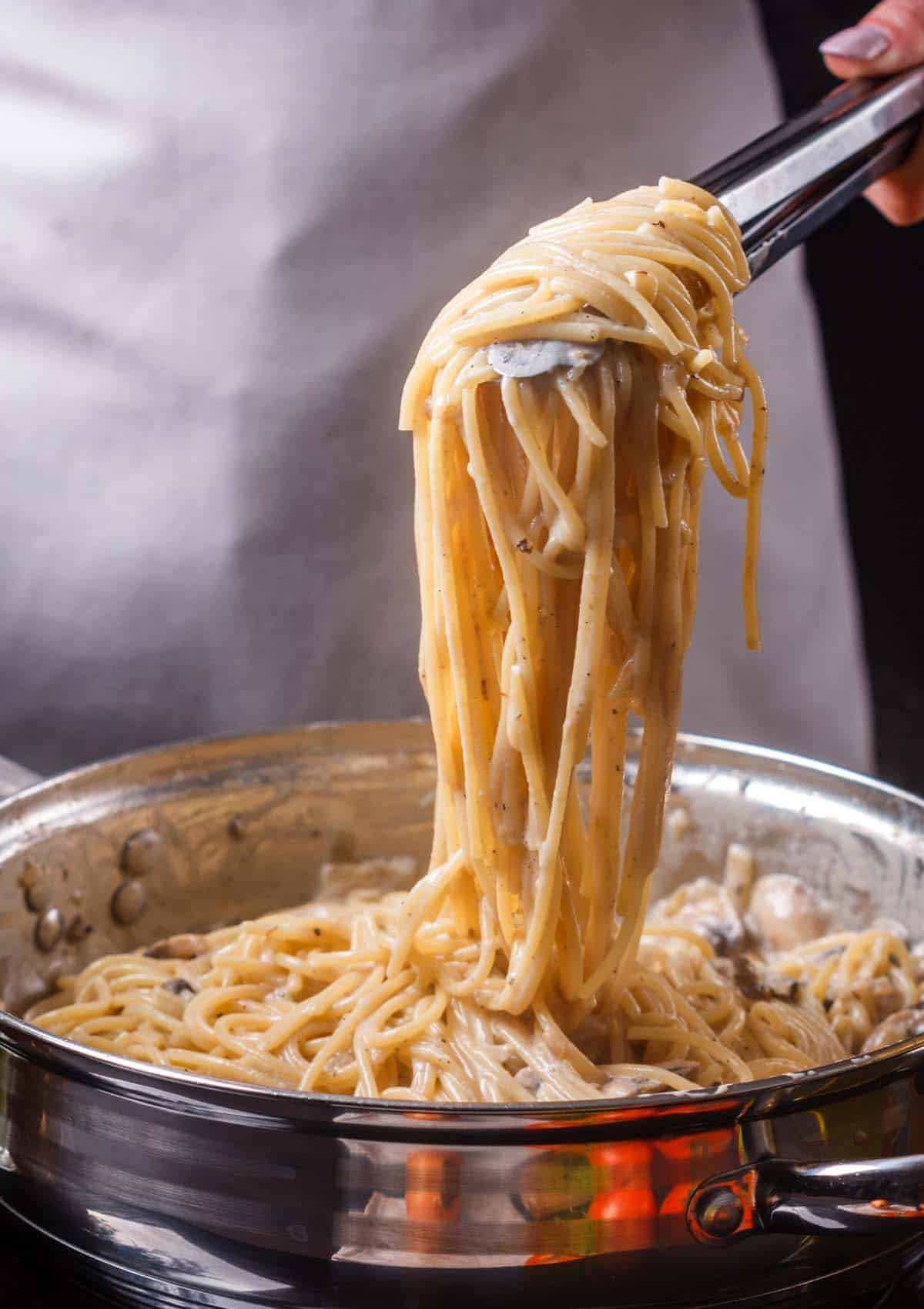 This is a common debate when it comes to making pasta dishes. I believe that the sauce and the pasta should become one! After boiling your pasta al dente, I recommend adding it directly to the saucepan with your desired sauce. This step is known in Italian as "mantecare," which literally translates as "to mix, blend or mingle."
When you combine the two, you can get creative by adding additional ingredients like vegetables or cheese for extra flavor and texture. With this cooking method, all of your hard work comes together in perfect harmony - and you have a delicious Italian-style pasta dish!
The process of mantecare is an important part of Italian cooking. It takes a bit of finesse and practice to perfect this technique, but it can elevate a simple pasta dish into something truly special when done correctly.
1. Heat the sauce in a large pan.
2. Cook the pasta for about one minute less than indicated in the package directions, occasionally stirring, so it does not stick together.
3. With a slotted spoon, transfer the cooked pasta to the heated pan with the sauce and stir everything together over low heat until all of the pasta is fully coated.
4. For a creamy consistency, add some pasta water to the sauce and stir constantly. This will help to emulsify the ingredients and ensure that the pasta's starch helps thicken and bind together all of the flavors in your dish.
5. Serve immediately for best results. Enjoy!
Bonus tip:
Preheating the serving bowls is one of my favorite techniques for perfect pasta plating. I always make sure to put the bowls in a preheated oven set on low heat for about 10 minutes before putting the hot dish inside. This helps keep the pasta warm and makes it just right when it reaches the table. It's a simple but important step that can make all the difference when serving a delicious pasta dish.
---
Extra tips for making perfect pasta
Many of us have a routine for cooking, such as making pasta. We may use the same amount of water in the same pot, choose the same pasta shape, and cook it simultaneously. However, paying closer attention to these details can help improve the pasta's overall quality. Here are some tricks for cooking pasta perfectly:
1

Keep the water to a rolling boil while cooking the pasta
When cooking pasta, it is vital to keep the water at a rolling boil for several reasons:
Faster cooking: Keeping the water at a rolling boil helps to cook the pasta more quickly and evenly. When the pasta is placed in boiling water, the heat is transferred to the pasta more rapidly than if the water were at a lower temperature. This helps to cook the pasta evenly, preventing the exterior from becoming mushy before the center can soften.
Better texture: Boiling water can also help to create a better texture for the pasta. When the pasta is cooked in boiling water, the starch granules in the dough absorb water and begin to swell. This creates a firmer, more al dente texture. If the water is not boiling, the pasta may become overcooked and mushy, resulting in a less desirable texture.
Better flavor: Keeping the water at a rolling boil can also help bring out the pasta's best flavors. When the pasta is cooked in boiling water, the flavors of the pasta are more fully extracted, resulting in a more flavorful dish.
Read:
---
2

Skip the oil:
Indeed, adding olive oil to pasta water does not prevent the pasta from sticking together. While it is a common belief that adding oil to the water will help to keep the pasta separate and prevent it from sticking, this is a myth. In reality, the oil will sit on the surface of the water and will not be absorbed by the pasta. When the pasta is drained, the oil will be washed off, leaving no effect on the pasta's ability to stick together.
There are several reasons why adding oil to pasta water is not effective in preventing the pasta from sticking.
First, oil is not water-soluble and does not mix with water, so the pasta will not absorb it as it cooks.
Second, the oil will coat the pasta's surface, making it more difficult to absorb the sauce and may cause the sauce to slide off the pasta.
Finally, oil is not a good conductor of heat and does not transfer heat as efficiently as water, so it will not help to cook the pasta evenly or as quickly.
Note:
Overall, adding oil to pasta water has little benefit in preventing the pasta from sticking together. Instead, it is more effective to stir the pasta frequently while it is cooking to help prevent it from sticking to the pot or each other.
---
3

Add some pasta water to your sauce
Adding a small amount of pasta water to your sauce can create a silky, cohesive texture and enhance the dish's flavor. Pasta water is starchy and slightly salty, which can help to thicken and flavor the sauce.
When pasta is cooked, some of the starch from the pasta leaches out into the cooking water, creating a slightly cloudy liquid. This starchy water can help thicken and emulsify the sauce, creating a smoother, more cohesive texture.
In addition to helping to thicken the sauce, the salt in the pasta water can also help enhance the dish's overall flavor. Adding a small amount of pasta water to the sauce can help balance out the flavors and create a more well-rounded dish.
---
How much pasta water to add?
The amount of pasta water you should add to your sauce will depend on the type of sauce you are using and the desired consistency. In general, a good starting point is to add about ¼ to ½ cup of pasta water to the sauce for every pound of pasta.
It is important to remember that pasta water is starchy and slightly salty, so it is best to start with a small amount and gradually add more as needed to achieve the desired consistency and flavor. If you add too much pasta water, the sauce may become too thin or watery, so it is crucial to add it in small increments and taste as you go.