This super easy Wingstop ranch copycat recipe is loaded with buttermilk, sour cream, and herbs you'll never go back to the store-bought again. I've always loved my wings with a generous portion of Wingstop ranch dressing. It's so heavenly and addicting….you can't even imagine enjoying your chicken wings without it!
However, the problem is that it can get rather expensive, especially if you have friends or kids around to feed! I couldn't serve my wings without the ranch dip, so I started to look around for a homemade recipe. This was when I bumped into this homemade Wingstop ranch dressing recipe.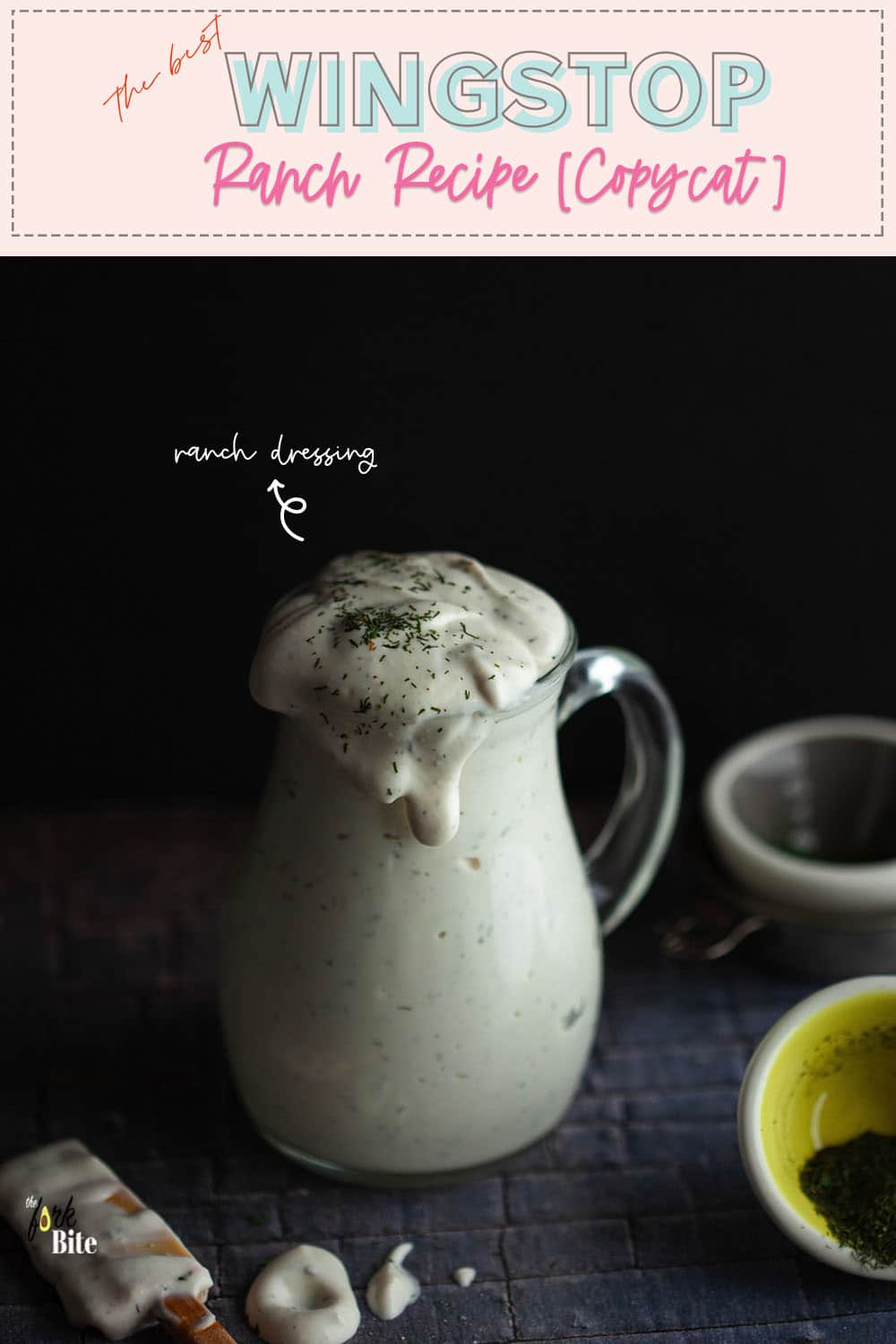 It's so easy to make, in just five minutes using recipes like fresh herbs and buttermilk, that made me want to share it with you. And most importantly, it can also be made in a vegan or dairy-free version if you want!
---
Jump to:
What is ranch dressing?
What gives Ranch dressing its flavor?
For all of you who don't know about it, ranch dressing is a type of salad dressing or sauce. It's a combination of buttermilk, mayo, sour cream, and spices like onion powder, garlic powder, and herbs like chives or dill, and parsley.
All the ingredients are mixed into a sauce or rather like mayonnaise or any other oil emulsion.
---
Watch the video
---
Why is the restaurant ranch dressing is so good?
Some restaurants use bottled shelf-stable dressings. However, more often than not, they use the powdered ranch packet mix, typically the Hidden Valley brand.
These packets primarily contain salt, powdered buttermilk, and some herbs that meant to be mixed with milk, buttermilk, mayo, or sour cream and spices to improve the taste. Which basically, are the main ingredients for making ranch dressing from scratch anyway.
The disparity between the bottled ranch and the restaurant mix is the dairy base. Most bottled ranch dressings contain vegetable oil as the main ingredients - though some eggs and other dairies are included, the amount is less compared to the homemade version.
To sum it up, considering that most restaurants are using a Hidden Valley packet, their ranch dressing is indeed better than the ranch you have in your fridge.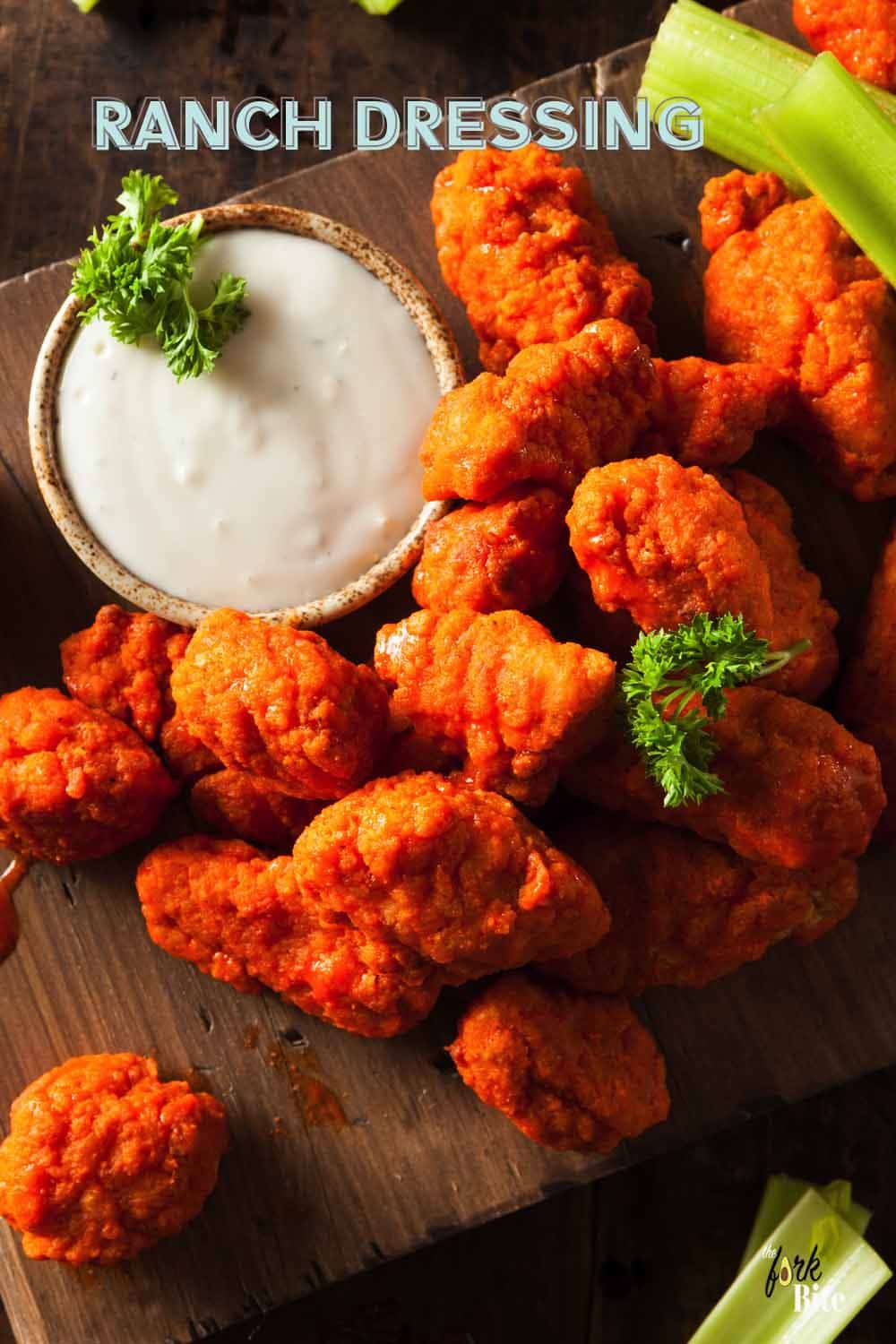 ---
Are ranch and mayonnaise the same?
If you ask me, both the dressing and mayonnaise are quite similar to each other because they have an equal mixture of herbs and spices. The only difference you can see between the two lies in their texture.
When you speak about dressing, it's generally runnier and thin, and easily mixed with other things like your salad. However, 'ranch mayonnaise' on the other side is somewhere thicker in its consistency. You could say it's like plain mayonnaise with a mix of herbs and spices.
Well, you could also say that ranch mayo is more spreadable in consistency and not so pourable. It makes a better choice to use in sandwiches than in salads. Of course, nothing is stopping you from putting ranch dressing on a sandwich. You will get the same flavor, but it's somewhat messy to eat.
---

How long does a homemade ranch dressing last?
Since this recipe is a combo of sour cream, mayonnaise, and buttermilk, it needs to be stored in the fridge.
I would say that this recipe will last you about a week in the refrigerator. However, it's only if you make sure you use only fresh ingredients. They prolong the dressing's life to make it last longer once made.
Besides, vinaigrettes can safely be refrigerated for as long as two weeks. However, in the case of dairy-based dressings based on buttermilk or dressings made using fresh ingredients like chopped onion, tomato sauce, fresh herbs, and chopped boil egg will last for about a week.
---
How to thicken ranch dressing?
Don't worry if your dressing contains too much milk, or if the sauce isn't as thick as you want it. All you have to do is add an extra spoonful or two of mayonnaise or sour cream to it, till you get the right consistency. I, however, suggest you add a little milk as possible, mixing as and when required so that you don't end up with a thin dressing.
---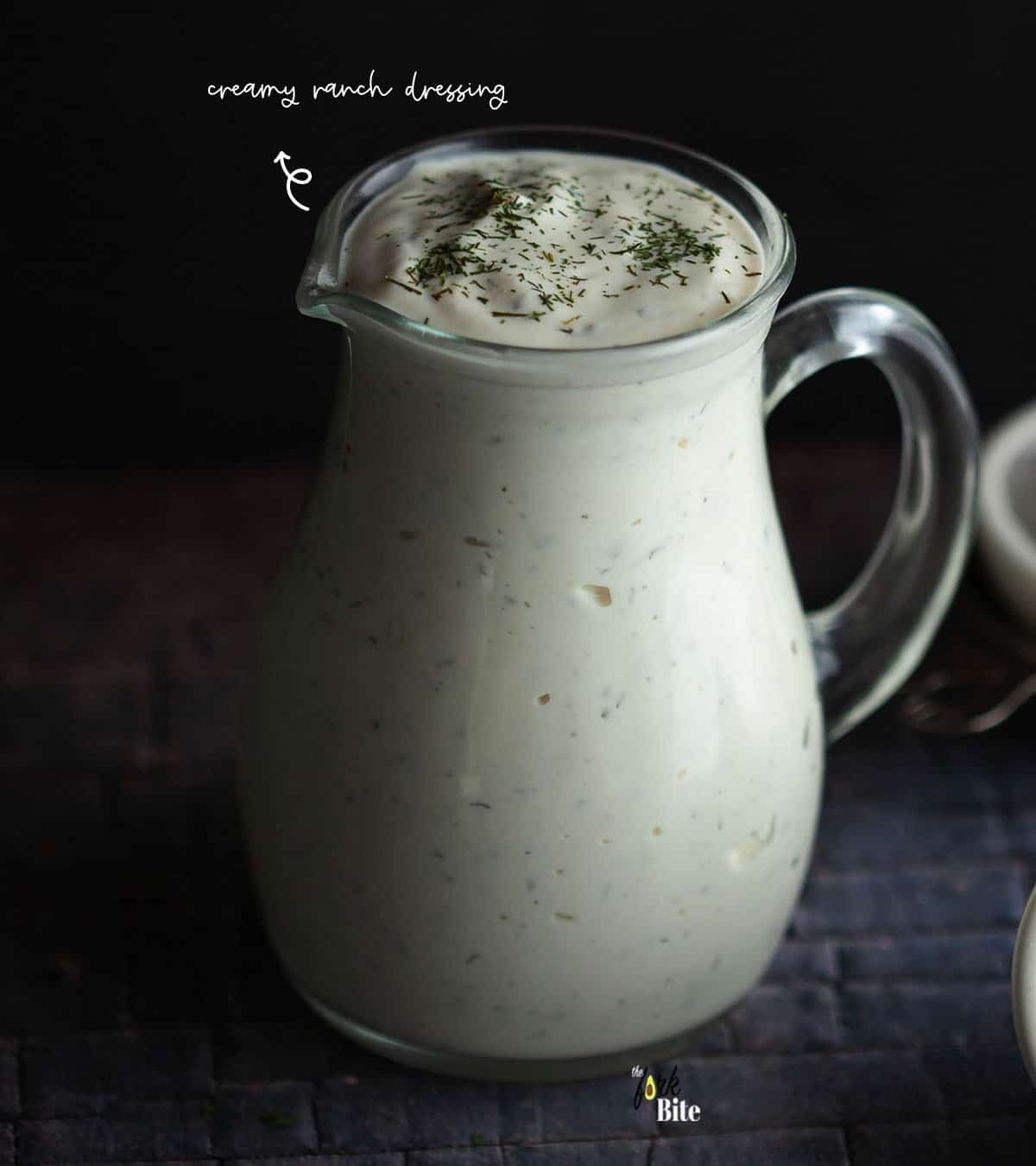 Does ranch dressing contain eggs?
Yes, it does because it's mayonnaise-based, which means it contains eggs. So if you are allergic to eggs, or don't want to eat eggs, then I suggest you follow my recipe below for replacing mayonnaise.
---
How to customize the ranch dressing recipe
Now, if you are looking for a dairy-free recipe, I suggest you just swap the sour cream for some vegan sour cream. We prefer using the Tofutti brand and our favorite dairy-free milk.
And if it's a vegan ranch dressing, you are looking for, and then follow the same recipe using dairy-free substitutes and vegan mayonnaise.
---
How to make buttermilk
I'm sure a lot of you don't keep buttermilk in the fridge (just like me). Don't fret because this essential ingredient for this recipe is super easy to make at home using 2 ingredients.
Here's the recipe:
1 In a liquid measuring cup, pour 1 cup of whole milk.
2 Then stir in 1 tablespoon of fresh lemon juice (or white distilled vinegar). Let the mixture sit for about 10 minutes and the acid will curdle and thicken the milk slightly, turning into buttermilk!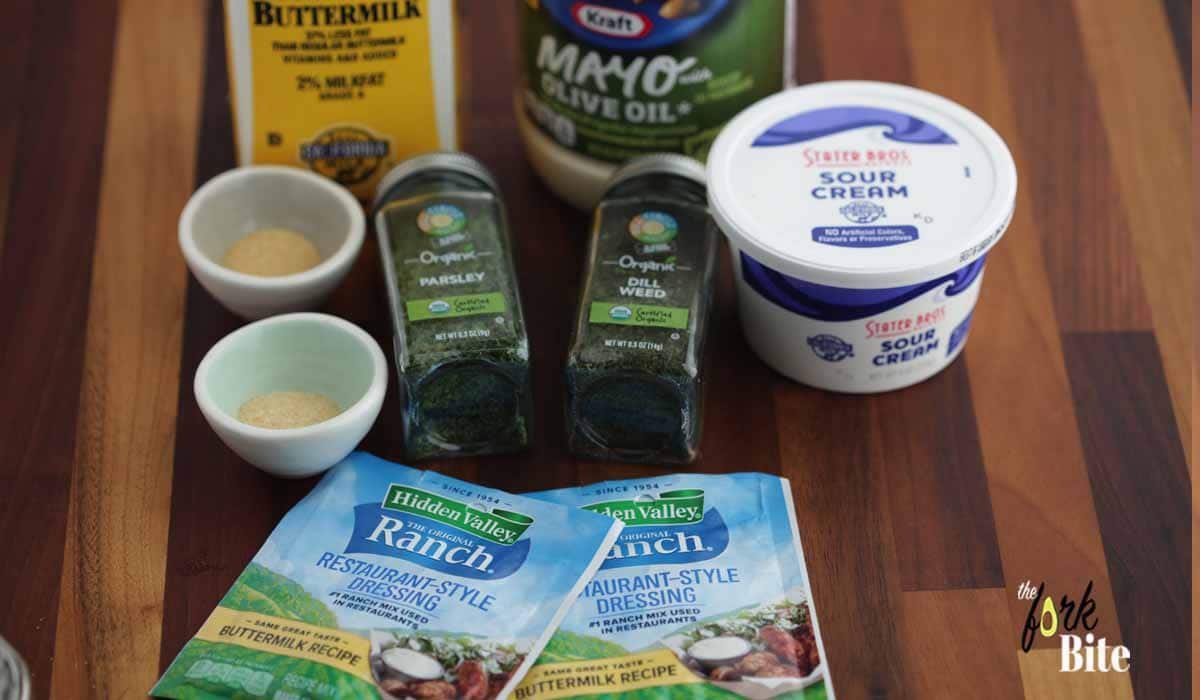 ---
Ingredients
1st Option
1 cup Mayonnaise (choose good quality)
½ cup sour cream
¼ cup buttermilk
½ teaspoon parsley
½ teaspoon dill
1 teaspoon garlic powder
1 teaspoon onion powder
(2nd Option):
1 or 2 packets Dry Hidden Valley ranch (start with 1 packet first then mix and taste to your liking)
1⅓ cup good quality Mayonnaise
1⅓ cup Buttermilk
pinch of salt (to taste)
black pepper (to taste)
1 teaspoon molasses (optional)
How to make Wingstop ranch dressing from scratch
1

The Seasonings

Adding fresh dill enhances a good balance of earthy taste without overpowering its flavor. You may swap the fresh dill with dried dill if the fresh ones are not available. The parsley brings freshness while the garlic and onion powder heightens the flavor.
---
2

The blend of buttermilk, sour cream, and mayonnaise.

The buttermilk brings a delightful acidity to the dressing not to mention creaminess. Of course, the mayonnaise adds a creamy base plus the sour cream adds a more velvety texture to it.
---
3

Allow chilling before serving.

I'm telling you, homemade ranch dressing doesn't taste better until served cold. It's a magic trick that yields the ingredient to meld each other.
---
Other salad dressing
Chipotle Honey Vinaigrette Dressing
---
Notes
Refrigerate for 3 to 4 hours (or overnight is ideal) before serving to let the flavors come together. In case the dressing thickens while being chilled in the fridge, just stir extra buttermilk in before serving to get that thin dressing back.
---
Full Recipe
Wingstop Ranch Copycat Recipe
This super easy Wingstop ranch copycat recipe is loaded with buttermilk, sour cream and herbs you'll never go back to the store-bought again.
Ingredients:
1

cup

Mayonnaise

(choose good quality)

½

cup

sour cream

¼

cup

buttermilk

½

teaspoon

parsley

½

teaspoon

dill

1

teaspoon

garlic powder

1

teaspoon

onion powder
(2nd Option):
2

packets

Dry Hidden Valley ranch

(start with 1 packet first then mix and taste to your liking)

1⅓

cup

good quality Mayonnaise

(Hellman)

1⅓

cup

Buttermilk

pinch of salt

(to taste)

black pepper

(to taste)

1

teaspoon

molasses

(optional)
Instructions:
Combine the ingredients and mix well.

Refrigerate for 3 to 4 hours before serving to let the flavors come together.
Nutrition Information:
Calories:
150
kcal
|
Carbohydrates:
1
g
|
Protein:
1
g
|
Fat:
16
g
|
Saturated Fat:
3
g
|
Cholesterol:
13
mg
|
Sodium:
132
mg
|
Potassium:
27
mg
|
Fiber:
1
g
|
Sugar:
1
g
|
Vitamin A:
80
IU
|
Vitamin C:
1
mg
|
Calcium:
18
mg
|
Iron:
1
mg
Please note that all nutrition information are just estimates. Values will vary among brands, so we encourage you to calculate these on your own for most accurate results.
Did you make this?
I would love seeing what you've made! Tag me on Instagram @theforkbitedotcom or leave me a comment or rating below.