Looking for an easy way to make delicious Beef Caldereta? Try using a slow cooker! This Beef Caldereta slow cooker recipe will help you create a mouthwatering dish perfect for any occasion. Tender beef, flavorful tomato sauce, and hearty potatoes are just a few of the ingredients that make this recipe so irresistible. So why wait? Try this Beef Caldereta slow cooker recipe and impress your family and friends with your culinary skills!
Take Aways
Brown the meat before slow cooking: Sear the meat in a pan before adding it to the slow cooker. This helps to caramelize the surface of the meat, resulting in a more complex and rich flavor.
Use the right amount of liquid: Beef Caldereta requires a sufficient amount of liquid to keep the meat and vegetables tender and juicy. However, adding too much liquid can dilute the flavors of the dish.
Let the dish rest before serving: Allow the Beef Caldereta to rest for at least 10 minutes before serving. This helps the flavors to develop and allows the meat to become more tender
Jump to: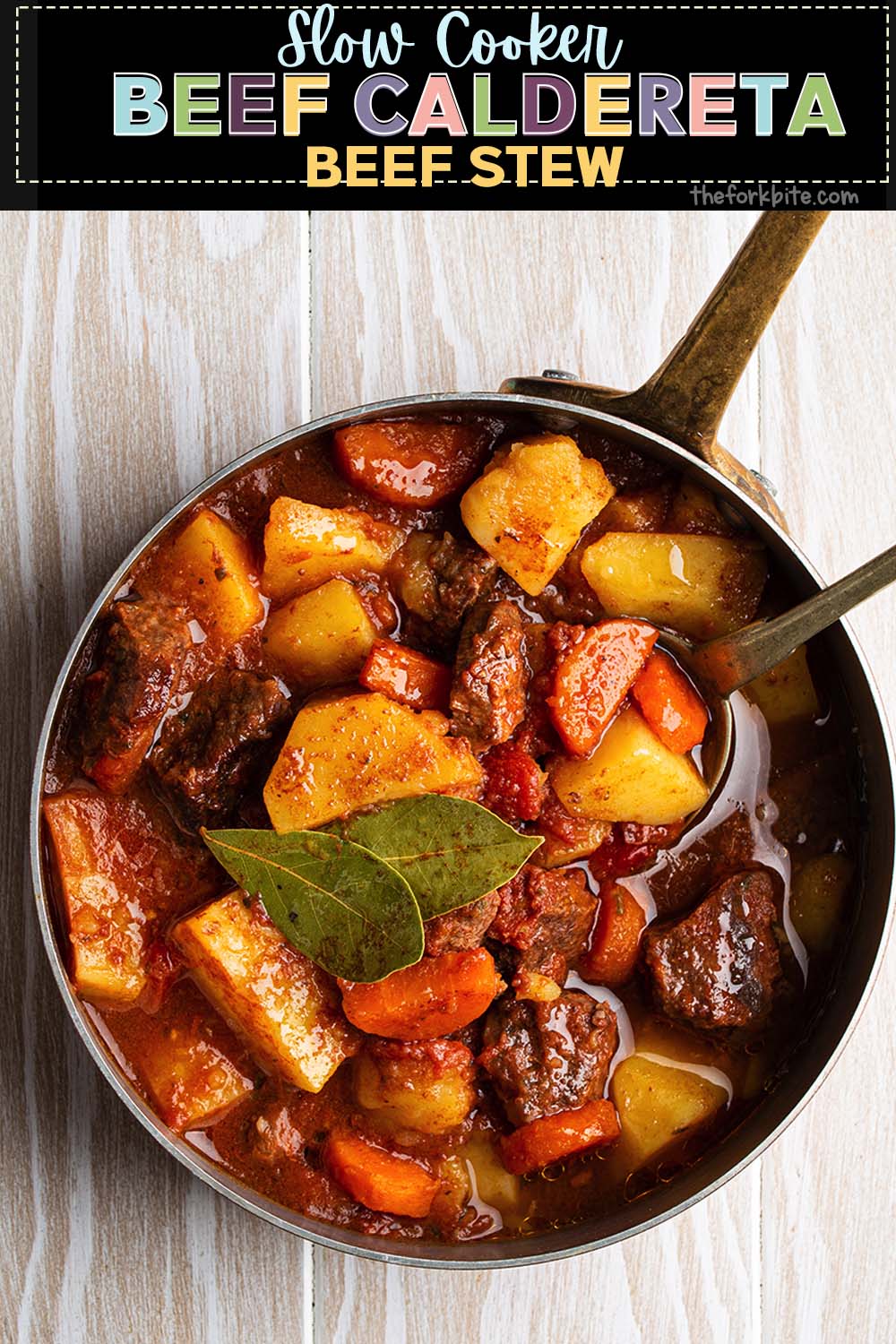 I remember how my grandma used to fire up her wood-fired clay stove about two hours before lunch every summer. The heat outside seemed irrelevant because of the cool kitchen under her bamboo house in the province.
One of the most delicious dishes she cooks is beef caldereta or Asian beef stew. I love the smell of the burning wood and heated clay combined with the delightful combination of veggies, beef chunks, tomato, and coconut milk (or evaporated milk).
She would serve it with some steamed Jasmine rice or native "sinandomeng" rice. Although it is nice to cook beef caldereta the native way, it is faster to have a beef caldereta slow cooker.  
Watch the video: Slow Cooker Beef Caldereta
Beef caldereta is comfort food in its very essence. Melty beef dissolves in your mouth, especially if you use the shank or shoulder parts.
Using your slow cooker also manages to blend all those flavors evenly overnight or while you are at work.
I asked my grandmother what her secret ingredient is in making such delicious caldereta. She looked at me and whispered in my ear, "liver pâté." 
This made me want to know what she meant by "pâté." So, I wandered into her kitchen while she took a break with her "pamaypay" at the bottom of the wooden stairs.
I found a small can of opened liver pâté. With my index finger, I took a sample and tasted it. My mouth watered. No wonder it was the secret ingredient. My grandmother laughed and called me to her side as the stew simmered.
You can choose the different types of meat or pâté that you want. It is a strange ingredient. Even so, the liver elevates the dish. It also thickens the gravy. 
Every mouthful is decadent and savory. The spice needs to be just right so you can appreciate the different flavors you incorporated in it.
Read: Common Mistakes to Avoid When Cooking Beef Stew
---
How to make beef caldereta in the slow cooker
Grandma pointed out to me the importance of sealing in the flavors of the meat; this is possible through high heat.
The result is a toasty outer layer. This caramelization imparts flavor to the stew as it simmers with the vegetables.
The longer they simmer, the more intense the flavors get. This recipe is also a great way to take all the leftover raw vegetables in your chiller.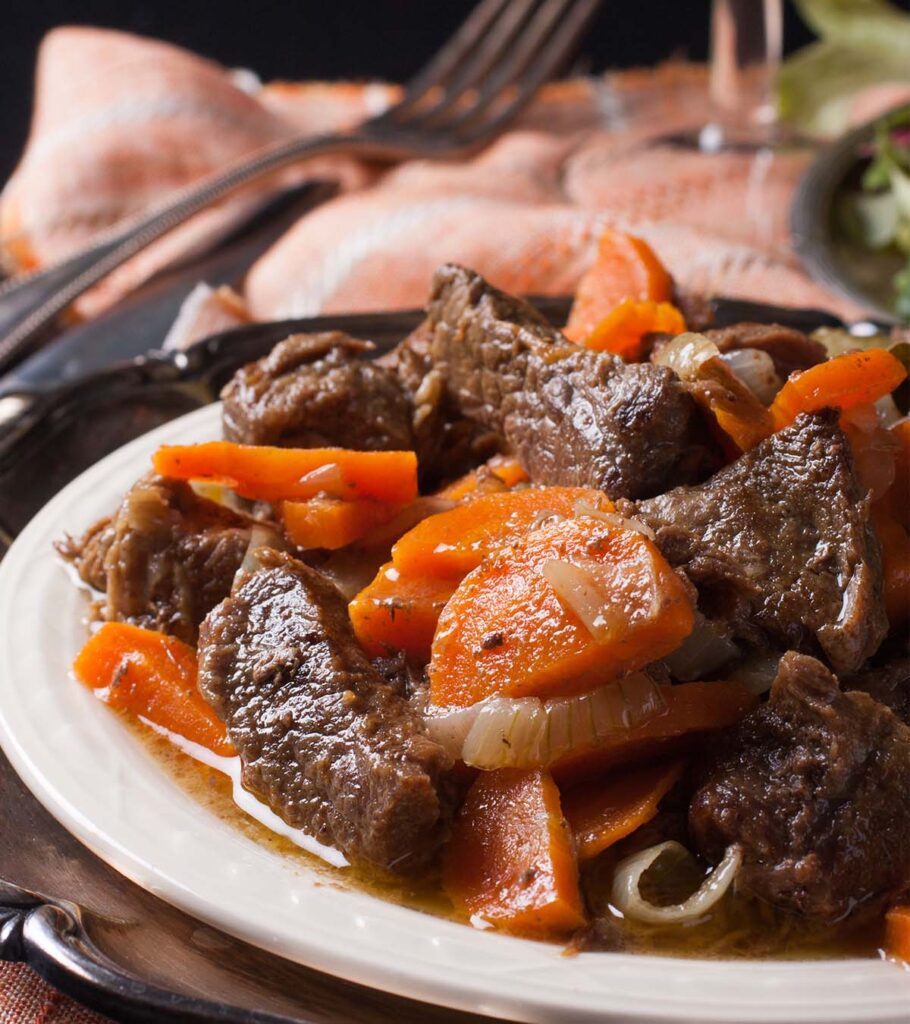 ---
Ingredients you'll need:
2.2 lbs / 1-kilo Beef stew meat (chuck roast cut into chunks)
Breading:
½ teaspoon garlic powder
3 tablespoon flour
½ teaspoon salt
½ teaspoon black pepper
Other ingredients:
3 tablespoons oil
3 garlic cloves, peeled and crushed
1 large onion, sliced
2 tomatoes, chopped
2 medium-sized carrots, sliced into 1-inch thickness
4 potatoes, peeled and cut into cubes (roughly the same size as the carrots)
3 bay Leaves
2-3 cups beef broth or water
½ cup red wine [optional]
1 tablespoon fish sauce or soy sauce (adjust to taste)
½ cup Tomato Sauce
1 red & green bell pepper
½ cup frozen peas
2 teaspoons brown sugar (optional)
Salt and pepper, to taste
Thicken the soup:
⅓-1/2 cup liver spread (or pâté), or to taste (maybe replaced with peanut butter
evaporated milk or coconut milk (optional)
---
Step-by-step instructions:
Step

1
In a large mixing bowl, mix the salt, garlic powder, pepper, and flour. Toss the sliced beef and lightly coat them with the breading mixture.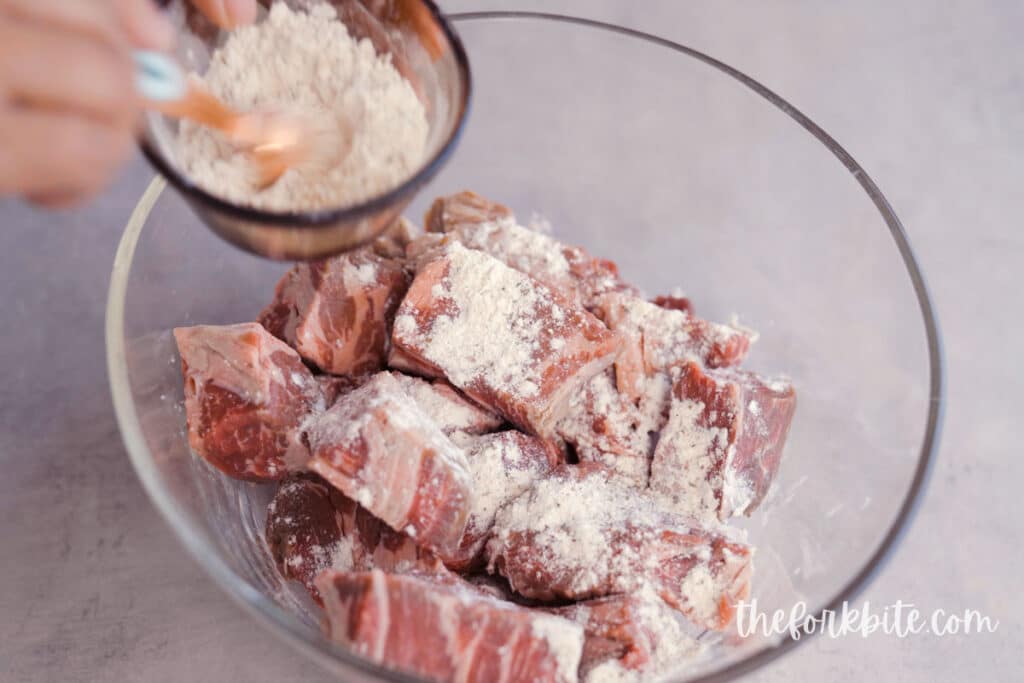 ---
Step

2
Next, get a large frying pan and heat some oil in it. Try not to make it smoking hot.
---
Step

3
Sear the pieces on all sides until they turned brown. The key is not to crowd the pan. Leaving enough space in between the beef slices will allow them to brown better.
Dumping them all into the pan will result in sticky, light-colored cubes. It is best to brown them in small batches. Make sure to let them rest on the platter. Let each piece absorb all the moisture back.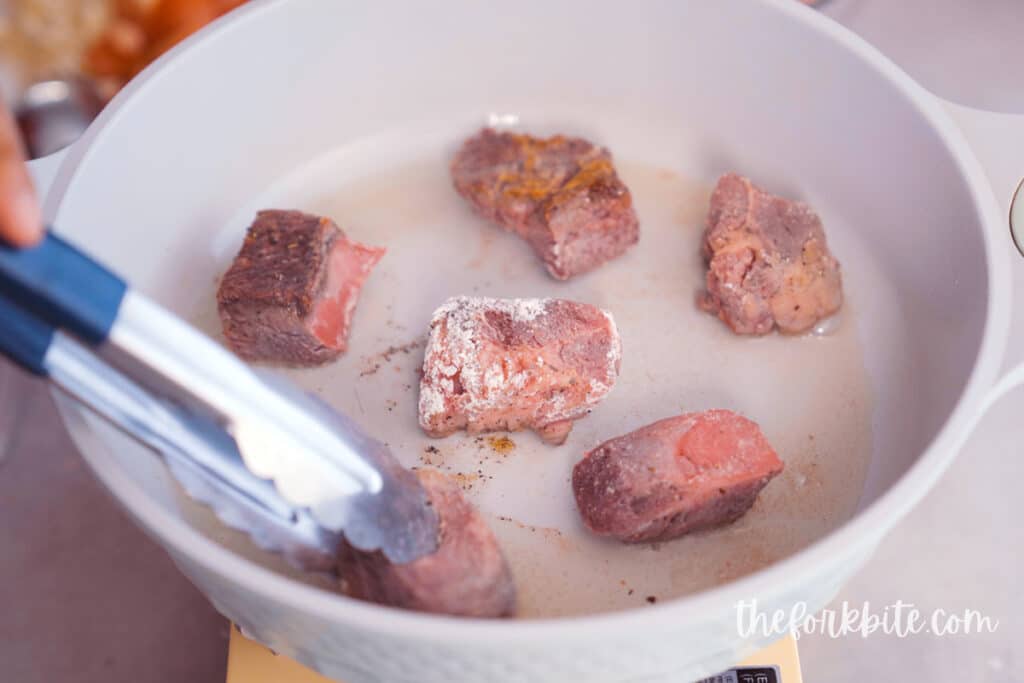 ---
Step

4
Do not replace the oil. Just add a little more oil if needed, and in the same pan, sauté your tomatoes, garlic, and onions until translucent or until they become fragrant.
---
Step

5
Pour some beef broth (or red wine) to add more flavor and lift off all the stuck flavors at the bottom of the pan. The wine is optional. It has all the beefy flavors you want in your stew.
Doing this process will de-glaze the pan of the juices from the onion, garlic & tomatoes at the same time, getting all the brown bits remaining for extra flavor.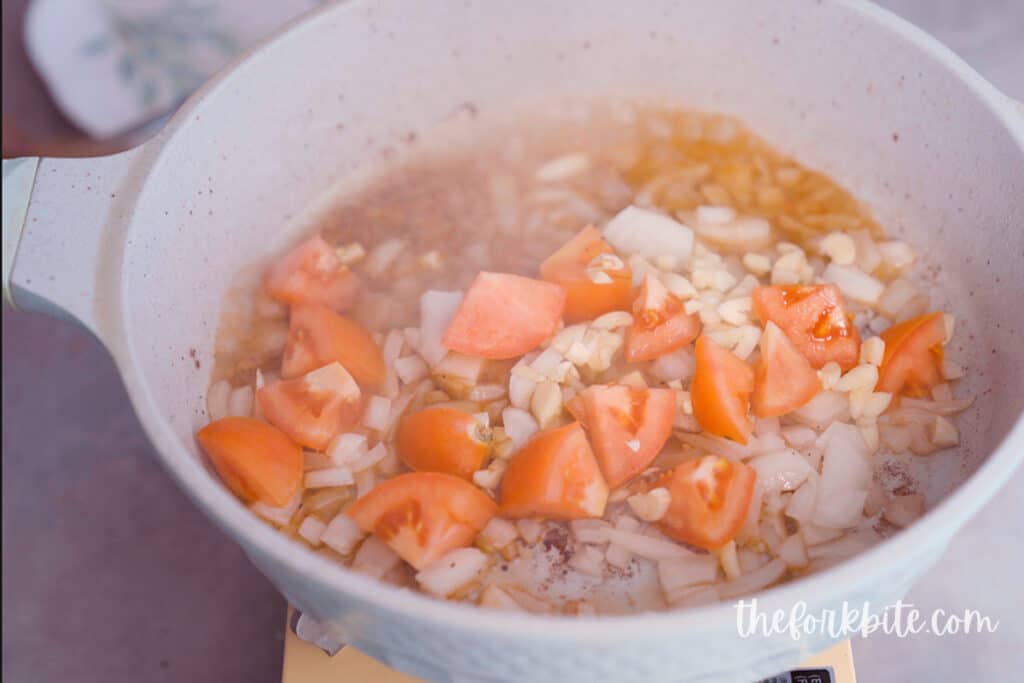 ---
Step

6
Pour the sauteed vegetables into your slow cooker. Add the rested pieces of beef.
Note:
You can skip browning the beef if you're pressed for time or if you have other things to do. But browning the meat is highly recommended.
---
Step

7
Drop the carrots, potatoes, and bay leaves then pour in the beef broth (or you can also use water). Add in the tomato sauce and soy sauce (or fish sauce).
Stir everything and cover the pot and cook on low. Let the stew simmer until the meat is fork-tender; this will take about 7 to 8 hours.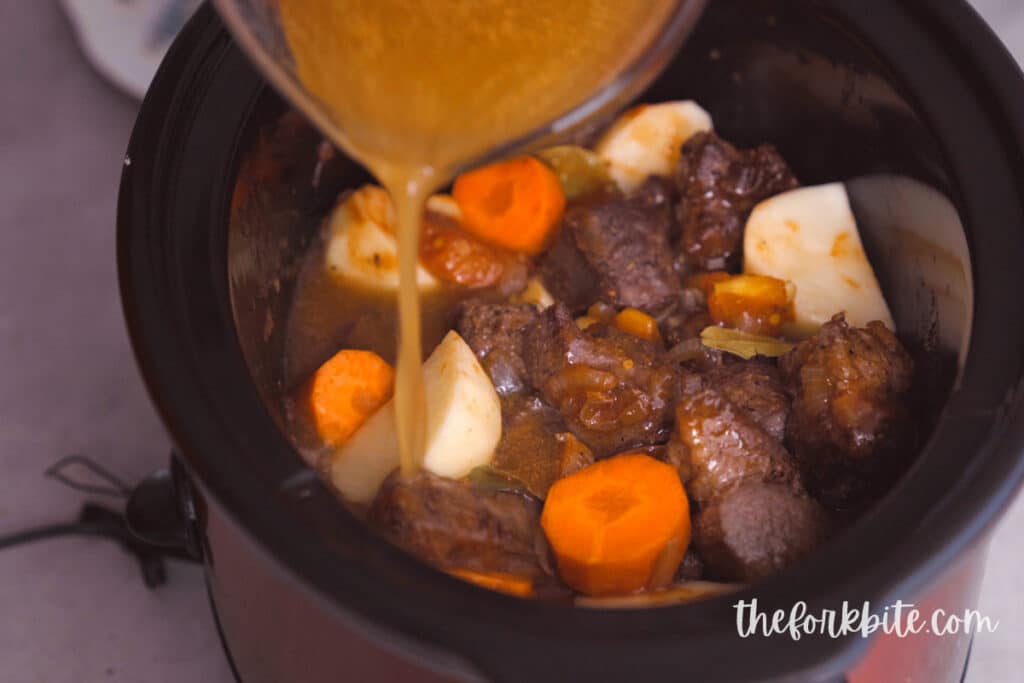 ---
Step

8
When the beef stew is ready, add the liver spread or pâté (or you can use peanut butter). Add in the bell peppers and frozen peas. Adding a little sugar will help balance and even enhance the flavor.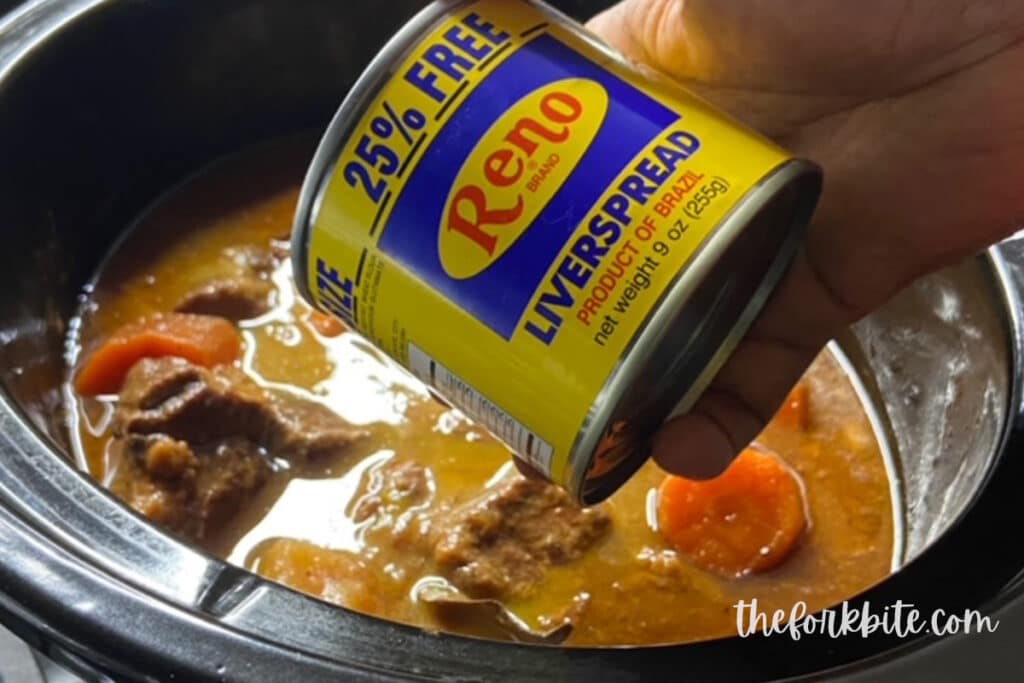 ---
Step

9
Stir gently. Simmer for another half an hour or until thoroughly heated. Serve it with hot, steamed rice.
Some want this stew in a bowl. Season more if you prefer; this will bring out more of the comfort food experience.