Bell pepper egg boats are fun, easy-to-make, and healthy to have on busy mornings. You can prepare them ahead over the weekend and then enjoy them with your family each day of the week.
If you're on a paleo diet, this breakfast item is for you. Imagine starting your day with something filling and healthy. How can you go wrong the rest of the day, right?
Take it from me. It's extremely difficult to get up in the morning. The only quick and satisfying breakfast I could always come up with is scrambled eggs.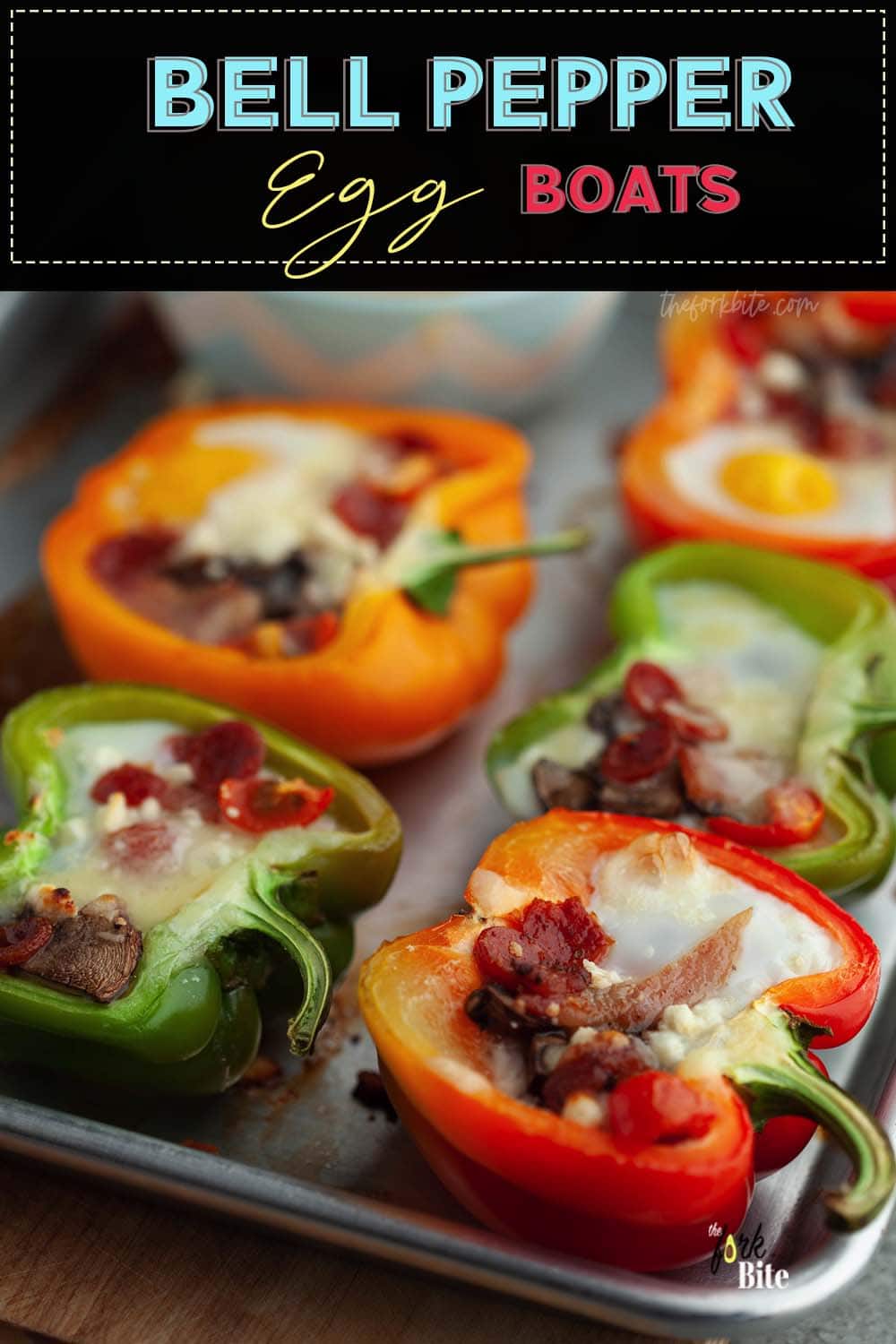 Jump to:
Watch the video
---
Customize your toppings
I even manage to add some vegetables to it to make it healthier. My favorite vegetables to add to my cheese and egg scrambles are asparagus and bell peppers. Occasionally, I even change Swiss cheese to cheddar, Feta cheese, or goat cheese.
As a working mom, I often find ways to recycle dinner leftovers. These bell pepper egg omelets exhibit my culinary creativity each time I make them.
You can experience the same thing by adding your leftover smoked salmon with sour cream or your leftover roasted chicken.
You can be sure to have a low-carb, high-fiber, high-protein, and nutrient-packed breakfast with every bite of these bell pepper eggs keto.
Breakfast is an important meal because it usually has eggs, which are packed with protein and micronutrients such as zinc, phosphorous, vitamins A, B, & D, and choline.
Some people believe that consuming eggs daily can result in health issues. Yet, studies show that eating an egg daily is related to a 12% reduced risk of stroke.
It doesn't even have any connection to an increased risk of developing cardiovascular disease.
There is research adding more information that these bell pepper boats also contain fiber that helps lower the risk of developing gastrointestinal disorders, cardiac disease, hypertension, stroke, diabetes, and obesity.
Fiber also improves insulin sensitivity and lowers cholesterol and blood pressure levels.
I add more protein in my bell pepper boats by adding the egg whites of 1 to 2 eggs in each boat. Protein content increases by 4 to 8 grams without adding more fat.
---
Why this recipe works
It really doesn't matter when you have these bell pepper egg cups.
You can make them for breakfast, brunch, luncheon, or even dinner. The boats are filling and no-sweat to make. For busy weeks, you can prepare it ahead for the rest of the week.
You can change the filling as much as you like. Add vegetables and even cheese to them to make each boat healthier and more satisfying.
These stuffed bell peppers are low-carb and high-protein. You only need 7 ingredients and about 10 minutes to prepare them. They are extremely flavorful and fuss-free!
You can even customize the flavor of the eggs by adding hot sauce or pesto. This makes them more exciting to eat each time.
I recall the time when I served these bell pepper egg rings during my daughter's 10th birthday party. I filled each boat with cheese and herby beef.
Everyone loved my bell pepper egg boats, including the kids.
I made a batch of slightly spicy bell pepper boats for the adults, but some of the kids also ate them.
My daughter even walked up to me with her friend and asked me if there were more. Thankfully, I had backup bell pepper boats in the kitchen.
---
How to make egg stuffed peppers
Making these stuffed peppers begins by cutting off the tops of the pepper. Do this by placing each pepper on its side. This allows your peppers to have even cuts, removing the stem and the pepper top at the same time.
You can either use your knife or your hands to remove the ribs inside each pepper. Do this as gently as you can so that you don't rip the body off the peppers.
Spray some oil on the baking sheet and arrange the peppers face side down, spray some oil on them, and roast for 7 minutes at 375°F.
Once done, take them out from the oven and crack an egg into each one.
Now, you can play around with your favorite toppings. I added mushrooms, cheese, mini salami, feta cheese, bacon, and corn.
Return the baking sheet to the preheated oven (at 375°F) and bake for about 20-25 minutes or until the eggs are completely set.
Serve warm and enjoy your breakfast.
---
Quick Tip:
Some bell peppers don't sit well on the tray, to resolve this, you can position them in the compartments of your muffin pan to keep them upright. You can also use ramekins.
---
Get these ingredients
3 bell peppers (in various colors if desired)
6 eggs


Toppings:

¼ cup bacon bits
¼ cup mushrooms (chopped)
¼ cup salami (in mini-sized)
¼ cup corn (fresh or thawed)
¼ cup Feta cheese
¼ cup cheddar cheese (shredded)
salt and pepper to taste
---
Customize these egg stuffed peppers
Tomatoes: Either sundried or fresh ones will do fine.
Collard greens, kale, arugula, or spinach: These will wilt down quickly.
Asparagus, cauliflower, broccoli, or carrots: Cooked and chopped.
Summer squash or zucchini: Chop them well and make certain that the moisture is cooked out thoroughly. The extra moisture will only make the eggs runny.
Mushrooms: Chop them first and then cook them down.
Bell peppers, sliced jalapenos, or poblano peppers: Slice them.
---
Can you make these in the slow cooker?
Definitely! Just place each pepper in individual ramekins and cook them on low heat for about 4 hours.
---
How long can you store these in the fridge?
These bell pepper boats keep well. You can store them in your fridge for four days. Wrap them individually with cling wrap or aluminum foil.
---
Can you make a big batch and freeze them?
Absolutely! But take note that the texture of the bell peppers changes when they freeze and then defrost.
If you want to freeze the bell pepper boats, wrap them one by one in foil or clear wrap and then keep them in a freezer-safe bag to protect them well.
You can freeze them for three months.
To defrost, place them in your fridge overnight and reheat in the oven at 375°F for about 7-10 minutes or until the peppers are thoroughly warm.
---
Can you make ahead of time and reheat them?
Sure you can! You can prepare these bell pepper boats ahead of time in large batches and freeze them.
Just thaw them overnight and reheat in the microwave (on high, for 1 to 2 minutes) or in your oven for 10 minutes at 350°F.
---
Other breakfast recipes:
---
Full Recipe
Bell Pepper Egg Boats Recipe
Bell pepper egg boats are fun, easy-to-make, and healthy to have on busy mornings. You can prepare them ahead over the weekend and then enjoy them with family. 
Ingredients:
3

bell peppers

(in various colors if desired)

6

eggs
Toppings:
¼

cup

bacon bits

¼

cup

mushrooms

(chopped)

¼

cup

salami

(in mini-sized)

¼

cup

corn

(fresh or thawed)

¼

cup

Feta cheese

¼

cup

cheddar cheese

(shredded)

salt and pepper to taste
Instructions:
Prep the Bell Peppers
Cut peppers vertically in half right through the middle of the stem.

Take off the seeds and arrange the peppers on the oil-sprayed baking sheet.

Lightly spray with cooking oil and season with salt and pepper, then roast for 5-7 minutes.

Once the peppers are ready, take them out from the oven and crack an egg into each one.

Now, you can play around with your topping combos.

Return to the preheated oven and bake for 20-25 minutes (depends on the size of your bell peppers) or until the eggs are set.

Serve warm and enjoy your breakfast.
Nutrition Information:
Calories:
380
kcal
|
Carbohydrates:
17
g
|
Protein:
25
g
|
Fat:
23
g
|
Saturated Fat:
9
g
|
Cholesterol:
356
mg
|
Sodium:
890
mg
|
Potassium:
490
mg
|
Fiber:
5
g
|
Sugar:
7
g
|
Vitamin A:
4382
IU
|
Vitamin C:
153
mg
|
Calcium:
207
mg
|
Iron:
2
mg
Please note that all nutrition information are just estimates. Values will vary among brands, so we encourage you to calculate these on your own for most accurate results.
Did you make this?
I would love seeing what you've made! Tag me on Instagram @theforkbitedotcom or leave me a comment or rating below.