Embarking on a journey to ramp up your dishes? Let's talk about Chili Garlic Sauce. This homemade marvel—akin to the beloved Huy Fong chili garlic sauce—promises to bring a burst of flavor to your plate. This sauce is a game-changer with no preservatives, simple to create, and a jack-of-all-trades in your kitchen. Get ready to unveil the true potential of your meals with our recipe. Beware, though; this might become your next culinary obsession!
Take aways:
Flavor Booster: Chili Garlic Sauce is a versatile ingredient that can amp up the flavor of any dish. Its spicy and garlic notes can breathe life into everything from noodles to stir-fries and marinades.
Easy to Make: With chilies, garlic, vinegar, and a dash of salt, you can easily create your own Chili Garlic Sauce at home. The rich, vibrant flavors of the homemade version outshine any store-bought bottle!
Adjustable Heat: Here's the beauty of making your own sauce - you control the heat level. Whether you prefer a mild flavor or a fiery kick, you can adjust the quantity and type of chilies.
Jump to: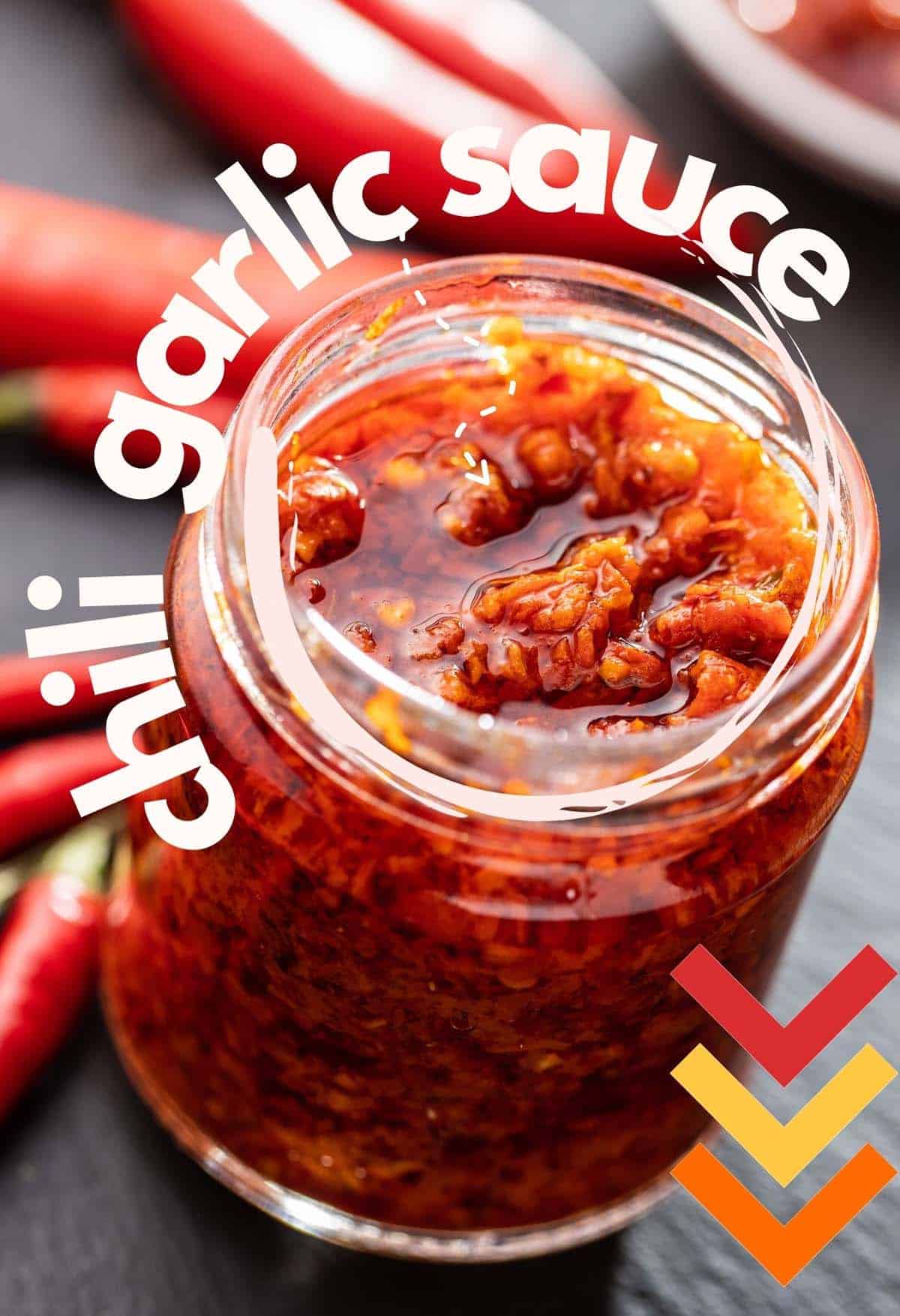 Understanding the Core Ingredients: Chilies and Garlic
Role of Chilies and Garlic in the Sauce
Chilies and garlic aren't just the main ingredients in chili garlic sauce - they're the heart and soul of it. Each plays a critical role; understanding these can transform how you whip up your homemade sauce.
Chilies are the 'fire starters.' They bring the heat, the bold, lip-tingling spice for which the sauce is famous. But chilies do more than just add heat. Depending on the type of chili you use, they can also impart a range of flavors - sweet, smoky, fruity, or earthy. These flavors can add layers of complexity to your sauce, making it more than just a spicy condiment.
Garlic, The Balancing Element
Garlic acts like a flavor anchor in the sauce. Its robust, slightly sweet flavor balances the heat from the chilies, preventing them from overpowering the sauce. It lends a savory depth that rounds out the overall flavor profile.
Additionally, garlic has a unique 'amplifying' effect. It enhances the flavors of the other ingredients - the tanginess of the vinegar, the sweetness of the sugar, and, yes, even the heat and flavors of the chilies. This quality of garlic makes it a vital ingredient in the sauce.
Different Chilies and Their Flavors
Choosing the right chili can feel like you're in a candy store - so many options, each promising a different experience. Fresno peppers are a popular choice but don't limit yourself.
Want a sweeter, fruitier sauce? Go for red bell peppers or sweet paprika. Look no further than the ghost pepper if you crave a mouth-numbing spice. Mix and match to discover your own signature blend.
Adjusting The Heat Level:
Embrace the flexibility that this recipe offers when it comes to selecting your chili peppers. I frequently opt for the medium-hot variety, but the beauty of this chili garlic sauce lies in its adaptability.
Craving something milder? Sweet peppers will yield a version with no heat, but it will still bring its A-game to countless dishes.
Conversely, if you love to feel the burn, superhot chili peppers like ghost peppers will do the job. You can check out the comprehensive list of superhot chili peppers to find your match.
Here's a top tip - mixing different types of peppers allows you to strike an ideal balance between heat and flavor.
And a word of caution - slipping on gloves can save you from any unpleasant surprises if you're handling especially spicy peppers.
---
Chili Garlic Sauce Ingredients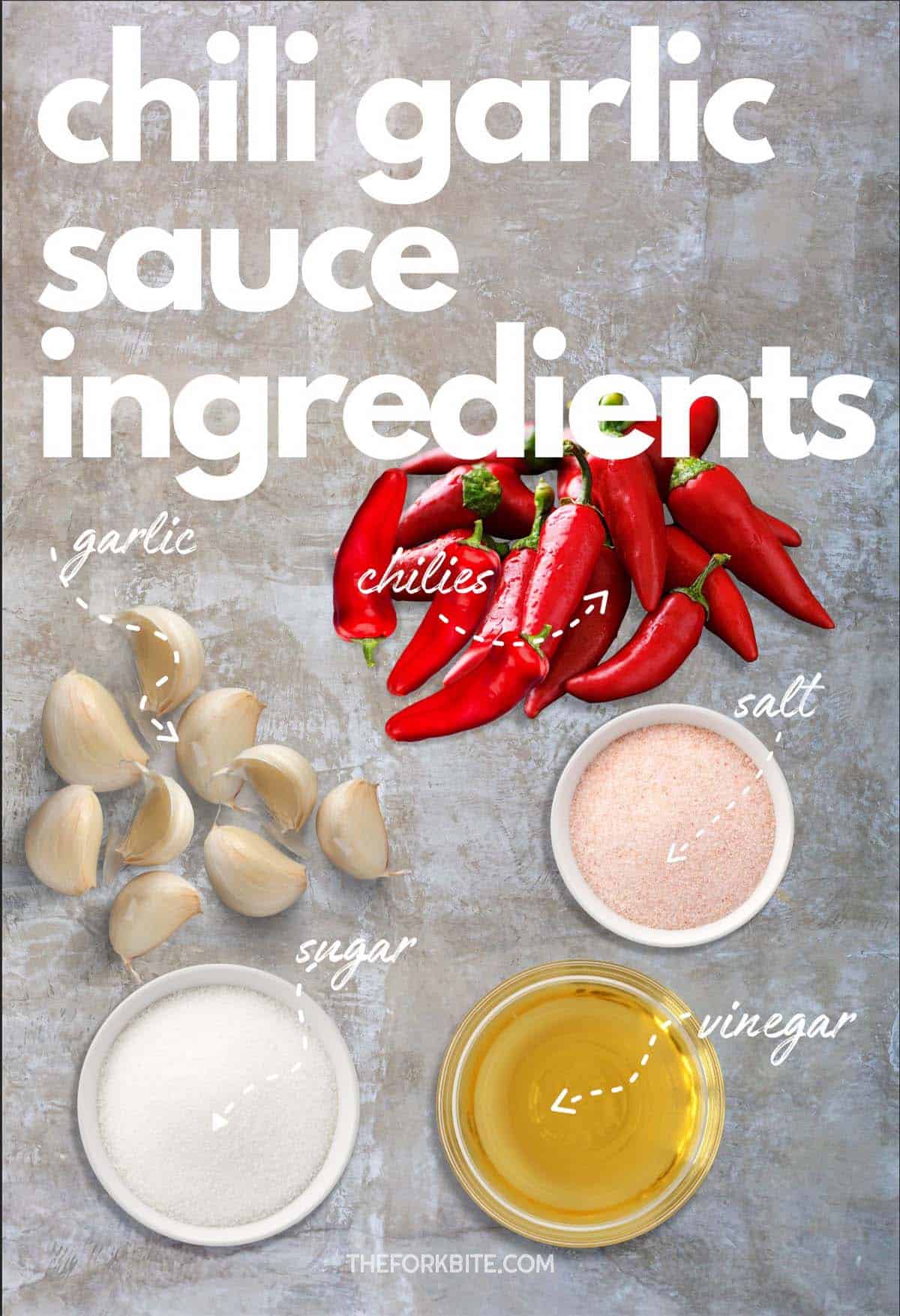 1. Chilies: The Heat Source
First up, chilies. They're the heart of our chili garlic sauce, providing the fiery kick we're all after. Depending on the type you choose, they can impart a range of flavors to the sauce. Some add a hint of sweetness, others a smoky note, and some even bring a touch of fruitiness. You can play around with different kinds to create your own unique blend. Opt for red chilies if you're after a rich, red sauce.
2. Garlic: The Flavor Equalizer
Then there's garlic. Garlic is what keeps the sauce from becoming just a spicy mess. Its robust flavor mellows the heat of the chilies, bringing harmony to the sauce. Its powerful, earthy taste mixes with the chilies, creating an irresistible flavorful depth. And remember, fresh minced garlic works best for this sauce.
3. Sugar: The Sweet Contradiction
Next is sugar. While it may seem unexpected in a spicy sauce, a touch of sugar can introduce an interesting sweet contrast to the heat. It's an optional addition, but even a small amount can add a new level of complexity to your chili garlic sauce.
4. Vinegar: The Tang Provider
Vinegar is what gives our sauce its signature tang. It adds a refreshing zesty note, balancing the intensity of the chilies and garlic. I prefer using white vinegar for its clear, sharp tanginess but feel free to experiment with what you have on hand.
5. Salt and Pepper: The Flavor Enhancers
Finally, we have salt and pepper. These two seem straightforward but are vital to drawing out and enhancing all the other flavors. They work quietly in the background, ensuring that the full flavor profile of your chili garlic sauce is released with every bite.
Remember, these ingredients are the secret to a great chili garlic sauce. It's all about how they work together, creating a spicy, tangy, slightly sweet, and delicious blend!
---
Step-by-step Instructions on How To Make Chili-Garlic Sauce
Let's dive right into creating your very own chili-garlic sauce. You won't believe how simple and fun this can be!
1
Picking Your Peppers. We're going to start by picking the perfect peppers. Aim for about four ounces, but remember, the variety you choose changes the game! Some might suggest Thai chilies, but we know there's a whole world of peppers out there. Grab the ones that make your heart sing. Red, ripe, and radiant peppers work the best. Cayennes, red jalapenos, red serranos, or Fresnos? Take your pick!
2
The Magic of the Food Processor. Now, let's toss our chosen peppers into a food processor. Add in four cloves of garlic (because what's chili-garlic sauce without the garlic, right?), a teaspoon of sugar for that subtle sweet note, two tablespoons of white vinegar, and a sprinkle of salt and pepper to season.
3
Blend It Up. Hit that button and let the processor work its magic. Blend it all together until it becomes a smooth and unified sauce.
4
Time to Simmer. Pour our beautiful mix into a pot. Let it simmer on medium heat for about ten minutes. This is where the flavors can dance together, allowing all those beautiful flavors to mingle and deepen.
5
Cool and Store. Finally, let our sauce cool down. Give it a taste and adjust the seasoning with a bit more salt and pepper to match your taste buds. When you're happy with the flavor, transfer it into a sealed jar and pop it into the fridge.
---
Tips for ensuring the perfect texture and balance.
I have some cool tips to share that will take your chili garlic sauce to a new level. Trust me; these tricks work wonders!
1

Getting the Texture Right: Not Too Chunky, Not Too Smooth
Here's a quick tip on getting that perfect texture. We want a sauce that's just right - not too chunky, but not too smooth. The key is to process the chilies and garlic in your food processor just enough to break them down but not turn them into a puree. You're looking for tiny pieces that will add a pleasant bite to the sauce.
2

Striking a Perfect Balance: The Sugar-Vinegar Dance
When it comes to chili garlic sauce, balance is crucial. You're juggling fiery chilies, potent garlic, tangy vinegar, and sweet sugar. Too much of any ingredient, and the flavors can become overpowering. Start with the base recipe, then adjust it to your liking. If it's too spicy, add a bit more sugar. If it's too tangy, sprinkle in a bit more salt.
3

Keeping It Fresh: The Magic of Fresh Ingredients
When possible, always go for fresh ingredients. Fresh chilies and garlic can make a world of difference in your sauce. They bring a vibrancy that dried or canned counterparts can't match.
4

Time is Flavor's Best Friend: Let It Sit
This might be the hardest part, but it's worth it - let your sauce sit in the fridge for at least a few hours before using it. This resting period allows the flavors to meld together, creating a more unified and complex flavor profile. A little patience will reward you with an exponentially better sauce!
5

Picking the Best Chilies for Your Sauce
When it comes to chili peppers, freshness matters! Your best bet is to pick the freshest peppers - ones without any spots or blemishes. This gives your sauce that vibrant, fiery kick we all love.
But don't worry if you've only got frozen peppers - they'll do just fine! Remember to thaw them out and pat them dry with a paper towel before you start. If you've got dried chiles, give them a quick soak in hot water to rehydrate them.
Oh, and here's a handy hint: If your food processor is on the larger side, go ahead and make a larger batch. More volume means everything gets processed better!
6

Flavor Tweaks: Make It Your Own
Alright, now here's where you can let your creativity shine! This recipe is awesome, but nothing stops you from adding a little personal touch. Feel like adding some extra ingredients? Go for it! Onion, tomato, or fresh herbs can all add a new layer of flavor to your sauce.
And here's my secret: Fish sauce. It brings a depth of umami flavor that rounds out the sauce. Try it out - you might just love it as much as I do!
These are some of the secrets I've learned in my journey. They may seem simple, but these tips can transform a good chili garlic sauce into a spectacular one. So, go ahead and give these a shot. I promise you won't be disappointed!
---
Tools of the Trade: Crafting Your Chili Garlic Sauce
1. Essential Kitchen Tools
I don't know about you, but I love when a recipe doesn't require too much fancy equipment. When it comes to making chili garlic sauce, the essentials are pretty straightforward:
A good knife for mincing the garlic and chopping the chilies.
A cutting board. You'll need it for all that chopping!
A sturdy pan or saucepan. This is where all the magic happens!
A wooden spoon for stirring the sauce. It's best not to use metal as it can react with the vinegar.
And, of course, a clean jar for storing your homemade sauce.
2. High-tech vs. Traditional Methods
Let's chat a bit about the two ways you can approach this. You've got the traditional, hands-on method where you manually chop and stir everything. I love this method because it allows me to connect with the food, feel the ingredients, and control the process.
On the other hand, there's the high-tech method. This is where a food processor or a blender can come in handy. It certainly makes the chopping part easier and faster. But keep in mind that it can also turn your ingredients into a paste if you're not careful.
Each method has its merits. The traditional approach offers control and can be more satisfying, while the high-tech route can save time and effort. Whichever way you choose, the result is a delicious chili garlic sauce made by you. So go with what feels right to you.
---
Variations of Chili Garlic Sauce
The beauty of chili garlic sauce is that it's like a chameleon – it can change and adapt to your taste buds. Now, we'll explore how to put your spin on this recipe, making your sauce a bit more you.
Exploring different ingredients and flavor enhancers
Why stick to the regular when you can spice things up? Our trusty chili and garlic are a great base, but the fun doesn't stop there.
Have you ever thought about sprinkling in a bit of ginger? It's a great way to add warmth and depth to the sauce.
How about a squeeze of fresh lime juice for a citrusy twist?
Or perhaps a splash of soy sauce to give it an Asian flair?
---
Chili Garlic Sauce Substitutes
Find yourself in a cooking whirlwind and realize you're out of chili garlic sauce. Don't worry! Here are some tried and tested swaps that can come to your rescue. Remember, the perfect substitute can mimic the heat, the spice, and that slight hint of sweetness in our beloved chili garlic sauce. You can check my post here for the Chili garlic sauce substitutes.
Sriracha: This fiery red sauce can pack a punch. Although not quite as chunky, it delivers on the heat and garlic factors. Just remember, Sriracha brings in a bit more sweetness.
Sambal Oelek: When I think of Sambal Oelek vs Chili Garlic Sauce, it's quite a spicy face-off! Sambal Oelek, straight from Indonesia, holds its own with a similar punch and texture. The one thing missing? That signature garlic hint. So, when I switch it up in my recipes, a touch of minced garlic does the trick perfectly.
Fresh Chili Peppers & Garlic: When sauces fail, go back to basics. Mince some fresh hot chili peppers and garlic together. It might lack the vinegary tang of the chili garlic sauce, but it'll bring the spice and aroma right in.
Chipotle in Adobo Sauce: For a smoky twist, opt for Chipotle in Adobo sauce. The smoky, slightly sweet flavors won't precisely mirror those in chili garlic sauce, but they'll add a delicious and distinctive kick to your dish. Don't forget to mince or puree it for the right consistency.
Homemade Chili Garlic Sauce: If you have a bit more time on your hands, try whipping up your own batch. You can control the heat level, and it's easier than you might think!
So, next time you find your bottle of chili garlic sauce empty, don't panic! You have these handy substitutes ready to step in and save the day.
---
Common and uncommon variations of the sauce
Chili garlic sauce has a passport stamped with flavors from across the globe. Each region adds its unique touch, creating a tapestry of flavors that's fascinating to discover.
In Mexico, the 'Salsa Roja' or 'red sauce' is a fiery blend of chili, garlic, tomatoes, and a blend of local spices. It's a staple on every Mexican table next to the tortillas.
Across the ocean in Korea, the 'Gochujang' sauce reigns supreme. It's a chili garlic sauce with a sweet and smoky twist, thanks to the addition of fermented soybeans and sticky rice.
In Thailand, 'Nam Prik Pao' is a popular chili garlic concoction. It's smoky, sweet, and has an umami punch, courtesy of the shrimp paste.
The beauty of these variations is that they all start from the same humble base – chilies and garlic. And yet, each is a unique expression of the culture that created it.
So next time you're stirring up a pot of chili garlic sauce, why not venture out and add a twist? How about some inspiration from the tangy and spicy kick of Popeyes Sweet Heat Sauce? Get inspired, get creative, and above all, have fun! Your taste buds are in for a ride!
---
Pairing and Serving Suggestions
From a sprinkle of savory dumplings to a fiery kick in your pasta, chili garlic sauce is the perfect condiment to elevate your dishes. But what does it pair well with? How can you infuse your everyday meals with this spicy, garlicky goodness?
Your Dish's Best Friend: Chili Garlic Sauce
Chili garlic sauce is a versatile partner in the culinary world. It dances well with almost any partner, but some bring out the best in it.
Dumplings: This sauce adds a zesty twist to the tender, steamed pockets.
Grilled Proteins: Drizzle this fiery sauce over grilled chicken, tofu, or salmon for a layer of intense flavor. You can check this Yard House steak bowl recipe.
Noodles: Ramen or stir-fry. Noodles love a bit of heat. Chili garlic sauce is here to deliver that.
Spice Up Your Everyday Meals
Chili garlic sauce isn't just for special occasions. It can find its way into your everyday meals, adding that much-needed spark. Here are some creative ways to use it:
With chili garlic sauce, every meal is an adventure. Remember, a little goes a long way.
---
Storage and Preservation
Chili garlic sauce is a favorite for many food lovers worldwide, but keeping it fresh can sometimes be challenging. Here's our guide to storing it properly and recognizing when to say goodbye.
How to Store:
Properly storing your homemade chili garlic sauce can help it keep its zing and flavor longer. Follow these key steps:
Airtight is Right: Use a clean jar with an airtight lid to store your sauce. This will keep the outside air from tampering with the quality and freshness.
Coolness Counts: Store the sauce in the refrigerator. The cold slows down the processes that lead to spoilage.
Spoon Etiquette: Always use a clean spoon when taking some sauce from the jar. This will prevent the introduction of bacteria that can cause spoilage.
Spotting Spoilage:
Sometimes, despite our best efforts, the sauce can go off. Here's what to look out for:
Color Changes: If your chili garlic sauce's bright, fiery red color has faded or turned brown, it's likely gone bad.
Strange Smells: A fresh chili garlic sauce has a distinctive, robust aroma. It's time to make a new batch if it smells sour or unpleasant.
Unwanted Additions: If you spot any mold or unusual growths in the sauce, it's time to toss it.
---
How Long Does It Last?
When it comes to homemade chili garlic sauce, longevity is all about proper storage. Store your sauce in a clean, airtight jar in the refrigerator, and you can expect it to stay fresh for 1-2 months. The cold temperature of the fridge slows down the processes that can lead to spoilage, helping your sauce maintain its kick and zing.
The Magic of Vinegar in Chili Garlic Sauce
It's the vinegar that plays a key role in extending the life of your homemade chili garlic sauce. Here's why.
Vinegar, with its acetic acid, is a natural preservative. Its acidic properties create an environment where bacteria and other microorganisms struggle to survive. When you add vinegar to your chili garlic sauce, it not only boosts the flavor but also enhances the shelf life of the sauce.
---
How to Freeze the Chili Garlic Sauce
If you're a fan of bulk cooking or have harvested a bumper crop of chilies, you might wonder if you can freeze your chili garlic sauce. Absolutely!
Pour the sauce into ice cube trays and pop them in the freezer.
Once they're solid, transfer the sauce cubes into a freezer bag or container.
Freezing keeps the sauce safe for up to 6 months, and the individual cubes make it easy to use just the amount you need.
Remember to defrost in the fridge before use, and never refreeze once thawed. A quick warm-up in a saucepan can bring the sauce back to its original, flavorsome glory.
---
Troubleshooting Common Mistakes
Cooking isn't an exact science. It's about experimenting, adjusting, and finding what works for you. So don't be discouraged if your sauce isn't perfect the first time.
1

A Lack of Spice: Turning up the Heat
It's frustrating when your chili garlic sauce doesn't bring the heat. Often, this happens when your chilies aren't as spicy as you thought, or maybe you got a bit cautious with the quantity.
Solution:
Don't sweat it! You can fix this. Add in a bit more chili, blend, and check. If the fire still doesn't hit, a pinch of red pepper flakes can do wonders to elevate the heat.
---
2

Too Hot to Handle: Taming the Flame
On the flip side, you may be fanning your mouth because the sauce is too spicy. This usually happens when you've gone overboard with the chilies or underestimated their heat level.
Solution:
Here's a tip - sweet talks the heat down. Add a little sugar or honey to your sauce. It'll calm the fire without dampening the flavor.
---
3

Consistency Conundrums: Nailing the Texture
If your sauce is too thick, thin it out with a splash of vinegar or water. Remember, go slow and blend after each addition.
Solution:
If it's too watery, a solution could be to add in more of the solid ingredients like garlic or chili, then give it another quick blend.
---
4

Flavor Balance: Finding the Sweet Spot
The perfect chili garlic sauce is a harmonious blend of heat, tang, and aroma. If the balance seems off, it's time to play detective.
Solution:
Too tangy? Counter it with more garlic. Too garlicky? A little more vinegar should fix it. Not spicy enough? You know what to do - bring on the chilies!
---
5

Bursting Bubbles: Preventing Splatter
Cooking chili garlic sauce can sometimes lead to unexpected kitchen fireworks. If you find your sauce popping and splattering during the cooking process, it's probably because the heat is too high.
Solution:
Try reducing the heat and stirring regularly. This should calm the sauce down and prevent it from painting your kitchen red!
---
6

Over Salting: Saving a Salty Situation
Overdid it with the salt? It happens to the best of us.
Solution:
Add more vinegar, sugar, or other non-salty ingredients to fix an overly salty chili garlic sauce. These will help to offset the saltiness and bring your sauce back into balance.
---
7

Oxidation: Keeping Your Sauce Bright and Beautiful
Sometimes, after storing, the color of your sauce might darken. This happens due to oxidation. While it doesn't affect the taste, it can make your sauce less appealing.
Solution:
To prevent this, ensure your sauce is stored in an airtight container. And if you spot a layer of darkened sauce, give it a good stir before serving.
---
8

The Chili-Garlic Debate: Adjusting the Ratio
Are you finding your sauce too garlicky or too spicy? The secret is in the chili-to-garlic ratio.
Solution:
For a spicier sauce, up your chili content. If you're a garlic lover, add in an extra clove or two. Just remember, small adjustments can make a big difference. So, tweak gradually and taste often.
---
9

The Final Rescue: Starting Over
Sometimes, despite all your best efforts, a recipe doesn't work out. And that's perfectly okay! Cooking is a journey, and each mistake is a step toward becoming a better chef. If your sauce isn't salvageable, don't be disheartened. Take a deep breath, learn from the experience, and start over. After all, practice makes perfect!
---
FAQs on Chili Garlic Sauce
What is chili garlic sauce, and how does it taste?
Chili garlic sauce is a versatile condiment made from chili peppers, garlic, vinegar, and salt. It has a spicy, savory, and slightly tangy taste, adding a powerful flavor punch to your dishes.
How spicy is chili garlic sauce?
The spiciness of chili garlic sauce can vary based on the type and amount of chili peppers used. Generally, it has a medium to high level of heat. But remember, you can always adjust the spiciness to your preference!
How is chili garlic sauce different from Sriracha?
While both are spicy condiments, chili garlic sauce is chunkier, with visible chili flakes and garlic bits. On the other hand, Sriracha is smoother and includes sugar, giving it a slightly sweet taste.
What can I use chili garlic sauce for?
Chili garlic sauce is incredibly versatile! Use it as a dipping sauce, spice up stir-fries, add it to marinades, mix it into noodles, or even spread it on sandwiches. The options are endless.
How long does homemade chili garlic sauce last?
If properly stored in an airtight container in the fridge, homemade chili garlic sauce can last for 1-2 months. The vinegar acts as a preservative, helping to extend its shelf life.
Can I freeze chili garlic sauce?
Yes, you can! If you've made a large batch, freezing chili garlic sauce in small, usable portions is a great way to preserve it for future use.
Can I make chili garlic sauce less spicy?
Sure! To make a milder version, you can reduce the number of chili peppers or choose a less spicy variety. Remember, adding heat's easier than taking it away, so start mild and adjust accordingly.
Why has my chili garlic sauce changed color?
A color change is often due to oxidation, especially if your sauce has been stored for a while. While it can affect the color, it usually doesn't impact the taste or safety of the sauce. Stir it before using it!
What can I do if my chili garlic sauce is too salty?
If your sauce is too salty, add more non-salty ingredients like vinegar or sweet components like sugar. This can help balance the flavors and reduce the overall saltiness.