When you freeze bean sprouts, you will save yourself the disappointment of ending up with a soggy clump of bean shoots in your fridge if you use them in good time.
Freezing beansprouts also means that you will have them readily available whenever you want them.
What about keeping beansprouts fresher for longer? - How about if you want to store them for several months? - Are beansprouts freezable?
Please read on for answers to these questions and some hot tips on prolonging the mung bean sprout's shelf life.
Jump to:

Thanks to their lovely crisp texture and mild taste, beansprouts have become the staple in many Asian countries.
They are an excellent addition to regular Chinese dishes such as chow mein, pho, rice noodle stir-fries, and various soups.
The problem is that once they mature, bean sprouts degrade very quickly, so to enjoy them at their best, you should eat them at the earliest opportunity.
Yes, you can store them in your fridge, but only for two days or so.
---
Ways to keep them fresh longer
Because I love beansprouts or mung bean sprouts so much, and I use them in many recipes, I usually have some tucked away in my fridge every week.
They are an essential ingredient when it comes to Asian cuisine. As well as being used in stir-fries and soups et cetera, they are also a great addition to salads.
We all share that the only problem is that beansprouts won't keep very long.
I sometimes buy them fresh from my local Asian store, only to find them beginning to turn into mush after 24 hours.
It can be annoying, especially when you're about to cook a stir-fry, and you go and reach for your beansprouts only to find a clump of mush. It's pretty vexing.
My good old mom passed her tips on to me for keeping beansprouts fresher for longer, and I am happy to share them with you.
It's all starts with buying the freshest product you can get your hands on.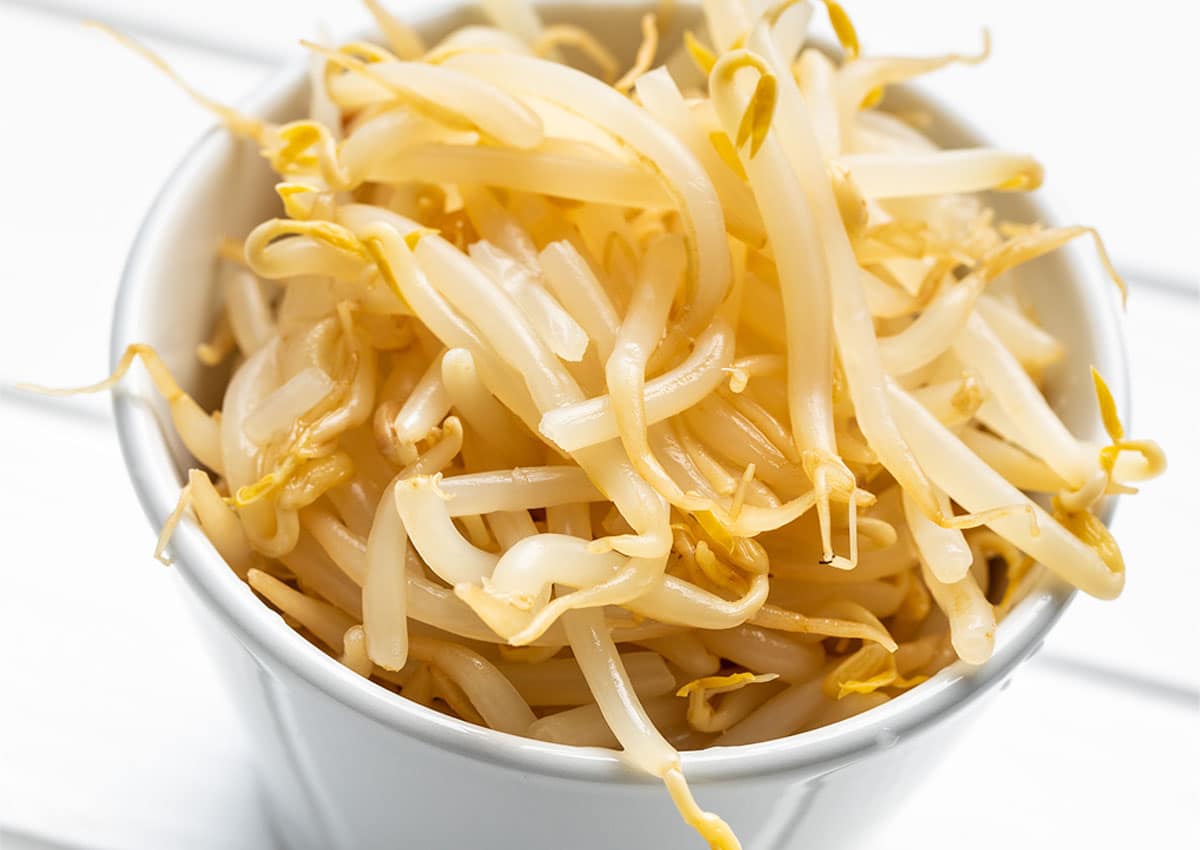 Tip
1

  Buy Fresh

In most ordinary grocery stores and supermarkets, you can find bean sprouts pre-packaged in the vegetable section.

The packet usually carries an expiry or best-by date on it.

As long as you get them home and store them in your fridge before the expiry date, you should be okay.

It's slightly different, however, with Asian grocery stores. Nine times out of ten, they sell beansprouts by weight to enable you to buy as much as you like.

They are not usually pre-packaged, and you'll find them in an open tray or box in the chiller.

If, when you inspect them, they look fresh, go ahead and buy them.

If they don't look in tiptop condition, leave them well alone. The odds are if you were to buy them, that next day, they would be unusable.

Another option is to grow your bean sprouts at home. Click here to learn the detailed step by steps on how to grow mung bean sprouts in a jar. It's super easy.
---
Tip
2

  Refrigerate them

It's all very well saying store them in your fridge, but how should you go about doing so?
Here's how:
Only wash them when you are going to use them - not before.
Take of the tails if you've got time.
Mother says that "tailing" them makes her bean sprouts stay fresher, longer.
But, I only do it just before I use them, and it doesn't seem to make any difference.
---
Tip
3

Store in a container

Keep them in a plastic bag or container lined with a paper kitchen towel. My mom uses newspaper, but kitchen towel works just as well, if not better - no print ink.

Both work well in terms of soaking up any excess moisture.
---
Tip
4

No overpacking

Try not to overpack them. The looser, the better.
Place a layer loosely in your chosen container/bag, top with absorbent paper.
Put another loose layer of bean sprouts on top and again, and cover with a paper kitchen towel.
Packed like this (two layers are sufficient), they are nice and loose, with plenty of air space between them so the air can circulate and help to keep them dry, which will help to stop them from beginning to rot too quickly.
---
Can you freeze bean sprouts?
Yes, you can freeze bean sprouts, but to protect their crunch, you must blanch them first.
There is no doubt that fresh bean sprouts are best. They are healthy, and, of course, they have that heavenly crunch.
Rather than freeze them, I always prefer to have some fresh ones on hand so I can enjoy them at their very best.
They are so versatile too. You can knock up a quick snack in no time.
If you are going to freeze them, you can, but don't forget to blanch them first.
If you don't, you will end up with some very sorry, soggy beansprouts when you defrost them.
---
The right way to freeze beansprouts
Because beansprouts are such delicate things, it's important to blanch them before freezing.
Any vegetables with as much water content will turn mushy when thawed if not properly blanched.
It's all about trying to maintain that lovely crunchiness. It's what beansprouts are all about. Without it, sad to say they are nothing.
But you can add fresh, crisp, yet moist beansprouts to so many dishes to impart a texture contrast without impairing the taste of the dish.
---
The blanching process
If you haven't done it before, blanching is pretty simple. Here's how to go about it. It's pretty straightforward.
All blanching beansprouts involves is dunking them into boiling water for a brief time, then transferring them straight into an ice bath which stops the cooking process.
Step
1

Bring a large pan of water to a boil.

Fill a large pan with enough water to completely immerse the beansprouts. Place it on your stovetop.  Season the water with some salt and bring it to a boil.
---
Step
2

Prepping the beansprouts.

While waiting for the water to boil, wash the beansprouts under the kitchen cold water tap to get rid of any dirt.
---
Step
3

Prepare the ice bath.

All you need for this is a large-sized bowl filled with cold water and a few ice cubes.
---
Step
4

Start blanching.

Blanching doesn't take long. Once the water is boiling, transfer the beansprouts into the water, turn down the heat, and allow them to sit there for 45 seconds, no longer.
---
Step
5

Stopping the cooking process.

When time is up, carefully transfer the beansprouts from the pan of boiling water straight into your preprepared ice bath.

Leave the beansprouts in the ice bath for approximately one minute, then transfer them into a colander to allow any excess water to drain off.
---
Useful tip:
Leave the colander containing the beansprouts in your sink, or spread them out on a paper kitchen towel and gently pat dry.
If too much surface water is left on the beansprouts when they are frozen, they will thaw badly, so I always like to leave them for something like an hour to allow all the moisture to evaporate.
---
Step
6

Pack for freezing

The one thing you mustn't do when packing your beansprouts ready for freezing is to overfill the airtight container or resealable freezer bag.

If you do, you may bruise them.

Ensure the bag or container you use is freezer safe.

To avoid bruising these crunchy little darlings, I usually divide them into small portions for freezing.
---
How well do bean sprouts freeze?
It's because they have such a high water content that beansprouts freeze well.
However, they require a little bit of preparation before you freeze them to prevent them from ending up being mushy and tasteless when you defrost them.
As I indicated above, it's necessary to blanch them, after which you can transfer them into an appropriate container which I will come onto the moment.
It's well worth the little bit of hassle of blanching them first to ensure they are nice and crunchy when thawed.
---
Why bother to freeze beansprouts?
Beansprouts have amazing versatility. Not only are they great in stir-fries, salads, and soups, but they also make a great texture addition to any sandwich.
In addition, they are rich in vitamin C, and, thanks to the high fiber they contain, they are also good for your just digestion. They are, in fact, one of the best low-calorie snacks you can eat.
The only problem is that you have to buy a whole pack of beansprouts.
Sometimes more than you can handle at one serving as they don't have an excellent shelf-life when refrigerated (two to three days maximum), you might need to consider freezing them.
---
For how long can beansprouts remain frozen?
Frozen bean sprouts can be left in your freezer for up to 12 months, assuming, of course, that they have been pre-blanched.
You can miss out on the blanching process if you're going to be using the beansprouts within a month of freezing.
However, if you leave them in your freezer for any longer than one month, the freezing environment will begin to break down the cells of the sprouts, and they will go off.
---
The best way of defrosting green sprouts
One of the great characteristics of beansprouts is that you don't have to defrost them.
Because they are so small, they defrost almost immediately you take them from the freezer.
If you're going to put them into a salad or a bowl of porridge, all you have to do is take the number of beansprouts you want from the freezer and sprinkle them straight into your meal.
Due to the ambient warmth of the atmosphere in the room, they will melt in an instant.
If you're going to use them as a topping, you can put them into the fridge until you're ready to serve them.
When they are allowed to defrost slowly, they re-gain their lovely crunchy texture and unique flavor.
The other way of getting them to thaw quickly is to place them in cold water.
The temperature of the water helps to thaw the beansprouts and prevents them from becoming mushy.
---
How about re-freezing beansprouts?
When first defrosted, frozen beansprouts become soft, so never try refreezing beansprouts.
If you freeze them again, all you are doing is freezing already soft beansprouts, so you're onto a loser before you start.
The best thing to do to avoid even considering refreezing beansprouts is to not take too many out in the first place. Instead, only take what you need.
---
How long do frozen beansprouts last?
Because beansprouts contain a high volume of water, they are highly perishable.
They will not only perish if they are kept in the freezer too long, but they will also turn bad if they are left too long to defrost.
---
Frozen beansprouts shelf-life
When stored in your freezer, beansprouts will be okay for up to 12 months.
After that, you can eat them beyond this time, but the quality will deteriorate, and eventually, they will become soggy and lose all nutrition.
If you do have beansprouts that have been in your freezer for 12 months or more, it's essential to check the quality before serving or using them in the recipe.
If there's still crunchy, then, by all means, eat them.
---
Precaution:
When you remove mung bean sprouts from your freezer, they will defrost very quickly.
However, if you leave them to defrost as they are, you'll find them sat there in a pool of melted water once they have thawed, and they will rapidly become soggy.
But remember what I said earlier. There is no need to defrost beansprouts. They thaw so quickly you can eat them virtually straight out of the freezer.
If you decide to defrost them, make sure you do so in your fridge; otherwise, they won't be crunchy and will have no taste.
---
Various ways you can freeze beansprouts
There are several ways you can store, not just beansprouts but any vegetables in your freezer. Some are obviously better than others.
Many Tupperware and other leftover storage containers are freezer safe. However, if you're not sure, the best thing to do is check with the manufacturer.
1

Using a sheet pan

Using a sheet pan is probably the best method for freezing beansprouts or any other vegetable with high water content. Regrettably, in the beginning, it does take a little more time.

It also takes up more freezer space than other methods, but I think you'll find it's well worth it.
Once they have been blanched and any excess water drained off, spread the individual beansprouts onto a sheet pan to avoid ending up with a soggy clump when thawed.
Next, spread them out nice and evenly in a single layer, so no sprout touch any other.
Position the sheet pan in the freezer and wait for the beansprouts to freeze. You can cover them or not; the choice is yours.
After two or three hours, the beansprouts will be completely frozen and can then be transferred into a freezer bag or freezer-safe container.
If you leave the beansprouts in the freezer for more than three hours, you will need to cover them or be exposed to freezer burn.
Freezer burn is not detrimental to your health, but it does change the taste of the beansprouts, making them rather unpleasant to eat.
---
2

Using Freezer bags

Freezer bags are quite okay to use for freezing beansprouts, providing you lay them back flat when you first put them in the freezer.

Ziploc freezer bags are great for freezing virtually anything, from vegetables to fully prepared meals. Many people use them for freezing soups and other liquids. But if you're going to be putting beansprouts into them, you need to think ahead.

The problem is that Ziploc is not structured as it molds itself to the shape of whatever is stored inside and the position those contents have assumed. Rather than holding any firm shape of their own.
Useful tip
If you go down the freezer bag route rather than the sheet pan method, you should lay the freezer bag flat on its side rather than standing it upright.
The beansprouts will freeze in one huge clump when left upright. Storing the bag flat also helps you to maximize space in your freezer.
---
3

Using mason jars

Many people think that storing vegetables in glass jars in their freezers is the bees' knees. However, it's not a good choice for freezing beansprouts unless they've been previously frozen on a sheet pan first.

Loading beansprouts into a glass jar without having frozen them separately first means you're sure to finish up with a tangled mush when they defrost.

The other thing to consider is that glass storage jars tend to take up rather a lot of space.

Finally, there is always the danger that they will shatter in the freezer.

Things don't freeze well inside glass jars anyway, so when it comes to beansprouts, I suggest that mason jars and the like are a no-no.
---
4

Using a vacuum sealer

I've got a lot of time for vacuum sealers. I think they are one of the best ways of freezing anything.
However, when it comes to beansprouts, before loading them into a vacuum sealer, you must pre-freeze them first, which means going down the sheet pan route we discussed under Method 1.
There is one slight potential problem with using a vacuum sealer, and that is that it could bruise the delicate beansprout shoots.
---
5

Using food storage containers

Once again, if you're going to use food storage containers, ideally, the beansprouts should be pre-frozen via the sheet pan method.

Whatever brand of food storage containers you use, providing they are freezer safe, they are the best ways of storing beansprouts, but they need to be pre-frozen.

Even if you don't go to the trouble of pre-freezing the beansprouts, this is still a good choice as the containers have a solid structure and provide an airtight environment.

Just ensure that the container is hygienically clean before you load in the beansprouts.
---
A word about freezer wraps
I don't recommend using freezer wraps because the chances are your beansprouts will get damaged.
You can make freezer storage wraps from foil, cling film-type plastic wrap, or waxed paper.
While they will insulate food and prevent severe frost from forming, they are not ideal for freezing vegetables.
They are more suited to solid foods such as big cuts of fish or meat or loaves of bread.
---
Frequently asked questions
For how long can you keep beansprouts in your fridge?
Providing you store them in your fridge as I described earlier, they might last for as long as five days at the absolute maximum. After that, they will lose their crunch and their flavor.
---
Is it the right thing to do to remove the tail of a bean sprout?
It's really up to you; leaving them on doesn't detract from the taste or crunch of the beansprouts, but perhaps they do look aesthetically better without them.
So, if you've got the time, remove them by all means.