You're going to love this dish. It doesn't matter whether your only brush with Asian food is Ramen noodles and the occasional stir fry at your favorite restaurant or you grew up with traditional Asian cooking, everyone seems to love the taste of lo shu fun—which you pronounce "Low She Fun" and "she sure is and yummy too!"
Sorry, I can't help myself. I love this dish and I love to say the name just about as much.
It's a running joke in our house that I'm never tired of, but my family must because there's a lot of eye-rolling when I say it.
The noodles are slightly thicker translucent rice noodles. If you're lucky enough to have an Asian market near you, you'll find these sold as silver needle noodles.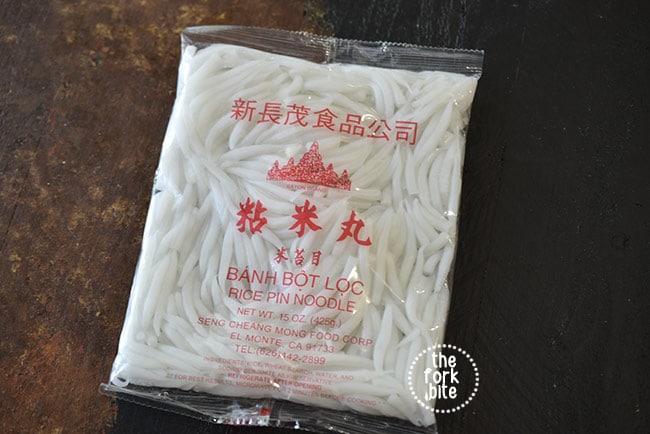 Especially if it is owned by someone from Hong Kong or Taiwan or have savvy owners who cater to both Asian and non-Asian clientele.
It's called "locupan" in Indonesian markets, but beware, if you go to an Asian market where the owner came from Malaysia or Singapore you'll find these little gems with a very unappetizing name, rat noodles.
In fact, lo shu fun literally translates in Cantonese to mouse noodles. The name comes from the shape of the noodle, not the origin of the noodle.
In order to make this dish come out its best, make sure the wok or pan you make it in is hot! You'll need to make these in smaller batches for the best results. Never make more than two servings at a time.
If you use ground pork with a higher fat consistency, you won't need any additional oil, simply used the grease created by frying the pork to fry the noodles.
It adds more flavor to the noodles and will be less greasy. If you don't have enough fat in the pan after you remove the browned meat, you can add more.
You can also make this meal with fish, shrimp or mushrooms—if you're vegetarian. Once you taste how delicious these are, you'll want to have this meal frequently.
Stir Fried Lo Shu Fun --- Fried Rice Noodles
Category: lunch, dinner

Cuisine: Malaysian

Malaysia's favorite street food noodles. So easy and delicious.
1/2 lb ground pork
Marinade for pork:

1 tsp light soy sauce
1 tsp cornstarch
Pinch of salt and pepper
Other ingredients:

1 (15oz) rice pin noodles (available in Asian market)
5 garlic cloves, finely minced
2-3 small shallots, finely sliced
1 green onion (white part), thinly sliced
1 large handful mung bean sprouts
For the Sauce:

1 tbsp light soy sauce
1 tbsp oyster sauce
2 tbsp thick caramel sauce (for color)
Pinch of salt & white pepper or to taste
Pinch of sugar
1 green onion (green part), thinly sliced
Instructions
Marinate Pork:

Add the ingredients from the 'marinade for pork' to the ground pork.
Mix well and let pork sit for 10 minutes.
Separate Noodles:

In a large bowl, add warm water and place the rice pin noodles in it. This is to help the noodles separate easily.
After 5-10 minutes, with the noodles still in the water, gently press the noodles to separate them.
Brown the Meat:

Over medium high heat, add the pork to a wok and brown it. This is to extract fat from it so the noodles aren't overly greasy.
Once browned, set aside and leave the fat in the wok.
Fry Noodles:

Over medium high heat, fry the shallots and green onions. Once it turns light brown, add the garlic. Once they turn brown and become fragrant, add the pork. Fry for 30 seconds and add the noodles.
Add the soy sauce, oyster sauce, thick caramel sauce, salt, white pepper and sugar. Stir to combine well.
Add the bean sprouts and stir again. Taste and adjust seasoning if needed.
Once bean sprouts have wilted a little and are cooked, dish out and top noodles with green onion. Serve with sliced red chilies. Finish the meal with hot Chinese tea to flush your system.
https://www.theforkbite.com/asian-noodle-recipe/