This Yakisoba sauce recipe may be the one thing that's missing in your noodle book. It only takes less than five minutes of your time. The combination of savory and sweet enhances the flavor of Yakisoba noodles.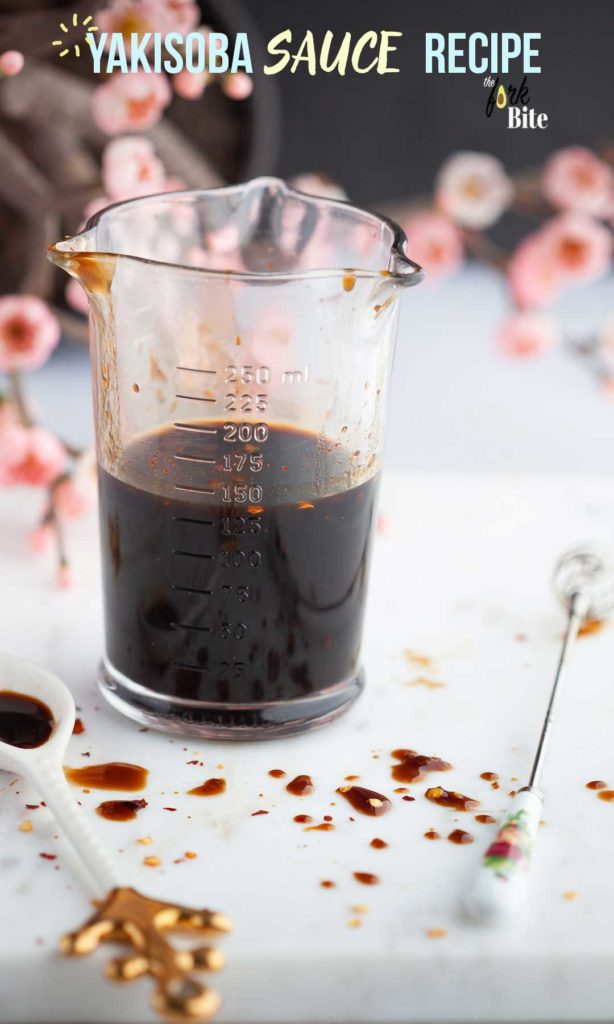 Jump to:

This Yaki sauce is so versatile that you can even use it as a substitute for barbecue sauce or a marinade for pork or beef.
In the world of cooking, tweaking a recipe according to your preferences is the only way to maximize it. Then, you could enjoy the dish without compromising the flavor at all.
Vegetarians, vegans, or those who want gluten-free can just use gluten-free soy sauce or vegan shiitake "oyster" sauce in place of the regular soy.
What is Yakisoba?
Yakisoba has become a household name already, but a few only know what it really means. The word means grilled (yaki) noodles (soba). It's a popular snack, street food, lunch, or dinner.
Anyone who loves noodles knows how satisfying and tasty these noodles are. Of course, it's not only about the noodles. It's about that Yakisoba sauce as well.
It is a classic Japanese street food made by stir-frying vegetables, meat and noodles with a sweet and savory Yaki sauce.
Use the Right Noodles
Fresh ramen noodles are always best for Yakisoba sauce. If you don't have access to them, Singapore, Hokkien, wheat-based, or egg noodles are fine.
I find thinner noodles more appealing because they become crunchier as they cook in the pan using this sauce.
Other Uses for Yakisoba Sauce
This homemade sauce is not only ideal for Yakisoba noodle recipes. It is versatile enough to be used in other Japanese dishes such as sobameshi (fried rice and noodles), yaki onigiri (grilled rice balls), okonomiyaki (savory pancakes) or Takoyaki (octopus balls).
You can even pair it with anything that needs the Asian kick of sweet and salty. Use it on stir-fried dishes, chicken, steak, pork, or oysters. Even drizzle it on Yakisoba pan (Yakisoba in a freshly baked bread roll) and omu-soba (the omelet around your Yakisoba).
Useful Tips
In making this Yakisoba sauce, please remember the following:
① Combine all the ingredients well in a small mixing bowl.
② Always taste the sauce as you go, so you know the sauce is progressing to your liking.
③ Pour the sauce into a sealed food-grade container until you need it. You can get the best flavors from the sauce if you use the Yakisoba sauce within two days of making it.  Store in the fridge and it can last for a month.
④ You can add extra rice vinegar if you want the sauce to have more acidity.
If you want the sauce sweeter, add a bit more sugar or hoisin sauce.
Shelf Life and Proper Storage
Since the recipe gives you 130 ml of sauce, you will probably use all of it for your Yakisoba noodles. If you do have leftover sauce, just place it in an airtight food-safe container and use it in a month. Store it in the fridge for future use.
Calories
Have you ever thought of Yakisoba as healthy? You may have been eating it for years without giving it much thought. The health provided depends on the type. There is Yakisoba made from scratch and then there is instant Yakisoba.
Authentic Yakisoba is the type made from scratch. Japanese restaurants and fast food chains do offer this type of yakisoba, which have lower health risks. You only get 200 calories from a single serving of yakisoba.
This is assuming, of course, that it has stir-fried chicken and vegetables on top of the noodles. Having red meat instead of chicken increases the calorie content.
Why make your own sauce?
It's so easy on how to make the sauce from scratch. Creating your own sauce is the key to getting the healthiest version of the dish.
Here are some of the primary reasons for making your own:
① You can change the proportion of the ingredients. The home cook can very well add more meat or more vegetables to top your Yaki soba sauce. You could even opt for an all-meat or an all-vegetable topping. Feel free to control the amounts of salt in making your yakisoba.
② You can select the source of your ingredients. Commercial restaurants get their ingredients from local markets. This is an effective way to make sure you get high nutrient content and reduced amounts of pesticides.
③ You only use fresh and not frozen ingredients. Freezing vegetables lowers the number of nutrients in them.
Instant Yakisoba is the complete opposite of the homemade version. It can increase your risk of developing health conditions because of high levels of MSG and calories. The "instant version" has twice the calories found in the homemade version.
Yakisoba is a known type of street food and a quick meal to have at any time. By making it at home, you benefit from your preferred flavor and nutrient balance.
With this sauce recipe, you turn your dish into a healthier, more unique way to satisfy your Japanese noodle craving.
Ingredients
4 tablespoon Soy Sauce
1 tablespoon Mirin *see notes
1 tablespoon Rice Vinegar
2 tablespoon Worcestershire sauce
2 tablespoon oyster sauce
1 tablespoon ketchup
2 tablespoon brown sugar
½ teaspoon ginger minced
a pinch of black pepper or red chili flakes
Instructions
Just combine all the ingredients to make the Yaki soba sauce.
Notes
Mirin is an essential condiment used in Japanese cuisine. It is a type of rice wine similar to sake, but with a lower alcohol content and higher sugar content.
Other Asian Recipes:
Full Recipe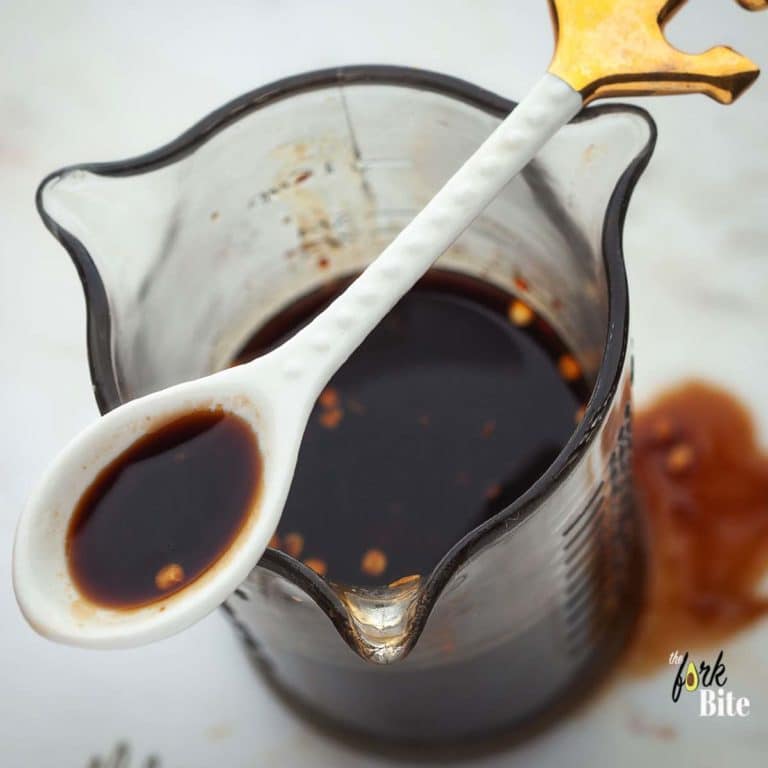 Homemade Yakisoba Sauce Recipe
Learn how to make Yakisoba sauce from scratch that tastes like barbecue sauce on steroids. You can pair this Yaki sauce with your favorite dishes for an infusion of Japan's favorite flavors.
Ingredients:
The Sauce:
4

tablespoon

Soy Sauce

1

tablespoon

Mirin

*see notes

1

tablespoon

Rice Vinegar

2

tablespoon

Worcestershire sauce

2

tablespoon

oyster sauce

1

tablespoon

ketchup

2

tablespoon

brown sugar

½

teaspoon

ginger

minced

a pinch of black pepper or red chili flakes
Instructions:
Just combine all the ingredients to make the Yaki soba sauce.
Notes:
1. 

Mirin is an essential condiment used in Japanese cuisine. It is a type of rice wine similar to sake, but with a lower alcohol content and higher sugar content.

 
Nutrition Information:
Serving:
1
g
|
Calories:
225
kcal
|
Carbohydrates:
49
g
|
Protein:
8
g
|
Fat:
1
g
|
Saturated Fat:
1
g
|
Sodium:
5612
mg
|
Potassium:
472
mg
|
Fiber:
1
g
|
Sugar:
35
g
|
Vitamin A:
77
IU
|
Vitamin C:
4
mg
|
Calcium:
82
mg
|
Iron:
4
mg
Please note that all nutrition information are just estimates. Values will vary among brands, so we encourage you to calculate these on your own for most accurate results.
Did you make this?
I would love seeing what you've made! Tag me on Instagram @theforkbitedotcom or leave me a comment or rating below.