I adore tuna salad. It's easy to make, nutritious, and it tastes damned good - at least the recipes I've concocted do.
It's very versatile too. You can serve as a salad, use it as a sandwich filling, or eat it on warm buttered toast or crispybread crackers.
I have to admit that canned tuna isn't as good as the fresh stuff, but salad-wise, canned is the one to use.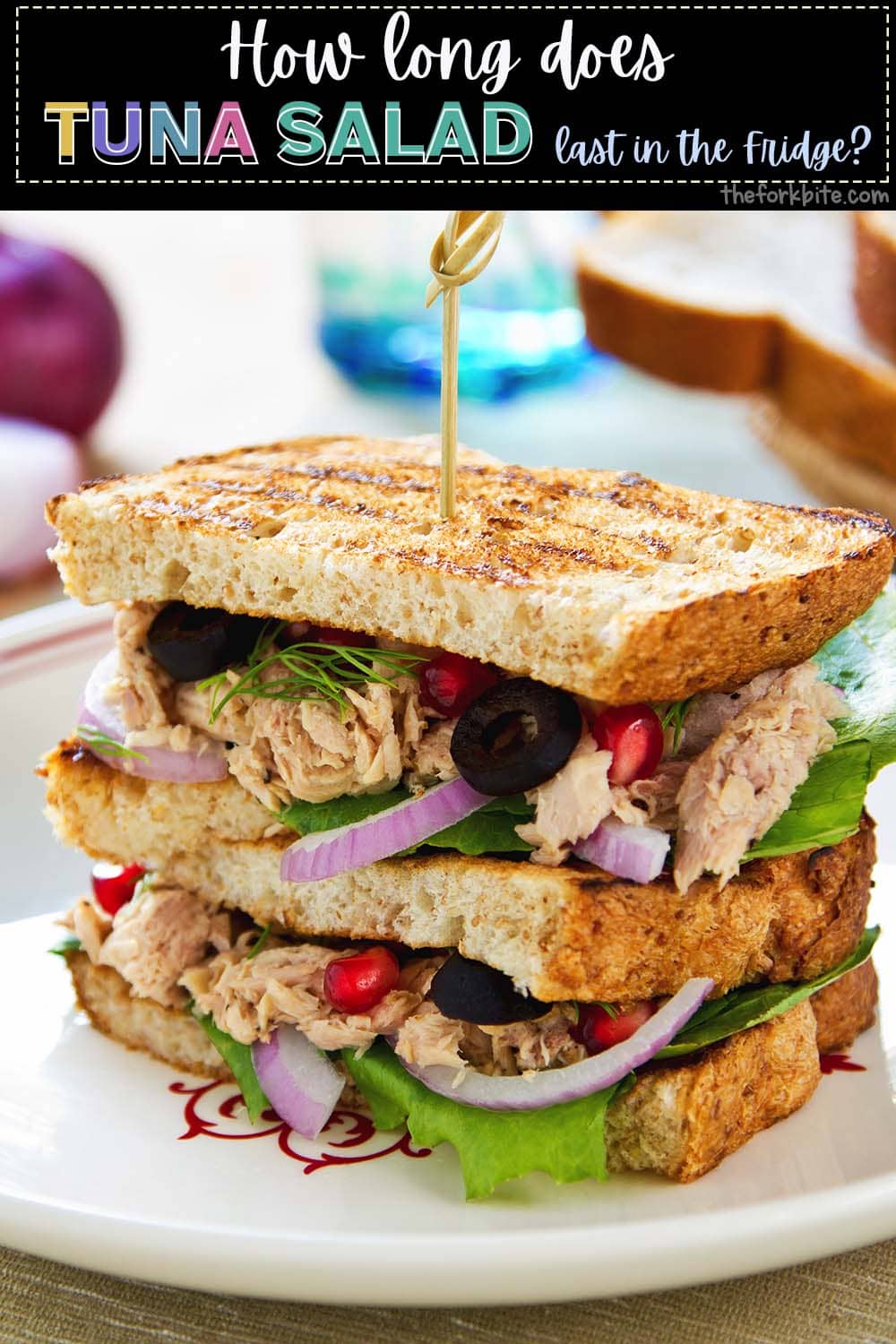 Fresh tuna doesn't work as well in a green salad unless it is coated in sesame seeds and seared - at least that's my opinion.
The quality of canned tuna varies enormously from brand to brand. But any one of the better ones adds great-tasting protein to tuna salad.
---
Jump to:
The proper way to store tuna salad in your fridge
You are probably already aware that the temperature varies in different parts of your fridge.
For example, the door rack's temperature fluctuates more than anywhere else because it is often opened and sometimes left ajar.
It means that you shouldn't store tuna salad there. Keep on a self and further back from the door where the temperature remains colder.
If you want to check which parts of your fridge are colder than others, you can buy a fridge or freezer thermometer.
Another essential consideration:
To prevent the salad from absorbing any unpleasant or unwanted odors from other food in your fridge, keep it in an airtight container.
You should either keep your tuna salad in an airtight glass or BPA-free plastic container.
You can buy both from Amazon, but if you go down the plastic route, I recommend dedicating a container specifically for tuna salad.
---
How long can tuna sit out?
There are two categories of food bacteria:
Pathogenic bacteria are invisible to the naked eye and make you ill, while spoilage bacteria spoil food.
These can also make you unwell, but they are easier to spot by sight, smell or feel - mold, an unpleasant odor, or a change in texture.
The temperature range within which harmful bacteria thrive is 40°F to 140°F.
This range is the United States Department of Agriculture (USDA) brand as the "Danger Zone." It is the zone to avoid when storing any perishable food, including tuna salad.
A fridge thermometer might well prove to be a sound investment to protect you, your family, and any lunch or dinner guests.
---
How long does tuna salad last in the fridge?
Following the USDA guidelines, the tuna salad will last for about 3 to 5 days in the fridge if being stored at temperature of 40°F or below.
The main reason is because the two main ingredients of tuna salad - tuna and mayonnaise - are both perishable.
So, when I make a tuna salad sandwich, I only keep the salad outside the fridge long enough to spread it onto the bread.
Then, it's back inside the refrigerator, pronto. You can, of course, leave it outside for longer.
The USDA's recommendation is between one and two hours maximum, and this is dependent on actual room temperature.
Refrigerate perishable foods as soon as possible within 2 hours. The official guidelines are 1 hour in air temperatures above 90°F and two hours below 90°F.
To err on the safe side, I always put tuna salad back into the fridge at the earliest opportunity.
---
The best canned tuna for tuna salad
The two categories of canned tuna you'll mostly see on the shelves of your local supermarket will be white or light.
The only kind of tuna that can legally be classed as white is Albacore. Light tuna usually comes from Bigeye, Skipjack, Tongol, or Yellowfin.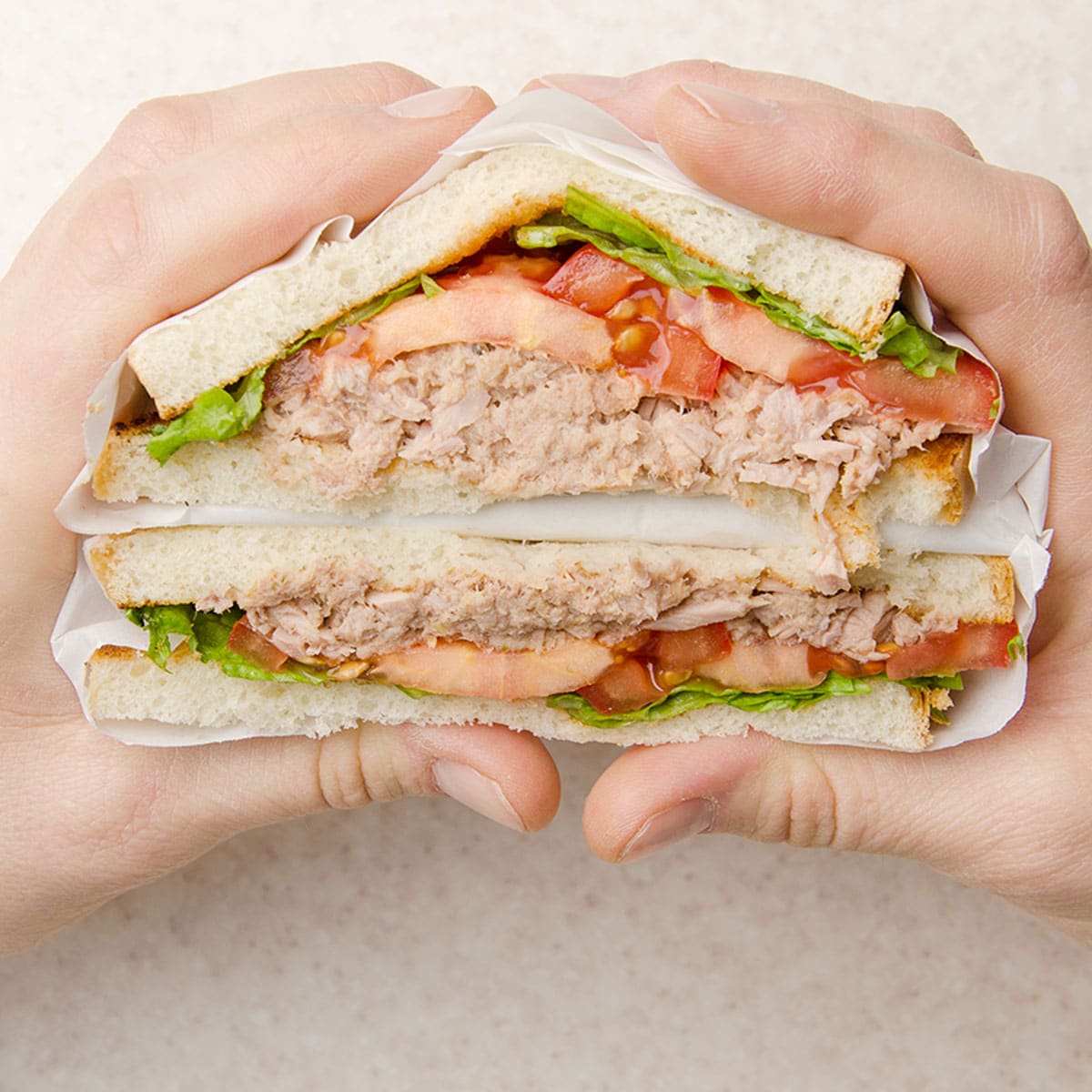 1

White albacore tuna

Solid white Albacore tuna is more expensive than light and is perfect for dishes where you want to see lovely pieces of fish - as when added to a salad niçoise.

It has a mild, fresh taste and is less "fishy." It also contains three times as much Omega-3 fatty acid as light, but it does have higher mercury content.

Albacore can reach five feet in length and weigh up to 60 pounds. But they are not the largest species. That is Bluefin which can grow up to 1,000 pounds in weight.

Bluefin is mostly used for sashimi and sushi dishes. Albacore is the largest type of tuna that ends up in cans.

Because Albacore is larger than Bigeye, Skipjack, Tongol, and Yellowfin, they eat more fish.

All fish contain mercury, so Albacore flesh has higher levels of mercury than other canned varieties.

Smaller Albacore, weighing between 10 and 24 pounds, is caught off California, Oregon, and Washington.

Because they are smaller, they contain only half as much mercury as their larger cousins.

Unfortunately, you cannot tell from the can from where the Albacore was caught. To keep on the safe side, it is recommended you only eat Albacore tuna once a week.
---
2

Light tuna - bigeye, skipjack, tongol, and yellowfin

Light tuna tends to taste fishier than white, but it costs less. Also, because it contains significantly less mercury than white, it is safe to eat several times per week.

But, in the end, as far as making tuna salad, you can use either - white or light - they are both delicious.

The two big differences are that light is cheaper, and it has a slightly more fishy taste.
---
Tongol tuna
There is another type of tuna you might across, and it is Tongol tuna.
It is a smaller fish, and because of this, it contains less mercury than most other tuna species.
It is canned in chunks and is an excellent choice for casseroles, melts, and sandwiches.
---
The different colors of canned tuna
White tuna isn't white. It is light pink. On the other hand, light tuna is light, but colorwise, it is a darker pink than the white variety. You can read the difference here.
Because light tuna may be made from Skipjack, Yellowfin, Bigeye, or Tongol, it can appear to be two-tone in color - from yellow to red.
---
Making a healthy tuna salad
If you are health and weight conscious, you might wonder about making a healthier tuna salad. Mayo is not the healthiest thing in the world.
But, instead of adding 100% mayo, you could opt to add just one tablespoon of mayo and make the rest of the creamy dressing up with a quarter cup of yogurt, Greek being the first choice.
That way, you keep all of the lovely rich texture but ditch lots of the fat and calories.
Another option is to add some pureed avocado. It contains more calories than Greek yogurt, but the fat is all healthy.
---
Other changes you could make
Healthwise, using light tuna would reduce any risk of mercury poisoning. Drain the can well, or the texture of the salad might end up being too watery.
There are some other things you could do to add a little variance to the flavor.
Add a little lemon zest to give your salad a little more lemony zip.
Add some chopped red bell pepper or sun-dried tomato.
If you have no fresh lemons around for juicing, you can always substitute with some mild red or white wine vinegar.
To add a little flourish to the presentation, you can always serve a plater of tuna salad sandwiches with a few slices of avocado, or tomato, or both.
---
Other Ingredients to Add to a Tuna Salad
Depending on whether you are talking about a "pate" style tuna salad or green salad-like dish, you can add:
Cherry tomatoes - thinly sliced for pate or halved in a green salad
Chickpeas - whole in both presentations
Apple - finely diced in pate, finely sliced in a green salad
Red onion - finely chopped in pate, finely sliced in a green salad
Avocado - finely chopped in pate, finely sliced in a green salad
Hard-boiled egg - finely chopped in pate, finely sliced in green salad - a la salad nicoise
Red bell pepper - - finely diced in pate, finely sliced in a green salad
Sun-dried tomato - finely chopped in pate, whole slices in a green salad
Some spices like curry powder, cumin, or celery seeds to either option.
Dijon mustard to the pate version mixture.
Jalapenos - chopped to pate and finely sliced in a green salad.
Diced cucumber to pate, or sliced to a green salad.
Whole sweetcorn niblets to either version.
Chopped dill cucumber to pate, or sliced to a green salad.
Tuna Salad Serving Tips
Back to spreadable tuna salad only, here are some great serving tips.
On toasted bread - the crunchy toast adds a great texture contrast to the salad.
Dollop on top of a green salad with some of the goodies listed above
Serve inside hollowed-out tomato shells.
Serve inside hollowed-out avocado skins.
Serve as a tuna melt sandwich, with lettuce, tomato,
and a slice of Italian Provolone or Swiss cheese.
Most people tend to use canned tuna for speed and convenience when making tuna salad, but if you want to use fresh tuna, cooked, cooled, and mashed, why not?
You can also slice it for serving on salad.
---
What is good to eat with tuna sandwiches?
What can I serve with tuna salad sandwiches?
Given that tuna salad sandwiches are soft and squidgy, they are best served with accompaniments that contrast texture.
Potato chips work well, as do raw veggies, which you can cut into crudités and toss in the vinaigrette. Anything salty and crunchy works a treat.
Things to avoid as accompaniments would be potato salads or anything that has lots of mayo.
You've already got enough creaminess in the tuna salad. Any more would be overkill.
Other accompaniments that work include:
Caesar salad
French fries
Fresh Fruit
Various pickles
Soup - potato or corn chowder work really well,
Steamed vegetables
How healthy is tuna salad?
Tuna salad is as healthy as you make it. It is not inherently unhealthy, although using full-fat mayonnaise is something of a dietician's nightmare.
Substitute partly with Greek yogurt of pureed avocado for a healthier option. Instead of using tuna canned with oil, go for the brands canned just with salt and water.
Minimize the use of anything high fat or sodium-rich. Also, don't add too much by way of sugary ingredients, and if serving with bread, chose lower-calorie options.
Another important thing to remember is the mercury content, which we already talked about earlier on.
Suffice it to say that one meal of Abalone or white tuna per week is where to draw the line. But if you want to eat it more regularly, choose light tuna instead.
---
Recommended portion sizes per person
The recommendation for women is not to consume more than 3 x 6 oz servings in any month.
For men, the recommendation is not to exceed more than 3 x 8 oz servings per month.
Children between the ages of 6 and 12 shouldn't be given more than 2 x 4.5 oz servings per month, and under six-year-olds, no more than 1 x 3 oz per month. Mercury is dangerous stuff - especially for children.
---
How to tell if tuna salad is bad
We talked earlier about bacteria and how it spoils perishable foods.
You need to take particular care with fish and seafood, so this applies to tuna salad. Knowing what signs to look out for in terms of potential spoilage is crucial.
You don't want to eat tuna salad that has gone off if you can avoid it. Initial signs may not be that easy to spot.
1

The Appearance

The first thing to look for when checking for signs of spoilage is discoloration. Look out for brown, green, or dark spots. If you spot any, you shouldn't even bother to taste it. Throw the salad away.
---
2

The Smell

This can be a little more tricky. A fishy smell can easily lead you astray. What you are sniffing for is a sort of "funky" or a decidedly not nice odor,
---
3

Unnoticeable Spoilage

Earlier, we broached the subject of pathogenic bacteria. These little nasties can be present without any exterior signs. You won't know until you've eaten it and fallen ill.

My rule of thumb is not to refrigerate tuna salad for more than five days. So, label it, and when it gets five days past the label date - bin it.

Remember, the prime causes of tuna salad going bad is (a) keeping it in too warm a temperature and bacteria build-up.

It can lead to scombroid food poisoning or worse.
---
How long is tuna salad good for
Back to the subject of perishable foods and how long you can keep them out. Stick to the USDA recommendations - Don't leave them out for more than two hours, and if the weather is hot, cut that down to one hour. Any longer, and bacteria will proliferate.
If being stored in the fridge, it would last for about 3 to 5 days. While it is possible to freeze tuna sandwiches, they are likely to turn out horrible and soggy when you defrost them.
---
Other sandwich fillings NOT to freeze
Tuna salad sandwiches are not the only type of sandwich I wouldn't recommend you freeze. Other fillings that don't freeze and defrost well include:
Canned salmon
Certain butter, including peanut
Finely diced or minced proteins like beef, chicken, and turkey have been mixed with the salad dressing.
Some cheeses such as cheddar or Swiss
Hard-boiled eggs - they toughen when frozen and defrosted
All types of jellies - they get absorbed by the bread, making it too squidgy
Lettuce, onions, and tomato, which become limp when defrosted
Can canned Tuna go off?
Canned foods have a reputation for staying edible for a long time after being canned.
A can of tuna will stay good for between three and five years and even considerably longer.
The crystal test is when you open it. If it emits an unpleasant odor, or it doesn't look right, throw it away.
---
How to Lengthen the Shelf Life of Canned Tuna
It is best to store canned tuna in a dry location in a temperature range of
50°F to 70°F.
Rotate your stock of tins so that the oldest cans get used first.
Consume within one year of storage. This is just a guide. You can keep it for between three and five years. However, the longer you store it, the more the flavor and nutritional content will deteriorate.
Check that the integrity of the can hasn't been compromised. If you spot any damaged cans, throw them out.
---
Freezing tuna salad
In a word - don't. In theory, you can freeze tuna salad, but in practice, when you defrost it, it could be inedible depending on the ingredients you used when you made it.
Mayo usually separates when defrosted. If you do intend to freeze your salad, don't use mayo when you make it. Instead, you can use something like Miracle Whip salad dressing.
Vegetables such as celery and onion, which are nice a crunchy when fresh, will become sorry and soggy after freezing and defrosting.
If you remain unconvinced, you can always attempt freezing a small portion of salad as a test.
First, put it into a freezer-safe container or a plastic freezer bag and evacuate as much air as you can.
If it has been frozen and thawed, you think it is edible, all well and good.
---
Tips for making, freezing, and defrosting sandwiches
While I wouldn't recommend it, it is not impossible to freeze sandwiches if you follow the tips I'm about to give you:
1

Soakable Fillings

If you're going to put a filling in your sandwich that is likely to soak into the bread, do not put melted margarine or butter onto the bread.

Use ordinary butter or margarine. To make the spreading easier, use bread that is more than a day-old. It is a little further and easier to work with.
---
2

Making an Assembly Line

If you're making a large batch of sandwiches, which is why many people choose to freeze them, make up an assembly line whereby you carry out one stage of the sandwich making to all of the sandwiches before proceeding the next stage. It's batch building.
---
3

Pack in Airtight Bags

Evacuating as much air out of the container or bags you use to store the sandwiches is crucial.

If you're going to be freezing sandwiches regularly, you should get yourself a vacuum sealing machine.

You can get them via Amazon, and they are quite affordable.
---
4

Don't Stack Them

So that the sandwiches hold their shape, it is best to store them in a single layer in your freezer, preferably on some sort of flat surface like a cookie sheet.

It's also a good idea to put the sealed bags inside larger freezer quality bags, again evacuating as much air as possible.

Avoid using thin sandwich bags. They're just not up to long-term freezing.
---
5

Defrosting

It's best to defrost individual sandwiches while they're still in their wrapping. Defrost them in the fridge overnight.
---
6

Last-Minute Additions

Concerning the vegetables we referred to earlier that can become limp after being frozen and defrosted, it's best to omit them when you prepare the sandwiches for freezing and add them fresh at the last minute.

Frozen sandwiches should be eaten within one to 3 months of freezing to enjoy them at their best.

If you would like some more tips on sandwich freezing, please click here.
---
Interesting recipes with tuna
---