Grilled cheese is one of the scrummiest things on the planet. Hot, soft, crunchy, and chewy, it is not just texture heaven; it is so tasty too - and there are so many wonderful cheese varieties, each with its own characteristics.
But have you ever made too many grilled cheese sandwiches and ended up throwing some in the bin?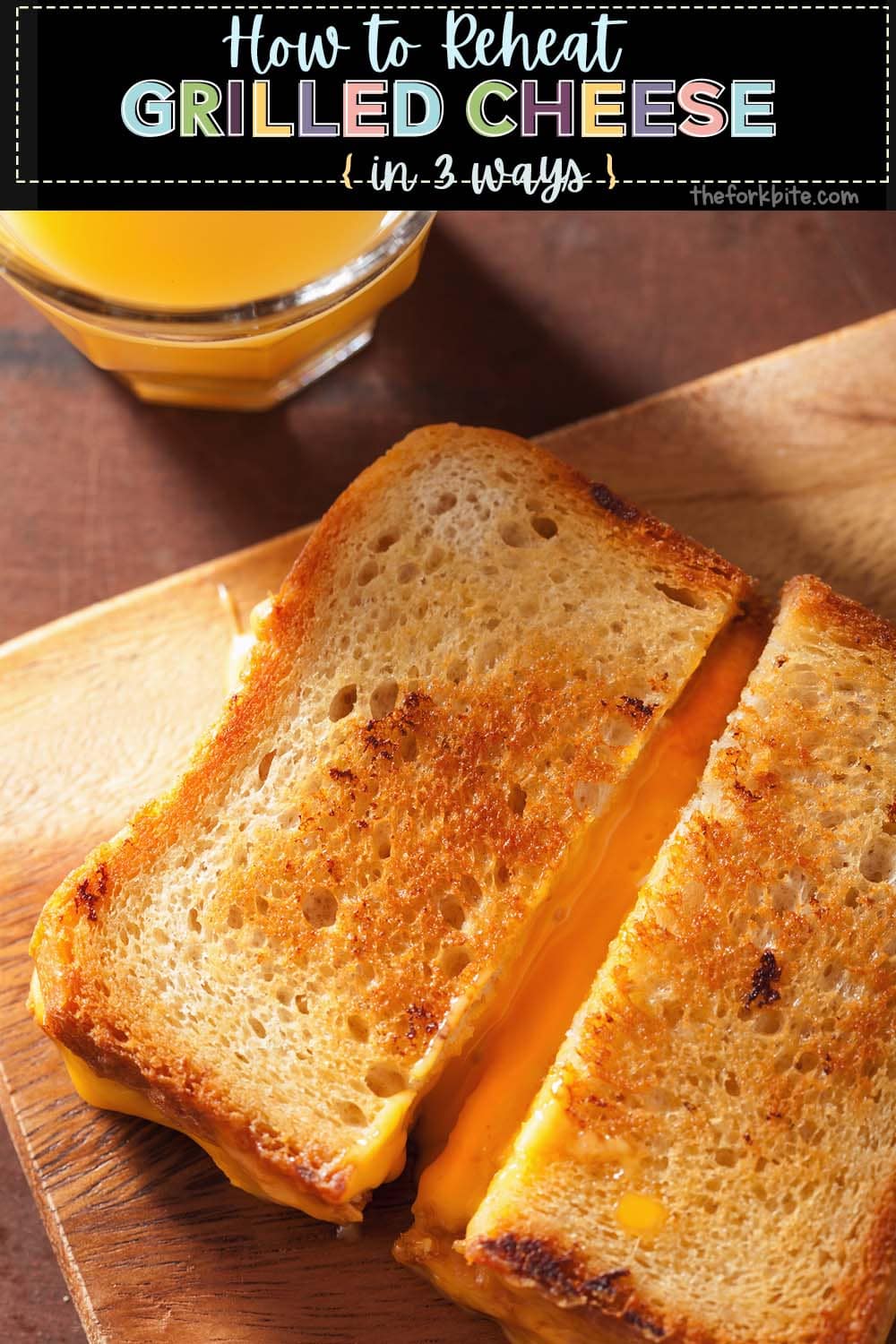 Jump to:
Well, if you have, and you're no doubt wept in the process - wipe those tears away forever.
Learn some great ways of storing and reheating grilled cheese that will have it tasting and eating almost as good as it was when you grilled it the first time around.
---
How to reheat grilled cheese
Have you ever tried microwaving grilled cheese as a way of preventing having to throw it away? It doesn't work well, does it?
All you end up with is either a warm soggy, tough chewing mess or overheated cheese with little flavor and a wrong consistency.
But there are other options you can consider - things like using an air fryer, frying pan, panini press, or toaster.
Whenever method you decide to try, you must first get the sandwich to room temperature, which means taking it out of the fridge about 30 minutes before reheating.
You need to do this because if you don't when you reheat it, the interior may not be as well heated as the exterior surface - particularly if the layer of cheese is quite thick. Also, the bread might over crisp or burn, which isn't ideal.
Over the years, I have already tried many ways of reheating grilled cheese. To save you having to do the same before finding the optimum method, I thought I would pass on the benefit of my experience, so here we go.
---
Origin of the humble grilled cheese sandwich in the US
A grilled cheese sandwich might be humble in terms of ingredients, but it is a superstar when it comes to taste and satisfaction.
People have been eating bread and cheese for centuries, but the first grilled cheese sandwiches to appear in the States were back in the 1920s, and they were pretty basic.
In those days, loaves of bread were cheap, and processed cheese appeared in stores and quickly gained popularity. Combining the two to create a grilled cheese sandwich caught on fast and soon became a part of working people's diets.
As the 1930s rolled in, along came the great depression. With wages hard to go by, times were tough, and the grilled cheese sandwich with its inexpensive ingredients was the go-to belly-filler for many hard-up families.
Then came the 1940s and the Second World War, and the grilled cheese sandwich continued its popularity with the Allied forces, and before long, it found its way into the cookbooks in many chef's kitchens.
It's also become a regular favorite at school dinner times, and kids wolfed down grilled cheese sandwiches at school and home with gusto.
In the late 1940s and 50s, grilled cheese was often served as an open-faced sandwich sprinkled with grated American cheese.
In the mid-sixties, as grocery stores' shelves were full of the new favorite, Kraft singles, before long, the second piece of bread was added, and the grilled cheese sandwich as we know it today came into being.
Moving quickly to the 2020s, the most popular way of reheating many foods is to use your microwave.
Admittedly, it works well for many foods, providing you know how to go about it, but it is never the best option for grilled cheese sandwiches. In fact, it's one of the worst.
---
Ways of reheating grilled cheese sandwiches
So, if microwaving is not one of the preferred options, which ones are?
When it comes to reheating grilled cheese sandwiches, it's not just about recreating the best taste you can; it's also about getting the right texture. Here are the results of the various trials I carried out in my kitchen at home.
1

Reheating on your stovetop

I'm going to describe this method first because I found it to be the best for reheating grilled cheese sandwiches. It delivers the same quality as the reheated sandwich but, at the same time, the speed of the process.

The most important thing is to ensure that you use very low heat; this enables the sandwich to nicely warm up on one side. But importantly, before flipping it over onto its other side, it is not burning.

I recommend reheating for approximately two minutes on each side for the best results. Here are the step-by-step instructions for you to follow
Step

1
Position a non-stick frying or griddle pan on your stovetop and leave it on low heat to allow the pan to warm up.
---
Step

2
Spread some softened butter on each side of the sandwich. Then gently put the bread into the center of the pan. The butter helps ensure that the reheated sandwich will be crispy like it was when you first made it.
---
Step

3
Position a lid over the pan to keep in the heat. Leave a little air gap to allow any steam to escape. A nice warm environment in the pan helps melt the cheese and ensures that the sandwich is heated evenly.
---
Step

4
Allow the sandwich to cook for two and a half minutes until it is a lovely golden brown. Flip it over and cook on the other side for a further two minutes or until the sandwich is heated through.
---
Note:
Reheating a grilled cheese sandwich this way gives you a fantastic result. The bread is lovely and crisp, as it should be, and the cheese inside is pleasant and gooey.
This is my go-to method. The texture is just right, and the bread doesn't dry out too much.
Using low temperature is essential because it allows the sandwich plenty of time to warm up on one side before you flip it. Four to five minutes in total, and it's job done.
---
2

Reheating on toaster oven

Toaster ovens are great kitchen accessories. You can use them for cooking and reheating various foods, and they are my second favorite way of reheating grilled cheese sandwiches.

It takes to reheat grilled cheese sandwiches slightly longer than reheating them on your stovetop, but it still does a pretty good job.

The only problem is that there are so many different models on sale today, and they can all give you different results.

Here are the step-by-step instructions.
Step

1
Preheat your toaster oven to a temperature of 350°F
---
Step

2
Spread a small amount of butter onto each side of the sandwich, and when the toaster oven is up to temperature, place the sandwich onto a baking sheet.
---
Step

3
Cook on one side for approximately three minutes, flip over and cook for a further three minutes—Double-check from time to time.
---
Helpful tips:
Always keep an eye on what's happening while you're cooking. Make sure it's not overcooking.
Three minutes works well in my toaster oven, but as I said earlier, different oven models can give different results, so you may need to experiment a little to get it to spot on.
---
3

Reheating in an air fryer

Suppose you're a regular reader of my articles. In that case, you'll know that I've got lots of gadgets in my kitchen, including an air fryer.

So naturally, I've had a go at reheating grilled cheese sandwiches in it to see how it works, and it works beautifully.

It gives you a lovely buttery, crisp texture to the bread while ensuring that the cheese filling is gorgeously gooey.

The final result comes really close to the stovetop method, but it does have the advantage that you don't have to stand by your stove. You can be getting on with something else.
Follow these step-by-step instructions:
Step

1
Preheat your air fryer to a temperature of 320°F.
---
Step

2
Spread a little butter on both sides of the sandwich. Butter on its own is great, but a combination of butter with Mayo also produces a super result.
---
Step

3
Position the grilled cheese sandwich into the air fryer basket and adjust the timer to 2 minutes. Check to see if it's done and if it is, flip over and cook for another two minutes.
Like toaster ovens, there are numerous models of air fryers around today, and you might get different results.
If when you check it after two minutes, it isn't yet golden brown, cook for another 30 to 60 seconds, and when it's done to your liking, flip over and cook the other side.
---
EXTRA NOTE
Cooking isn't an exact science. You sometimes have to modify what you're doing to consider the quirks of different accessories and the nature and freshness of your ingredients.
A recipe gives you the basics, but you also need to do your own thing. That's what makes it so much fun.
Later, if you read on, you will encounter another way of grilled cheese using an air fryer.
---
4

Reheating in your microwave

I know I said that reheating a grilled cheese sandwich in your microwave is not the way to go.

But having said that, I know some people are going to do it anyway, so let me give you some step-by-step instructions to get the best result possible - to avoid the bread becoming soggy and the filling oozing out.
Step

1
Lightly spread some butter on each side of the grilled cheese sandwich.
---
Step

2
To consider any excess moisture, you should wrap them in a sheet of paper kitchen towel before nuking them into the microwave. This helps to keep something of the crispiness.
However, if you're reheating your grilled cheese sandwich straight from the freezer:
Place a sheet of paper towel onto the microwave-safe dish and position the sandwich on top of that. It will absorb the melting ice crystals and prevent the bread from becoming soggy.
---
Step

3
Transfer the sandwich into the microwave and nuke for 15 and 30 seconds intervals. Check at 15-second intervals until you're happy that the cheese has been properly melted.
---
Remember:
Don't wrap the sandwich in plastic food wrap instead of a paper kitchen towel because cling wrap tends to trap moisture, which will steam the bread, making it wet and giving it a hard, dry crust.
---
Other Sandwich Recipes:
How long you can store a grilled cheese in the refrigerator
If you want to get ahead and make a grilled cheese sandwich in advance, while the going is good, it's easy to do.
Make it as you would normally (see below), allow it to cool down to room temperature, then transfer into an airtight container and refrigerate.
Whether you refrigerate a cooked grilled cheese sandwich or an uncooked cheese sandwich to be cooked later rather than reheated, it is up to you. You can do either.
Grilled cheese sandwiches can remain in your fridge for up to two or three days if you store them in an airtight container.
---
Can you freeze grilled cheese?
If you want to store grilled cheese sandwiches for longer than two or three days, you will need to freeze them.
If you think about it, a grilled cheese sandwich is not that different from a pizza - only in the way it is prepared, and we freeze pizza all the time, so why not grilled cheese sandwiches?
When freezing foods, rather than using an airtight container, I often use Ziploc bags for storing food.
I do this because it's much easier to evacuate as much air from the bag as possible before sealing it. The less air that gets to the sandwich, the better.
A simple way of extracting as much air as you can is to seal the bag completely but leave one corner unsealed so you can insert a straw.
Suck out as much air as you can, and as you extract the straw, complete the sealing of the bag. You can keep grilled cheese sandwiches in your freezer for up to three months.
But for the best flavor, one month is good.
I'm a great advocate of using a vacuum sealer when storing food. It's the perfect way of extracting air and sealing. You should try it.
They're not that costly, and in my view, they are well worth it, especially if you tend to freeze a lot of cooked dishes.
---
Which cheese is best for grilled cheese sandwiches?
Choosing the best cheese to make grilled cheese sandwiches is very much a case of personal taste. One of the great things about cheese is that there are so many varieties.
People often tend to get stuck on Monterey Jack or Cheddar or Gruyere, but there are so many more.
Some people love making grilled cheese sandwiches with the Velveeta - and why not? Don't forget the flavored cheeses you can get - flavors like horseradish, jalapeno, and tomato with basil.
Other options include Colby, Gouda, Havarti, Mozzarella, Muenster, and Provolone.
It doesn't have to be cheese slices, either. You can use crumbled, grated, or shredded. As long as it's cheese and has reasonably solid consistency, you can use it to make great grilled cheese sandwiches for the freezer.
---
What about the bread?
Sliced bread may be the first thing that comes to mind when making a grilled cheese sandwich. But why not think outside the box?
You can use a hotdog bun, a pita pocket, a round sandwich thin, or a soft roll. They all work well and bring their own things when making grilled cheese sandwiches.
The only thing to remember is that you don't want the bread to be much thicker than one inch. Anything thicker won't get toasted adequately when the cheese is melted. So, you may need to slice your choice of bread accordingly.
Don't stick with ordinary white bread, either. Why not try multigrain, pumpernickel, raisin, rye, sourdough, or wholewheat bread to make your sandwich?
If you got some bread that is about to go stale, using it to make a grilled cheese sandwich is a great way of avoiding waste.
---
Assembling your uncooked grilled cheese sandwich for freezing
If you're new to making grilled cheese sandwiches, you might find these step-by-step instructions come in handy. Here's what to do:
You'll need approximately 2 ounces or a quarter cup of grated cheese for each sandwich.
Whatever bread you're using, spread the cheese from edge to edge across one slice.
Place the remaining slice of bread on top of the cheese.
Label a Ziploc bag or vacuum-sealed bag with the date and contents of the sandwich.
Put your made-up sandwich into the pre-labeled bag, remove as much air as you can and seal.
If you're making multiple sandwiches, transfer them in a single layer onto a flat baking sheet after bagging and sealing.
Transfer the tray of sandwiches into the freezer for one hour until the sandwiches become firm.
When they're nice and firm, you can then transfer them to a larger freezer bag, and once again, evacuate as much air as you can, seal the bag, and store your freezer for up to 3 months.
---
Grilling from frozen
Take the frozen sandwich from its bag and lightly spread some butter or margarine on both sides.
Place the pan in which you're going to cook the cheese sandwich onto your stovetop on medium to low heat and warm the pan.
Transfer the buttered sandwich into the pan and cook for three to four minutes on each side until the bread is golden brown and the cheese nicely melted.
---
Getting creative with grilled cheese leftovers
Most people are content to store their leftover grilled cheese in the fridge or freezer and reheat them when the urge takes them "au nature" just as they were when made.
But if you want to get a bit more creative with your leftovers, you might like to try these suggestions:
Tear them to pieces and use them as croutons in a salad
Cut them into small squares and sprinkle over a bowl of hot soup.
Cube them, add to scrambled egg mixture, and chuck any leftover meats or veggies to make a sort of scrambled grilled cheese hash.
How about grilled cheese garbage strata? You'll find a recipe on the myrecipes.com website. It's a whole new meal in itself.
---
Which cheese is best for making grilled cheese?
I touched on the subject of best cheeses a little earlier, but it's such a fascinating topic it deserves more attention so, here goes.
1

Good old American cheese

Don't knock it. We've got some great native cheeses here in the US, including Colby, Colby Jack, Monterey Jack, and Pepper Jack.

But what's with the "Jack" in cheese names? From where does it originate?

The likeliest story tells about these cheese first being made by friars in Monterey, California, in the late 1700s. A local businessman, David Jacks, used to market them under "Jack's Cheese." Could be.

There are another couple of possibilities if you'd like to check out the azcentral.com website.

If you'd like to learn more about some great American cheeses, try the www.cheese.com website - knock yourself out.
---
2

Mature Cheddar

Many people consider Cheddar to be king when it comes to grilled cheese. It is pretty damned good, but you ought to use the mature stuff for the best flavor.

Cheddar has some interesting variants, like hickory-smoked and spicy jalapeño.

To get a smoother mating texture, you can add some other cheese to your Cheddar - cheeses like Comte, Fontina, or Gruyere.
---
3

Gruyere cheese

This is the stuff that the Frenchies use for their "Croque monsieur." Gruyere cheese has a lovely earthy, sharp but sweet tang - gorgeous.
---
4

Classic Brie

Originally from France, but too good to stay there, we make some great Brie here in the States, and if anyone tells you that you can't use soft cheese for a grilled cheese sandwich, point them in my directions. It brings a beautiful mild richness to any sandwich, and when grilled, it is sublime.
---
5

Manchego

The French and the Swiss don't get it all their own way. The Spaniards have their Manchego, and it's one of the biggest cheese imports here in the US. It's got a great nutty, sharp flavored cheese that melts well and makes a great grilled cheese sarnie.
---
How to make a classic grilled cheese sandwich
As you are now aware, there are hundreds of different cheeses here in the US that you can use to make a great grilled cheese sandwich.
For this recipe, I suggest using a combination of cheeses.
Option
1

Cooking in a skillet on your stovetop
Ingredients you'll need:
Sliced bread - you want a decently thick slice - something like Texas Toast
Butter - half a teaspoon of butter per slice of bread
Cheese - a combination of Cheddar, Gouda, and Havarti
Don't forget the butter. It is the key to a nice, crunchy, golden brown, grilled cheese sandwich.
---
Step by steps directions
Butter the bread - half a teaspoon of butter on each slice (one side only).
Preheat a skillet to a temperature of 275˚F.
Put the bread into the preheated skillet - butter side down.
Stack the cheese on top of one slice of bread and immediately cover with the other slice (butter side up); press down gently and flip the whole thing over.
Sautee until the cheese begins to melt and flip over
Continue to sauté until the cheese is nicely melted and both sides of the sandwich are golden brown.
Remove from the skillet, cut the sandwich half diagonally, and serve.
How about serving with a side of creamy tomato soup for dunking? Yum!
---
Option
2

Making grilled cheese in an air fryer

Here's that other way of making grilled cheese in an air fryer I promised you earlier.

Anyone who knows me knows that I love experimenting with different cooking processes and tweaking recipes.

Here is another air fryer take on the grilled cheese sandwich.
The ingredients
Sourdough bread
Cheese combo - any American cheese plus some Cheddar and Gouda or Gruyere.
Mayonnaise
Butter - half a teaspoon (or more) per slice of bread
I told you I love to swap things around. I love sourdough for a change, and mayonnaise brings a whole new dimension to the party.
---
Step by step directions
Preheat the air fryer to 360˚F.
Layer the cheese onto one slice and cover with the other slice of bread.
Mix the butter and the mayo into a smooth paste.
Spread the butter/mayo paste on both outside faces of the sandwich.
Place the sandwich flat in the air fryer basket and cook for five minutes.
Flip the sandwich and cook for a further five minutes.
---
What's with the Mayo?
When added to grilled cheese, Mayo mixed with butter is heavenly. Trust me. Let me tell you why.
Mayo has a higher smoke point than does butter.
The butter/mayo combo takes longer to brown, so the cheese melts more. More goo, more joy.
A butter/mayo paste is easier to spread than butter straight from the fridge. You can damage the sandwich.
Butter tastes great on its own, but Mayo brings another taste dimension.
---
Top tip for grilled cheese
I love using my air fryer. If you haven't got one yet, treat yourself. They are affordable. Not only is it a healthier way of cooking because little or no oil is involved - the flavor of what you're cooking remains uncompromised.
---
There are a couple of things to bear in mind.
Get familiar with your air fryer. Each model is slightly different. Read the instructions.
Secure the sandwich. Air fryers waft hot air around inside them, so if you are using thin or light slices of bread, it's a good idea to secure the sandwich by sticking a toothpick through the center.
Keep an eye on the cooking process to ensure the grilled cheese doesn't burn. Air fryers make inspection easy.
Don't just stick to one type of cheese or cheese combo. There is so much great stuff out there it's well worth experimenting with.
---
Related questions
Which is best - butter or butter with Mayo?
It's all down to individual taste. Nothing tastes better than butter, but it brings a discernible tang to the taste if you add Mayo.
But whatever you do, if you add Mayo, make sure it isn't the light stuff. It contains more water and can make your grilled cheese sandwich soggy.
---
Why is my grilled cheese sandwich soggy?
As mentioned above, don't use light mayo. It can make your grilled cheese soggy as it contains more water than ordinary Mayo.
Also, be careful about buttering the bread and the pan. Finally, some sliced loaves can be a bit "squidgy." Use fresh bread and slice it thicker.