I grew up eating this warm, comforting rice porridge (Instant Pot Congee) made with chicken, pork floss and some other fun toppings you wish to add. Every time I feel a bit under the weather, the first thing I crave is this hearty bowl of silky congee.
Congee is meant to be mild in flavor and very easy on your tummy. I could happily slurp it down however when you add more fun toppings, this meal could be really filling and delicious. I wouldn't mind eating this dish for breakfast, lunch, and dinner, it warmed my heart till this day. Another favorite is my Potato Corn Chowder.
Aside from its simplicity, making congee in your Instant Pot is literally one reason enough to get one. No need for more babysitting, just put your water and rice in the Pot, walk away and start preparing your toppings.
Why Use Instant Pot Congee?
1. Set and Forget. No time monitoring required as you can just walk away and return for a beautiful pot of silky congee. While using the stovetop, it requires constant stirring (for the last 10-12 minutes) to avoid rice sticking at the bottom of the pan.
2. You save a quarter of your time compared to the stovetop version, even waiting for the pressure to release naturally. Plus, save time and clean up.
I recommend using at least the base toppings that are listed on the recipe below such the like of soy sauce, green onion (or scallions), ginger, garlic, fish sauce, oyster sauce.
I love adding the minced pork or beef as (pork congee), as it gives more depth flavors while being subtle enough so that you can eat it with any toppings you like.
Beyond that, you can add garnishes whatever you want. I love adding my instant pot porridge recipe the "soft poached egg and drizzled with sriracha" because that's only me :). Besides, I love the added kick of sriracha but if you're not a fan of it – you can omit this one.
You can add some steam veggies, mushrooms, fried onions, or garlic, minced pork but really, anything goes a long way here.
What Rice is best for congee?
It is essential to use high quality rice when cooking congee or rice porridge considering the rice is the main ingredient here. I normally use the Jasmine rice (long-grain) or the japonica rice (medium-grain) when cooking Congee.
These are 2 good options either cooked or uncooked as both will give your congee a smooth, starchy and silky texture.
When using uncooked rice, simply rinse it well until the water runs clear and soak it for about 1/2 hour before cooking. However, when using pre-cooked rice, make sure to break up any lumps before you begin cooking it.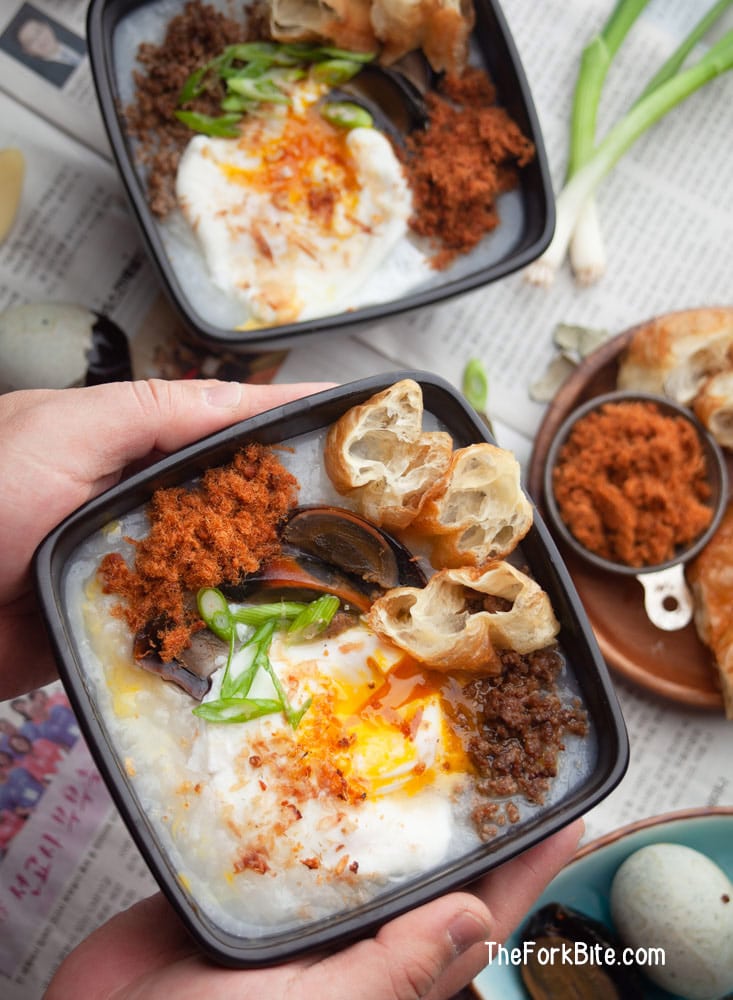 How much water do you put in rice for congee?
Cooking Congee or rice porridge depends on what consistency you preferred. If you're like me, I like my congee to be a bit on a thicker side (consistency) but my kid loves it in a medium-consistency.
In essence, there are 3 consistencies and it all boils down according to the rice-water ratio.
Thick : 1 cup rice to 8 cups water.
Medium : 1 cup rice to 10 cups water.
Thin or Watery : 1 cup rice to 13 cups water.
The above ratio is for cooking the congee over the stove where evaporation process takes place. If you're using a slow cooker or a rice cooker, simply reduce slightly the water ratio.
How much adjustment for the ratio? It all depends on the sizes of your pots. Basically, the water level for the (slow cooker or rice cooker) should not go past the 70% mark.
Experiment is the key. Try experimenting and start with less water since it would be easy to add water if in case you need it. Just think it this way, cooking the congee needs not to be precise with water, but you should take note how much amount of rice being used.
If you are cooking rice porridge for the first time, try with 1/2 cup of rice. I know it looks very little but it will expand. And it won't take too long.
When Using Instant Pot Congee:
Using Instant Pot takes about 15-20 minutes on low pressure to make a basic congee. However, it would take around 30 minutes when you count the heating up, cooling down and depressurizing the pot naturally.
Also, with Instant pot, water water doesn't evaporate that much, therefore water ratio should be about 65-75% of the amount used on the stove top.
And of course, don't fill the pressure cooker with too much water, rather more than halfway or it may froth and clog the valve (and we don't want to do that).
Instant Pot Congee
Print
Pin
Rate
Asian dishes are hangover cures, but this Instant Pot Congee is not only a hangover cure, but it's also the cure for everything.
Ingredients:
For the Congee:
1

cup

Jasmine rice

4

slices

ginger

Julienned

1

tbsp

fish sauce

6

cup

chicken stock

3

cloves

garlic

minced

½

tbsp

ground black pepper
For Garnish:
1

pc

poached egg

2

pcs

scallions

chopped

1

stick

Yeoh Tiao

Chinese fried dough (read note 1)

1

tbsp

fried garlic or onions

1

cup

beef or pork (recipe below)

minced

salt and pepper to taste

2

tbsp

Pork floss (Rou-Song 肉鬆)

read note 1
For Minced Beef or Pork (optional topping):
1

cup

minced beef or pork

1

tsp

minced garlic

ground black pepper to taste

1

tbsp

oyster sauce

1

pc

bay leaf
Instructions:
For Instant Pot Congee:
Set the instant pot to saute setting and heat 1 tbsp of oil, add minced garlic and ginger. Stir fry to get that aroma. Add the rice and stir for 1 minute.

Now, add the chicken stock and press the "porridge" setting and once it's done, release the valve naturally.
For Toppings:
While waiting for the rice porridge to get cooked, prepare the toppings by sauteing your minced beef/pork, 1 tsp minced garlic, 1 bay leaf, 1 tbsp oyster sauce, and black pepper to taste. Set aside.


Once the congee soup is done, you can add in your minced beef/pork, separating them in the soup so they don't clump together.

Top with scallions or cilantro, fried garlic, poached eggs, You Tiao (optional), and Pork Floss. I grew up eating pork floss on EVERYTHING, even out of the jar.
Notes
1.) You can find Pork Floss and You Tiao at your local Asian stores.
Nutrition Facts
Instant Pot Congee
Amount Per Serving
Calories 310
Calories from Fat 45
% Daily Value*
Fat 5g8%
Cholesterol 12mg4%
Sodium 995mg43%
Potassium 463mg13%
Carbohydrates 52g17%
Protein 13g26%
Vitamin A 15IU0%
Vitamin C 1mg1%
Calcium 31mg3%
Iron 1mg6%
* Percent Daily Values are based on a 2000 calorie diet.