Thai food is one of my favorite take-outs ever. I also love Indian curry, but somehow Thai cuisine manages to follow a distinct path from hot spice to a combination of salty, sweet, hot, and sour that is exemplified in a dish called Pad Thai.
It is probably the most well-known and often ordered dish from Stateside Thai restaurants. If you haven't yet tasted it, you haven't lived.
With its characteristic hit of fish sauce, peanut topping, noodles, and smack of freshly squeezed lime juice, Pad Thai is culinary heaven manifested right here on earth.
Jump to:
It is probably the most popular dish exported from Thailand, but many other wonderful Thai dishes are.
Phat si-io, otherwise known here in the States as Pad See Ew, which in Thai means "fried soy sauce," is another excellent dish that is just crying out to be tried.
Whereas Pad See Ew is a sweeter soy dish with a hint of sourness, Pad Thai is more savory with its spicy, nutty flavor. If you haven't already tried them, you don't know what you're missing.
---
What is Pad Thai?
Pad Thai probably needs a little or no introduction. It is so well-known on the American food scene. Of course, it wasn't born here in America, as the name implies.
The original name of this dish was "Kway Teo Pad," which in Thai means Thai-style fried noodles. It is thought to have taken on a Chinese influence which makes sense in terms of the noodles it contains, which have arrived via traders several centuries ago.
Today, the dish is generally referred to as Pad Thai, and it is probably the dish most commonly associated with Thai restaurants.
It consists of stir-fried noodles with the protein of your choice (often chicken, shrimp, or tofu), with a few veggies thrown in, some garlic, a few drops of tamarind sauce, and the irreplaceable fish sauce.
To finish off, it has some brown sugar, umami sauce, a few chopped peanuts, a generous splash of lime juice, and a few crushed red chili flakes for an unmistakable hint of spice.
You can check my Pad Thai recipe here. This is a 30-minute recipe which is as good as the local restaurant we enjoy and much better than takeouts.
The secret of a perfect Pad Thai is in the sauce. If you want to learn the secret of this sauce, check my recipe here.
---
What is Pad See Ew?
Pad See Ew is one of the most popular Thai dishes you'll find on sale in the streets of Thailand. Whereas Pad Thai can be sweeter and nuttier, Pad See Ew is salty but with a hint of sourness, giving it balance.
It also has a distinctive char-grill flavor to its noodles that you can create at home.
In terms of street food in Thailand, Pad See Ew probably just edges it over Pad Thai and is now one of the most popular noodle dishes in Thai restaurants in the West.
Thai food isn't the easiest cuisine to make at home. While it's not exactly rocket science, it does come down to getting the sauce spot on.
Check out my super easy recipe for Pad See Ew. Just follow the step by step instructions or you can watch the video for visual understanding.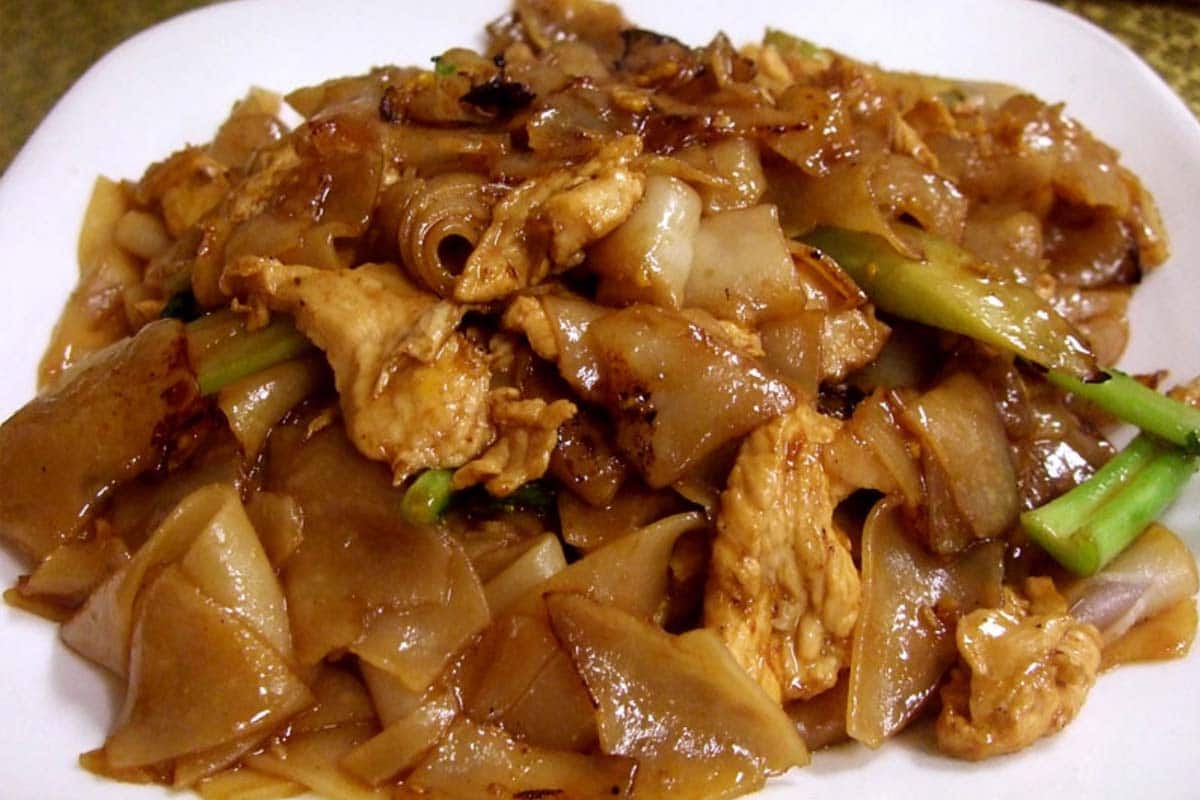 ---
Pad Thai vs Pad See Ew
What is the difference between Pad See Ew vs Pad Thai?
When you make Pad Thai, you use thinner rice noodles and stir-fry with tamarind. It's this that provides the sourness to the dish. Protein wise chicken is often added together with crushed peanuts.
When you make Pad See Ew, you use wide rice noodles, which you stir-fry with soy sauce plus vegetables such as Chinese broccoli and mushrooms.
Although Pad Thai is probably the most well-known dish out of Thailand, Pad See Ew is somewhat underrated but is nonetheless deliciously savory and full of flavor.
1

It's all about the noodles.
Noodles for Pad Thai
The noodles for Pad Thai are a type of rice noodle which is like a thicker cut of vermicelli. They give you that lovely chewiness and are perfect for picking up all the delicious sweet-and-sour flavors of a good Pad Thai sauce.
All you have to do to soften these noodles is soak them just as you would with ordinary vermicelli. You don't have to boil them in water.
Just follow these steps:
Place the noodles in a large bowl and immerse them in hot water.
Allow soaking for 3 minutes, after which you should rinse them under the cold tap. If you are stir-frying them, you want to use them slightly al dente.
Pad Thai uses these thinner rice noodles, while Pas See Ew uses a wider, flatter noodle, which amazes the char-grill flavor.
---
Noodles for Pad See Ew
The type of noodles for Pad See Ew is known as Sen Yai (homemade recipe here). They are thin fresh rice noodles typical in Thailand but not so easily found here in the states.
You won't even get them in most Asian stores unless you specifically go to a Thai grocery store.
However, all is not lost. You can cook a decent Pad See Ew with any rice noodle as long as it is reasonably wide.
I slightly cheat because I use rice noodles labeled as Pad Thai noodles. They are the only ones I can get locally. After rehydrating, they are pretty much the same as Sen Yai Noodles - only thinner.
Suitable alternatives to wide fresh rice noodles
If you can, you should use fresh wide rice noodles for making Pad See Ew. But as I mentioned previously, they are not that easy to get hold of, so here are a couple of alternatives you could try.
1

Dried Rice or Pad Thai noodles

If you're using this type of dry rice noodles, just follow the instructions on the package. You first need to dehydrate them and then drain them well before adding them to the dish.

Unfortunately, they don't soak up the sauce quite as fresh noodles, but they will still make a delicious dish.
---
2

Fresh rice Vietnamese noodles

These noodles are sold in various shapes and sizes, although usually, they are not cut into noodle shapes. They are a little wider, but it's only a case of using a sharp knife to cut them into two-inch-wide strips.

No problem. Whenever I can't find Thai fresh rice noodles, I look for these Vietnamese ones as my local Asian grocers often have them in stock.
---
2

The sauce

Let us now examine the two different types of sauces, starting with Pad Thai sauce.
The sauce for Pad Thai
The thing that makes the difference to Pad Thai sauce is the tamarind. That and the crushed peanuts give pad Thai its lovely savory, sour, hot spiciness. Pad See Ew, on the other hand, relies on soy sauce rather than tamarind.
The ingredients for Pad Thai sauce include brown sugar, fish sauce, oyster sauce, and tamarind, and it's the tamarind paste that makes all the difference. It imparts that lovely sour flavor for which Pad Thai is famous.
Pad Thai made in Thailand uses tamarind pulp which is available in blocks the size of soap bars. You soak these blocks in hot water and press them through a sieve to give you a tamarind purée.
Here in the US, you should be able to get hold of pre-made tamarind purée quite easily at your local Asian supermarket.
Although the tamarind gives pad Thai its distinctive sour note, its flavor is a little more complex, fruity, sweet, and tangy.
Note:
You can also buy tamarind paste in jars, and if you can get it, it's a great way of making an authentic tasting Pad Thai sauce.
Don't get Indian tamarind concentrate by mistake. It tastes quite different. It's great in Indian curries, but you need Thai tamarind concentrate for making Pad Thai sauce.
---
The sauce for Pad See Ew
The sourness of Pad See Ew is counteracted by a hint of sweetness and is the result of combining the following ingredients:
Dark soy sauce - this lends flavor and imparts a dark brown stain to the noodles.
Thai soy sauce - again, make sure it's Thai - is subtly different from Chinese and Japanese.
Oyster sauce - this is essential. Its combination and complexity of flavor are key.
Vinegar - this helps to balance the sweet and savory elements
Palm sugar - for plain, unashamed sweetness.
The thing that gives Pad See Ew its unmistakable taste is caramelizing in the noodles.
Street vendors in Thailand and restaurants elsewhere use high-powered gas stoves that emit fiery heat to char-grill the noodles.
You can do something similar at home, providing you take everything out of the wok and caramelize the noodles on their own. It will only take about 15 seconds.
Caramelizing the noodles separately will also help to stop them from breaking up, which is all too easily done if you toss them in the wok with the other ingredients.
There is another advantage to tossing in two stages: it makes it quicker and easier to distribute the sauce and finalize the dish.
---
What to do if you can't find Thai soy sauce
Don't panic if you can't get hold of any Thai soy sauce; there are ways around it.
You can take a regular soy sauce and customize it using the following ingredients:
4 tablespoon ordinary soy sauce
2 teaspoon oyster sauce
1 teaspoon light brown sugar
1 teaspoon honey
Whisk all of these ingredients together, and you will get a passable likeness for Thai soy sauce.
---
3

Various Toppings

Many people have their own take on Pad Thai. You can use various combinations of vegetables and proteins. The most commonly used are eggs, and tofu with a sauce made up of chilis, dried shrimp paste, fish sauce, garlic, and palm sugar.

It is usually served with a sprinkle of crushed peanuts to add a texture contrast and given a liberal squeeze of lime juice.

On the other hand, Pad See Ew is often made with proteins such as beef, chicken, pork, or shrimp. Other ingredients include Chinese broccoli (Gai Lan), greens, and sometimes scrambled eggs.

You may be able to get Chinese broccoli at your local Asian grocery store. The taste is similar to ordinary broccoli, but it has much smaller heads, longer stalks, and tons of tender green leaves.

It is added because it gives such a great texture to the dish. The stalks retain a little crunch, but the heads and leaves remain wonderfully tender.
---
Alternatives to Chinese broccoli
It's not always possible to get hold of Chinese broccoli or Gai Lan, but have no fear; if you can't, here are some possible alternatives.
Baby broccoli - Dice the whole thing (florets, stems, and all), and add to the dish simultaneously as the recipe tells you to add the Chinese broccoli.
Baby spinach - This needs to be added right towards the end of cooking, along with the noodles, as it cooks rapidly and disintegrates very quickly since it contains mostly water.
---
4

The taste

Pad Thai and Pad See Ew each have their own defining tastes.
How to achieve the unique Pad Thai taste
Pad Thai is a divine meeting of flavor and texture that brings together the best sweet and savory. The noodles add to the sweet note and provide a heavenly, slightly chewy texture.
A garnish of lime with crushed roasted peanuts imparts a beautiful texture contrast.
---
How to achieve the unique Pad See Ew Taste
Taste-wise, Pad See Ew is stronger and darker in flavor with a more chewy texture because of the wider type of noodle.
The char-grilled noodles are absolutely heavenly when drizzled with the sauce, which, if you get it right, is more savory and deeper into flavor than its parts.
Adding flash-fried vegetables as an accompaniment gives another wonderful texture contrast to the noodles.
For me, it is the slightly burnt, charred taste of the noodles that takes this dish to another dimension.
The Malaysians and Singaporeans have their own version of Pad See Ew, which is called Char Kway Teow. It is a hearty dish consisting of meat, shrimp, veggies, and all-important chewy noodles.
The soy sauce they use has a hint of molasses, imparting a sweet and savory note to the dish. The noodles are big wide, and flat, allowing them to carry the sauce nicely. They are also a little thicker, which gives them great chewiness.
The addition of Chinese broccoli adds some nice color and lends a great texture contrast, whereas mushrooms provide an earthier note when added.
A little scrambled egg garnish sprinkled over the top finishes off the presentation.
Because of the noodles, all of these dishes are somewhat carb-heavy. However, Pad See Ew has fewer calories than its counterparts as it is less sweet. For that reason, it is also considered to be somewhat healthier.
---
What to serve with Pad Thai
What you serve with pad Thai is very much down to individual taste. My family enjoys it with a light Thai green papaya salad. I love serving it with crispy egg rolls or crab Rangoon.
---
Pad See Ew and drunken noodles - how they differ
Drunken noodles are another popular Thai rice noodle dish. But whereas Pad See Ew is relatively mild and is served with chili vinegar, drunken noodles are more of a spicy noodle stir-fry.
The real name for drunken noodles is Pad Kee Mao, and the idea is that you should eat them along with an ice-cold beer.
And together, the two provide a great hangover cure. I can tell you from my own experience that this is true!
Drunken noodles are quite easy to make. This dish often includes ground pork with vegetables like baby corn, snow peas, and Thai basil, which is completely different from any other type of basil.
---
Other type noodle dishes worthy of note
It's not just about Pad Thai and Pad See Ew. There are many other ways of getting into the Thailand noodle scene. If you happen to be visiting Thailand, the street food is amazing.
1

Pad Kee Mao or Drunken noodles

Yes, I've already talked about this dish, but it is undoubtedly one that is worthy of celebrating.

The perfect Pad Kee Mao is a combination of spicy meat with a gloomy garlicky sauce made from fish and oyster sauce. With a splash of soy drizzled over a plate of gorgeous chewy noodles on top of which are piled chilis, Chinese broccoli, onions, and eggs.

The name "drunken noodles" comes from street vendors selling tons of the stuff to late-night party junkies.
---
2

Laad Naa or Rad Na

Laad Na, also known as Rad Na, is another great street food dish, but this one comes with crispy noodles coated with gorgeously thick and tasty gravy, plus stir-fried veggies like Chinese broccoli.

Recipes vary, but the sauce is based around plenty of crushed chilis, lots of fresh lime with a salty fish sauce, or a sweet oyster sauce.
---
3

Lemongrass noodle soup

Thai lemongrass noodle soup is a light, spicy coconut delight. The fragrance of the lemongrass with the sweetness of the coconut milk together with a helping of cut chilis all poured onto flat rice noodles with lime leaves is a mouthwatering feast to savor.
---
4

Chilled Thai glass noodles - Yom Wun Sen

This noodle dish can be made well ahead of time and is brilliant when served chilled. The recipe is easy to follow and makes a great lunch while imagining yourself sitting on a white sandy beach sipping an ice-cold beer.