One of the most versatile meat dishes in the world is a pork slow cooker carnitas. While you can eat it in almost any type of Mexican dish, from quesadillas to plain old tacos, it is good enough to stand alone as a main dish.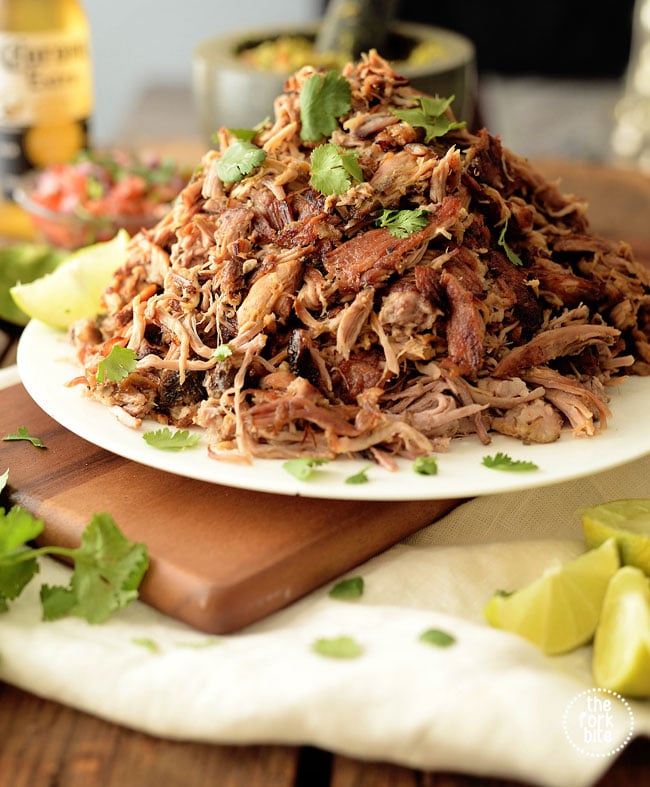 In fact, I have a whole collection of pork carnitas recipes, but the key to each is to create the perfect base recipe, the pork carnitas itself. I wonder if it would be good in perogies? I bet it would. It kind of has an international flair, doesn't it?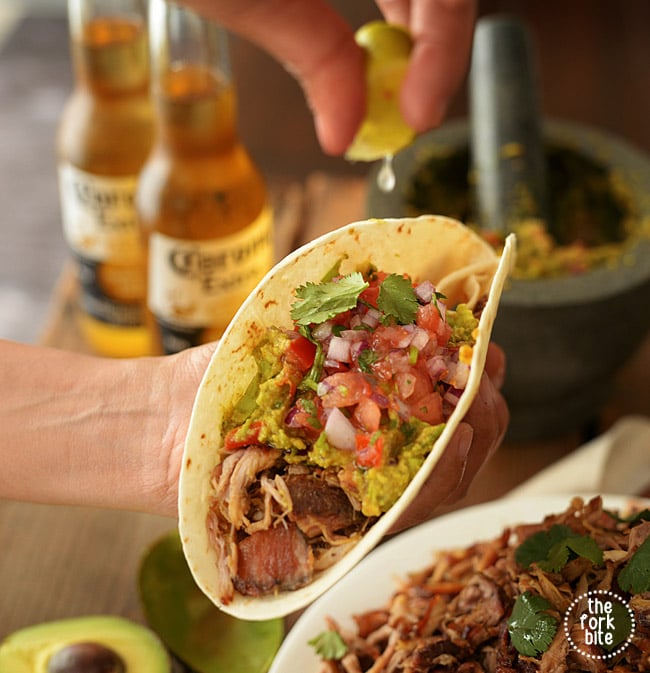 Even though there are so many recipes that use this delectable meat, my very favorite way to it is the main dish, sans all other wrappings and additions…."naked and not afraid," to be delicious that is.
It's juicy and almost beautiful, particularly if you love food as I do. However, some of the recipes I found to lack one or two of the elements I need for what I consider perfection.
I have to have those delicious caramelized bits of brown in the juicy meat but don't want a complicated recipe that takes hours and a lot of pots and pans to make.
I need the flavor just right, delicate enough to blend in with any dish you make, without having a problem with too much salt or other spice, but delicious enough to eat alone.
It also has to be good when reheated, even after it's frozen.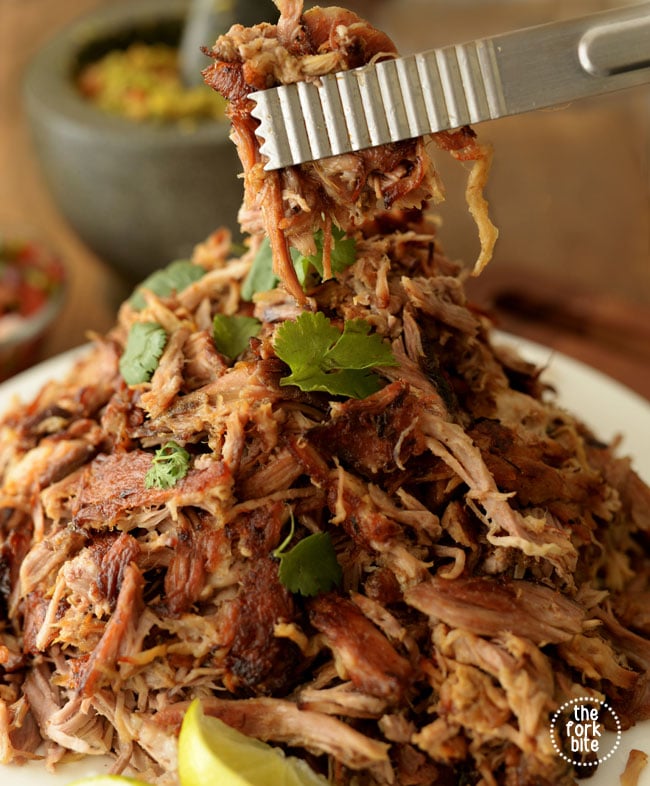 A recipe using a slow cooker/crockpot was my answer. I slow cook this recipe for 8 to 10 hours after I apply the rub. Slow cooking brings out the flavor and retains the moisture.
When I'm ready to use the pork, I heat up the frying pan and brown the meat to get the caramelized bits, making sure to pour the juices I reserved over the meat once I've browned it.
If I'm freezing the meat, I don't brown it, just pour the leftover juice onto it before freezing and then brown it when I'm ready to use it.
This versatile recipe allows me to have pork carnitas ready for use in all types of dishes and still is yummy enough to eat alone as the main dish.
Pork Crock Pot Carnitas Recipe
Category: Entree

Cuisine: Mexican

The possibilities for this slow cooker carnitas recipe is endless - you can use this for quesadilla, burrito, nachos and a lot more.
Ingredients
5 lbs / 2.5 kg pork shoulder (pork butt), skinless (meaning, skin removed but leaving some of the fat cap on. The fat adds juiciness to the carnitas)
1 onion, chopped
1 jalapeno, deseeded, chopped
2 1/2 tsp salt
1 tsp black pepper
4 cloves garlic, minced
2 oranges, juice only (or sub with 3/4 cup fresh orange juice)
For the Rub:

1 tbsp dried oregano
2 tsp ground cumin
1 tbsp olive oil
Instructions
Ready in

8 hours, 15 minutes
Clean and wipe dry the pork shoulder before rubbing with salt and pepper.
Gather the rub ingredients, mix all together and rub them over the pork.
Now, using a slow cooker, put the pork with fat cap up and top with minced garlic, onions, jalapeno and squeeze the orange juice.
Set the slow cooker on low for 8 to 10 hours or set it to high for around 6 hours.
Once it's done, remove from the slow cooker and let it cool before shredding the meat (the meat should be falling off the bone and be tender).
If you have 2 cups of leftover juice, you can reduce the juice in a saucepan (set aside as we'll be using it for reheating.)
To Serve:

Heat 1 tbsp of oil in a large non stick pan over high heat. Place shredded pork into the pan, drizzle over some juices.
Wait until the juices evaporate and the bottom side is golden brown and crusty. Turn and just briefly sear the other side - you don't want to make it brown all over because then it's too crispy, need tender juicy bits.
Repeat in batches don't crowd the pan.
Remove pork from skillet. Drizzle over more juices and serve immediately.
Notes:

If you are using defrosted carnitas, this is not applicable as the juices are already on the meat.
If you are reheating the carnitas, then flip and cook the other side briefly just to warm through. Only make one side crusty and leaving the other side juicy and moist.
Notes
1.) If you are using defrosted carnitas, this is not applicable as the juices are already on the meat.

2.) If you are reheating the carnitas, then flip and cook the other side briefly just to warm through. Only make one side crusty and leaving the other side juicy and moist.




Adapted from: Recipetineats
Nutrition information
Calories per serving: 566.0 kcal

Fat per serving: 42.34 g

Saturated fat per serving: 14.37 g

Carbs per serving: 4.23 g

Protein per serving: 39.47 g

Fiber per serving: 0.68 g

Sugar per serving: 2.08 g

Sodium per serving: 608.71 mg

Cholesterol per serving: 161.03 mg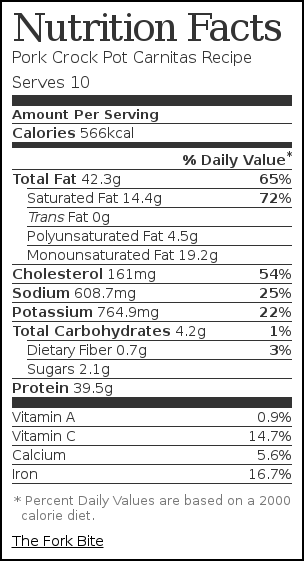 https://www.theforkbite.com/pork-crock-pot-carnitas-recipe-slow-cooker-carnitas/