Jump To Recipe
Thai Iced Tea
is one of my favorite drinks and a delicious accompaniment to any Thai dish. Luckily, you can find the Thai Tea Mix at your local Asian grocery and you can make this at home.
Now you can skip the line at the coffee shop and enjoy Thai iced tea at home with this super-easy recipe that tastes like the authentic version of this beloved creamy and sweet Thai tea beverage.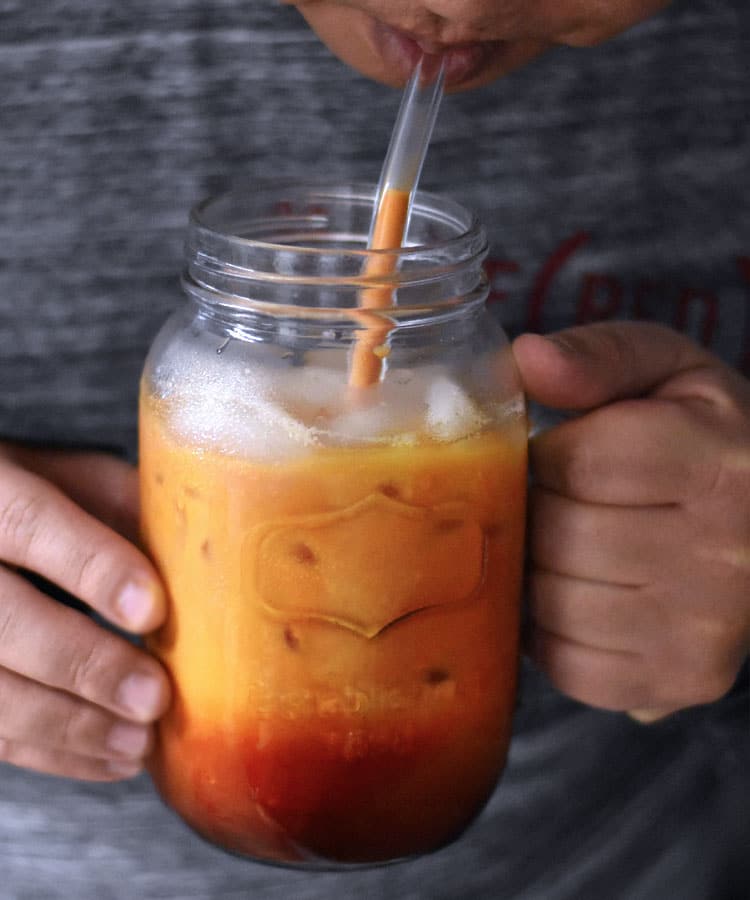 Ingredients like ginger and chilies bump up the simmer in favorite dishes like Thai Beef Salad, The result? It may be too hot for some and not hot enough for others. It's easy to satisfy almost everyone when you make Thai Iced Tea the beverage of choice for the meal.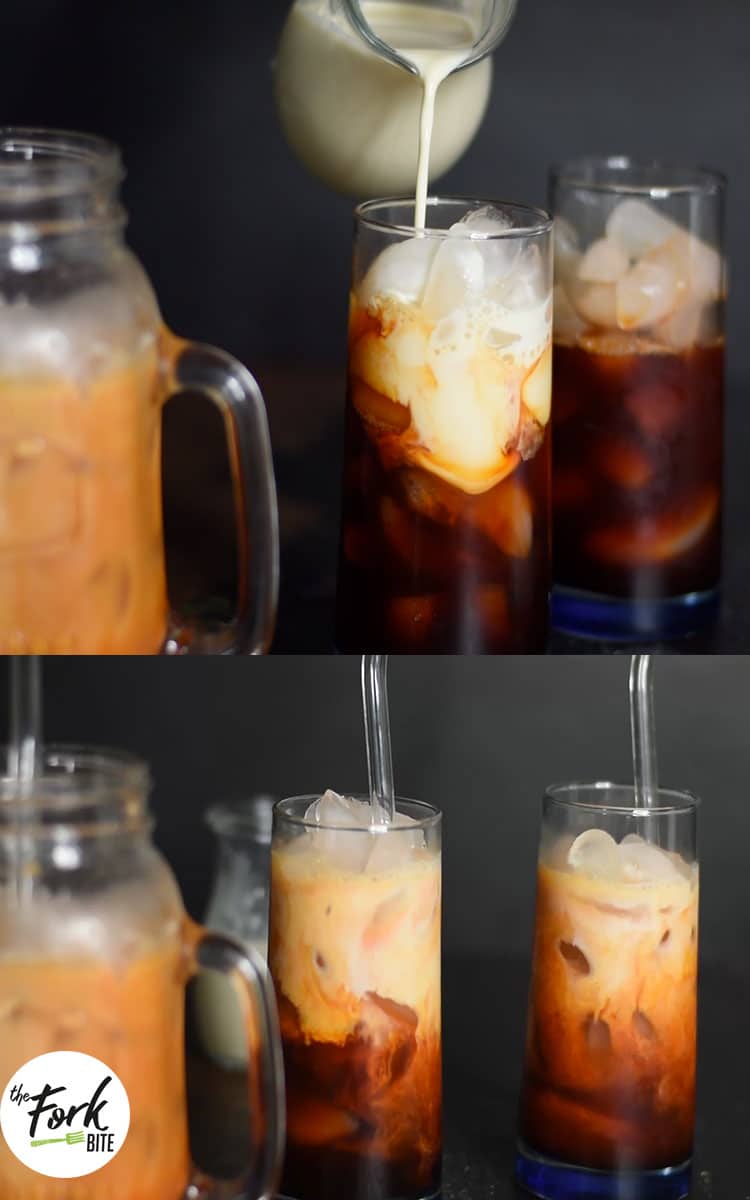 Two things will grab your attention with Thai tea. One is its vanilla aroma and flavor, while the other is the brilliant orange color once the strong black tea is brewed. The shade is due to the addition of yellow food coloring.
The homemade version, just like the restaurant style, is so good that you won't want to stop with just one glass! Why cheat yourself and your family out of a second helping?
Make a batch and enjoy experimenting with the amount and types of cream and sweetness. Simmer the tea until it is the strength you prefer!
Besides its delicious flavor and delightful appearance, the tea helps relieve the burning sensation caused by various spices. Even though it would be fun, there is no need to travel to Thailand so you can order it at a restaurant.
You'll find it served in Las Vegas, Manhattan, and a multitude of other cities across the United States. The bottom layer of amber tea and the top layer of milk or cream often feature some type of sweetener, making it seem more like dessert than a beverage. I enjoy it during any season and think you will, too.
Is someone in your family allergic to dairy products? Get the creamy layer's visual effect delivered by canned milk or half and half by using coconut milk, which really isn't dairy at all.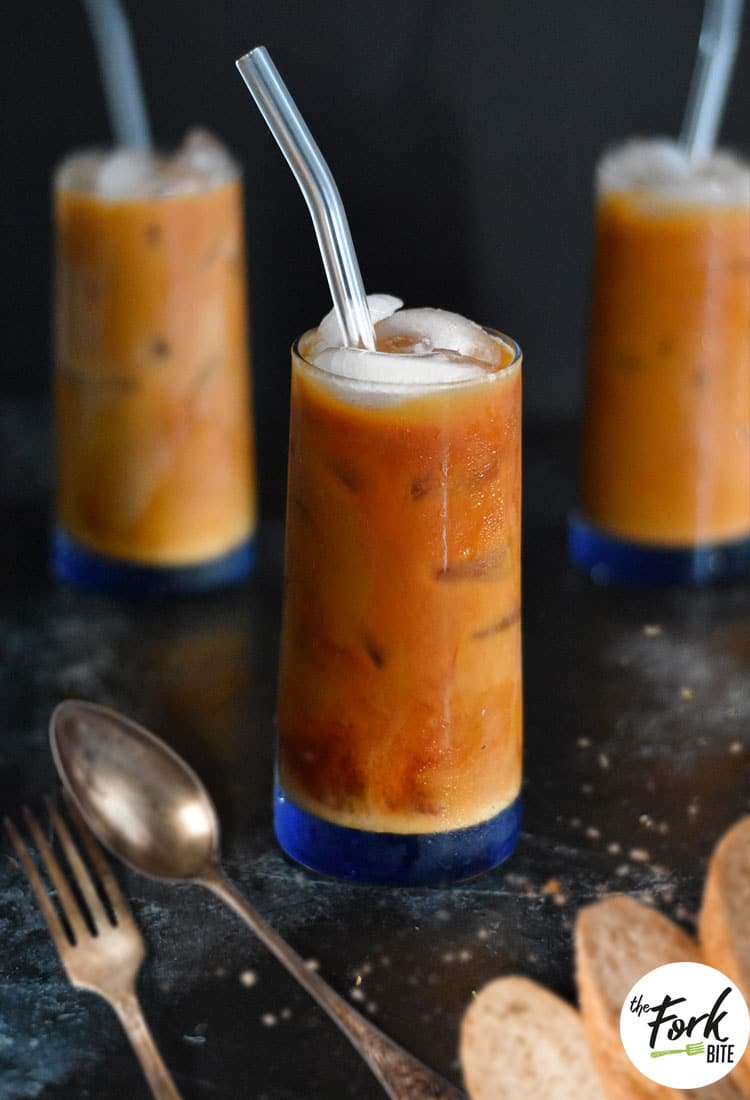 This recipe is fun to experiment with. Decrease or add the sweetener of your choice. Steep a bit of tamarind or star anise with the tea leaves or mix.
I've found putting cloves into the mix during the fall and winter seasons adds a pleasant, festive fragrance to the drink and through the house.
Thai Iced Tea is delicious served cold or hot – but that wouldn't really be iced, would it? The ice cubes are an essential part of keeping added dairy products on top of the drink and forming a layered look.
However, once you've mastered this recipe's technique, why not try it as a hot beverage for a special occasion?
Watch How to Make Thai Iced Tea 👇👇
Thai Iced Tea
Category: Drinks

Cuisine: Thai

Now you can skip the line at the coffee shop and enjoy Thai Iced Tea at home with this super-easy recipe that tastes like the authentic version of this beloved creamy and sweet Thai tea beverage!
8 cups of water
1.5 cups of thai tea mix
1.5 cup of palm sugar
1 cup evaporated milk (or half and half, coconut milk, whole milk)
Optional:

3 star anise
1 stick of cinnamon
Instructions
Bring water to a boil and add the Thai tea mix. Add the star anise and cinnamon stick. Add the palm sugar and gently stir to completely dissolve sugar.
Gently boil tea for about 3 minutes and remove from heat. Spoon out the anise and cinnamon stick.
Allow the tea to steep for at least 30 minutes and to cool it down. The more concentrated the tea flavor, the better the Thai tea tastes.
Strain the Thai tea mix using a fine strainer lined with cheesecloth, Set finished Thai tea aside to cool or refrigerate to chill.
Fill glass with ice and pour in chilled Thai tea mixture (¾ of the glass) leaving enough room to fill in your milk (or other creamers).
For an 8 oz. glass, add about 4 tablespoons of evaporated milk (or half and half) for a creamier flavor.
You can make this ahead of time and have the Thai tea mix chilling in the fridge.
Nutrition Facts
Thai Iced Tea
Serves
Amount Per Serving
Calories
199.87 kcal
% Daily Value*
Total Fat 3.39 g
5.2%
Saturated Fat 1.96 g
9.8%
Trans Fat
Cholesterol 12.36 mg
4.1%
Sodium 69.93 mg
2.9%
Total Carbohydrate 40.86 g
13.6%
Dietary Fiber 0.38 g
1.5%
Sugars 39.46 g
Protein 3.14 g
| | |
| --- | --- |
| Vitamin A | Vitamin C |
| Calcium | Iron |
* Percent Daily Values are based on a 2,000 calorie diet. Your daily values may be higher or lower depending on your calorie needs.

https://www.theforkbite.com/thai-iced-tea/