Every once in a while we go out with other couples, each year those journeys out into the night become rarer and rarer, so I savor each moment and even look for ways to extend the evening. I know some of the others in the group do too.
A few weeks ago, six of us closed down a karaoke bar and sang even after they shut down the microphone and quit calling participants to the stage. OMG, I was having so much fun. It didn't take long to jump on the chance to extend the evening and go to one of the couple's homes for a late night snack.

While I've always eaten this for lunch or dinner, it made the perfect after hours breakfast. I hope I remember everything that went into this version to duplicate the flavor, but as I said, this dish is versatile.

You can serve it any time of the day or night. If I could just can the sense of fun we had that night, I'd make a fortune selling it to add spice to a meal. From now on, when I make these Thai ribs, it's going to be a group project. The meal is finished faster, it's more enjoyable cooking it and everyone gets to take a bit of the credit for the success.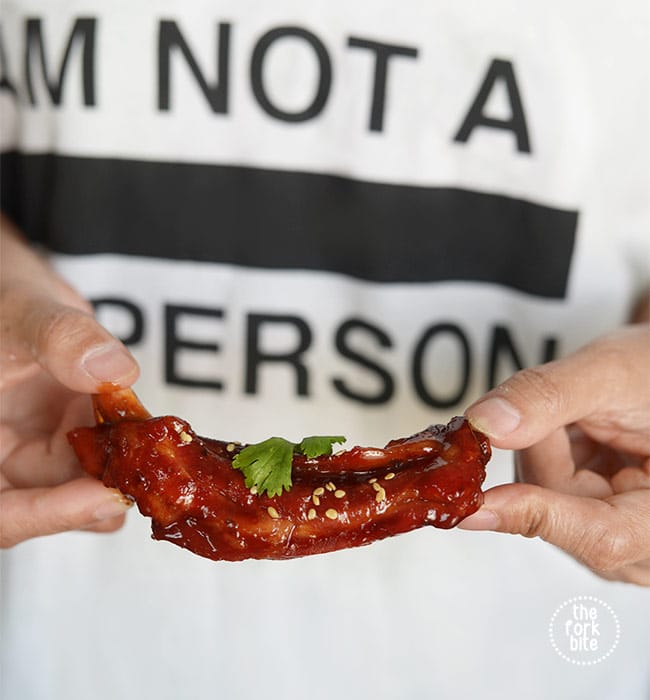 Thai Ribs Recipe
Category: entree

Cuisine: Thai, Asian
1 pound of ribs
2 cups of water
2 tbsp cilantro stems, chopped
5-6 cloves garlic, minced
2 tbsp oyster sauce
1 tsp white pepper
1 tsp sugar
1 tbsp dark soy sauce
1/2 tbsp sweet soy sauce
1/4 tsp red coloring
1/4 tsp orange coloring
1 or 2 tbsp Chinese cooking wine
3 tbsp honey
Instructions
In a pan boil the water.
Once the water is boiling add the cilantro, garlic, oyster sauce, white pepper, sugar, dark soy sauce, sweet soy sauce and coloring. Mix everything
Add the ribs. Cover and simmer for 1 hr.
Check from time to time to see if it's not too dry, if the water runs out just add a bit of water
Then add the Chinese cooking wine and honey and sautee until the ribs are well covered.
Serve with rice.
Notes
(adsbygoogle = window.adsbygoogle || []).push({});

https://www.theforkbite.com/thai-ribs-recipe/